Sunday 4th June 2017
This was the 3rd year the 20th Glasgow Scouts group have organised this race and it was my 3rd run as well so I'm an ever present!
I really enjoyed the race the last two years so decided to enter again. This year I'm doing the West Highland Way Race so I thought a trail race three weeks before the big one was perfect.
I drove over from Paisley in the sunshine and it stayed that way all day. I was feeling good and looking forward to pushing the pace. My only concern is a sore right ankle that has been there for the past couple of months. It doesn't stop my running but can be sore afterwards.
In 2015 I was training for the Lakeland 100 and used this race as a mini-target and I finished in 1:00:52. Last year it was only four weeks after the Hardmoors 160 and my legs were still feeling the effects of that race so I was pleased to get round in 1:05:28. My goal for this year was to be in between those times!
Once I'd registered I set off with clubmate and good friend Steven Hill for a warm up. We ran out for half a mile and ran back chatting about the race. Steven has not done the race before so my best advice was to take it steady over the first couple of miles as the main hill is after that and if you go off too hard then you will pay for it!
The third member of Kilbarchan AAC who was running was Jennifer Rooney who was back to defend her Ladies crown.  It was good to chat to various friends before the start. There were plenty of Fling t-shirts in evidence.
A fly over of the route created by relive.com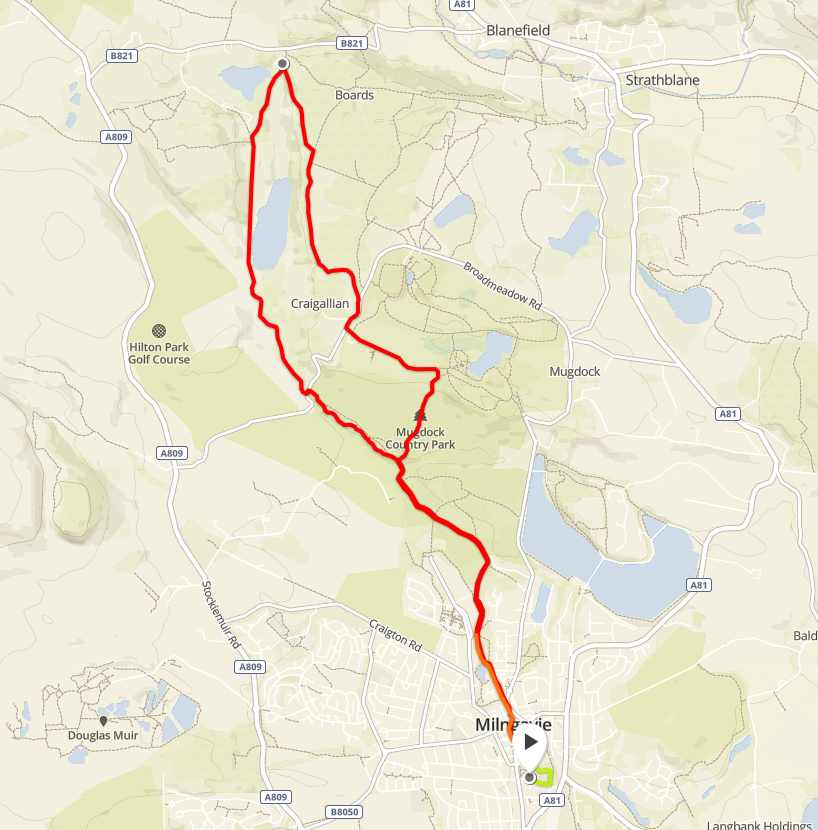 I positioned myself in about row 4 at the start so I wouldn't be tempted to go off too hard! We started right on 11am in the sunshine.  Over the first half mile I made my way past quite a few runners including good friend Tim Downie who said, 'I wondered where you were?'
Once through the high street and on the trail through Mugdock Woods I could see Steven Hill not too far ahead. Over the next mile or so I slowly caught up with him and by the time we climbed the first hill I was right behind him.
We ran together for a while and then Steven eased ahead before the big climb at 2 miles. I was happy to let him go as I was trying to get my heart rate down in preparation for the hill!
When we reached the hill I set off at a steady pace with the aim of being to run the whole way up. I remember the first year struggling a bit with the fact that there are a couple of plateaus thinking that I had reached the top when I hadn't!
A couple of runners around me pushed hard on the initial climb but I soon caught them again as the hill went on. I slowly caught Steven and went past him about half way up. It was good to reach the top and know that the main climb was out of the way.
The Scouts do a great job with the race and have so many marshals out on the course. I could see Jennifer in the distance moving through the field so it looked like she was on course to defend her title!
I was still slowly catching a couple of runners which was encouraging.  When I caught a guy in blue (who turned out to be Ian Garett) he said, 'I planned to contact you for some advice on the Lakeland 100.'  I didn't really have much breath to chat but Ian has got in touch via Facebook after the race.
The next mile or so is mainly downhill to Carbeth Cottages so I tried to keep the pace up. One guy in grey went past me running really well.  I had my split (34:25) to the cottages from last year so I was interested to see what it would be this year.
When I reached the cottages I took a split and it was 33:58 so I was happy with that. I was also feeling quite strong so hoped that I would be able to run well to the finish whereas last year with the Hardmoors 160 still in my legs I was slowing!
Once on the whw path heading back to Milngavie I slowly caught up with the guy in grey who went past on the downhill and Ian plus a guy in black who had been ahead all race. I probably worked a bit too hard to catch them as I had to ease off a bit to get back on an even keel!
I reached the road and then took a right back into Mugdock Woods. The race route leaves the main whw route for a mile or so opting for the trail route. It is quite a twisty path with lots of tree roots and rocks to navigate.
I could sense a runner catching me and expected him to go past but suddenly I heard him cry out. I called back to see if he was okay but he didn't reply so I hope he was alright!
It was good to get back on the main whw route and know I had less than two miles to the finish. I was still feeling I was running strongly so tired to keep the pace up as much as possible.
I was caught by one runner who almost missed the turn left. As we came into the town centre a runner from Garscube went past me. I stayed a few yards behind and then went past him on the run into the finish!
The final few yards is uphill but there is always something left to push that final bit. I finished 26th overall in 1:03:28.