Saturday 12th May to Wednesday 16th May 2018
'I'm don't know about you guys but I need to stop for 10mins'
I spoke these words just after midnight on the second night of the 190 mile Northern Traverse which follows Wainwright's classic coast to coast route from St Bee's on the West coast to Robin Hood's Bay on the East coast.
I had been on the move for well over 40 hrs with one sleep of about an hour at Kirkby Stephen. My feet were quite sore from a couple of nasty blisters that had developed on the inside of both heals but more worryingly my double vision had returned with a vengeance.
During the Hardmoors 160 two years ago I had really struggled with double vision and had to resort to putting a patch over one eye so I could at least see the ground I was moving over.
The optician (or whatever the fancy name is these days) had identified that I have a lazy eye and when I get tired then I can't focus properly and boy was I tired!
For the majority of the first 40hrs of the race I had run with three guys who became good friends over the course of the race. Andy, Russ, Rob and myself had supported and helped each other tremendously especially through the first night when it had rained.
As I staggered along at the back of the group the three guys were trying to find the path which would lead us the final 3-4 miles to Reeth. I'm afraid I wasn't much help as I was using all my energy just to stay upright! They couldn't agree on which way to go as they too were feeling the effects of lack of sleep.
So we all decided to lie down in the heather for 10mins and hope that a power nap would revive our mental ability.
Rob & Russ took out proper bivvy bags and looked very cosy whereas Andy & myself just lay on the grass and tried to sleep. It was very cold and I'm not sure if I slept much. I put on my Down jacket, hat and gloves and wrapped myself in my thin bivvy bag. It gave some protection.
I'm not sure how long we stayed for but soon enough we all got up and started on our way. Rob was able to find the path with his gps devise and once again we were moving in the right direction. I was at the back of the group and still struggling with my vision. The path was wide and smooth enough that I was able to see where I was going with one eye!
Eventually after an hour or so at 2am we reached the outskirts of Reeth. The next main checkpoint was another 10miles away at Richmond. I knew that I wasn't going to be able to push on again now so said that I was going to find somewhere to sleep at Reeth.
Fortunately, Dales Cycle Shop support the race and if you pass through during the day they provide a hot drink from their café. They also open up the back door during the night so runners passing through out of work hours can use the toilet and get some water.
The four of us headed there. Just before we arrived Angela and Jim caught us and so the six of us arrived at the cycle shop. It was a small corridor with doors to the toilets but it was warm and out of the cold so we all just found some space and lay down to sleep! I wish I had taken a photo but trying to get some sleep was my priority.
At about 5.15am we all stirred and got ready to head to Richmond. The prospect of breakfast and a proper place to sleep was enough to get us going.
The first few miles out of Reeth were on a tarmac road and even though my double vision was still there it was light and I could walk strongly. Jim & Angela went past us moving well but we were content with our pace and effort.
At one stage we went through a boggy field and my feet got wet. For the next mile or so my feet became more and more sore to the extent that I was being left behind. By the time we climbed up into the woods at Applegarth my three friends were away and I was on my own. Richmond checkpoint was about two miles away.
I knew I had to make a decision and deal with my situation. My feet were so sore that they were slowing me down and my double vision was worrying me. In the Hardmoors 160 I had to just keep going as I was close to the cut offs.
Before the race I had shared my 5 top tips on my weekly vlog. One of them was that I had a plan (sub 72hrs) but I was going to be flexible and the last one was to enjoy the race. If I carried on as I was then I wasn't being flexible and I certainly wasn't going to enjoy it.
So I faced a decision. What was I going to do? Stopping was not an option. I had invested too much into this race and I was determined to get to Robin Hood's Bay.  But something had to change. What could I do to achieve my goal of finishing. Before I explain what I did I'll go back to the start of the race …
Build up to the race
When the race was held in 2016 my good friend Andy Cole entered and I was tempted but I opted for the Hardmoors 160 instead but it was definitely on my mind for this year. I had known of the route for many years as my Dad was an avid fan of Alfred Wainwright.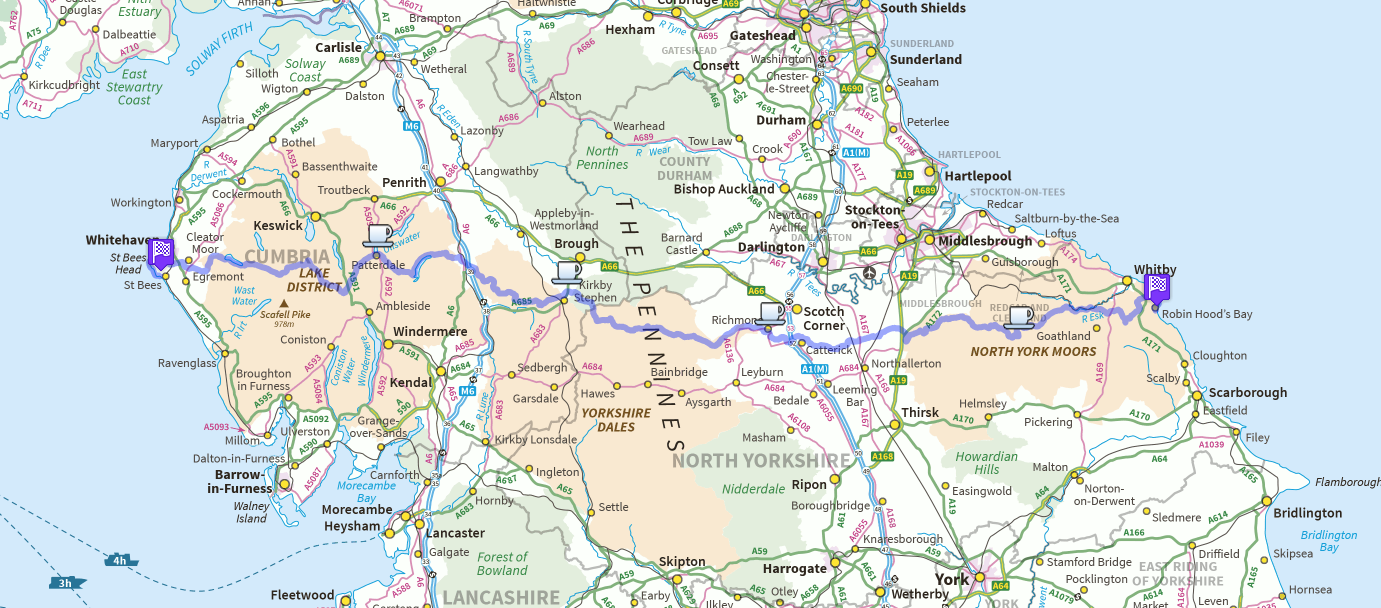 Last year I lost 4 months due to an ankle tendon injury and this race helped keep my focus as I sought to get back firstly to walking then running.
I saw 1st January as the start of my training for the Northern Traverse which gave me 18 weeks to prepare. I also decided to do a weekly vlog update of my training looking at a different aspect of the race each week.
I wanted to recce as much of the route as possible so put in the diary three training weekends of around 60 miles. I really enjoyed those weekends and felt confident about the route and my aim.
I like to have a gold, silver and bronze goals. For this race my bronze was to finish in time to catch the 4pm train home on Wednesday afternoon. Silver was to better Andy Cole's excellent time of 81hrs and my gold was to finish under 72 hrs (3 days).
I felt I had prepared as best I could and set off for St Bee's on Friday afternoon with my two drop bags and rucksack for the end.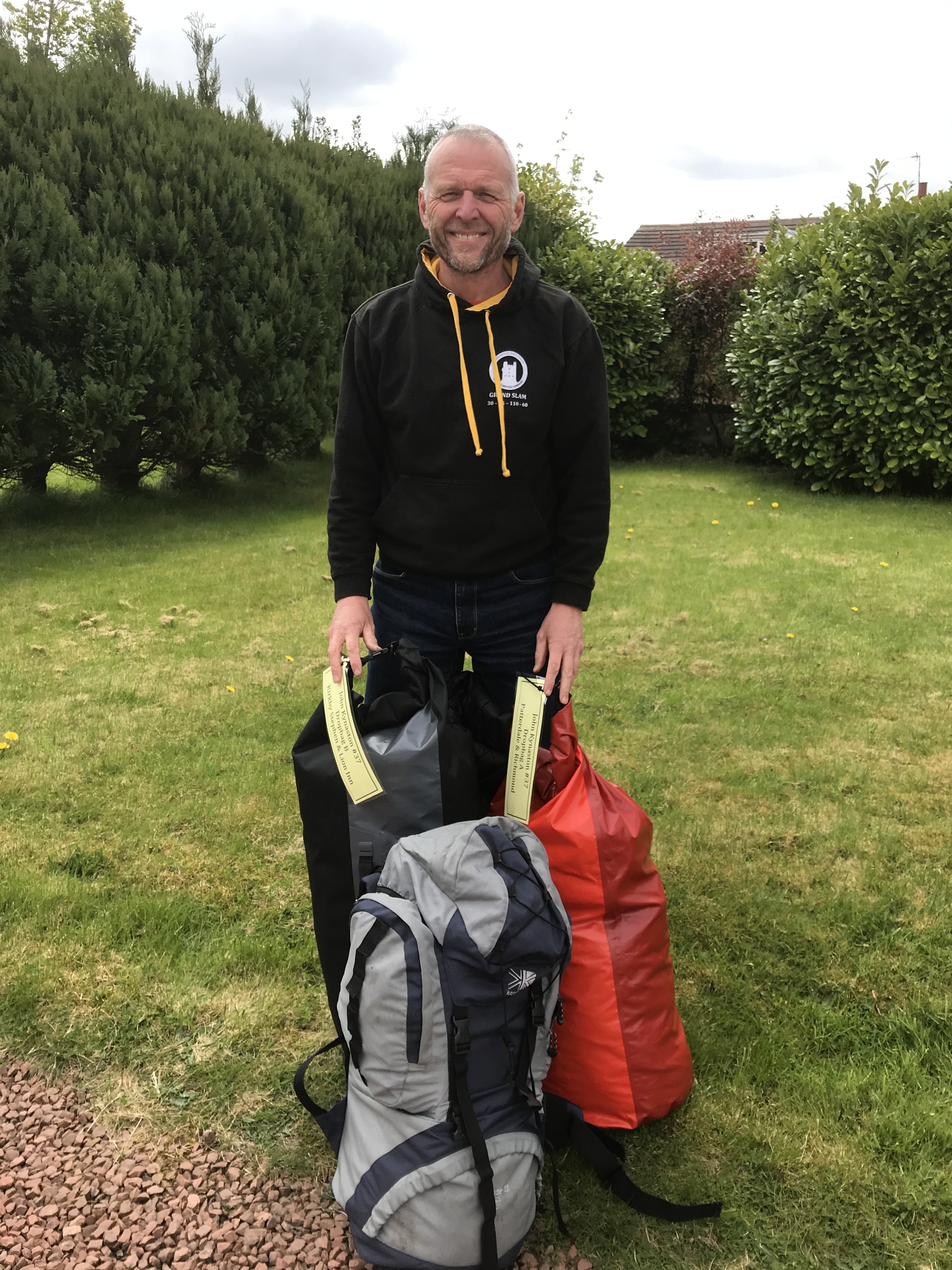 This is an unsupported race with four main checkpoints roughly every 45 miles. As I was to discover 45 miles is a long way! One drop bag goes to Patterdale & Richmond while the other one goes to Kirkby Stephen & the Lion Inn.
The train journey down was very enjoyable as I read a couple running magazines and thought about the challenge ahead. At Carlisle I changed trains for the local train to St Bee's and met Jonathan Bellarby. I was sharing a room with Jonathan at the Seacote Hotel so it was great to meet him. The 90min journey flew by as we chatted about the race and found out more about each other.
I must admit I did feel very well prepared compared to Jonathan! He hadn't managed to do any recce runs, had not thought too much about his drop bags and admitted that he hadn't done many long training runs.
When we arrived at St Bee's train station we walked down the road to the Hotel and having checked in sorted out our gear for the morning. We joined lots of other runners in the restaurant. A number of runners thanked me for my vlogs especially the ones from the route so I was happy to hear that they had helped people.
It is only when you start chatting to other 'nutters' that I realise that the mad challenges I do are mild compared to some of the projects others have.
The maddest challenge of them all came from an Australian guy, Andy Hewat, who was not only doing the 190 mile Northern Traverse but a few days later would be on the start line for the 240 mile 8 day stage race that is the Cape Wrath Ultra. There was a collective intake of breathe when Andy explained what he had planned for the next two weeks!! This is the same Andy that I would spent the first 40 hours of the race with.
Jonathan & I headed to bed around 8.30pm to finish off sorting our gear into the correct drops bags, then we watched the last half an hour of 'Who wants to be a Millionaire' before lights out around 10.30pm as this would be last sleep in a bed for a good few nights!
I slept fairly well but woke around 3.30am. I dozed off and on after that and got up at 6.15am. I put on my running gear and headed over to the beach to record my thoughts for my video diary. I picked my stone that I was going to carry all the way to Robin Hood's Bay.
Breakfast was served at 7am and it was great to see lots of friends. Karl & Harriet, Marcus & Jen and Sarah to name a few.
Around 7.30am I walked the 15mins or so over to the school where the registration was taking place. The room was a bustle of activity as runners collected their Hoodie, had their timing tracker attached and had a photo taken for the tracker.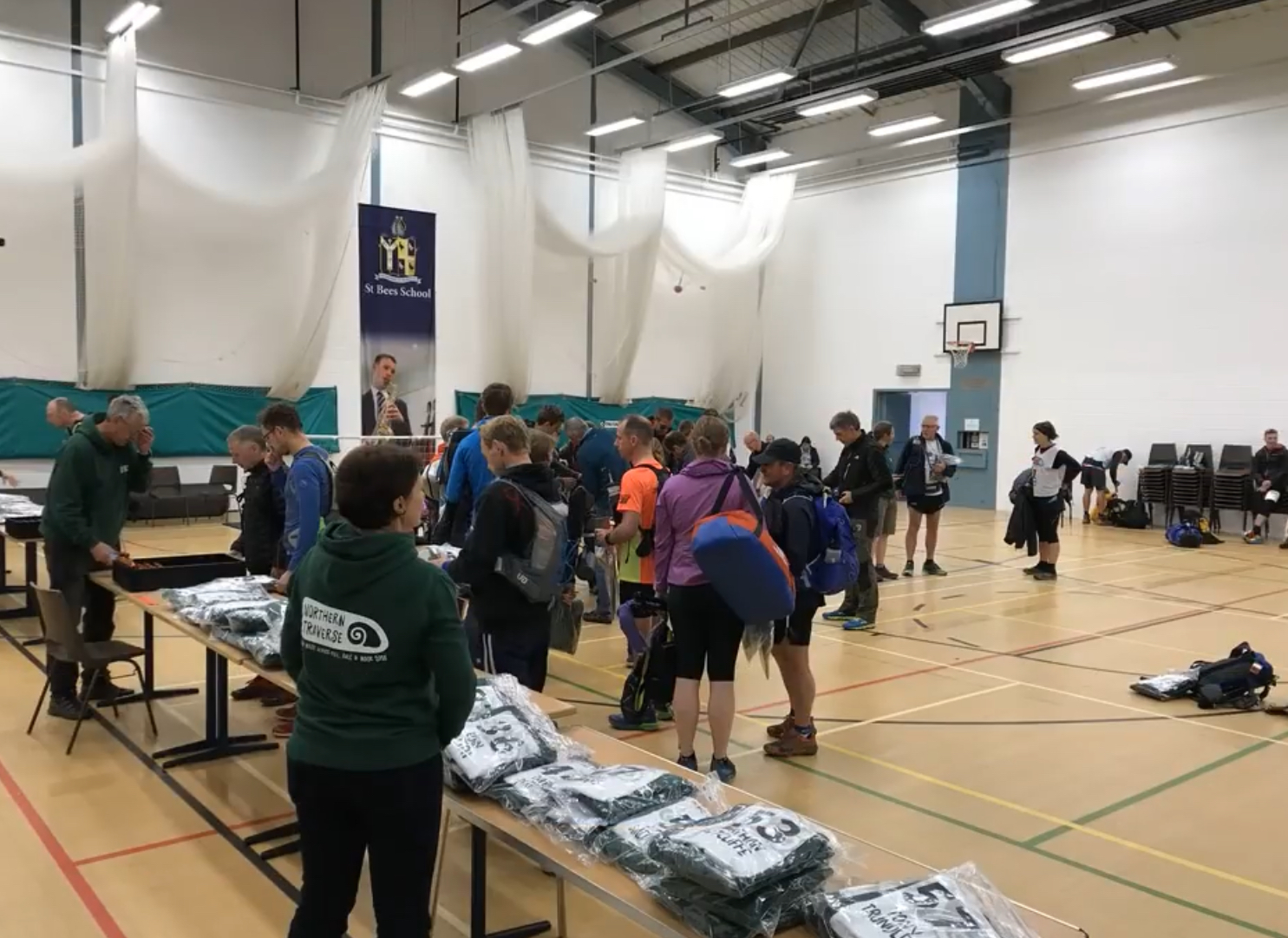 I also met up with more friends including Jon Steele and Karen Nash. At 8am James Thurlow, Race Director, gave the race briefing. It was all pretty straight forward and we were soon dismissed and told to be on the start line for 9am.
I walked back to the hotel with Karl & Harriet. Karl had run the race in 2016 in a very impressive 73:53:28 but he explained that this year he was running with Harriet and she explained it was their holiday and they were going to have a good sleep at every checkpoint and stop in as many café and pubs as they could.
Once back at the Seacote Hotel I had enough time to attach my labels to my drop bags and take them to the correct van though I did initially leave my finish bag at the Lakes Traverse point until an eagle eyed marshal spotted my mistake.
Back to the room for a final wee before heading to the start. All the runners were lined up for a group photo but I manged to find a spot right at the front!!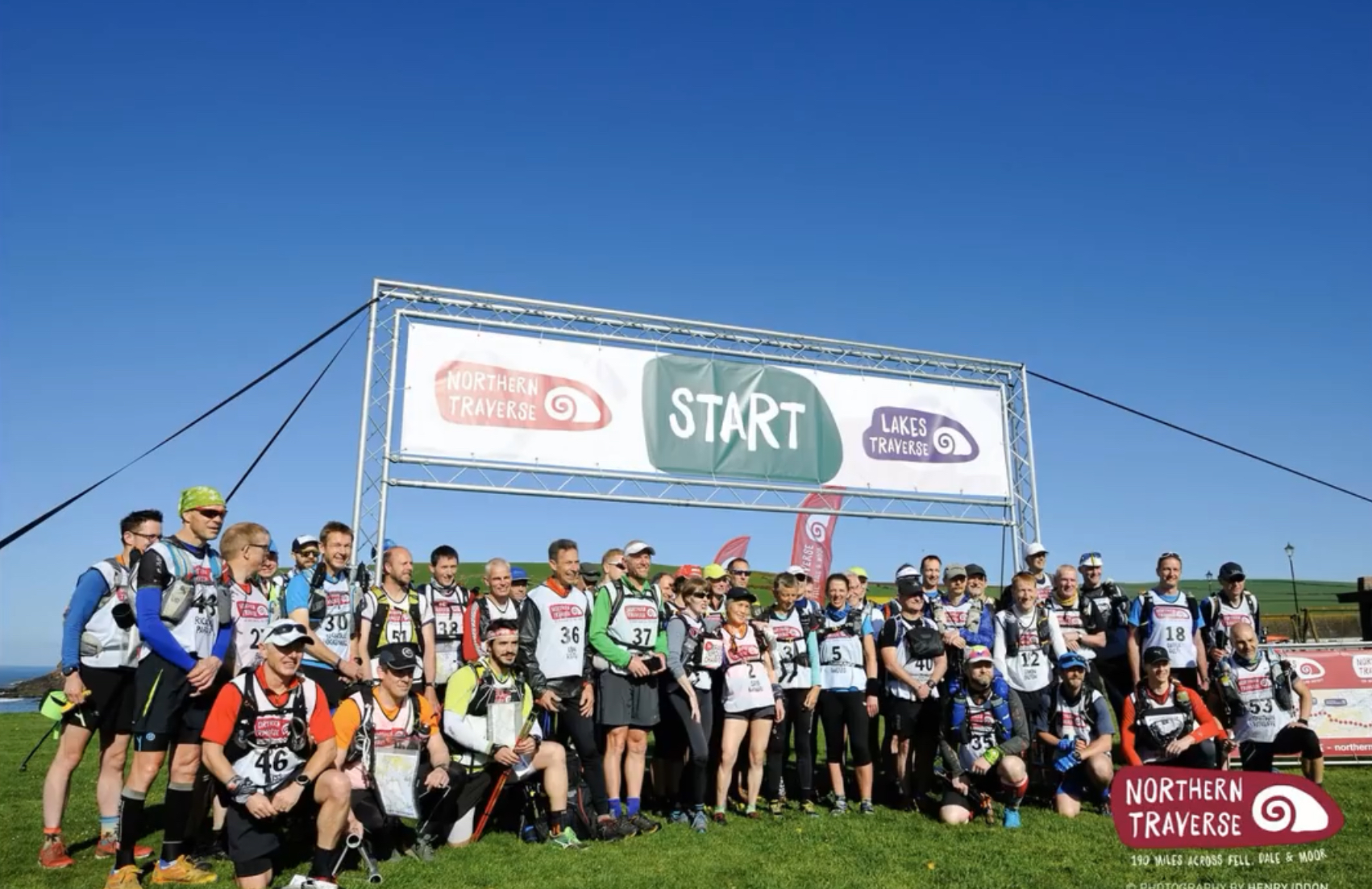 I did a final video clip before the start which James Thurlow joined in with which was great. Then it was time to line up and wait for James to count down from 10 to the start of this epic journey!
St Bee's to Ennerdale Lake
Over the past few weeks and months I had worked on my plan for the race. Once I had covered all of the route in my recce runs I felt that 72hrs (3 days) was a realistic though very challenging target. I had a sleep plan which I was comfortable with and I was determined to start very comfortable.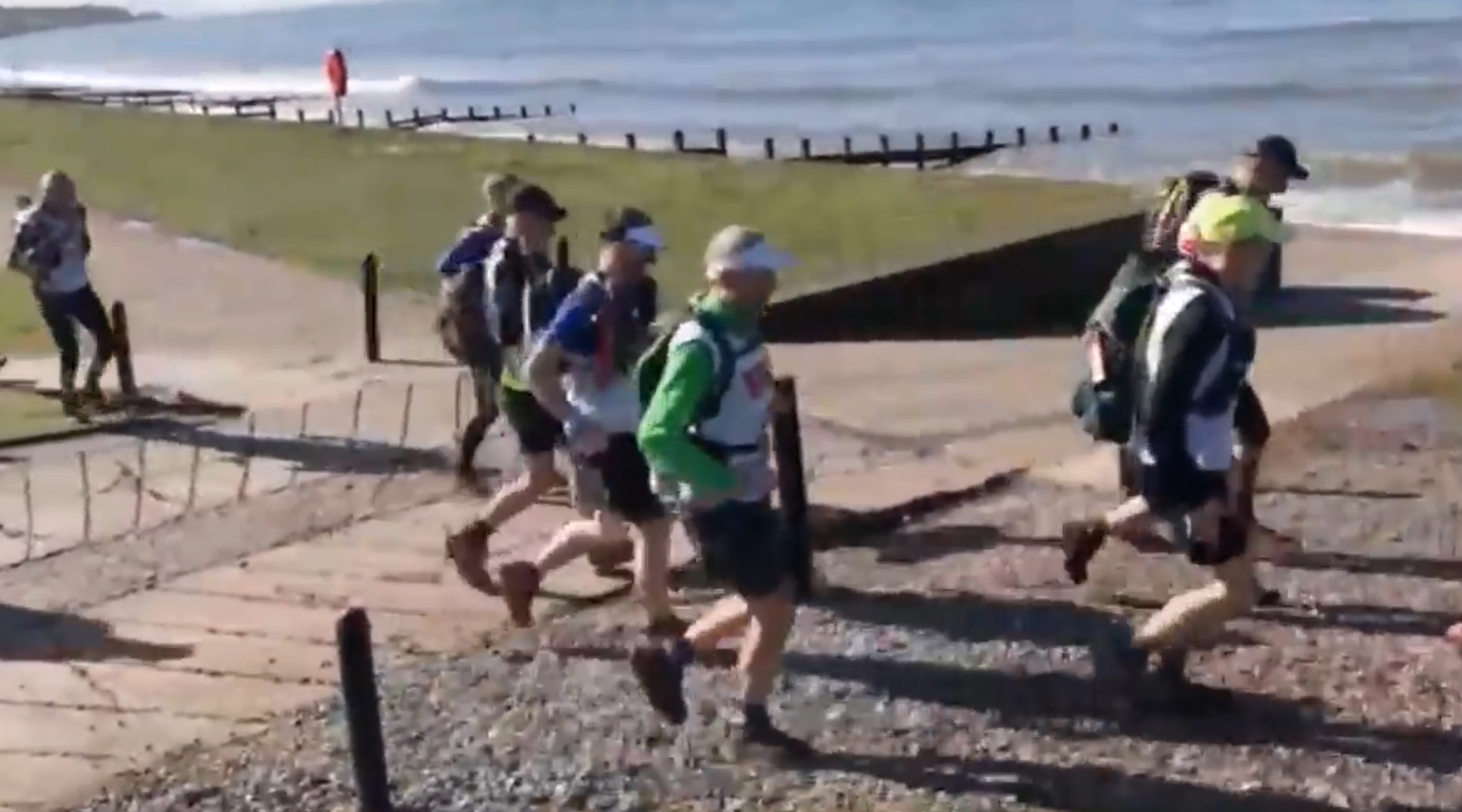 With this in mind I started about half down the field and quickly settled into running with Karl & Harriet, Jon, Sarah and Jim who looked as though he was aiming to walk the whole way. I discovered later that Jim is a very accomplished ultra-runner/adventurer and his walking pace is faster than most people's running pace!
The group of us made our way happily along the coast then after 4 miles or so we headed east towards Sandwith. It was somewhere along here that Andy from Australia joined us and basically I couldn't get rid of him for the next 40hrs!!
Seriously I really enjoyed running with Andy and getting to know him. He is a very experienced ultra-runner and has done so many of the classic races around the world including Western States, Hardrock (4 times), UTMB etc etc. Andy also organises a 100k race in Australia so the miles ticked by as we chatted about all sorts of things.
We arrived at Sandwith a few minutes inside my 'plan' and I was very happy with my effort over the first hour. It was just Andy & I for the next section to Cleator. As I had reccied the route I was asking Andy whether he wanted to know what was coming. Some runners prefer not to know and just deal with it as it arrives but Andy was keen to get an idea of what was to come.
Once through Cleator we had our first climb Dent Hill. By now the Lakes Traverse runners were going past us. They started 30mins after us and were stopping at Shap (62 miles). We had a full white bib on whereas they just had a number so it was easy to spot the difference.
Andy & I climbed the hill steadily. Neither of us wanted to push too hard but we made good progress and soon we at the large cairn on the top. It was such a clear day that we could easily see back to the coast where we had started a couple of hours ago.
It was getting quite hot now and I was a little concerned that with this heat I would need to drink a lot more and finding water might be a problem but I remembered that there were plenty of streams in the Lakes that we could use.
I descended the hill on my own. I wasn't sure how long Andy stopped for but he was behind somewhere. It was quite good to have a bit of time on my own to assess how things are going so far. I was about 30mins up on m 72 hr plan, feeling good with no issues and just really happy to be on the journey to Robin Hood's Bay.
I try very hard not to get too far ahead of myself as it can be a bit overwhelming. So instead I concentrate on the next mini-split. The next one was Ennerdale Bridge and I was hoping to get there in 3:55 and I was going to be q few minutes ahead.
I arrived at the school where I took my split on the recce run in 3:30 so 25 mins up but the official timing point was at the car park by the lake. Andy caught me just before that point which we arrived with the clock showing 3:44 (12.44pm)
Ennerdale to Rosthwaite

Once we could see Ennerdale Lake I feel that you are really in the Lakes now and I pointed the path ahead to Andy. We could see a guy in orange way ahead who we later discovered was in the Lakes Traverse race. I explained to Andy that even though it looks fairly flat around the lake I found it hard to run much as the path is very rocky and tough under foot.
We were both really enjoying being into the race, running in amazing scenery and continuing to chat about all sorts of things. We passed a few walkers who I'm sure had heard about what we were doing and were very encouraging.
Near the end of the lake I saw Marcus Scotney running towards us. Marcus' wife Jen was running and Marcus had done a run over the tops and was running back to Ennerdale cheering on the runners. He took this great photo of me and explained that Jen going well.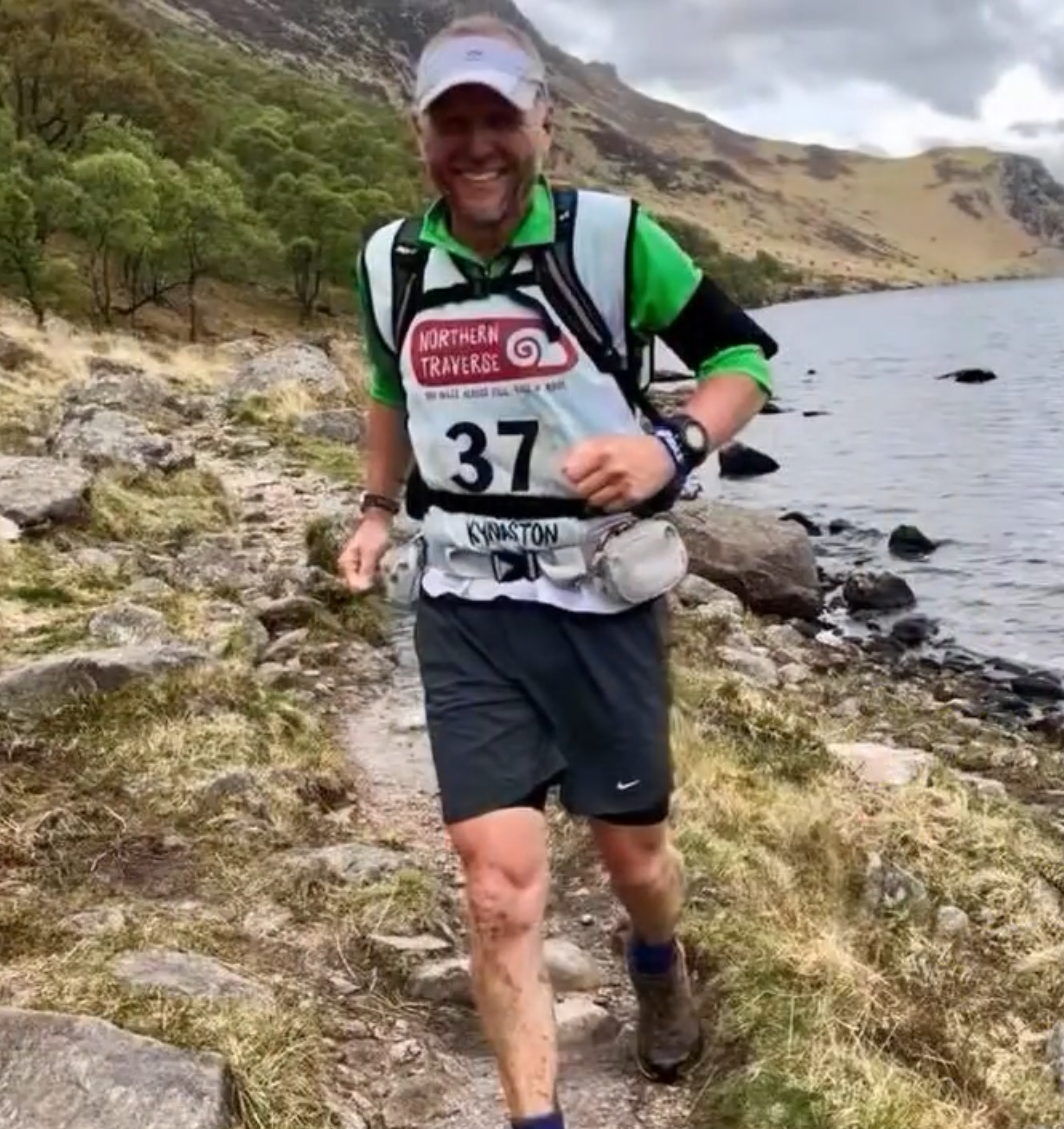 By the time we reached the end of the lake we had caught up with the guy in orange and Angela White.
They kept trying to head over to the other side but eventually found the right place to cross over. Andy & I were working together. I had the map and my memory of the recce and Andy had the gps line on his watch and hand held Garmin.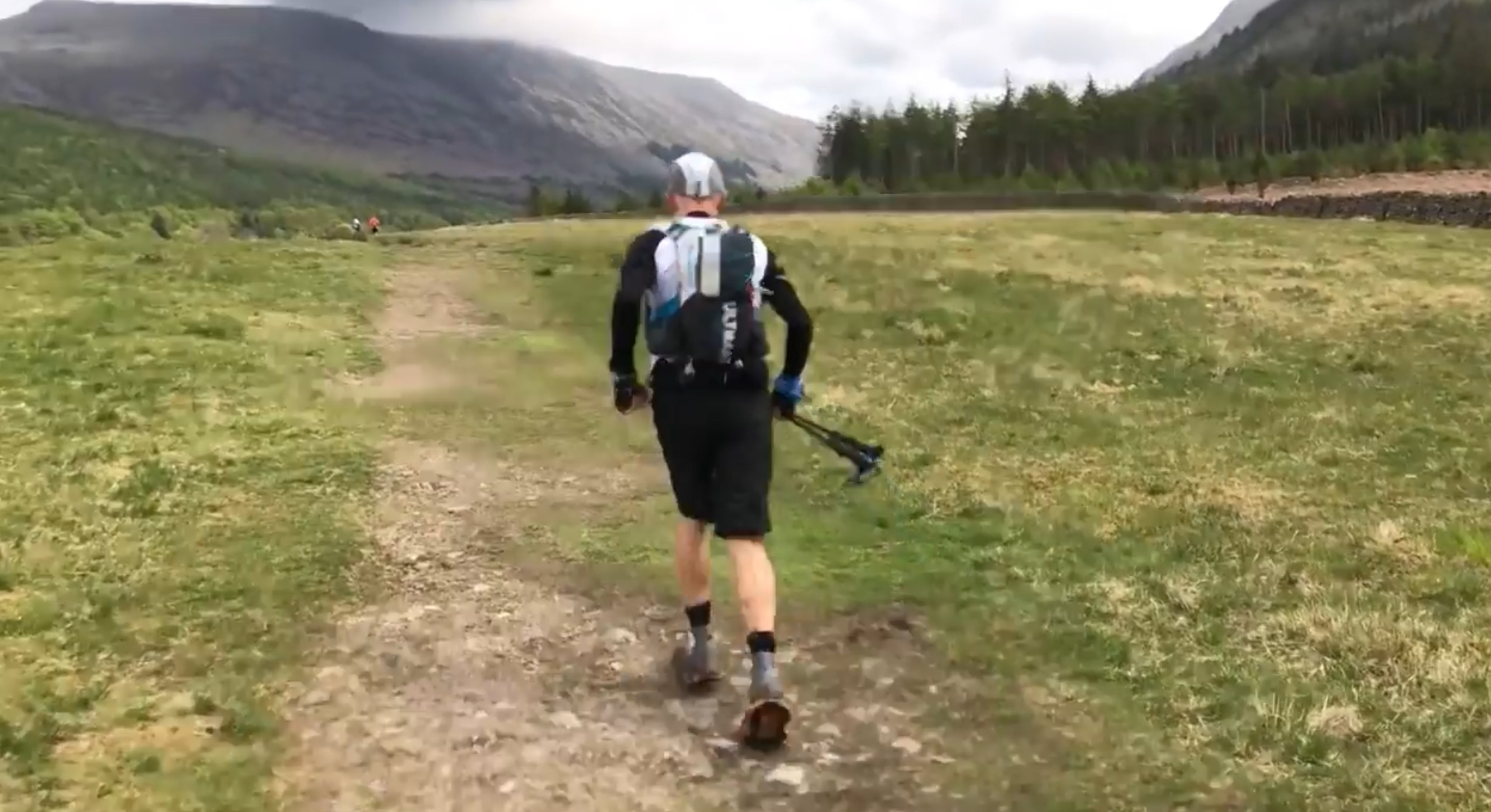 Once reached Ennerdale YH I said to Andy it is 3.61 miles to Black Sail YH and it is along the forestry road so we don't need to worry about navigation for the next 55 mins.
We ran the downhill bits and walked the rest and happily made our way along the path. I love that section with Pillar on your right and Haystacks on your left. The fact that the sun was shining made the colours in the trees and off the hill side so special. Where else would you rather be!
With about a mile or so to go before Black Sail Rob Hopkins caught Andy & I. Rob had a distinctive shuffle. We found out why later … his pack was pretty heavy as he had packed for all eventualities! The other thing we noticed was he was checking his Garmin every few seconds and considering there was only one path to follow seemed excessive.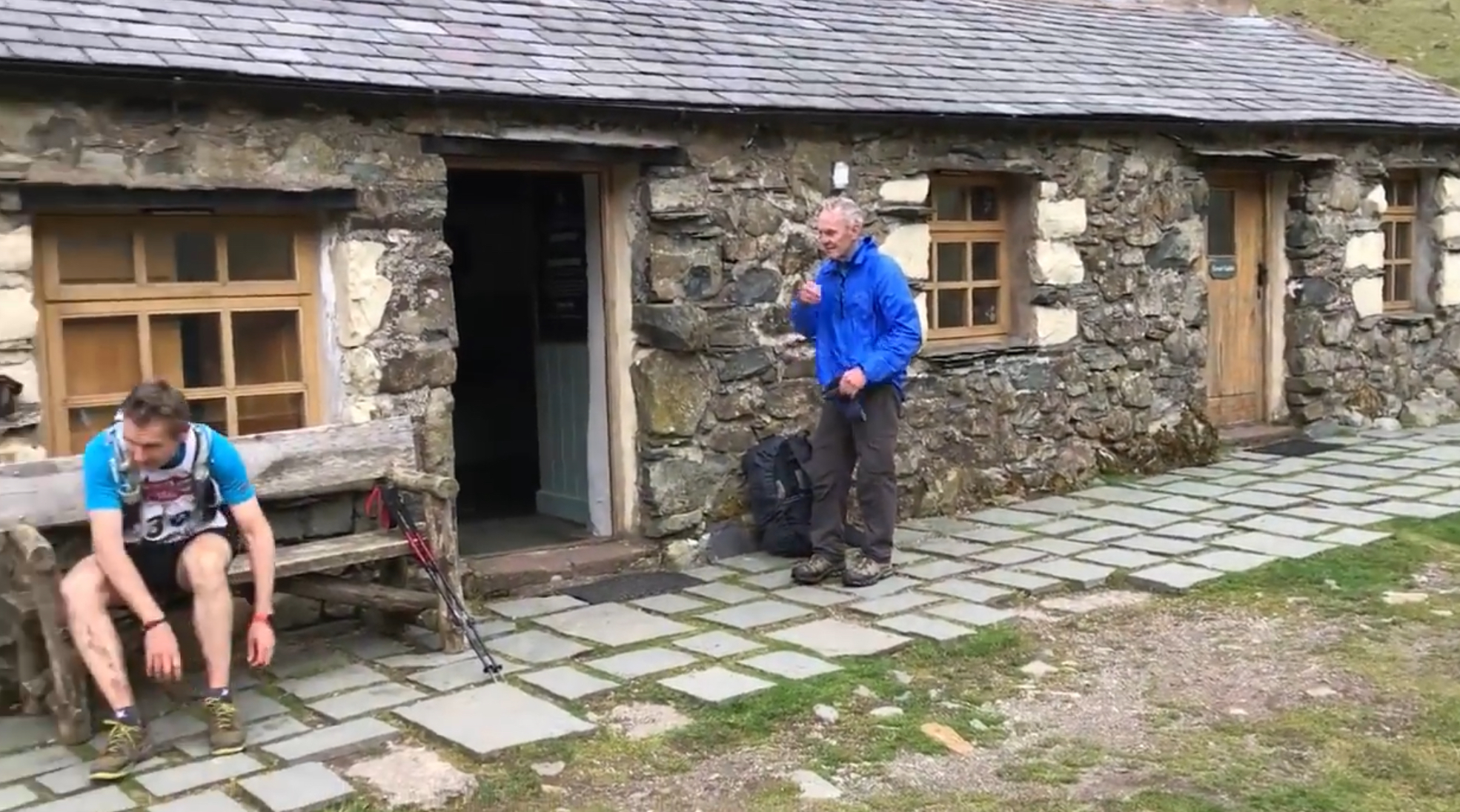 It was great to run with Rob for the next 30hrs or so and I enjoyed getting to know him and find out about the various races he has done which included Ironman and lots of cycle races.
The three of us arrived at Black Said YH bang on my split which gave me a lot of pleasure! We stopped for a few minutes to refill our water and I got out my poles for the first time. I had decided to leave them in my pack until this first climb.
It was also getting a little colder so I got out my gloves and buff. We started climbing and again took our time without pushing too hard. I think it was somewhere along here that we caught up with Russ Platt who became the fourth member of our little group.
Russ pushed on down towards Honister and Rob was behind somewhere so Andy & I were together making our way to Honister. We caught up with Derek Pickles just after Honister and the three of us ran down to Rosthwaite. Derek ran the Dragon's Back last year so I was keen to get some advice on the race for next year. Derek is also helping out at the Cape Wrath Ultra next week that Andy is doing so that was helpful for Andy as well.
The path is fairly close to the road and it was great to hear my name being shouted from a car. It was my good friends Dave & Tracey who had come down from Keswick to cheer me on. They had planned to see me at Honister but I was 30 mins ahead of schedule so they were late! They turned the car round and headed back down and said they would see us at the feed station at Rosthwaite.
When we arrived at the station Dave & Tracey were waiting for us. The race is rightly strict about not having any outside support so Dave & Tracey stood and chatted while I got some fruit and a drink of hot chocolate. It was great to see them and catch up on bits of news.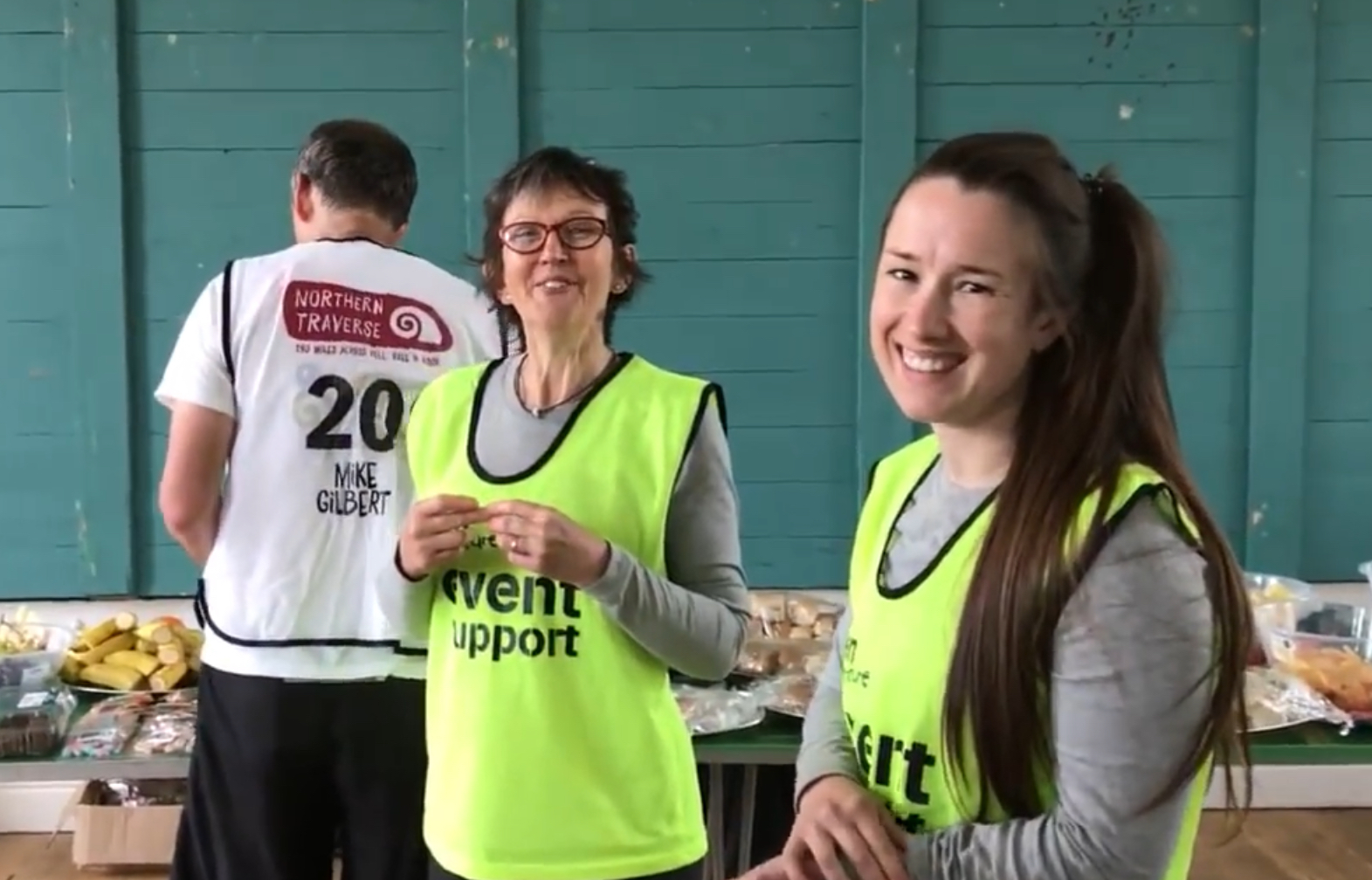 Rosthwaite to Patterdale
I set off on my own but I could see that Andy was about to leave as well so knew he would soon catch up. Again it was good to have a few minutes to see how I felt and think about the next challenge ahead. I knew that the next couple of miles were along the valley before the next big climb up to Greenup Edge.
It was this climb that I slid on the ice at the top on my recce run so I was looking to getting to the top and make my way down to Grasmere as this would be one of the sections I'd not done on the recce.
Andy Caught me by the time we started climbing and the two of us made our way up the path. I realised that on my recce I had drifted too far right by the time I came across the ice field. The path up was a lot more distinct than I remembered.
One of things I had said to Andy about the Lakes is that every time you climb a hill there is a new view and this was especially true as we came out at the top. It was early evening and as the sun was setting there was such a great view all round. We took a minute or two to take it in.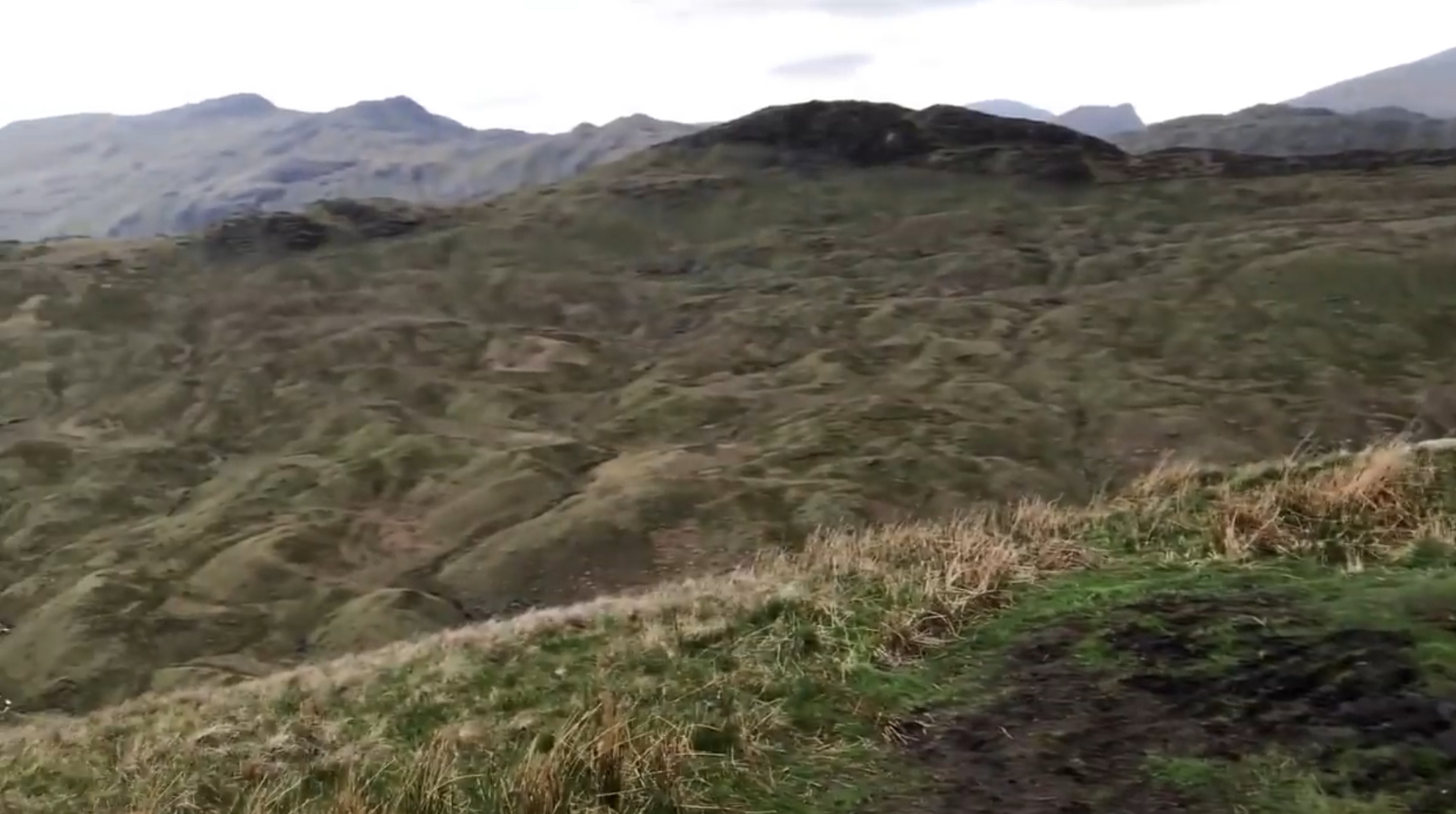 Russ & Rob joined us and for the first time all four of us were together as we made our way down to Grasmere. Russ had first come across my blog and videos when he entered the Lakeland 50 and said that the videos I did with Dave T were really helpful so that was nice to hear.
We found the way around Grasmere, crossed the road and headed up the third climb of the day to Grisdale Tarn.  When I did my recce this was the start of day 2 and I remembered that it was a long climb up. Now we had been going for over 11 hrs so was going to be harder.
I led the way with Rob but the four of us were pretty well together. Not too far from the top Andy stopped to get a warm jacket on. I decided I was warm enough to keep going to the tarn but once I got there I put on my windproof top and got my head torch out as we weren't going to make Patterdale in the day light.
I had decided to carry my smallest Petzl head torch for the journey to Patterdale with the idea of taking my larger one from there for the rest of the first night and that worked well.
I descended with Russ and Andy and Rob came down together. We discovered later than Rob was having some issues with his head torch and Andy stayed to help him.
Russ & I were happy to arrive at Patterdale at 10.42pm at the end of day 1. We had been on the move for 13:39 and still happily 20mins inside my sub 72hr plan. It was all going well.
I hadn't planned to sleep here but I was keen to get some food, change my socks and have a sit down. I was a little concerned to see quite a large blister on the inside of both heels. I was able to pop and drain them and put on a plaster.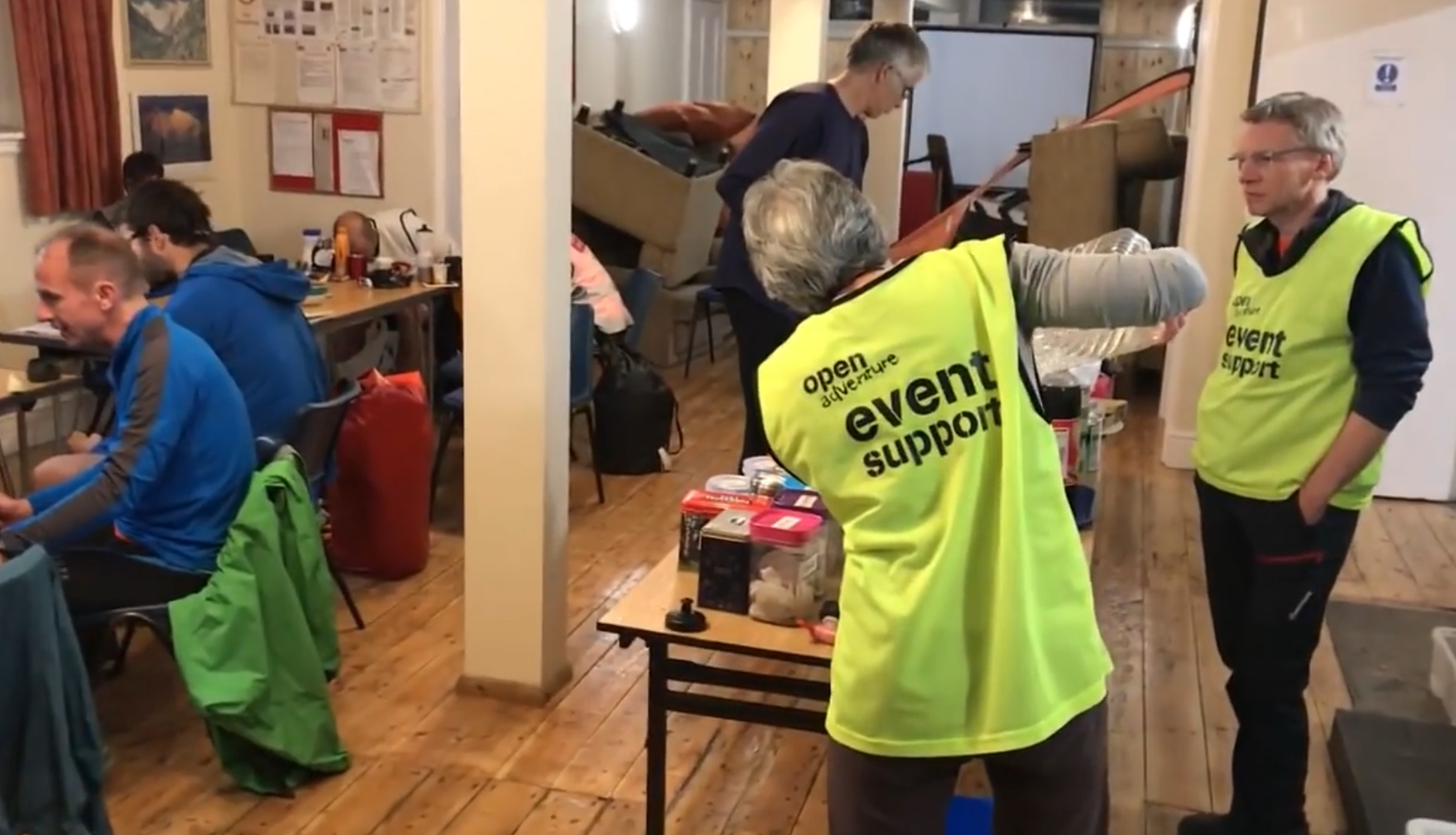 All the checkpoints and staff were amazing and I enjoyed some soup, a lovely bowl of chilli and a pudding of date slice with custard which was recommended by one of the Lakes Traverse runners.
Just as I was about to leave Karl & Harriet arrived looking very happy. They had planned to have a good sleep here whereas we were pushing on to Kirkby Stephen. I was still a man on a mission and a plan to keep to!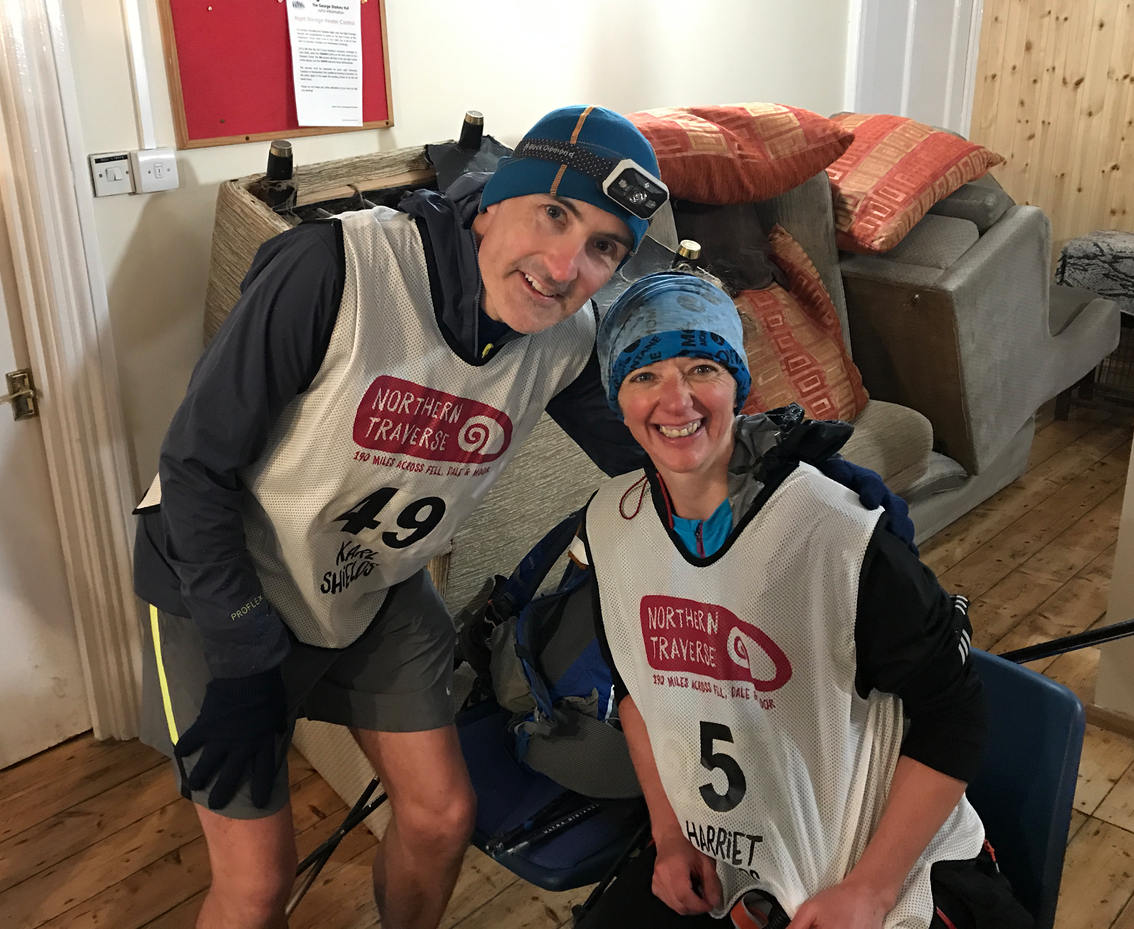 Patterdale to Shap
I think I left with Andy but it can't have been long before Russ & Rob joined us as by the time we reached the top of the climb out of Patterdale we were all together again and 'walking' Jim was not too far away.
When I was about to leave Patterdale one of the runners said that it was now raining and I would need a waterproof jacket. He was right as it basically rained for the next 6 hrs. It wasn't particularly heavy but it was persistent.
In my recce run I made a real mess of this section from Patterdale to Haweswater so I was very happy to let Andy, Rob & Russ lead the way and what a great job they did! I couldn't believe how much easier it is to Angel Tarn when you follow the path! In my recce I was all over the tufty grass and it took me ages.
There was one section after Angel Tarn when Jim was ahead and heading off in a different direction. The path was away to our right but he was too far to call back. In turns out he climbed another hill or two!
Once over Kidsty Pike we had the tricky descent to Haweswater. I will admit that this was my least favourite section of the whole race. It was dark and raining so they rock was really slippy. My blisters were complaining and I struggled to get down.
The other guys were ahead as I slowly made my way down. It was such a relief to reach the gate which signified joining the Lakeland 100 route.  The final sting in the tail was I had a couple of slips on the wet grass and ended up with a very wet bottom!
It didn't take too long to get back together and make our way along Haweswater to Burnbanks. The light was starting to appear now which always lifts your spirits. Again in my recce I made a few mistakes in the section from Burnbanks to Shap but with that knowledge I was able to guide the way really well to Shap past the old Abbey.
We arrived at Shap all together at 6.15am which was 40mins inside my sub 72 hr plan. Things were still going well though I was getting more concerned about my feet and whether they were going to impact on my journey more and more as the race unfolded.
There was a banner up at the Memorial Hall for the Lakeland Traverse and the marshal did say they we didn't have to go in to the hall! There was no way I was not stopping to regroup and we all headed in to have some food and a hot drink before setting off for the next section over the Dales.
Shap to Kirkby Stephen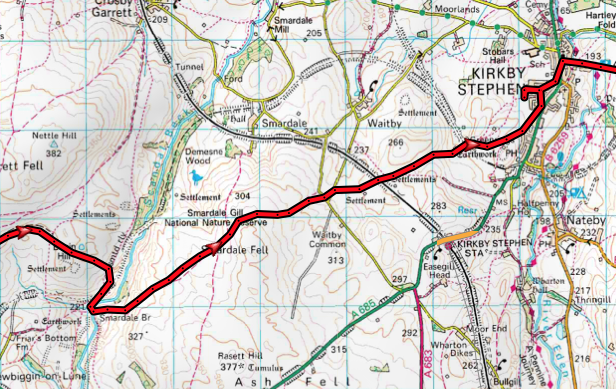 I knew this was going to be a long section. With 62 miles already in the legs and another 20 miles to go to my first sleeping checkpoint this was going to test me mentally as much as physically. I had broken the section up into 4 mini-splits and I was going to concentrate on getting ticking off each in turn.
We all left together. There was nothing spoken but there was definitely a commitment to stay together and support each other. There were times when a couple of us pushed ahead but we always came back together.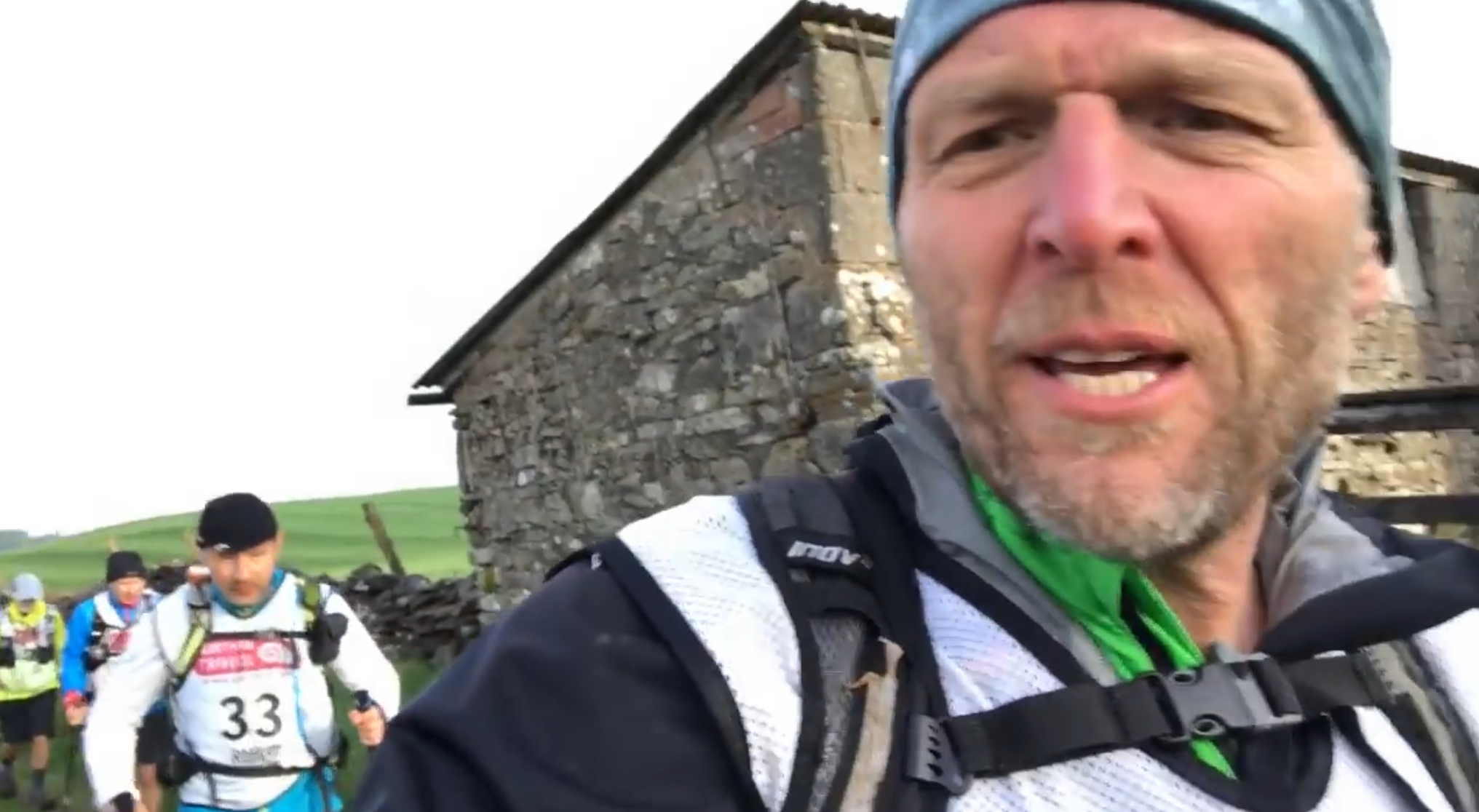 I was continuing to do my video updates and you can see all four of us in them. Over the next 7 hrs we made our way over the ground ticking off my mini-splits along the way. There was a lot less chat as I think we were all just getting it done and finding a way to keep moving.
I tended to be one of the stronger ones on the up hills and was happy that I was holding my own within the group. The last thing any of us wanted was to hold up the group. I think that is why we worked well together as we were very evenly matched at this point and each of contributed the group leading and helping with navigation.
It is the first time in all my ultras that I have spent so much time with a small group like this and I really enjoyed it. It certainly helped knowing that we were all make the journey together and encouraging each other without having to say much.
The trek to Smardale Bridge seemed to go on for ever and I was doing a lot of counting 50 paces over and over and over again but eventually it arrived and I knew we had just under 5 miles to go to Kirkby Stephen which meant food and sleep!
I promised myself I would get out my poles for the final section and they really helped me up that hill from the bridge and over Smardale Fell. It was a very welcome sight when we saw Kirkby Stephen and even more welcome when we arrived at the Checkpoint.
We arrived at 1.23pm on Sunday afternoon so I was 38 mins up in my sub 72 hr plan. I had put down 2hrs to stop here with the idea of eating, then sleeping for 90 mins before getting ready to go again.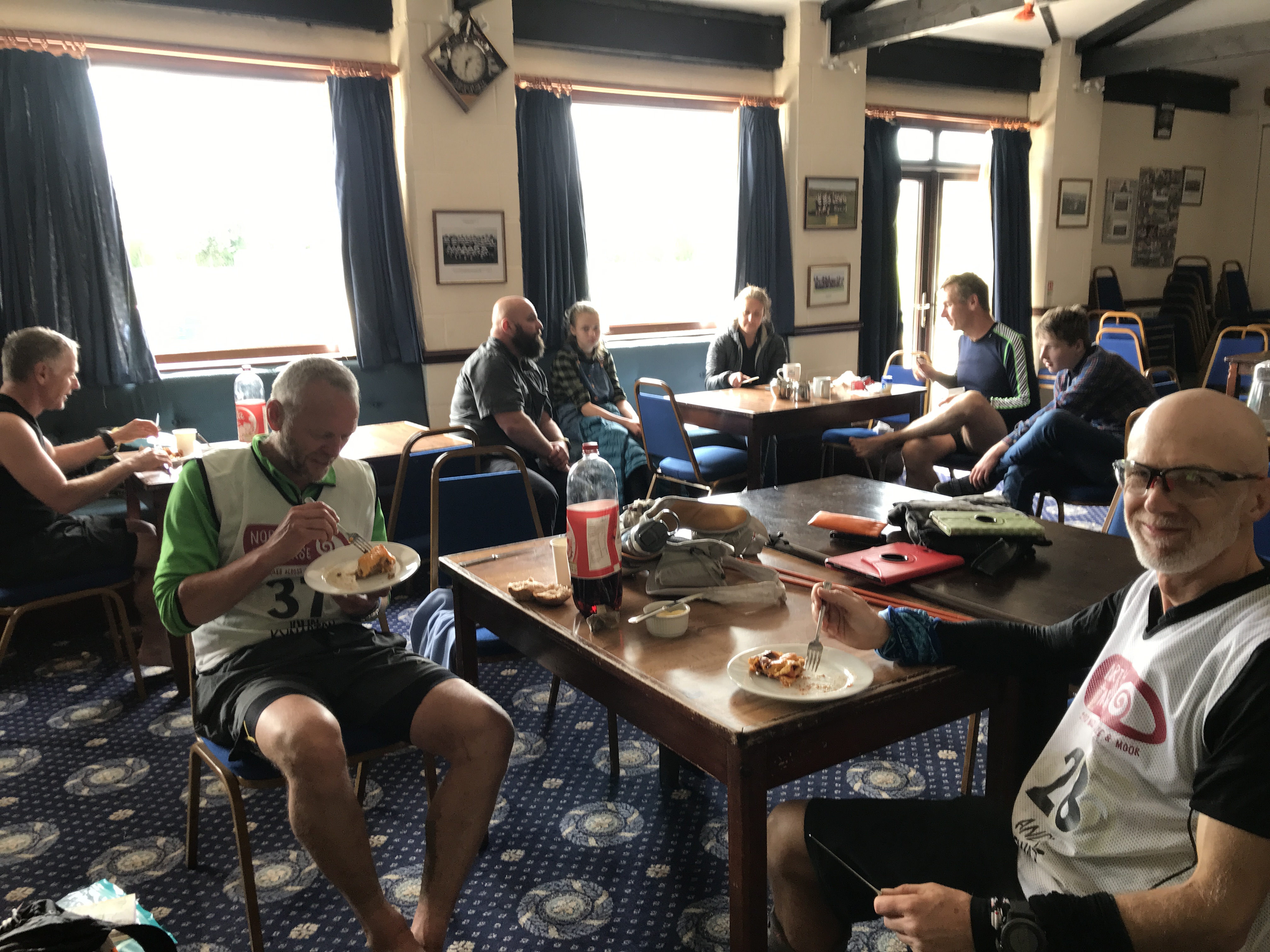 I had one of the best portions of Lasagne ever plus some some and then hot chocolate. My feet were really dirty and sore and so when I was told there was a shower available I didn't need asking twice! It was one of the best showers ever. The race even provided shower gel and shampoo!
Once I was clean and with clean kit on I made my way to the tent and got my head down for an hour or so. I'm not sure how much of that time I slept but I felt somewhat refreshed as I made my way back to the hall.
I spent the next 30mins patching up my feet and getting ready for the next section from here to Richmond. Andy & Russ were first to leave and Rob & I were a few minutes behind. I thought Rob said he was ready but when I got my shoes on I couldn't see him but it turns out he needed a final visit to the loo.
Kirkby Stephen to Keld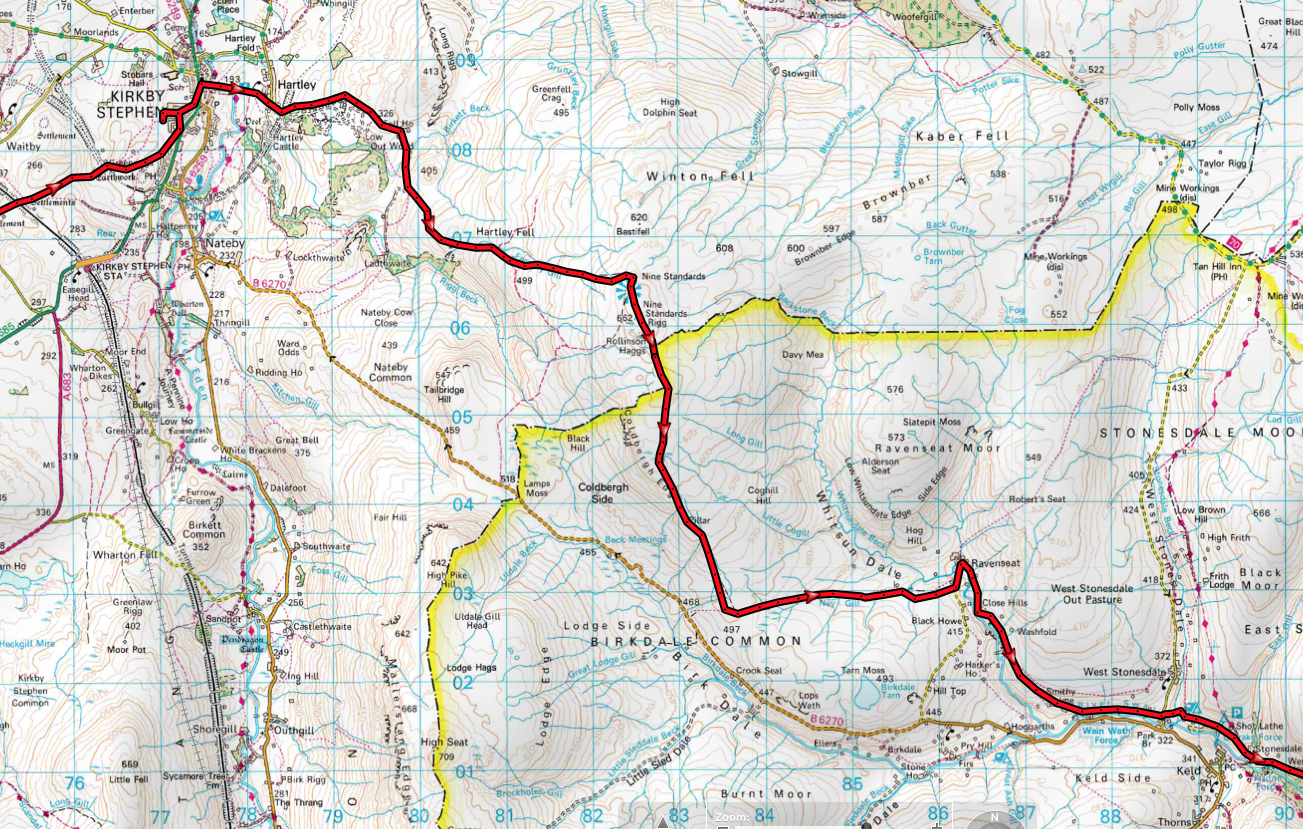 It is a bit tricky finding the path through Kirkby Stephen but I was surprised to catch up with Andy & Russ so quickly. They had taken a few wrong turns. Rob also found the right way so he soon caught us up.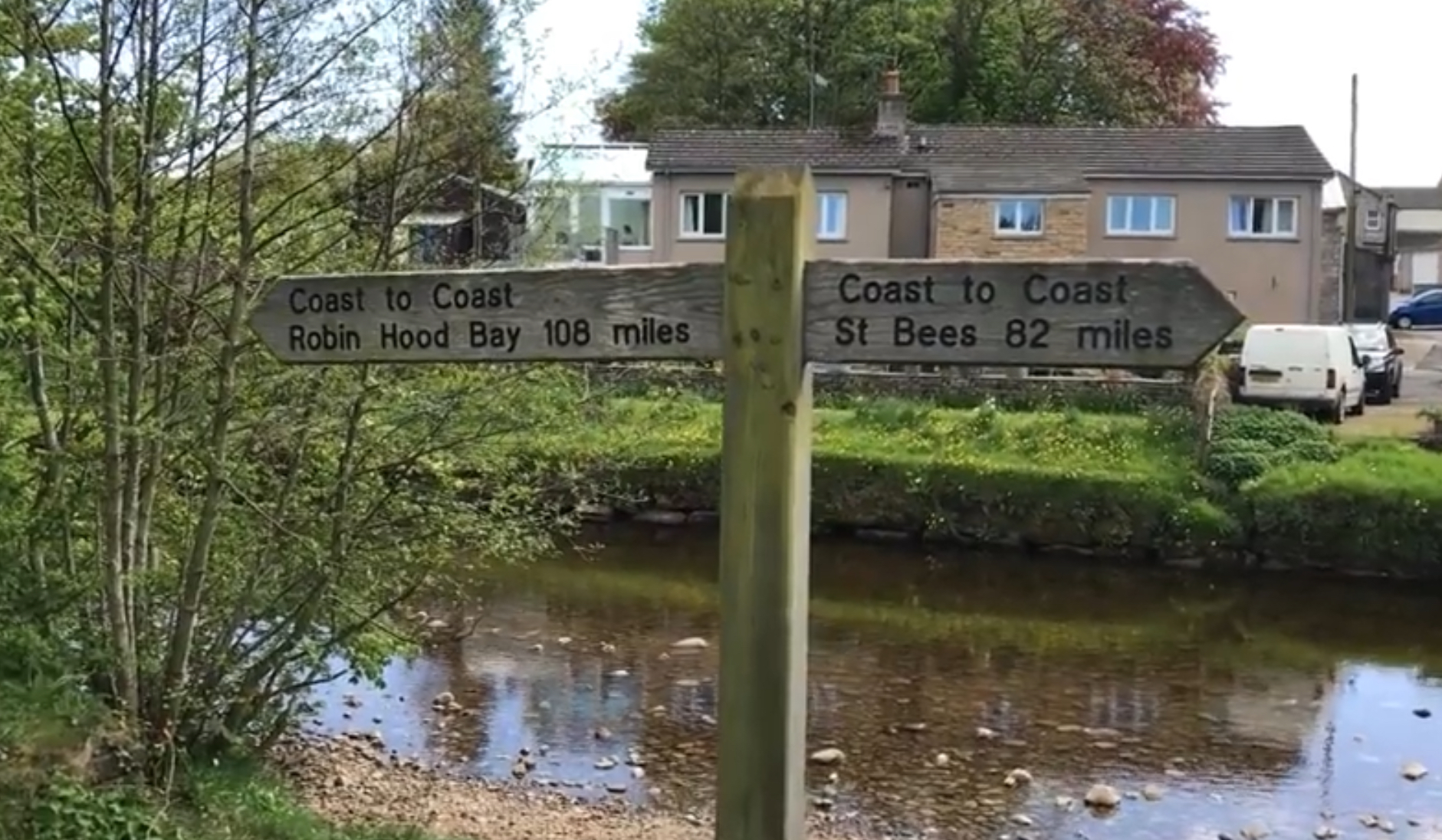 I had explained to the three guys that there is a long climb of about 4.5 miles out of Kirkby Stephen to Nine Standards. The first two miles is on a tarmac road then a stony track for another couple of miles before a single muddy path to the top.
I was feeling quite strong after a rest and led the way up the road and stony path were we re-joined together for the final push to the top. According to my tracker it took me about two hours to climb to the top.
As we climbed we could see a walker with a large rucksack ahead. We caught her right at the top. She was walking the coast to coast route over 16 days. The sun was starting to set and the light was starting to fade but we asked to take a photo of the four of us.  I also took a photo of her with her massive SLR camera.
I knew that the next section from here to Ravenseat was going to be wet and boggy. There are stone slabs for the first half mile or so but after that it becomes trickier. The ground was nowhere near as wet as 6 weeks ago when I did my recce over this part of the course but it was still wet enough to get our feet thoroughly wet which then made my blisters so much worse.
It was a bit of a slog over the wet and boggy ground but at least it was still light and we could see the route. It was good to reach the Pillar which signified the final descent.
As we made our way to Ravenseat I decided I was going to stop and try and repair my feet. One of the tips I had been given by Stephen on my last training run was to deal with issues immediately. As the next main checkpoint was still many hours away I knew I had to sort them out now.
So when we arrived at Ravenseat I encouraged the others to go on as I was going to stop for a few minutes. I took off my shoes and socks and took out some plasters which I put over the worse spots. I also ate my Greek yogurt that I had been looking forward to.
I'm not sure how long I stopped for but I did wonder when I would catch the other three if at all. It was quite nice in some ways to be on my own and think about how far I had come and how far still to go. Keld is the official half way point of the route and I was going to reach it just under 36 hrs so bang on target for 72 hrs!
The bit around Keld is one of the few places where the official Wainwright route and the race route differ. The official route goes over the bridge and down the road to Keld before coming up to the path. The race route stays north of the river and follows a minor road.
I was making my way along this road when I heard my name being called. I looked across and could see my three friends on the road waving! They have followed the official signs and by the time they realised they were of the 'line' it was too late. Though to be far to Rob he was outvoted by the other two!!
I slowly made my way along the road then waited for them to catch up! Andy's first comment was, "See what happens when you leave us alone!' It was good to be back together as we made our way out of Keld.
Keld to Richmond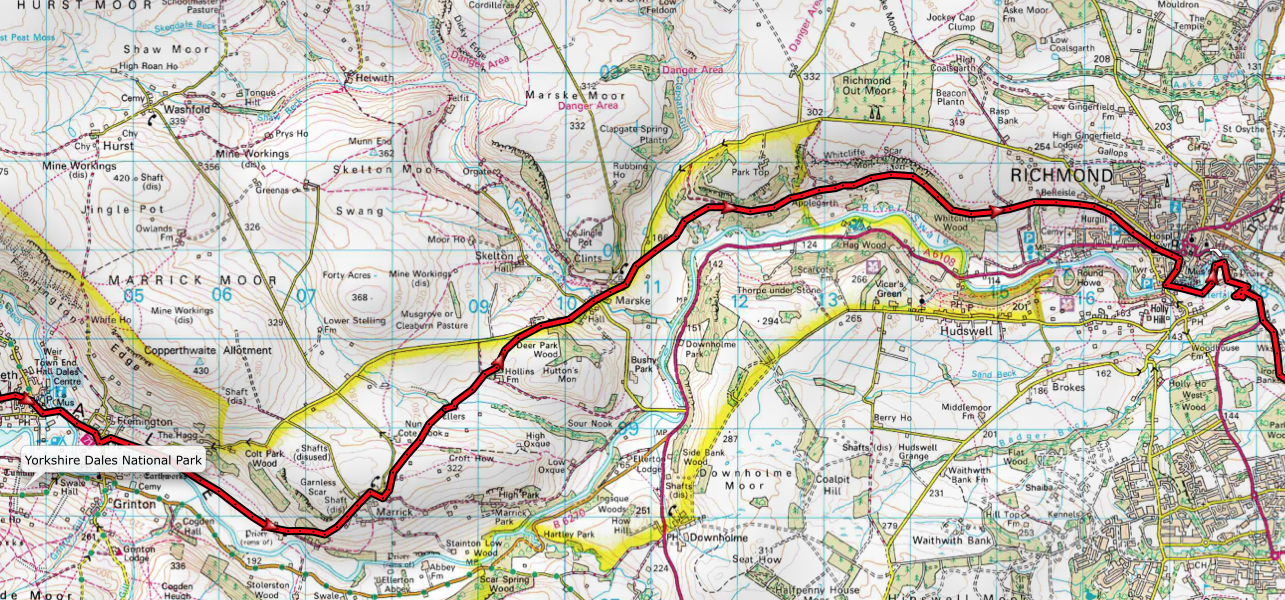 We stopped fairly soon to put on some warmer clothes as we climbed up the hill as it was getting cold and would get a lot colder once the light went completely in another hour or so.
I'd forgotten just how much of a climb it was out of Keld but we were moving well and I was happy to set the pace. Once we reached the wider road at the top the wind had actually died down but as it was dark we didn't want to hang around too much.
Andy & I were feeling good so we pushed on. I had mentioned to Andy a few times that one of the dangers of this course is that when you are on a good path it is easy to relax and think you are safe on this track for a while.
That is exactly what happened. We were chatting away and moving fairly fast (well it felt fairly fast!) when Andy glanced at his watch in the dark and realised that we had run past the turn off down to small bridge by the disused mine.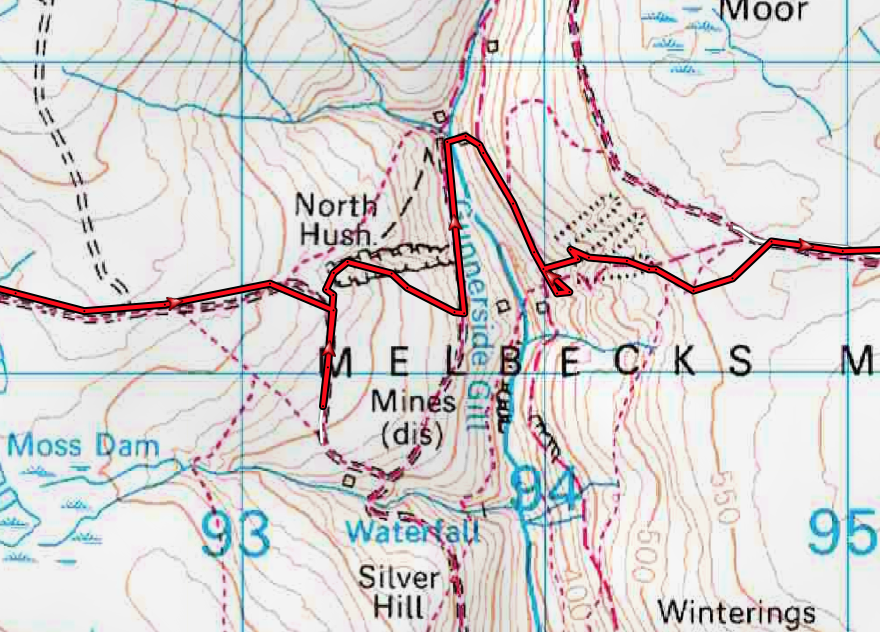 It was a bit frustrating as we had to backtrack up the hill, even more so, when we realised that Rob & Russ had turned off at the correct point and were now ahead of us!
Looking at the trace I can see that we didn't quite go back far enough and we wandered through the rocky section before heading back down to the road and the correct route. We could see our two friends on the other side of the valley heading towards Surrender Bridge.
Eventually we made it to the bridge and were back on track. At the next left turn we (well I) made another mistake. In my recce the line showed that we went around to the right before heading up but the latest file followed the path straight up.
So having been round to the right we doubled back (again) and followed the line straight up. This time we relied on Andy's gps and after a few false leads made safely to the wide road that goes own to Surrender Bridge.
I reckon we had lost a good 30-40 mins but more importantly it had taken a lot of mental energy out of us so as we made our way down the hill we both felt very tired. We were running strongly but feeling drowsy. We talked about having a 10min power nap and it sounded very appealing.
We caught up with Rob & Russ. They had had their own battles getting up to the road and wasted time on several false leads. Maybe we should have stayed together as four heads would have been better than two times two!
It seemed a long way down to Surrender Bridge and I was starting to see double. As the path was wide and fairly smooth it wasn't an issue but I knew I could be in trouble if I didn't get some sleep before the path became more technical.
Once we reached the bridge we stumbled around trying to find the path. This is where my story began and marked the change that I was going to have to make.
So I faced a decision. What was I going to do? Stopping was not an option. I had invested too much into this race and I was determined to get to Robin Hood's Bay.  But something had to change. What could I do to achieve my goal of finishing.
I decided that as my challenging goal of 72 hrs had slipped away that the most important goal now was to finish. I had bought two train tickets when they came up on thetrainline.com
One for Tuesday 4pm which I was planning to use if everything went well and I finished around my gold time and one for Wednesday at 4pm. So basically I had an extra 24hrs so I might as well use it.  Immediately it took off all the self-imposed pressure to keep to my schedule. It meant I could spend a good few hours at Richmond to have some food, have a good sleep which hopefully would mean I wasn't seeing double and take time to really patch up my feet.
As I walked along I felt lots better and was really happy with my decision. It was now about 8am so I ran Katrina who I knew would be at home before heading to work. Our daughter Jo was down for the week with Jono and their two children.
I explained to them my plan and they agreed it was the best thing to do. They had been concerned that I had lost so much time over night and suspected that I might be struggling with my eye sight. I think they were relieved to know that I was taking the sensible option, which to be fair, is not my normal default!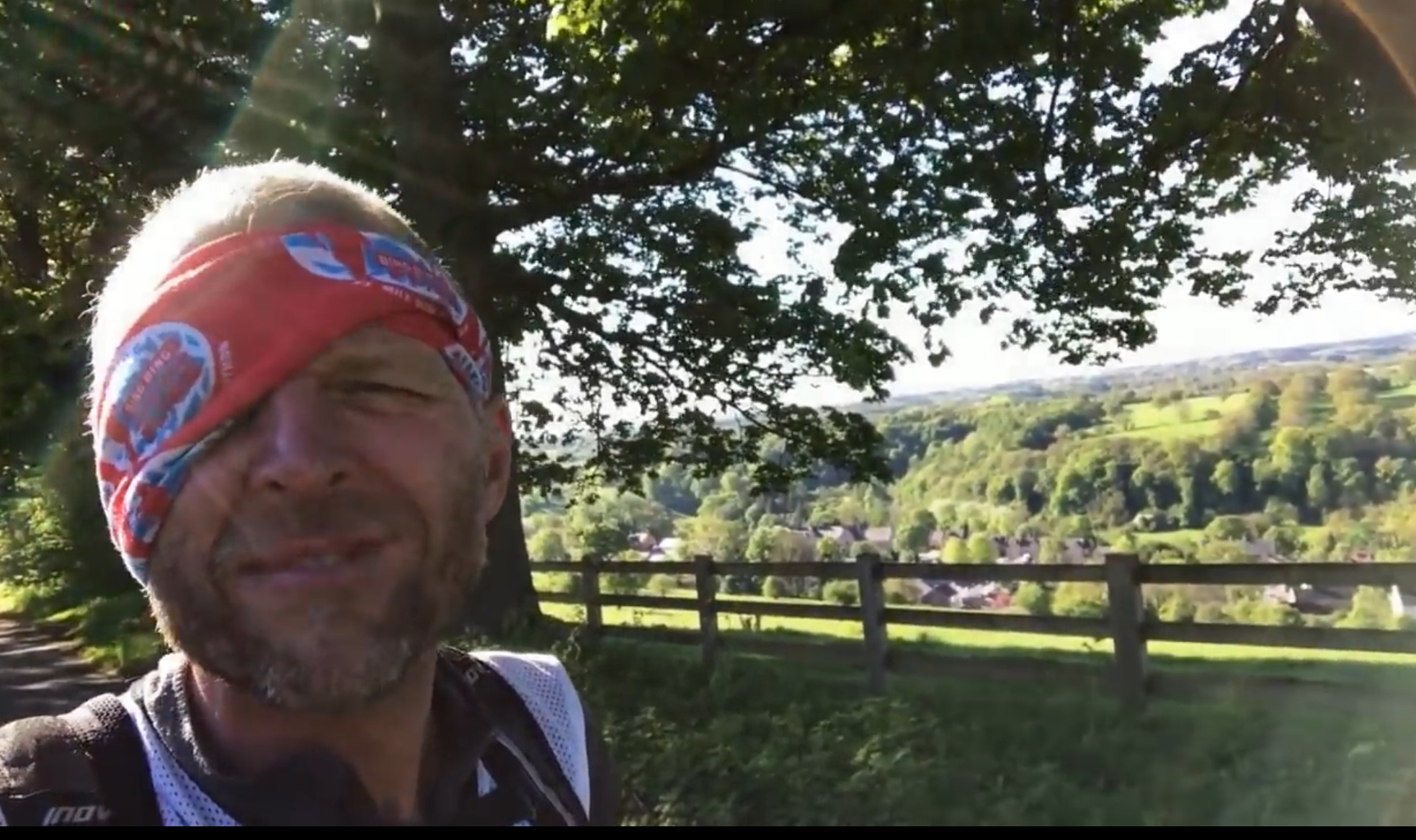 I took my time heading into Richmond. I went via the high street to see if I could find a chemist to buy some zinc take for my feet but it was closed. Jonny, my friend from work, rang at this point and I also explained to him my plan b.
I arrived at the checkpoint at Richmond at 9.16am which was 5hrs later than planned and this is the last time I will mention my plan as it was now redundant. The only thing that mattered now was to finish and to enjoy the rest of the journey. I had plenty of time and a total commitment to get this done.
It was good to see Andy, Rob & Russ. They had been in the checkpoint for over 30mins and were getting concerned for me. I explained to them my decision and the fact that after eating and having a shower I was going to sleep for as long as I needed. I encouraged them to push on without me and wished them all the best for the rest of the race.
I spent 4hrs in the checkpoint and it really did save my race. I spent the first hour eating, relaxing and having a shower. I then headed to a tent for a couple of hours. I didn't put an alarm on. I decided that I would sleep for as long as I needed. It was actually really hot in the tent so after an hour or so I took my mat outside and slept in the shade of the tent.
For the last hour I had a bit more food and spent a good while trying to fix up my feet. I had a number of blisters on my toes and the side of my heels but by the end I they were feeling a lot more comfortable. At this stage I didn't have blisters under my foot so even though they felt sore I could walk/run without too much aggravation.
It was really interesting to see various runners and their tactics. Martin Scott had an interesting strategy. He arrived at around 4.15am so about 5 hrs before me but decided to have a day off and stay in the checkpoint through the heat of the day and then I gather he left at 5.45pm. He took full advantage of the excellent food and hospitality of the checkpoint.
I did a video clip of the team at the checkpoint thanking them for all their support and then headed off for the long leg to Lion Inn with my new relaxed attitude of enjoying the rest of the race and making sure I finished with a smile on my face.
Richmond to Danby Wiske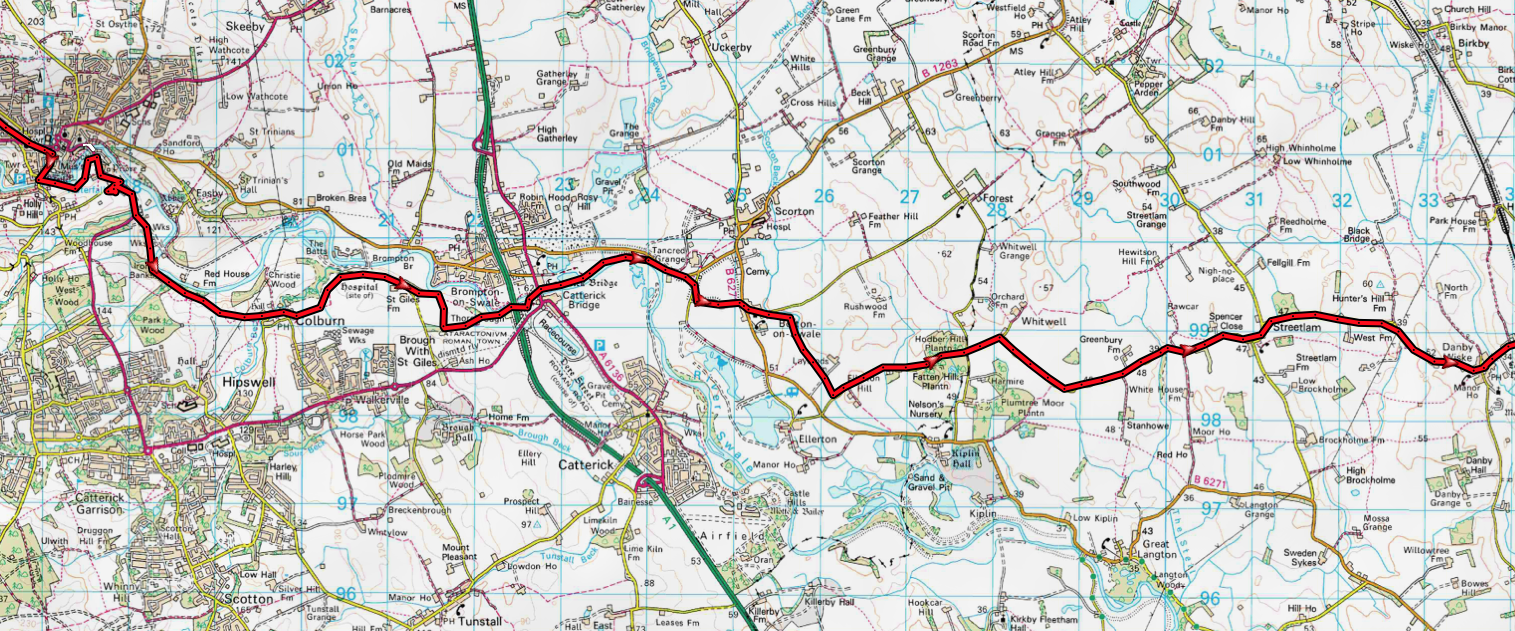 As I left the checkpoint at 1.15pm (Monday 14th May) Jon Steele & Phil Whiting arrived. I stopped and had a quick chat with Jon. He explained that he had been feeling really rough all the way to Patterdale and had concerned packing it in but on advice from his wife Shirley he had a sleep for 5hrs at Patterdale and was feeling so much better. It was great to see him and I suspected I might see him again.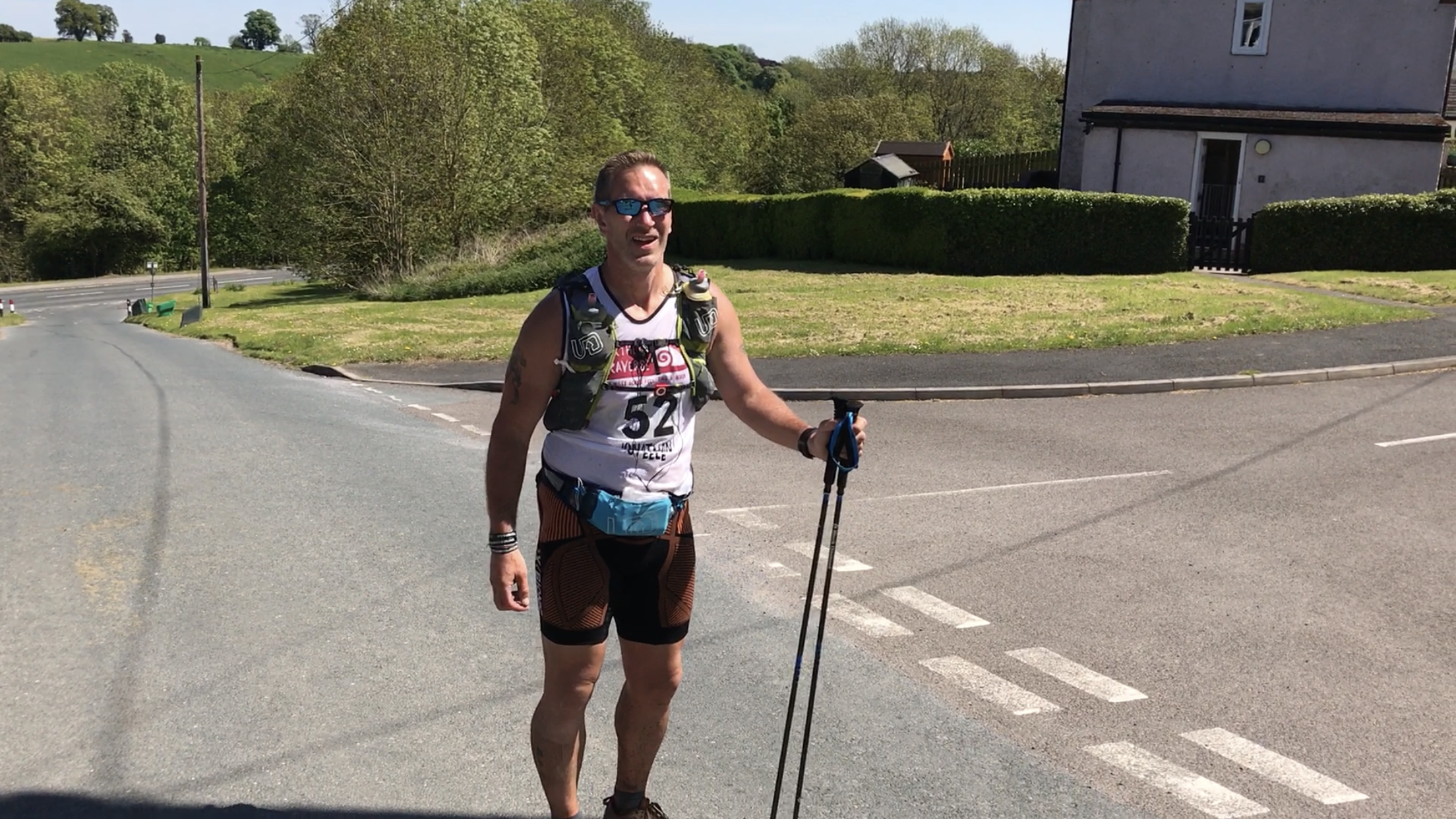 I decided to walk a good while to get going again and if I felt I could run later to do so but I knew that I had plenty of time to walk it in from here if I had to.
The section to Danby Wiske is fairly straight forward though I had make a few navigational mistakes on my recce which I was determined not to repeat on the race.
It was still quite hot which was another good reason to keep the pace steady. I knew there was no-one ahead for many hours and Jon & Phil would probably be having at least a couple of hours in the checkpoint so I would be on my own for a while.
After a few miles I arrived at the gate where the diversion starts. James in his briefing had explained that even though there was a sign saying footpath closed he had permission for the race to use the path under the A1.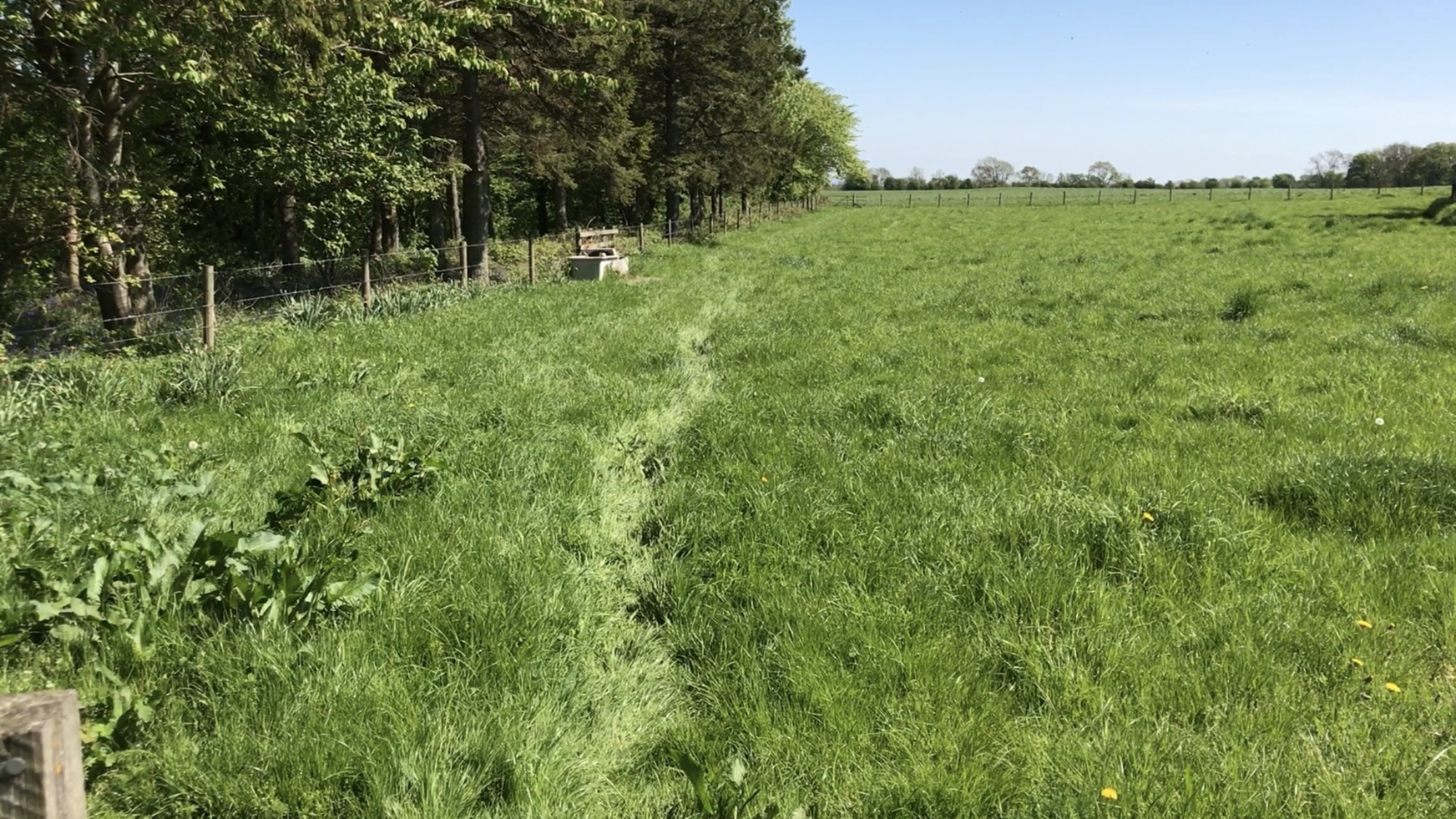 There was a clear line in the grass where the runners ahead of him had trampled it down so it was fairly easy to follow.  I was feeling in good spirits and without my mini-splits to target I took my time and enjoyed the adventure. It was interesting to see how it affected me.
Up until that half-way point I was doing a lot of counting to keep going but now I was happy to move at the pace I was and not worry about times. Whether I finished in 85 or 95 hrs didn't really matter now and meant I could relax a bit more and enjoy the journey.
I went under the A1 past the Catterick race course and onto the grass path along the river. There were lots of cows around lazily chewing on the grass in the afternoon sun. I had a few short bursts of running but was actually quite happily walking steadily along the route.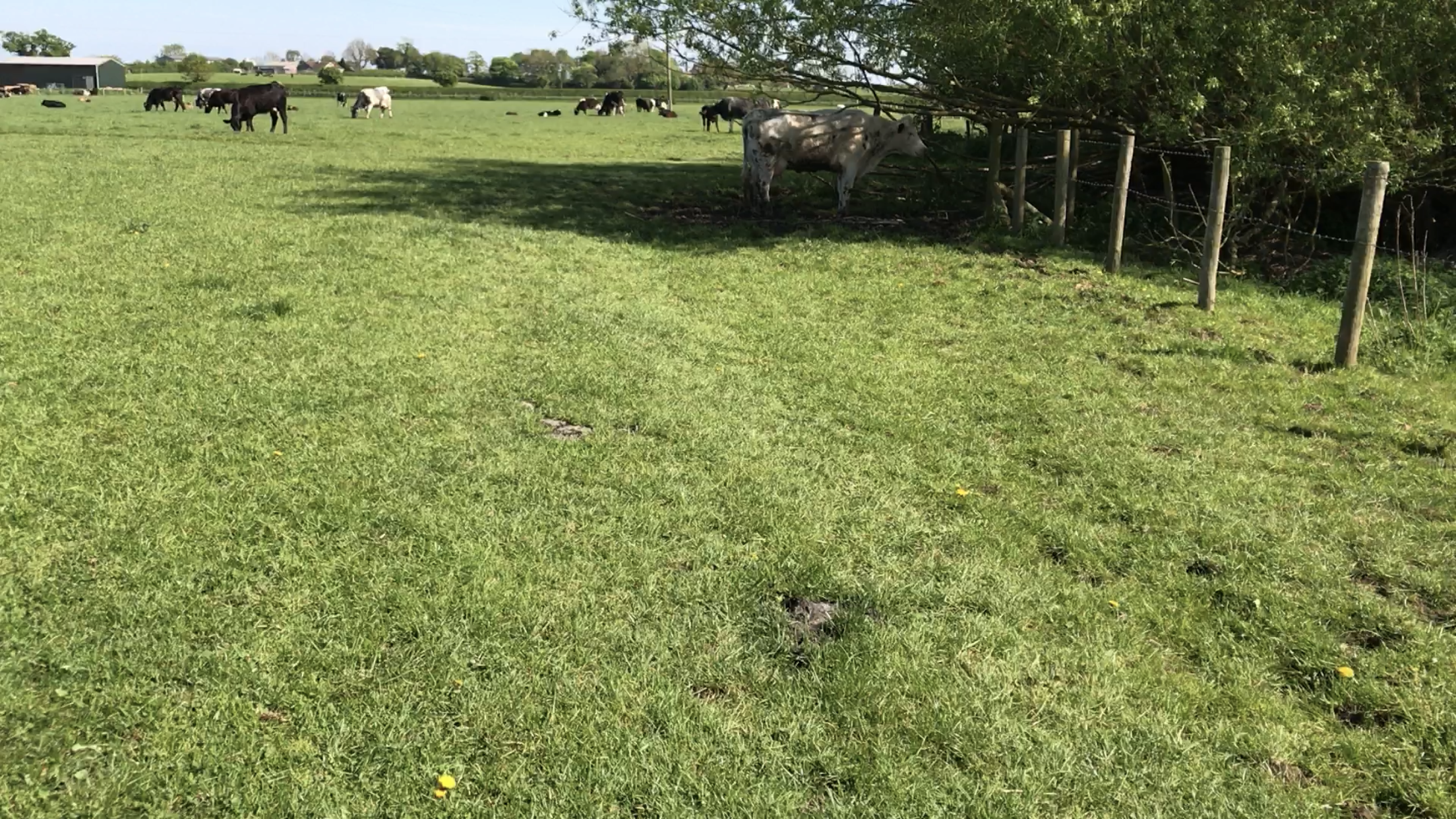 I ran out of water by the time that I reached the lovely little village of Bolton-on-Swale. I had promised myself that I would have a 5 min sit down at the village and hopefully get an ice cream. The latter wasn't available but there was a lovely wooden bench in the village which I enjoyed sitting on.
This was another difference in my more relaxed approach. I was happy to have a stop every 90mins or so. In fact it became a treat I rewarded myself with and again helped to keep me focused.
As I set off again there was a lady in her garden so I asked politely whether she could fill my water bottle. She was more than happy to help saying how hot it was and how important it is to drink!
Not long after the village I came to the road section that James had introduced this year to avoid the really wet, boggy fields and also the busier B6271 which lay further south.
The signpost said 4 ½ miles to Danby Wiske so I set off with a spring in my step to get there. It was probably the longest stretch of the whole route on road and while it wasn't my favourite bit I could keep moving at a decent pace.
I calculated that I would arrive at Danby Wiske around 6pm so decided, with my more relaxed approach, that I would stop at the White Swan and have a meal. I hadn't really eaten much since when I arrived at Richmond at 9.15am so it would be good to have some food before going into my third night.
About a mile or so from Danby Wiske I did a Facebook live and giving an update as to how I was getting on. I had done one at Richmond to explain my change of plan and I thought it would be fun to do an update.  With the Facebook live you get an immediate feedback that you can see on the screen so it encouraging to read friends comments.
I arrived at Danby Wiske just before 6pm and headed straight for the White Swan.  I was able to order a cheese broccoli bake and a pint of orange and lemonade. The meal was superb and I ate every last morsel.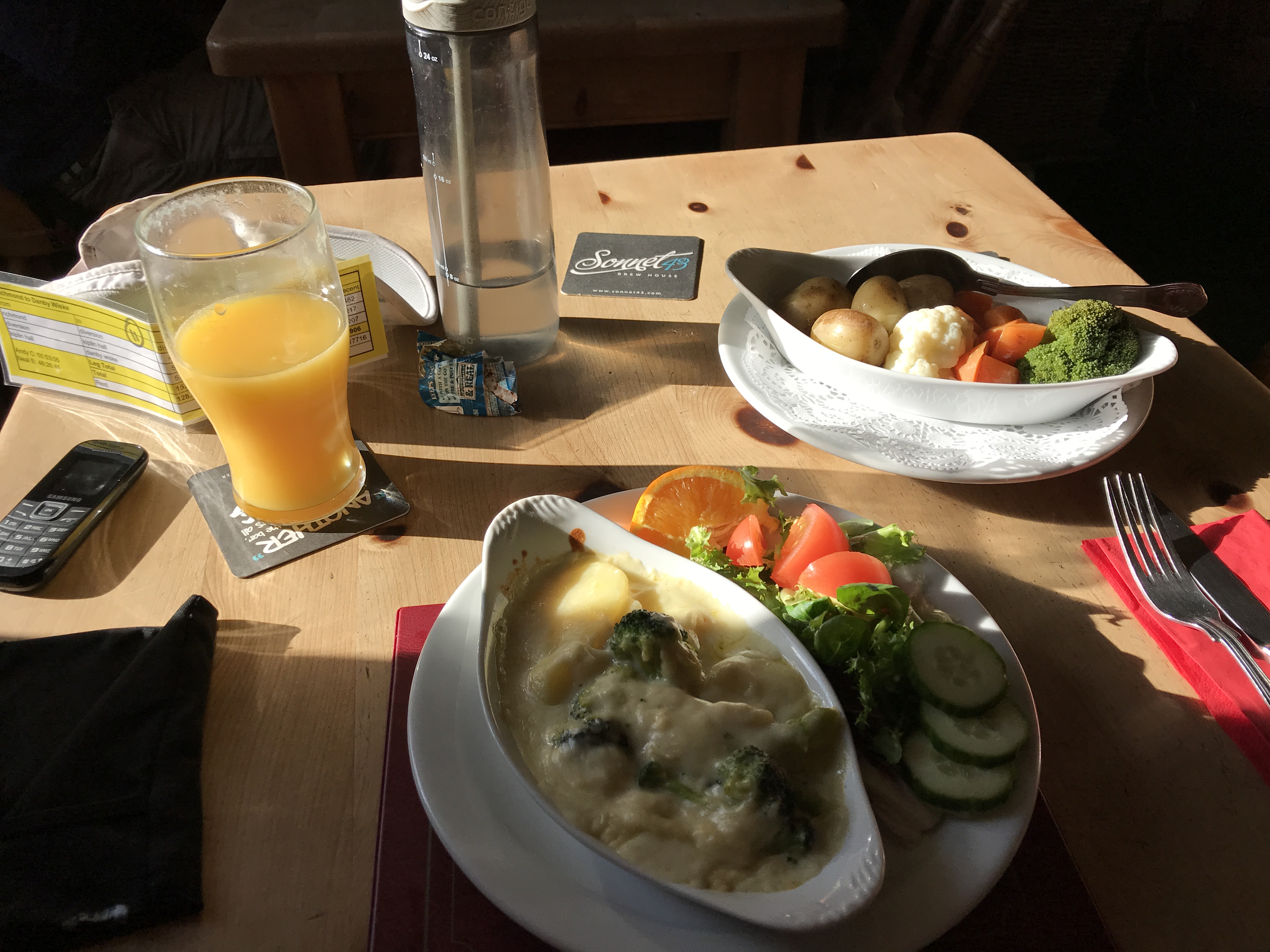 Danby Wiske to Lord Café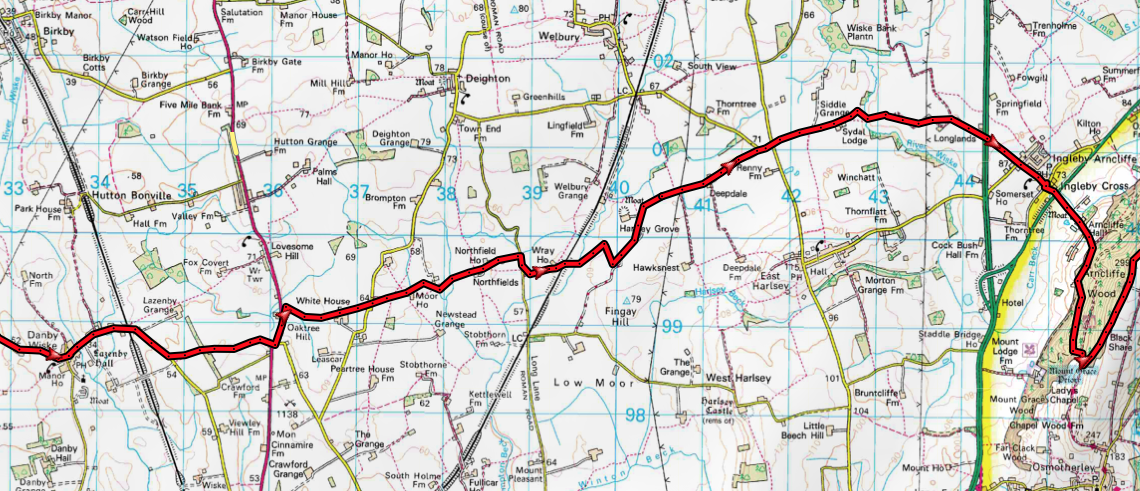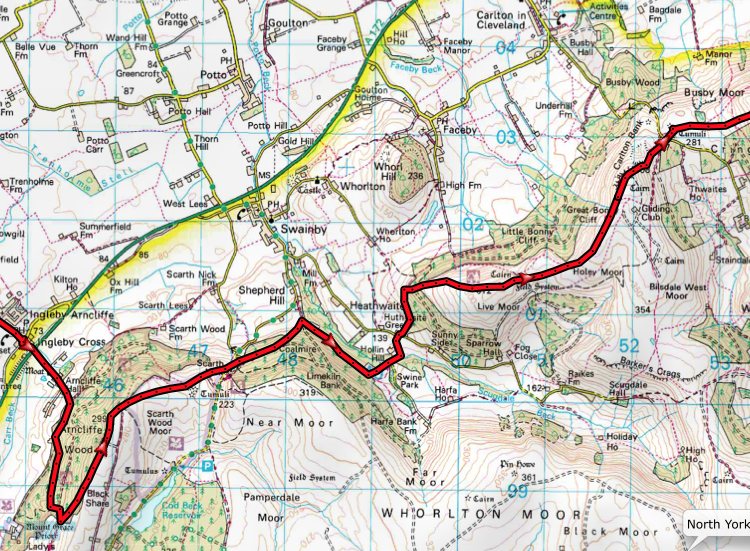 I set off with a full stomach in the early evening sunshine. I figured it would take me about 3hrs to get to the sign which shows the coast to coast path joins the Cleveland Way. It is fairly straight forward but involves going over a number of fields and down various roads.
I settled back into my pattern of walking for 90mins and having a stop for 5mins. I checked my phone a few times and could see that I was still in a little bubble of space with some runners way ahead and others like Jon & Phil behind but it did look like they might catch me.
With my more relaxed approach I really didn't matter if other runners caught me. It was all about doing my own race and for me that involved making sure I finished!
I stopped at the farm which as the honesty fridge. I took a bottle of coke and some plasters and left some money to cover them. It's great to see that farmers support the coast to coast walk in this way.
The last couple of miles to the A19 crossing seemed to take for ages. I remembered there was a left hand bend at a white building that has cream teas but it took a long time before it finally arrived.  But like all landmark if you keep putting one foot in front of the other eventually things do arrive.
As I approached the A19 I remembered James' warnings about being careful getting across. It was about 9.30pm on Monday evening so I hoped it wouldn't be too busy and that is how it proved. I was straight over without having to wait.
I also remembered from conversations with Andy Cole that the pub at Ingleby Cross is a good place to grab a drink before heading into the night over the North York Moors so that became my next stopped point.
I arrived at the pub at 10am and as I entered someone said, 'here comes another athlete.' They explained that Angela White was upstairs asleep. They said she was struggling a bit (though Angela denied that when I saw her later!) and so they offered her a bed to recover.
There were about 4-5 regulars in the pub and they knew about the race and were quite happy for me to sit in the corner and relax. They made me a cup of hot chocolate and in the warmth of the room I asleep well!
I woke at around 10.55pm as the regulars were leaving. The guy who runs the pub is a keep cyclist and told me to take my time getting ready. I checked my feet and put on all my warm clothes as I knew it was going to be a cold night.
I thanked them so much for their hospitality and set off for Lord's Café. I had given Katrina a ring before I went into the pub and she said that Jon & Phil were less than a mile away so I expected to see them soon. Or maybe they had gone past me while I slept in the pub? It turns out they had slept outside the ESSO garage at the A19 crossing.
It is a longish climb up through the woods to the Cleveland Way but I was moving well and in good spirits. I knew though that I would need another sleep. I didn't want to get to the stage where my vision went blurry again especially as I was on my own this time.
I decided to climb up to the TV tower in the woods and try and find some shelter to sleep there. By the time I reached it I was definitely ready for a sleep. I found a nice comfy spot out of the wind and lay down on my bivvy bag and tried to get some sleep.
I deliberately stopped near the gate so I could hear when Jon & Phil came past so I was quite surprised when I woke to realise I had not heard them. Either they went through the gate very quietly (unlikely) or I had slept very soundly (also unlikely) so I assumed they were still behind me.
I had stopped for about 90 mins and it took me a while to get into a rhythm again. After maybe 30mins I saw a heads torch catching me up. I assumed it was Jon or Phil but it was Martin! He was a man on a mission after his long rest at Richmond. He hadn't seen Jon or Phil.
Martin soon disappeared into the distance and I on my own once again. There were still a few hours until it got light but I'm very familiar on this stretch of ground as I've been over here many times in various Hardmoors races.
When I reached the phone box before heading into the section to Clay Bank I saw someone waiting by his car. As it was about 3.15am in the morning it seemed strange but it was one of event marshals checking I was okay. I had my 5 min stop there, ate a yogurt and set off for the long section to Lord's café.
When I did this with Katrina in March as part of the Hardmoors 55 I'd forgotten just how far it is. This time I knew it would take me a while so I settled into a pace I could keep going. Half way along I was caught by Jon & Phil and we continued on together to the cairn at Clay Bank.
It was great to have some company and I enjoyed hearing about their adventures since I saw them last. They were moving really well and I was so pleased for Jon especially as he had been so sick early on in the race. It just shows once again how you can get through tough times and get going again.
We paused at the top to take some photos and enjoy the very early light as it appeared over the horizon. Jon & Phil were keen to push on whereas I had promised myself a few minutes at the top. I did another video clip before making my way down to Lord's Café.
My feet were starting to hurt again so I decided to stop at Lord's Café to deal with them. I took off my running tights as the sun was starting to make its appearance and it looked like it was going to be another hot day.
Once I sorted out my feet and gear I had a quick 10min doze lying on the wooden bench before starting the climb the first of the three sisters. The light was incredible as the sun was on the far side of the hill whereas the side I was on as I climbed was still in shadow and cold!
When I reached the top the warmth of the rising sun hit me and gave me an immediate boost. I made my way along the top and then down before climbing again up the second of the three sisters.
I really enjoyed having the three sisters to myself and happily made my way to the final climb. I was still feeling quite tired though so had a couple more 5 min stops to recharge my batteries.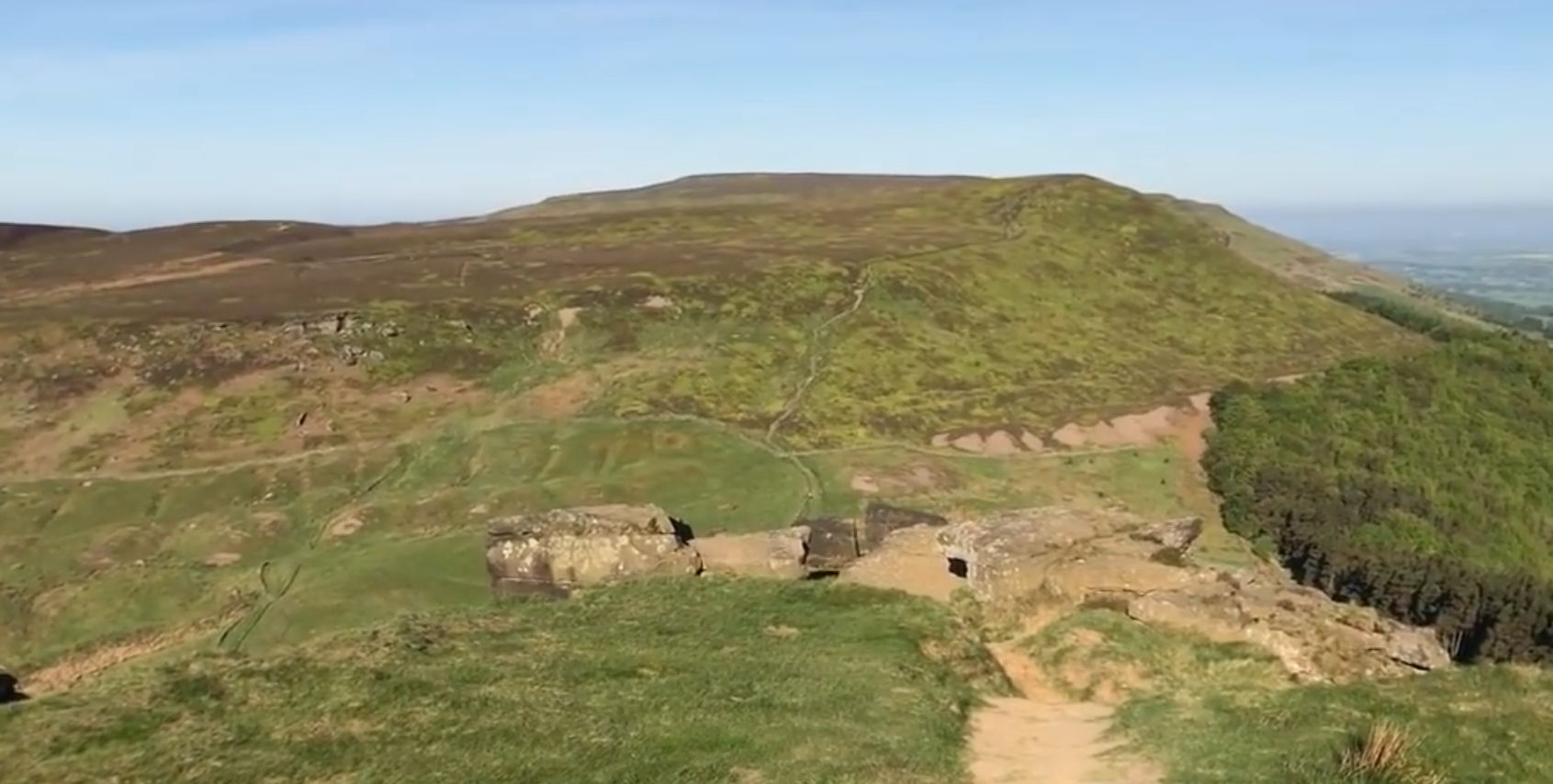 After climbing through the Lords Stones a runner I talked to earlier was on her way back. She was out for a run and hoped to see her friend who was running the race. I asked her would she take a photo of me which she kindly did.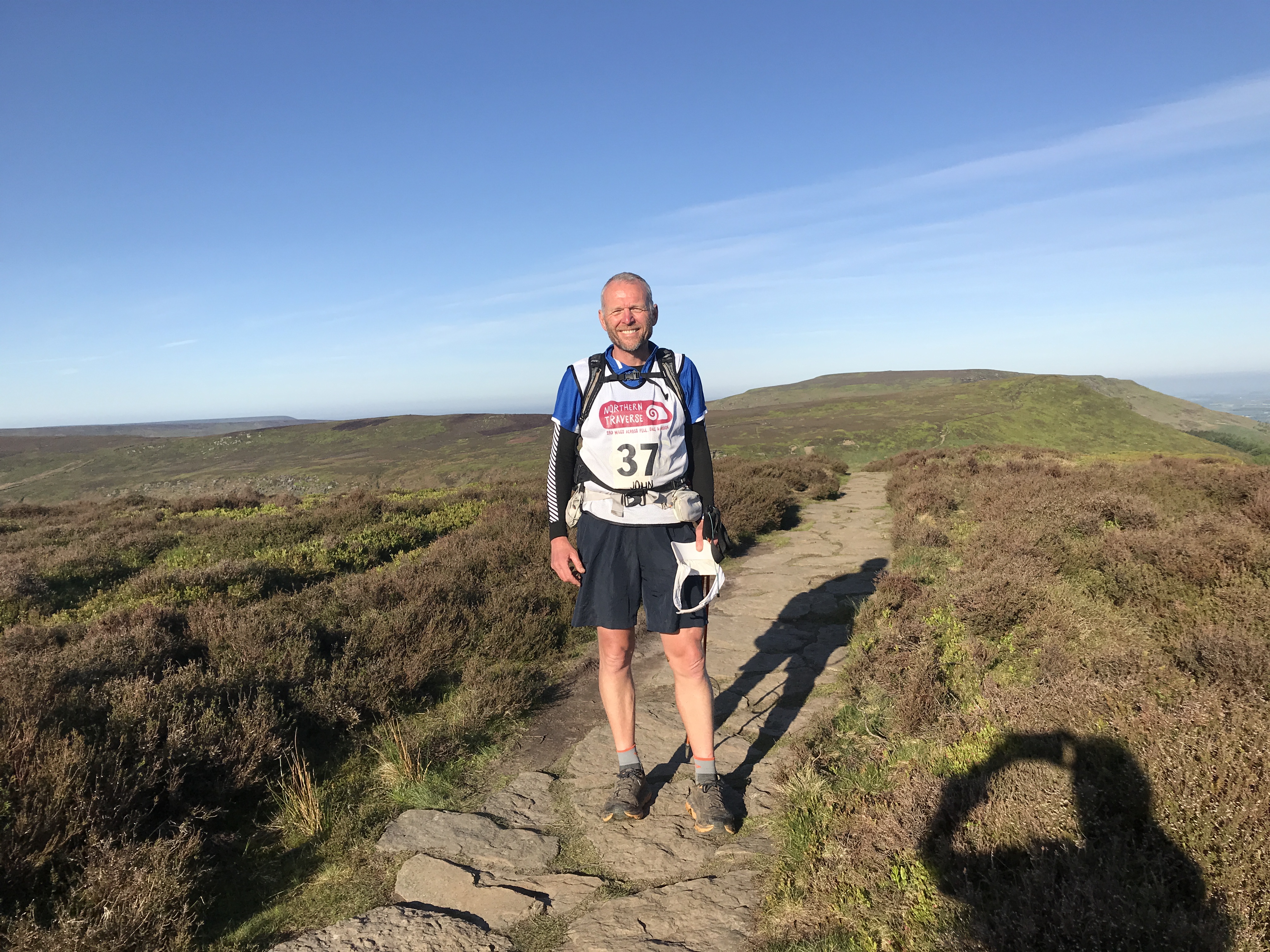 I was starting to feel a bit more alive again and moving better. As I reached the road crossing Matt & Ellie from Summit Fever Media arrived in their car and chatted to me as I got ready to make my way to Bloworth Crossing and then the Lion Inn.
I had spoken to them before the race and was secretly hoping that I might appear on one of their excellent daily videos. Matt walked out with me and took some shots using his gimbol. The footage did make Episode 4 and it looks amazing with the sun coming up over the horizon. One of my daughters brought me down to earth though when she said I looked like a homeless person walking with sticks!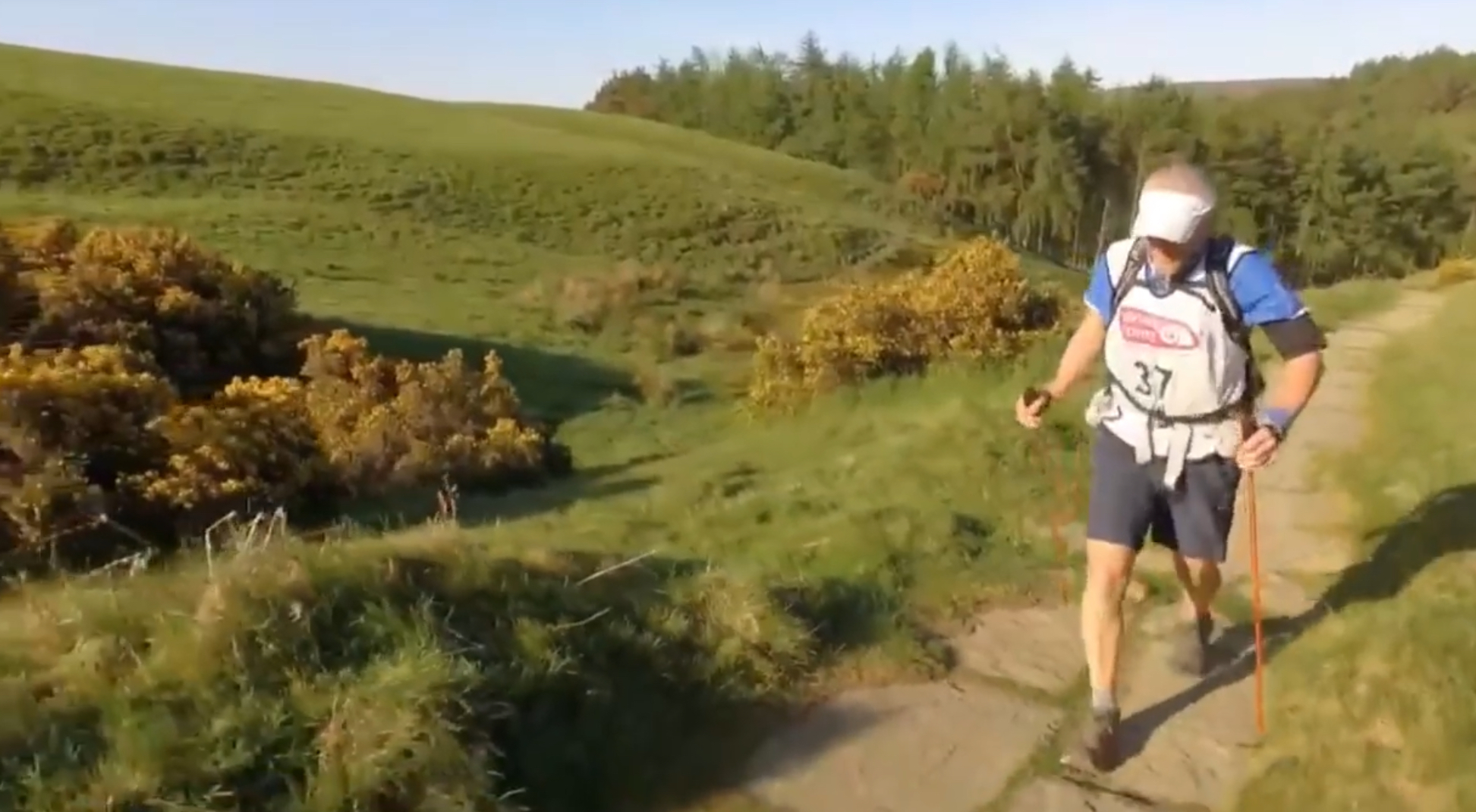 Meeting Matt & Ellie gave me a boost and I climbed strongly up the hill. Around 8am so I gave Katrina a ring as I knew she would be getting ready for work. I described the view and weather as it was so different when she was here with me in March for the Hardmoors 55 – 45 mile an hour winds and driving snow!
With a mile or so to go before Bloworth Crossing I caught up with Phil. He explained that he couldn't keep up with Jon and asked whether he could join me. It was great to have his company and we walked the rest of the way to the crossing then to the Lion's Inn.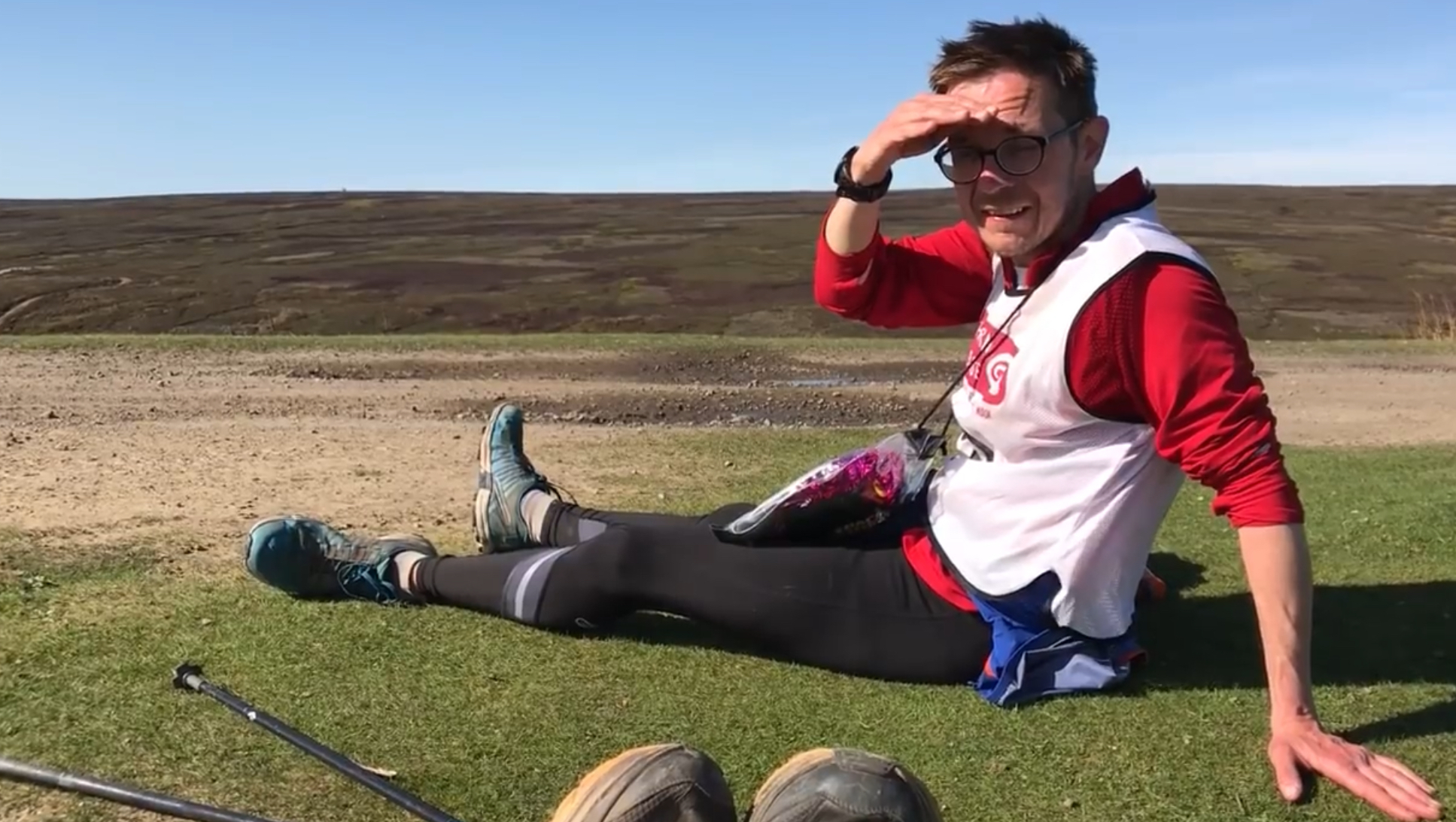 I really enjoyed getting to know Phil. I asked him how he got into running and he explained that he was 14st and when one day he was completely out of breathe running for a football with his 6 yr old son he realised he had to do something about his health. From there he started setting himself challenges which included running and he is still setting them!
About half a mile before the Lion Inn we saw Matt & Ellie again and they took some more great footage of us along the track.  I was able to include the bit of film in my video diary of the race with their permission.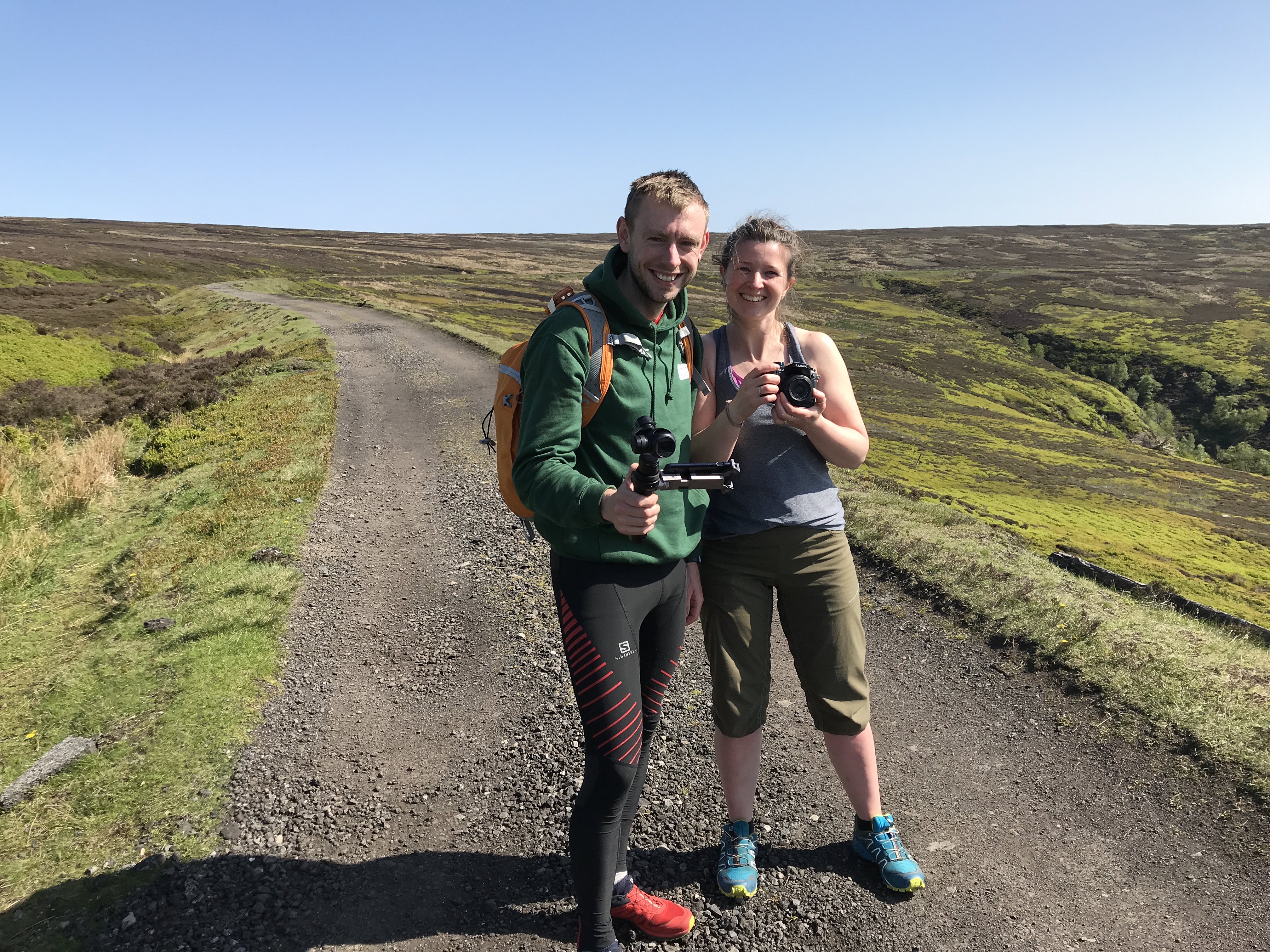 If you have not seen the videos I encourage you to have a look. They are excellent and give a great flavour of the race.
My plan for the Lion Inn checkpoint was to have some food, sleep for at least 90mins and then set off before 3pm for the final 28 miles. We arrived just before 11am. Once again the checkpoint was manned by volunteers who wanted to help as much as possible.
Jon had been there for a couple of hours and left about 11.30am. He was looking stronger and stronger and said that he had run all the way from Bloworth Crossing whereas Phil & I had walked!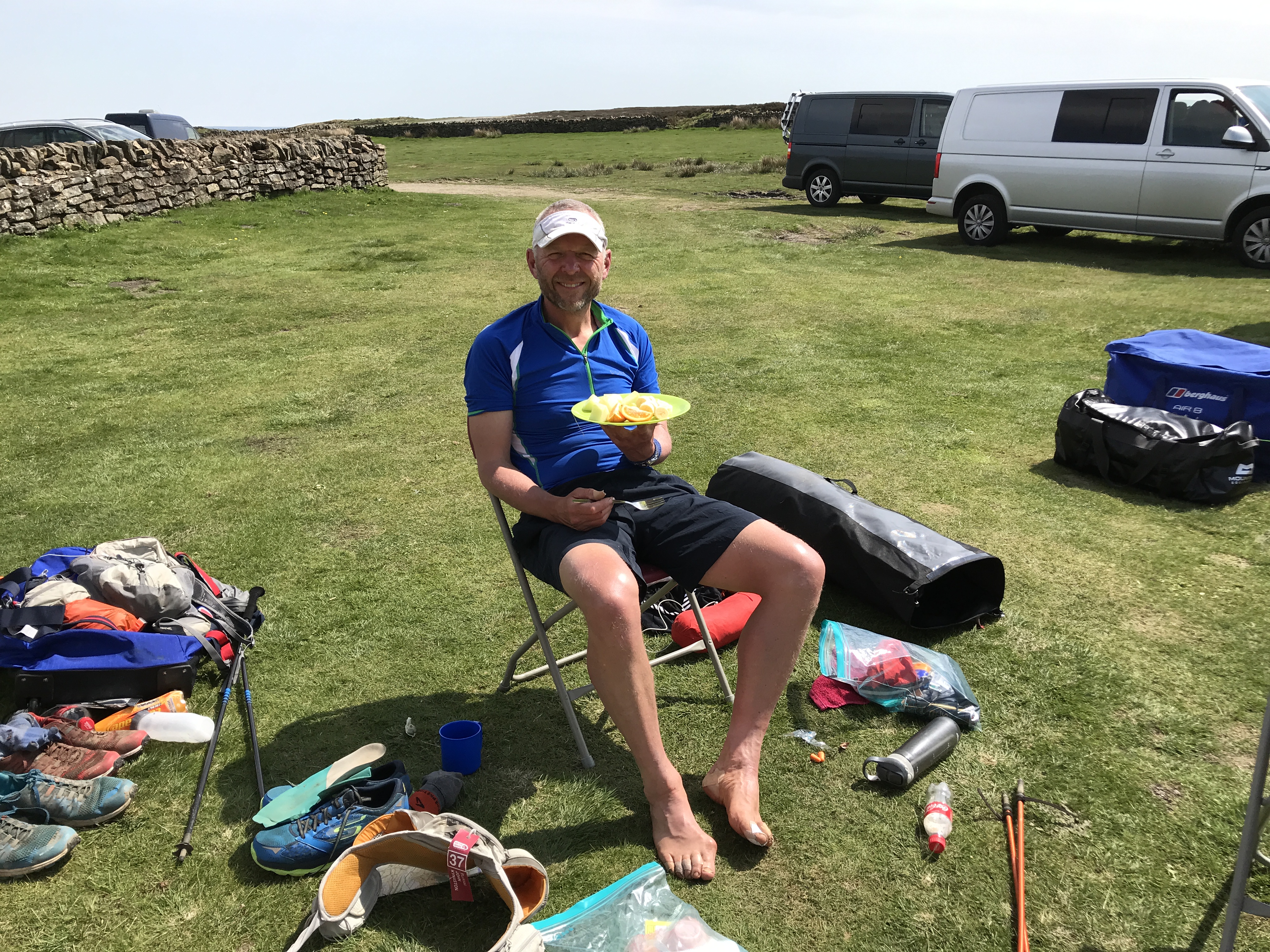 I had some soup and a bacon & egg roll plus drinks. I slept for an hour or so and then around 2pm I was up and sorting out my feet for the final leg. I decided to change to my Skechers as I hoped they wouldn't aggravate my blisters.
As I was getting ready to go Sarah & Jess arrived followed not long after by Karl, Harriet and Chris from America. It was good to see them again. Sarah in particular looked as though it has been a long stretch but well done for sticking it and making it. I think they were all planning to have a good stop before heading out for the final leg.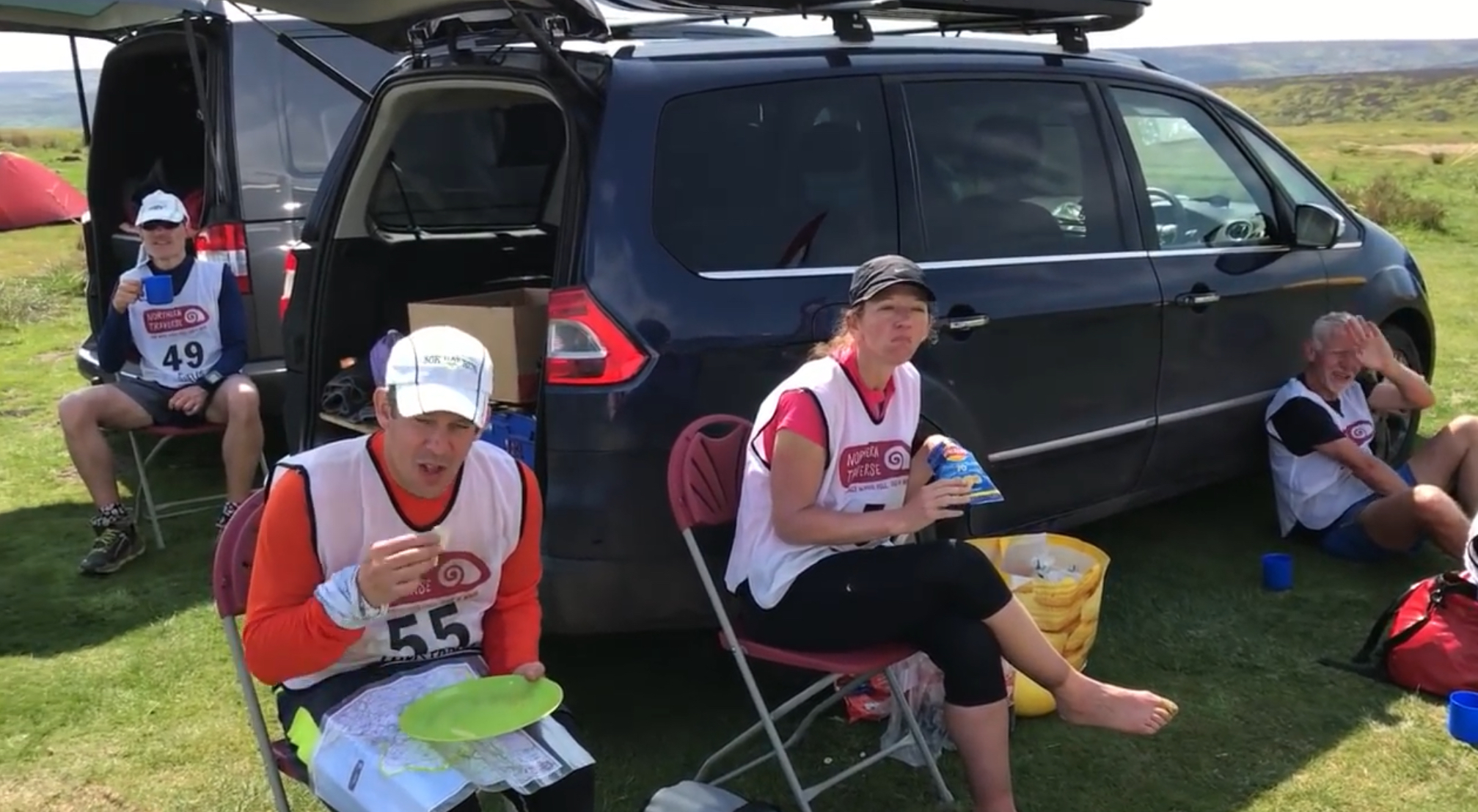 I was ready at 2.30pm and Phil was still sleeping so I decided to set off on my own. There was a good chance I would see him again.
Lion Inn to Glaisdale
It was good to think that the next main checkpoint was the finish but that was still just over 28 miles away so I needed to concentrate and break it down into bit sized pieces. It was roughly 9 miles to Glaisdale, 15 miles to Hawker and then 4.5 miles to Robin Hood's Bay.
I had broken up the 9 miles to Glaisdale into 3 mini-splits of 3.14, 3.31 and 2.62 miles so I was going to tick them off and I would get there.
After about 45 mins Angela White caught me and with a quick chat was away. She was moving well and went on to finish in 85:55:39. A very impressive run.
Once I got to the main track to Glaisdale I started running and was pleasantly surprised to note that I could! My feet were feeling so much better in the Skechers and I took full advantage. It was great to be running again and I started to think I could finish well before 1am.
I came into Glaisdale at 5.30pm and called into the shop on the route. The shop keeper said that a number of runners had called in over the past couple of days! I bought an ice lolly, bottle of coke and a bottle of water.
Glaisdale to Hawkser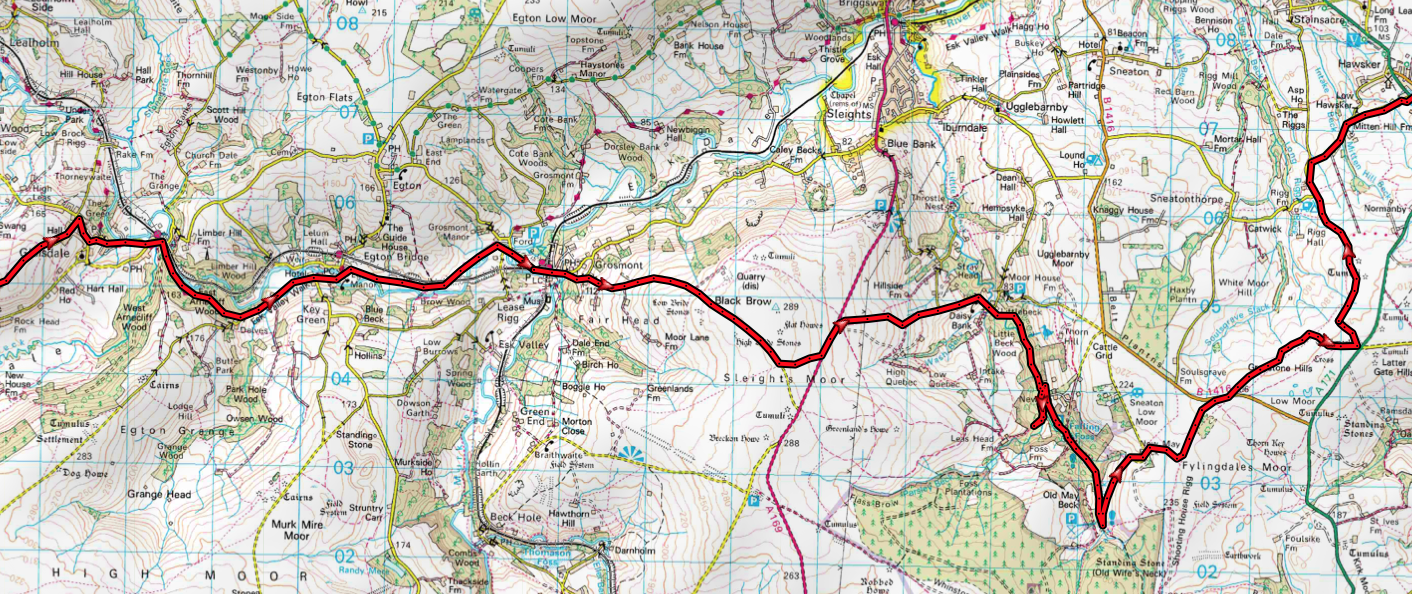 I was on a bit of a high but I had to reign myself in as I still had 20 miles to go! I enjoyed the route through the woods to Egton Bridge, then the good path along the river to Grosmont. A runner from the Hardmoors family (sorry forgotten his name!) was waiting for me along here.
He explained that he lives nearby and had come out to cheer every runner go by from Eoin Keith at the front to me and presumably the rest of the field. It was good to see him and it was an encouragement to have someone cheering on all the runners.
After crossing the railway bridge at Grosmont I started climbing up the hill. I had forgotten from the recce just how long and tough that hill is! It went on for ever and ever.
I felt I was getting slower and slower so I stopped at one of the farm entrances where there was a stone bench and lay down for 10 mins for a power nap.
It did seem to help as I climbed the rest of the hill at a quicker pace. Note not a quick pace just quicker than really slow!
It was great to reach the top, make my way over the heather on the path between roads, down the main road for a bit and then turn right heading to Littlebeck. The light was fading now and it was getting cold so I stopped to put on a jacket and get my head torch ready for the evening.
Around 9pm I gave Katrina a ring. At that stage I was still hopeful of finishing around 1am. Jon Steel had just finished. Jon set off about 3 hrs before me from Lion Inn so 1am would be reasonable.
By the time I reached Littlebeck it was getting dark and being in the woods meant I needed my head torch on. I knew I was not going to be able to make it to the finish without having a sleep. I could see that Matthew Holt was not far behind.
I remembered on the recce there was a stone hut in the middle of the woods so I decided I would sleep there. When I arrived I quickly put on my warmer jacket and lay down on the stone seat to grab some sleep. I think I was there for around an hour.
It was pitch dark when I set off again. I immediately made a mistake following the path to the right and down rather than staying on the higher path. I followed this path for maybe 15mins before I realised my mistake. I had to retrace my steps back to the hut! What a waste of 30mins plus the energy!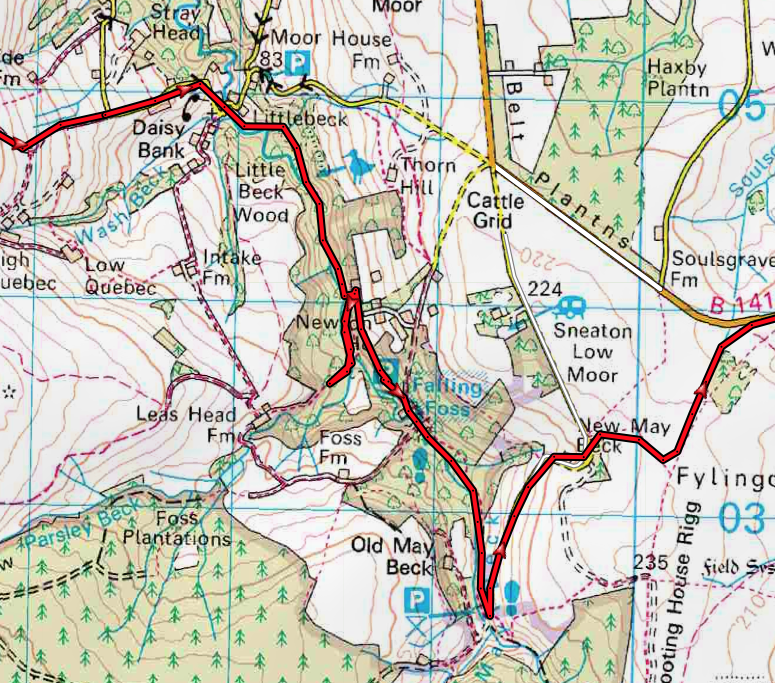 I was more cautious from then on not wanting to make any more mistakes. I could see on my phone app that Phil wasn't far behind so I decided to wait for him. It was good to see him again and the two of us were able to navigate our way to the car park at the end of the woods and onto the road to New May Beck.
We were both keeping as positive as possible knowing that we didn't have too far to go. My feet were starting to hurt again but this time under the balls of my feet. I think the Skechers were good for the original blisters but as they don't have as much cushioning underneath meant that I developed some sore ones which really did slow me down especially on uneven ground.
We found our way over the moorland and alongside the B1416. Phil was leading the way and once we got onto the open moorland heading to Middle Rigg and Hawkser he was away and I didn't see him again. I was struggling on the uneven ground and somewhere along I wandered off to the left.
I set off heading right hoping I would find the path again. At one point I sat down and tried to figure out which was I should be going. A result of tiredness was that I was having really difficulty in deciding where the sea was!
Eventually I did find a path and I happily followed it until it led to a gate on the main A171 to Robin Hood's Bay. I smiled to myself as I looked at the sign, 'Robin Hood's Bay 2miles'  I still had at least 7 miles to go. How easy it would have been to walked down the road to the end but these challenges aren't meant to be easy so once again I took a compass bearing to intersect the path.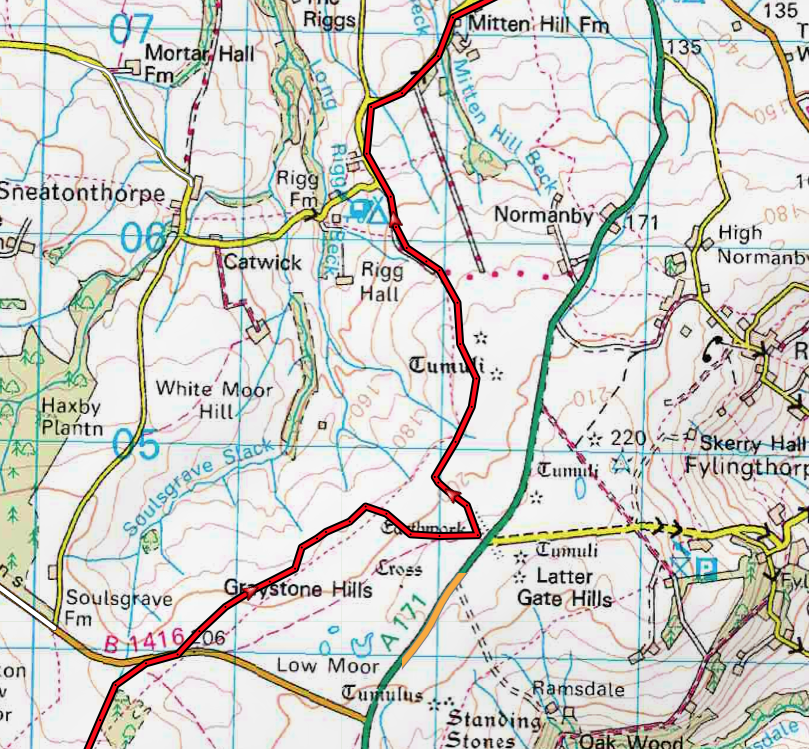 This time I found it and was relieved to see the C to C sign posts showing the way off the moors. The path from the moors to the main road to Hawkser is just horrible especially with sore feet. Somehow I made my way down and onto the road.
Hawsker seemed to take for ages to arrive so I was very happy to see the bench outside the campsite that we had bought some drinks on the recce. It was now 2am so no chance of buying anything but at least I could sit for a few minutes.
I had less than 5 miles to go but I knew it was going to take me over 2hrs as my feet were really protesting now. I put on my running tights and spare jacket and after a 10min power nap set off for the final leg to the finish.
Hawkser to Robin Hood's Bay
The final couple of hours weren't much fun as my feet were really sore. My legs and fitness generally felt good but I just couldn't run on the even. The coastal path seemed to go on and on and I had a couple of rests but eventually Robin Hood's Bay arrived and I was almost home.
I walked down the main road to the finish at the sea in complete isolation. It was 4.25am in the morning after all! It somehow seemed apt that I finished this epic journey on my own. James Thurlow was there waiting for me as he had and would do for every finisher. What a star.
My time was 91hrs 25mins 57secs!! I finished 24th overall (20th Male)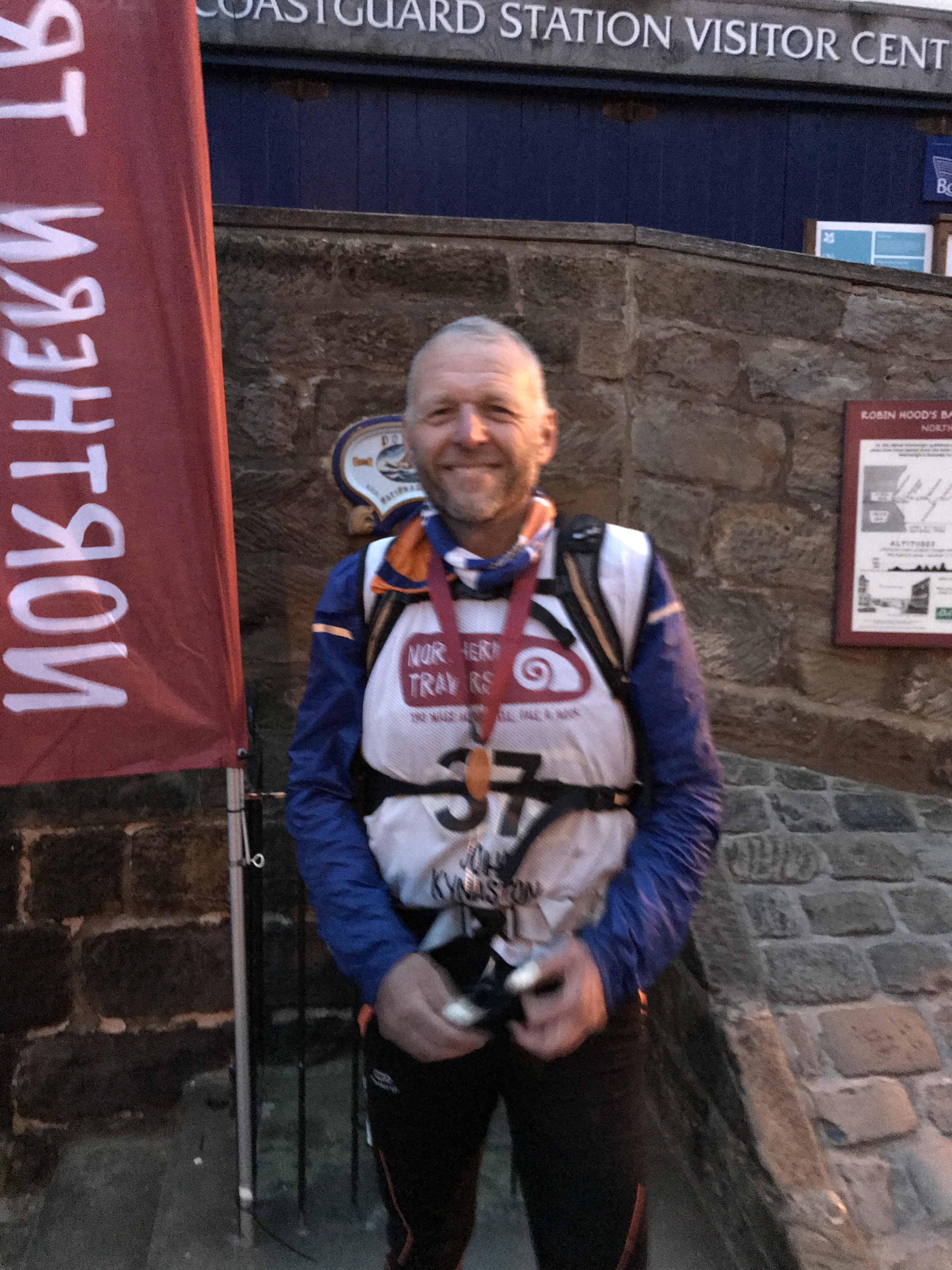 The main emotion was relief that I had made it! I still had the final hill sprint back up to the final feeding station. Surprisingly my feet didn't hurt quite so much on the tarmac so I was able to run most of the way back up.
I arrived in 7:45 I think and it was just light enough to get a finishers photo in front of the large map.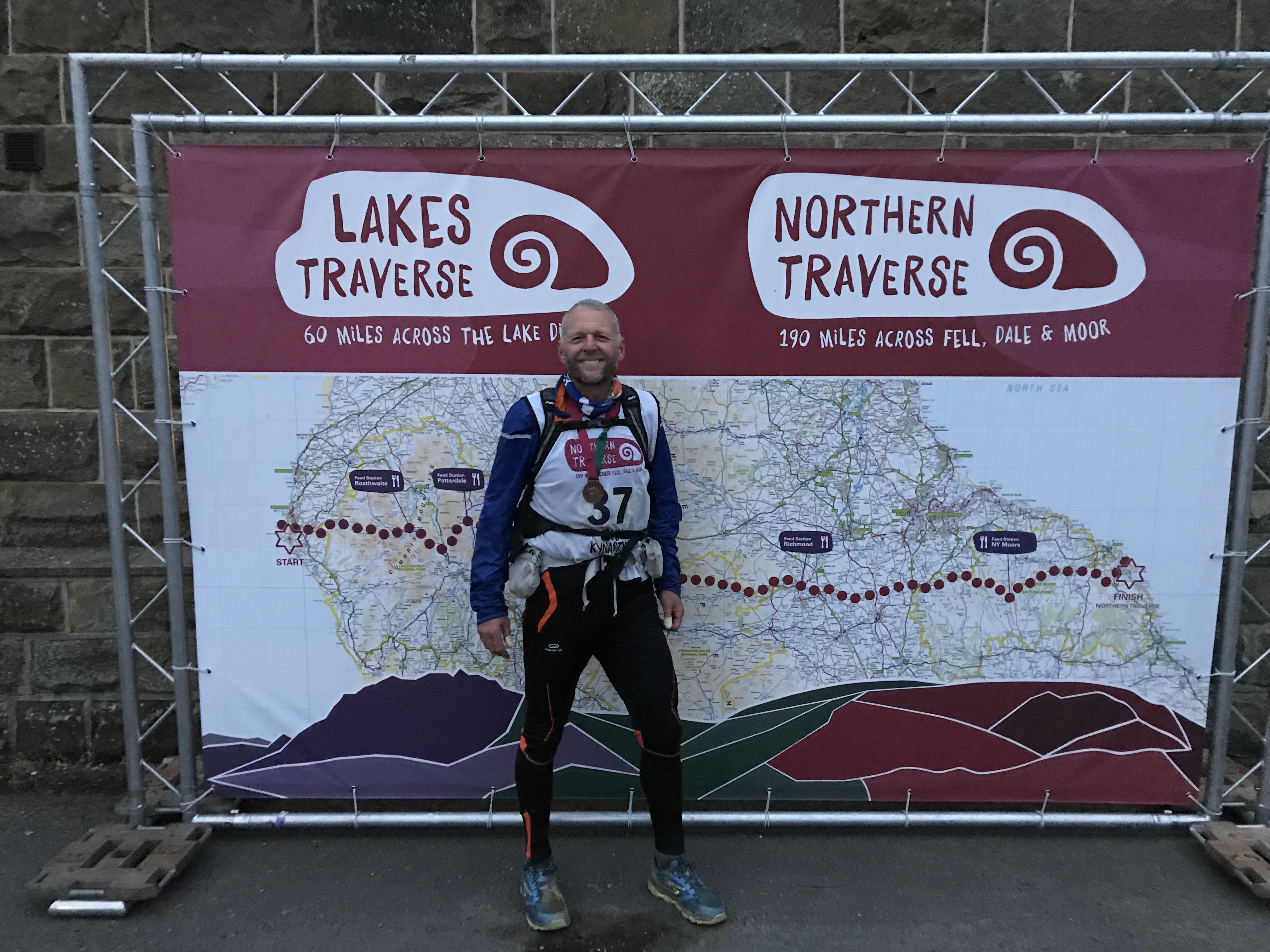 It was an amazing journey and I'm so pleased I was able to battle through the issues I had and make it to the end. It was the epic journey that I hope it would be.
Thanks to everyone I ran with and to James and his amazing team of volunteers who were all amazing.
My Guess My Time winners were Robert Osfield and James Hemmingsley. Congratulations to them. Prizes will be arriving soon!