I really enjoyed my first recce weekend on the Dragon's Back course with my good friend Andy Cole. I'm in doubt that this is going to be a tough challenge that is going to test me to my limits.
I drove down to Chester arriving at Andy's house at 6pm. Andy's wife Jan provided a lovely meal before we drove in convoy to Llanberis where we were staying at the Chester Mountaineering Hut.
We decided to have an early start with the hope that we might finish in time to catch at least the second half of the England v Sweden quarter final (we didn't!!).
We left at 6am, left one car near Pen-y-Pas and drive to the start in Conwy. We started running just before 7am in beautiful weather.
I took lots of photos and video clips so I won't write a full description but maybe highlight a few lessons.
I wore my new Altra Lone Peak and I was really happy with them. Enough cushioning and good grip.
I drank all the water I took and was very grateful we could refill in a stream on the way down to Llyn Ogwen.
The initial climbs are fairly straight forward on mainly good paths but it is important to remember there are lots of really tough climbs to come!
I need to work on my downhill running. I've never been good but have improved a bit but to do well in this race I need to be able to descend on rough ground quicker than at present.
The descent to Llyn Ogwen was pretty tough especially coming off the top. A lot of boulders to climb down.
I used poles going up Tryfan and the Glyders and felt they really helped.
The climb up Glyder Fach was really hard. It is on loose scree and so hard to get a grip. I felt as though I was taking 2 steps up and sliding 1 step down. I was happy to make the top!
The descent to Pen-y-Pas was okay.
On Sunday we left at car at Nantgwynant and then drove back up to the car park below Pen-y-Pass to start our day. It was another stunning day weather wise and the views all day were amazing.
The climb up Crib Goch needs my full concentration. Andy said that on race day there are a number of marshals to guide you on the best line.
I was fairly happy on the ridge though not as confident as Andy who walked along the top. I preferred to be slightly to the left side so I could old on!
The descent off Snowdon is a pretty steep and will test the quads especially on Day 1 when I will have been on the move for well over 10hrs by then.
The descent to the end of Day 1 is okay but I'll need to concentrate on finding the right line.
The gpx line on my Suunto Ambit was excellent and very accurate which gave me a lot of confidence that I would be able to follow that even in bad weather.
I took splits for all the official checkpoints so I have a clear record of the distances and height gained and lost for each section. If you are interested here it is.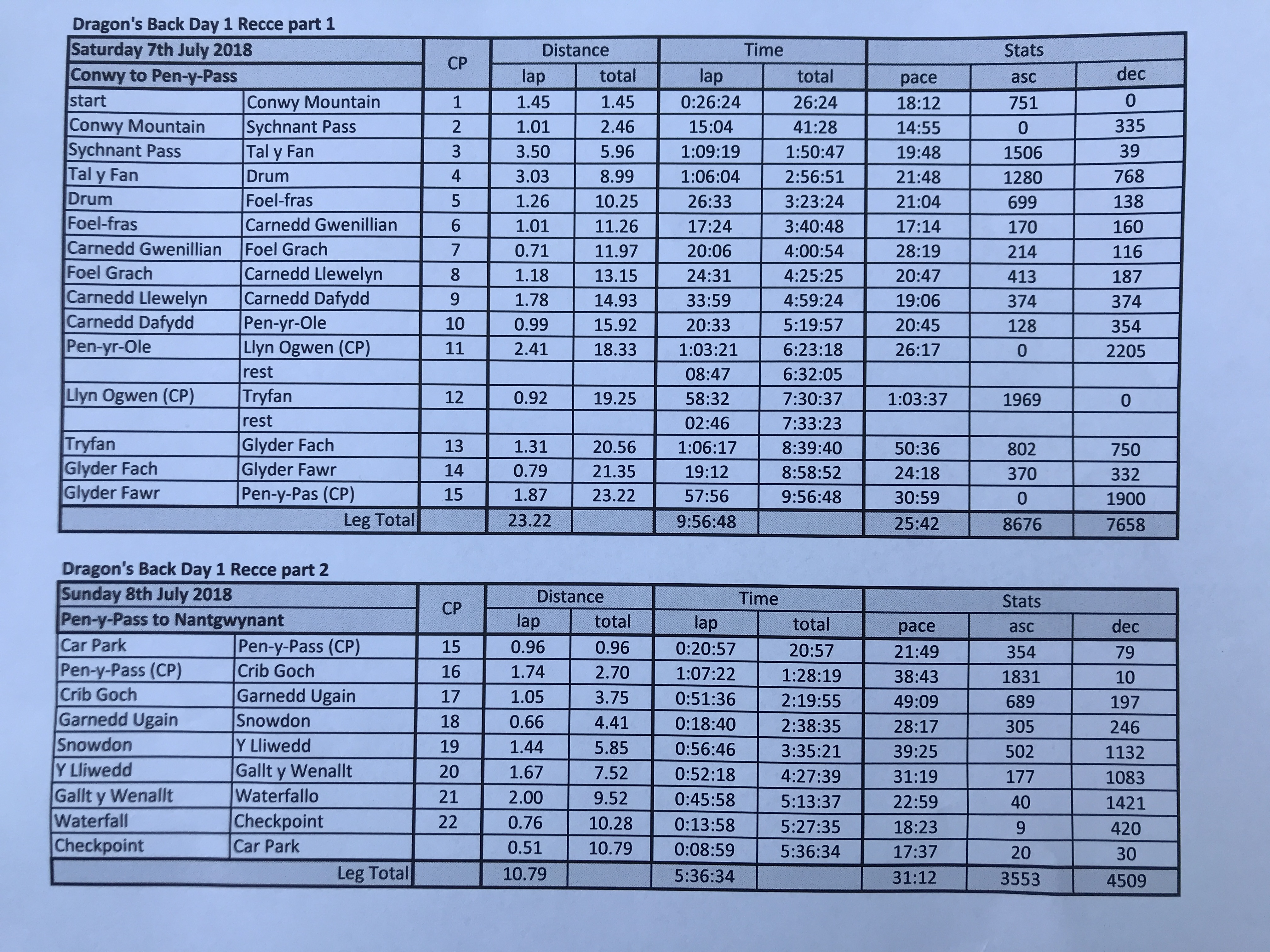 Andy was a great guide and we really enjoyed the weekend together which is just as well as we have three more planned!
I took lots of video clips and photos and I've put them together in one of my videos so I can rewatch which I'll do many times.