Friday 31st August to Sunday 2nd September 2018
Introduction
This race has been on my bucket list for a number of years for a variety of reasons. I grew up in Liverpool and we often went to Anglesey on holiday. In fact my Dad's cricket team had a yearly Whit tour to North Wales and one of the games was at Trearddur Bay on the island.
Plus a number of friends have done the race and had nothing but praise for the route and the organisation. I had planned to run it last year and was really disappointed that I couldn't take part due to my tendon injury.
I think the main reason though was I really wanted to take part in a staged race before next year's Dragon Back race which is my main target for 2019. The Ring o' Fire is held over 3 days …
Day 1: Friday 31st August – 35.7 miles
Day 2: Saturday 1st September – 65.9 miles
Day 3: Sunday 2nd September – 33.4 miles
I felt I had recovered from the 190 mile Northern Traverse in May and I was really looking forward to the event.
I left Glasgow about 2.30pm and had a straight forward journey to Wrexham where I stayed with my sister and brother-in-law. It was good to catch up with their news. I left about 8.30am and again a straight forward journey to Holyhead. That can't be said for anyone wanting to leave Anglesey as there had been an accident on the Menai Bridge and the tailback was several miles.
I arrived at the race HQ at Holyhead Breakwater Country Park at 10.30am and wandered over to register, collect my goody bag and tracker and hand in my overnight bag.
I was very impressed with the race t-shirt and buff. I took the buff with me for the race but left the race t-shirt until I'd completed the race.
After leaving my car in the long term car park I had time for a jacket potato with cheese and coleslaw before the race briefing at 12.30pm.
I found Mark & Helen Leggett who are good friends from Scotland. They were doing the race for the 4th time so I was keen to get some last minute tips.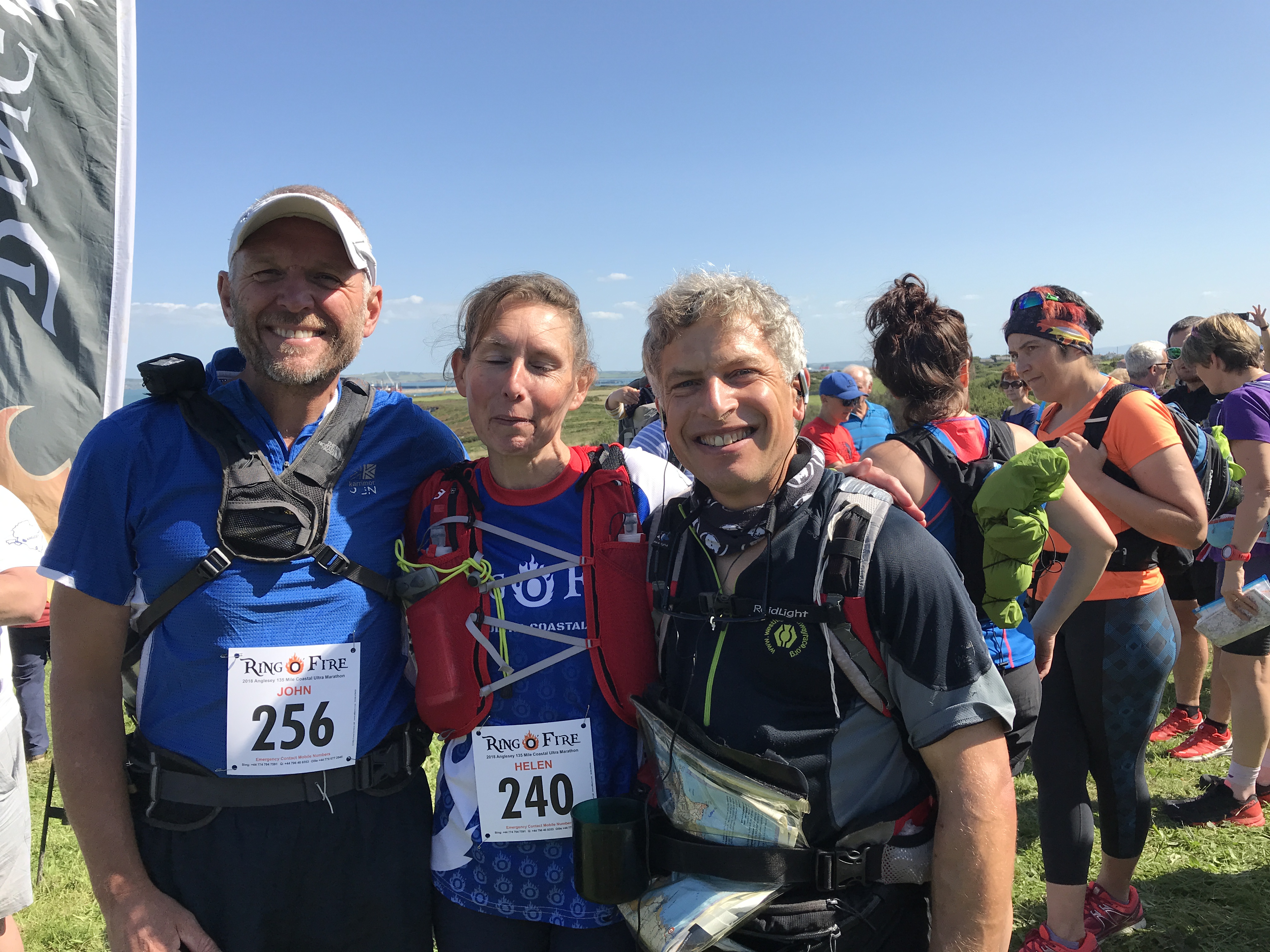 Just before the start a couple of fighter jets flew overhead to set us on our way. There were 68 runners who started the full 3 day Ring o' Fire and 54 runners taking part in the Firelighter race which was the first day route.
Day 1: Holyhead to CP1 Stanely Embankment (6.96 miles)
It was a warm day so I ran in shorts and a short sleeved top. I had decided to wear my Hoka Clinton ATR shoes as I wanted a little more cushion for such a long race. I also wore my visor to shield my eyes from the sun. I carried the mandatory kit of phone, whistle, survival bag, head torch and water container. I also added my lightweight waterproof jacket just in case.
I like to have a schedule to work towards but as I hadn't done this race before it was a bit of guess. But I was hoping to finish around 32hrs which would be 7:10, 16:30 and 8:20 for each day. I wasn't going to get too worried about times though as my main aim was to finish the race having enjoyed it and learn as much as I could about running 3 days on the trot in the race.
The first section is pretty flat over a mixture of very runnable ground – grass, good paths and roads. I tried to hold myself back and run well within myself. I averaged under 10mins per mile for that first section which felt just right.
I ran most of it on my own but not far from the checkpoint I caught up with Ian Stephenson and a couple of others who were doing the Firelighter race.
It was getting quite hot by the time I reached the first checkpoint but as I hadn't drank too much I decided to run straight through and refill at CP 2.
Start to CP1 – 6.96 miles in 1:09:11 (9:56 pace) Position – 35th
(note all positions are only the Ring o' Fire runners)
Day 1: CP1 Stanely Embankment to CP2 Porth Swtan (9.40 miles) Overall 16.36 miles
It felt like the route properly started here as we dropped down on to the stones alongside the water. It was harder to run on the stony ground so my pace dropped a little. It was an interesting few miles around an inlet over different terrain.
I wasn't really running with anyone but there were plenty of runners ahead and behind. I was feeling pretty hot by now and I must admit I felt I was starting to struggle in the heat. It was far too early to feel it was hard going but I wasn't feeling very comfortable at all.
I had run out of my tailwind by the time I reached the Caravan Park and there was still over 4 miles to do to the next checkpoint where there would be water and coke. As I ran past the caravans I was looking out for a water tap and when I couldn't see one I was panicking a little that this could be serious if I couldn't replace my water. It felt really hot now and I really needed some water.
Thankfully just before I came to the end of the park I saw a tap on the side of a caravan so I was able to refill my water bottle and I was able to take small sips to keep me going.
I seemed to holding my own in the field but some runners were going past me. I decided I needed to just keep going the best I could and hope that when it got a bit cooler in an hour or so I would be able to move a bit better. I also remembered that I often go through a low point after about 3hrs of running.
I'm sure it is something to do with my body switching from carbohydrates to fat. So I tried to think too much about the rest of the day or the fact that I had another 65 miles tomorrow and another 33 miles the day after that!
I had broken the route up into 2-4 mile mini-sections so all I thought about was getting to CP2 which was less that 4 miles to go. I could do that and then I'm sure things would look better.
It was great to get to the checkpoint and have some coke and refill my Tailwind. I also took a bounty bar to eat on the way out.
CP1 to CP2 – 9.04 miles in 1:53:48 (12:06 pace) Leg position – 39th
Overall – 16.36 miles in 3:02:59 (11:11 pace) Overall position – 37th
Day 1: CP2 Porth Swtan to CP3 Wylfa (8.67 miles) Overall 25.03 miles
I ate my bounty bar on the walk up the short hill out of the checkpoint. It was still pretty hot and I continued with my plan of just keeping going and getting through this part of the race until it got a bit cooler.
I must admit I was a little concerned that if it stayed like this for the whole weekend I might be in trouble but I knew the forecast for tomorrow was for a more cloudy day. It's amazing how some negative thoughts can affect you so I tried my best to remain positive and keep moving as best I could.
It helped that I wasn't losing too many places so I assumed everyone else was finding the heat tough too! What also helped was that we were now into a lovely section of the route. I hadn't run this section before and had been told it was the most rugged and beautiful of the route island and they weren't wrong.
The views were amazing and it certainly lifted my spirits. I caught up with some runners including Cat who was running very smoothly so that helped to have someone to hang on to.
I was still running okay but I was short on water again. I knew the checkpoint at the Power Station was still 3 miles away so once again I was concerned that I wouldn't be able to refill before that which would be a problem.
We came to a beach section at Cemlyn Bay. Cat ran the majority of the section on the small stones and pulled away but I decided to walk as it was quite energy sapping. Eventually I made it to the end of the beach and the car park.
Thankfully there was a marshal waiting there with water and coke. I was so pleased to see him and literally he was a life saver! I was able to have a couple of cups of coke and take some water to help me over the next 2.5 miles to the checkpoint.
Cat had some support there who also very kindly offered me some water. The next couple of miles to the CP3 went better as it was starting to get a little cooler now and I had some water. The Power Station got bigger and bigger as I got closer and was a good marker that the checkpoint was getting closer.
I think somewhere along this section I caught up with Josh Oxenbould and we ran together for a while. Josh did this race a few years ago and loved the island so much that he got a job at Holyhead at an outdoor pursuits centre. I really enjoyed chatting to Josh about his travels round the world and his running.
As with all the checkpoints this one was manned by keen and willing volunteers who enthusiastically filled my water bottle and provided me with cups of coke. It was great to see whole families helping.
CP2 to CP3 – 8.67 miles in 2:12:16 (15:15 pace) Leg position – 31st
Overall – 25.03 miles in 5:17:27 (12:41 pace) Overall position – 31st
Day 1: CP3 Wylfa to CP4 Amlwch (10.36 miles) Overall 35.39 miles
It was now almost 6.30pm and a lot cooler and so it was not surprising that it felt a lot easier to run. I knew there was just over 10 miles to go and one of the things I was keen on was to make sure I ran in comfortably so I would be able to run tomorrow.
After a few minutes Gordon Hughes caught me and we ran together for the next hour or so. Gordon ran the Southern Upland Way ultra which finished just over a week ago. Considering that the race is over 225 miles over really tough, wet and boggy ground across Scotland I was very impressed that he was able to run at all.
Gordon did say his legs were a bit tired but he was moving very well. It was great to have some company over the final section of the day and as we chatted the miles and minutes ticked back.
The other good thing about running with Gordon is that as he has done the race before he knew where the honesty books are. They are a few places where it would be easy to cut chunks off the course so the organisers put books at various outposts to ensure all the runners visit them. The idea is that you rip a page out of the book to show you have been there. At some of them they also leave a disposal camera so you can take a photo of yourself!
The first one was at a Tower by Porth Llaneiana. I had downloaded the route on my Suunto watch and it was working really well keeping me on track. I also had the Harvey map handy as I like to see where I am and what's come.
We found the flag and book and set off for the second book which would be about 1.5 mile from the finish. It was starting to get dark but I reckoned there would be another hour or so before it got dark so I was hoping to make it to Amlwch by then.
The route continued to be spectacular as we made our way around the coast very close to the sea. It is a very special route and I'm so glad that I have done it.
As we arrived at the Porth Llechog Bull Bay a group of about 3-4 runners caught us and went past. I wasn't sure if they were in the full race or the Firelighter but either way I was keen to run my own race and so I wasn't tempted to try and stay with them. Gordon though did join the group and I was on my own again.
I was quite happy that I could find the final book and the way in to the Leisure Centre where we would spend the night. Josh had caught me again and then said he was going to get out his torch but I pushed on thinking I could still make it without. As it was getting dark I went over a small footbridge and thought the route was straight on but Josh who was just behind shouted we needed to turn left.
The path and signpost was slightly overgrown so I was very grateful to Josh for pointing out the way.  We then ran together finding the book. I found out afterwards that others did go straight on and ended up wandering round for quite a while trying to find the book so thanks again to Josh!
I really needed to get my head torch out but as I was running with Josh I relied on his! Once we came into Amlwch we had the street lights so it was okay. The organisers had put signs to show the way to the Leisure Centre. At one downhill bit Josh encouraged me to push on as he wanted to walk.
I was feeling good so carried on. Maybe I should have stuck with him as I missed the final turn and ended up having to back track and then was behind him again.
It was great to see the Leisure Centre as I was ready for a shower and some food! Josh finished a few seconds ahead. There was a good little crowd waiting to welcome runners which was encouraging.
CP3 to CP4 – 10.36 miles in 2:54:34 (16:59 pace) Leg position – 39th
Overall – 35.39 miles in 8:18:00 (14:04 pace) Overall position – 36th
Overnight
One of the reasons I was keen to do this race was to practise and see what it is like to try and recover and prepare for the next day.  Once I arrived I found Mark and Helen and put my gear next to them. It was great to have friends to chat with.
I then went off for a lovely hot shower, then headed to the canteen for a plate of Lasagne with coleslaw and garlic bread. I enjoyed chatting to other runners about how their day had gone. Everyone found the heat tough and we were all hoping that the forecast of cloudy weather for tomorrow will be correct.
My feet were in good nick so I didn't need to do much to them. I had a lilo with electric pump so I set that up and settled down to sleep around 11pm.
We were camping in the large sports hall and the lights were dimmed but never switched off. I found it very hard to sleep but at least I was resting.  I must have eventually drifted off to sleep as I was woken about 4.45am by runners getting up and ready for the day.
I quickly got dressed and headed to the canteen to eat my porridge with blueberries and some fruit bread plus green tea. I was chatting to a couple of guys who both seemed to have had as little sleep as I had! One guy was saying how hard today was going to be and what a slog he was expecting. I prefer to see the positive side of things and I was really looking forward to seeing how the day went.
The first 18 miles or so to Penman Point would be new but after that I knew what was coming as I had run the rest of the route on my recce weekend in May last year.
After breakfast I packed away my gear and got myself ready for day 2. The briefing was outside at 5.50am and we were away bang on 6am. It was getting light by the minute so I left the head torch in my bag.
Day 2: CP4 Amlwch to CP5 Traeth Lligwy (11.41 miles)
There was a good atmosphere amongst the runners as we set off down the road to rejoin the costal path. It was announced that 64 had finished last night and 59 were starting day 2.
I was really pleased that I was feeling pretty good with no soreness in the legs. My feet also seemed fine with just a smaller hot spot on the little toe on my right foot.
I was keen to set off at my own pace again and make sure that I didn't push too hard early on as I knew it was going to be a long day and I was keen to finish strongly.
We soon rejoined the costal path and I was in a long line of runners. I did like the fact that all the runners today were in for the long haul rather than trying to work out who was doing the Firelighter.
Once we climbed up on to the more rugged path we were rewarded with an amazing sunrise. Bright red horizon with the sun peaking through. What a lovely start to the day. I stopped to take a photo and a few more runners went past.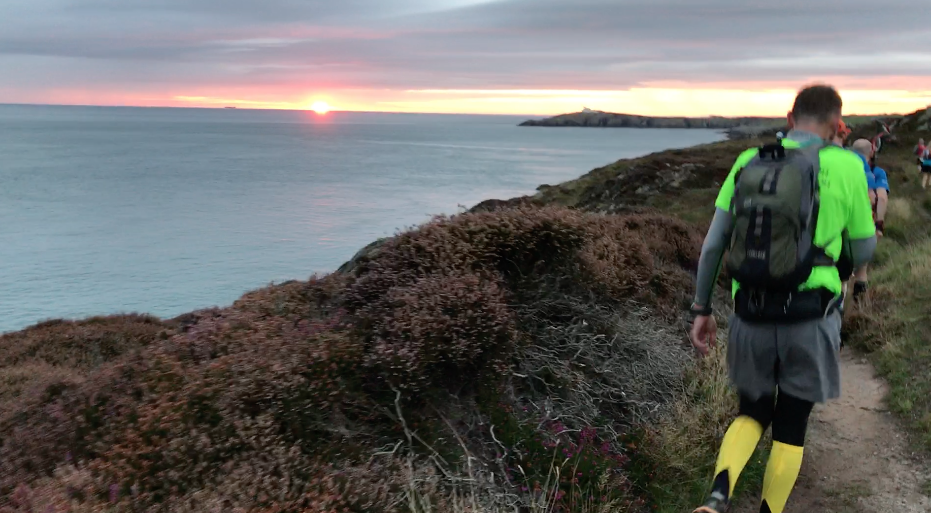 I was more than content to be near the back and take it nice and steady. I do find if you are leading a line of runners the temptation is to run a little quicker than you want. The pace was fine and I felt comfortable. The temperature was perfect. I wore a short sleeved shirt all day and never felt too hot or too cold.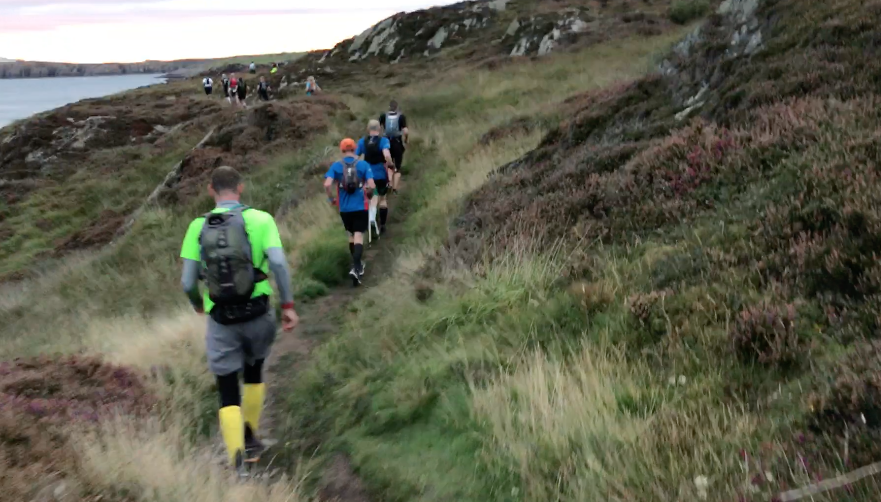 The first four sections on day 2 were 11.41, 6.60, 10.32 and 5.67 so alternating long with shorter sections. After a few miles I caught up with Melissa White and Chris Steels. I found out that they had joined together with about 10 miles to go on Day 1 and had decided to stay together for the rest of the event. I ended up joining them for the majority of the day but I didn't want to commit myself to staying with them and to be fair they never asked me to!
It was good that we were together as we did have a couple of navigational challenges and it was good to have a mixture of local knowledge and fancy gps watches between us to find the way.
The miles past easily as we chatted. Melissa had come from New Zealand to do the race and was her with her father and 10 year of daughter. They had hired a camper van so it was good to see them regularly throughout the day.
Chris was from England and was supported by his wife and 3 yr old son. I really enjoyed chatting to Chris about his family and comparing notes on raising children from the perspective of a dad and the role of grandparents!
We were joined by Ian Stephenson and the four of us arrived at the first checkpoint of the day where we had been promised bacon butties! They were really tasty and well worth stopping for. I refilled my Tailwind, drank a couple of cups of coke and I was ready to go.
CP4 to CP5 – 11.41 miles in 2:47:22 (14:40 pace) Leg position – 43rd
Day 2: CP5 Traeth Lligwy to CP6 Red Warf Bay (6.60 miles) Overall 18.01 miles
I set off on my own but it wasn't long until Melissa, Chris and Ian joined me and we continued on our way as a group of 4.  I felt well into the day by now and was quite happy with how things were going. For the majority of the next few hours I was at the back of the group but never felt I was having to push to keep up.
Just after Moelfre Nick Wishart and his family who were camping nearby were giving out jelly babies and lots of encouragement.
To be honest I can't remember too much of this section except that I think I was ahead of Melissa and Chris as we ran round the large inlet before Penryhn. I caught up with a guy who represents GB in obstacle races so that was quite interesting to hear about.
Looking at the results I came into the checkpoint with Melissa, Chris and Ian so we must have rejoined somewhere before Red Warf Bay. In fact I remember Melissa looking out for her Dad and the camper van and we thought we saw it at Benllech but it wasn't theirs.
I can't picture the checkpoint either but I'm sure it was another efficient stop!
CP5 to CP6 – 6.60 miles in 1:37:52 (14:50 pace) Leg position – 31st
Overall – 18.01 miles in 4:28:58 (14:56 pace) Overall position – 39th
Day 2: CP6 Red Warf Bay to CP7 Penman Point (10.32 miles) Overall 28.33 miles
From this side of the island there is a great view across to Llandudno which is another holiday place I went to many times as a child. The weather continued to be just right with a slight breeze. I was drinking regularly.
There was a variety of terrain on this section as we cut inland for a while. We ran through some trees, on grass as well as solid paths and road. We also ran across some very marshy ground but thankfully a concrete path had been built above the marsh. It was fairly narrow so I had to concentrate on where I placed my feet.
I had fallen behind the group before the marsh but I slowly caught up with them. There was another group of 4-5 runners and we went past them as well.
There was a toilet just past the car park where we stopped for a minute or two to use the facilities and have a quick water and water refill. Even though the sun wasn't out it was getting a fair bit warmer.
It didn't seem too long until we could see Penman Point and we were making our way down to the next checkpoint. From this point onwards I was on more familiar ground and as the day went on I remembered most of the route.
Normally I don't like to sit down too much at checkpoints but I had decided that it would be a good idea today. I didn't want to stop longer than 8-9mins but felt taking the weight off my feet would help. I could feel a hot spot on the inside of my heel in exactly the same place as I got them on the Northern Traverse. They are more uncomfortable rather than really slowing me down. I did think about taking my shoes off to have a look but decided against it!
Once again the checkpoint marshals were really helpful and sent us away with lots of encouragement and support.
CP6 to CP7 – 10.32 miles in 2:39:02 (15:25 pace) Leg position – 34th
Overall – 28.33 miles in 7:12:04 (15:15 pace) Overall position – 35th
Day 2: CP7 Penman Point to CP8 Beaumaris (5.67 miles) Overall 34.00 miles
I set off first after a 9min stop but again it didn't take long for my three running friends to catch up. The next couple of miles are on the road passing through Penmon Priory. There was a wedding going on as we saw lots of vintage VW cars but sadly no bride or groom. I'm not sure they would have been too happy seeing four runners go by!
I remembered from my recce that there was a stony/rocky beach to negotiate which I wasn't particularly looking forward to. When we got to the start of the beach there was a sign showing the high tide alternative. We decided that we should be okay and the race rules encourage runners to stay on the coastal path as much as possible.
So we made our way over the stones and rocks but when we reached the corner the tide was completely in and it wasn't possible to get round so we had to retreat back to the road and take the alternative route. We wasted maybe 15mins going out and back but I'm sure we weren't the only ones.
The alternative route is a lot easier to run on so overall maybe we didn't lose too much time. It didn't seem too long until we were back on the route and leaving the road to head to Beaumaris. I remembered there was a nice grassy field to run on with the castle on our left and the main land on the other side of the Menai Strait.
When we reached the top of the rise and could see the castle we also saw hundreds of cars parked and lots of marquees. We discovered that there was a food festival going on and there was some talk about nipping in and trying the free samples!
The checkpoint is at the far end of Beaumaris so we ran along the front, past the pier and through the streets. I find it a strange experience running through a town in the middle of a race especially when you have been on your own in the peaceful countryside. It is such a contrast running past people who are enjoying an ice cream and a wander.
Ian pushed on the checkpoint and I chatted to Melissa and Chris. We went past a group of runners from Warrington who were supporting their runners. They cheered us on as we past.
It was a good feeling psychologically and physically to reach Beaumaris as it is half way through day 2. I stopped for 12 mins here and felt it was a good decision as the sun was out and it was a lot warmer. Runners can have a drop bag here so I swapped my smaller head torch for a larger one and took a spare long sleeved top in case I needed it later.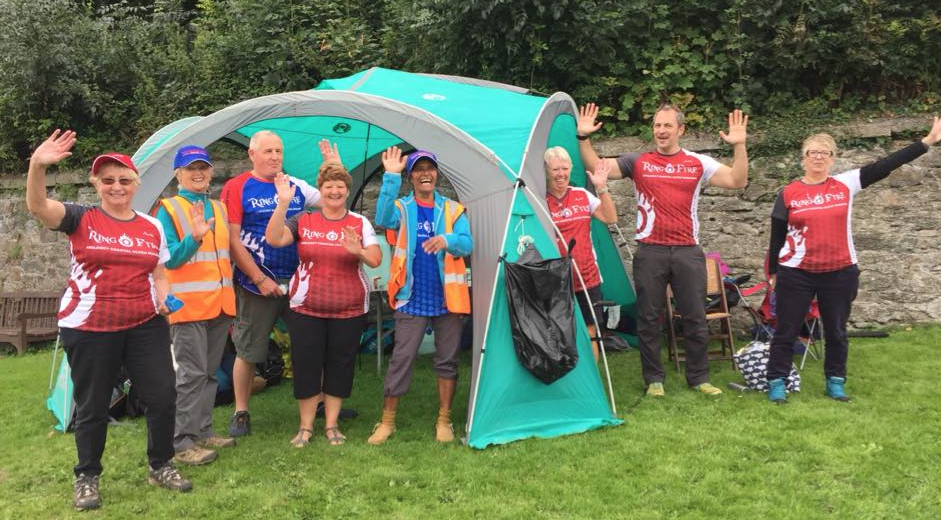 I ate some fruit and drank some more coke as well as replacing my Tailwind. Once again the marshals were great.
CP7 to CP8 – 5.67 miles in 1:22:42 (14:35 pace) Leg position – 36th
Overall – 34.00 miles in 8:44:00 (15:25 pace) Overall position – 35th
Day 2: CP8 Beaumaris to CP9 St Mary's Church (6.34 miles) Overall 40.34 miles
I could see Melissa and Chris were about ready to go so the three of us set off together. Ian was sorting out his feet but we assumed he would soon catch us. In actual fact that was the last we saw of him until the end.
I knew there was a climb out of Beaumaris pas the golf course so I was keen to take it steady especially as the sun was out in full force. Thankfully it clouded over fairly soon which kept the temperature down a bit.
Chris and Melissa were climbing stronger than I was and they were creeping further ahead. I did wonder whether that would be the last I would see of them but they missed the turn left and I saw them just in time to call them back. I'm sure they would have realised their mistake but it was good to be able to help them as they had been helping me along the way. It is one of the great things about ultra-running the way everyone supports and helps each other. So I now in front again.
Once we ran through the woods and bracken we were back on the road and we would be on road for a few miles now down to Menai Bridge. Chris and Melissa were soon moving ahead again and this time I really did think they were away. I wasn't too bothered as I really wanted to run my own race and if they were running stronger then I didn't want to try and stay with them if it meant I finished badly.
So I settled into my own rhythm of running and walking and I went through a mental checklist. My feet were a little sore but the pain was only 2 out of 10 so I can handle that. Everything else felt good.
As I ran through Llandegan there was a mother and her son with a table with water, jelly babies and other treats for the runners. I took some water and a jelly baby and thanked them for their support.
The road started descending to the main road and I realised that I was catching Melissa and Chris so I just kept on going and I caught them just after we reached the main A545 into Menai Bridge. Just after I caught them we also caught 3 more runners including Josh who looked as though he was struggling a bit. It was good to see him and we had a quick chat as I went past. I had a feeling I would see him again.
The route drops down to the sea and then alongside the water under the Menai Bridge which is the official start/finish point for the coastal path. It was a good feeling to know that we were well over half way for the whole race.
When I did my recce the tide was a lot higher so it was good to see that the path was above ground and I could run without getting wet feet. We ran past Church Island up to the road and then along the road for a bit before dropping down to go under the Britannia Bridge.
There is a bit of a climb back up to the road and then down to the checkpoint at St Mary's Church. When we arrived there was a guy Ieuan Davis who asked could he join us if we weren't stopping too long. He said he would start walking and we would catch him up.
I stopped for 7 mins at the checkpoint to refill my Tailwind, drink some coke and eat some fruit before taking off again.
CP8 to CP9 – 6.43 miles in 1:31:36 (14:27 pace) Leg position – 20th
Overall – 40.34 miles in 10:28:29 (15:35 pace) Overall position – 31st
Day 2: CP9 St Mary's Church to CP10 Sea Zoo (7.16 miles) Overall 47.50 miles
Once again I was ready before Melissa and Chris so I set off first. Just as I was about to leave Josh arrived looking better which was great to see.
The beach section after the church is not very easy to run on so I walked as fast as I could. I could Ieuan in the distance and wondered whether I would catch him. I remembered that it is fairly flat for the next few miles so I tried to settle into an easy pace that I could maintain.
I often repeat the mantra 'slow and easy, make it last' to stop me from pushing too hard and having to walk. I was really encouraged with how I was running. I had felt so much better than yesterday in the heat and I was pretty confident I was going to be able to keep moving well right to the end of Day 2.
There is a section alongside the road on wooden boards and I ran most of it and slowly Ieuan was getting closer. Chris and Melissa were also running well and the four of us came together before we came to the field.
It was good to have another person to chat to and over the next hour or so I got to know Ieuan as we chatted about our jobs and life! I got the impression that he wasn't sure he was going to make it so I hope my positivity helped him! I had no doubts at all that I was getting this done.
After a run along the river we were back on the road. We had another choice regarding high tide but we all felt it would be fine by now and we were right.
As we went past Llanidan Farm a small Scotty dog with a ball it his mouth joined us. We ran across several fields, through gates and over walls and he stuck with us. We were a little concerned but he seemed to know the way. Eventually he stopped following us and we assume made his way back!
The four of us set a good pace over the fields and soon we could see the race flags at the Sea Zoo. There were a few runners in the checkpoint when we arrived. I stopped for 8 mins here. Again same routine, sit down while I drank some coke and ate some fruit. I also refilled my Tailwind while chatting to the marshals. The final thing I remembered to do was to make sure my head torch was at the top of my rucksack so it was ready for when it got dark.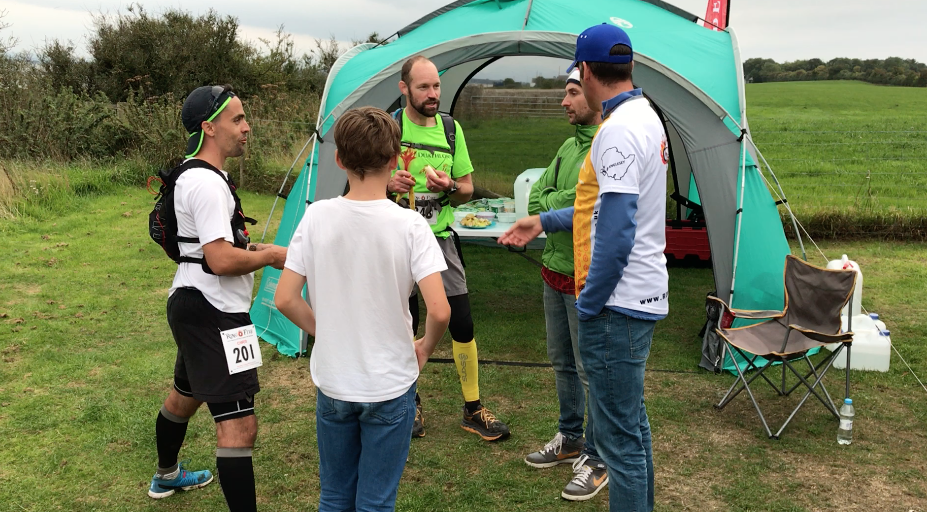 CP9 to CP10 – 7.16 miles in 1:49:03 (15:14 pace) Leg position – 26th
Overall – 47.50 miles in 12:24:51 (15:41 pace) Overall position – 35th
Day 2: CP10 Sea Zoo to CP11 Newborough Forest (11.78 miles) Overall 59.28 miles
Ieuan and I were ready to go before Chris and Melissa so we set off down the road knowing that they would probably catch us up fairly soon as that had been the pattern. Very quickly we caught up with 3 runners who I had not seen all day. A couple of them had poles and they looked as though they were planning to walk it in from here.
I was really pleased that I felt ready to run and so I as we passed them I started running. I assumed Ieuan would come with me but I think he was chatting to the guys. After half a mile of road the route goes onto a stony beach so I walked that bit but once past that I was running most of the time and feeling really strong.
I decided I would try and run as much as I could and see how far I could get before the others caught me. I really enjoyed running alongside the river and then over the stepping stones. I try not to look back at all and I find it doesn't help but I did glance back as I went over the stones and I could see Chris, Melissa and Ieuan not too far away so again I assumed they would be with me soon enough.
Not long after the stones I passed a runner who was sitting in a chair with his support team. I felt good that I was running while he was sitting!
I ran most of the way to the main road and I was very encouraged to see I had run the 4.29 miles in 1:03:09 (14:43 pace). The route follows the road for a few minutes to a car par which is the start of the next beach section around Newborough Forest.
At the car park there was a family cheering runners on so again that was really encouraging. It was starting to get darker now but I reckoned I had another 30mins or so before I would need to put on my head torch.
I really enjoy that run on the sandy path with the forest to my right. There were a few people coming the over way and they all gave me a cheer and a well done. They must have heard what we were doing.
I knew there was a route choice to make in a few minutes. I was expecting the others to have caught me by now and for us the make the decision together but they were nowhere in sight.
The choice is to stay in the forest which might be a slightly shorter line but the flag and honesty book is on the beach so you would have to do an out and back to the flag.
The trace on my watch took the beach line so I decided to stick with that. I was hoping the sand would be firm, enough to run but it also meant that I should be able to go straight to the flag without too much hassle which would be a big help especially as it would be dark by then.
Once I got onto the sand I was pleased to see that it was firm and very runnable. I decided on a strategy of running for a count of 100, then walk for 20 and repeat until I made it to the flag.
This worked really well for the first couple of miles and I was making good progress. With about a mile to go to the flag I put my head torch on. Just after that the sand became a lot softer and I ended up walking most of the last half a mile or so.
I was looking out for the flag. I had been told that it was 9 miles from the previous checkpoint but I wasn't sure how accurate that was. As my watch showed 9 miles there was the flag! So it was very accurate. I quickly tore out a page from the book and set off to the CP11.
I did have a look down the beach but couldn't see any lights but I wasn't sure which way the other three were going to go. They might have gone the forest route and be ahead of me.
I took one of my mini-splits at the flag so knew I had about 3 miles to the checkpoint. The path was quite narrow and on soft ground plus it was mainly uphill so I didn't run too much. After a few minutes I saw 3 head torches coming towards me and I assumed they were Chris, Melissa and Ieuan.
I called out as they approached but it wasn't them. I assumed it must have been Peter Harris, Ian Simpson and Richard Meyneord from the results. I told them the flag was 0.44 mile away and they just needed to follow the path and it would take them right to it.
I continued on my way heading for the forest. It was quite a bit of uphill so I walked as fast as I could but once it levelled off and started descending I was running again. The route takes a left onto a wider more established path. I realised that my shoes were full of sand so I found somewhere to sit so I could quickly take off my shoes and empty out the sand!
It felt a lot better once I had done that. It was pitch dark by now but I loved running through the forest with no-one around. I wasn't quite sure where the checkpoint was and assumed it would be on this main track.
I glanced at my watch and realised I was off the line. I got out my iphone which has the route on OS Maps and I realised I should have taken a path to the left a few minutes ago. One of the things I have learn about my navigation is when I make a mistake I tend to make another and then another. I did think I could carry on this path and then come into the CP from a different direction but I wisely (I think) decided it would be better to back track and find the right path.
It didn't take too long and I'm glad I did as the path through the forest was excellent. As I go closer to the checkpoint I could hear voices in the trees which I assumed was the marshals at the checkpoint.
I came out of the woods and to my left was the checkpoint which was full of activity and a real buzz. There was no other runner there so I had priority treatment. I stopped for 6 mins during which time I had some lovely soup, a couple of cups of coke and refilled my Tailwind for the final leg.
Melissa's Dad was there so I realised that they were still behind me. In fact looking at the splits they were 48 mins behind so that was a really good section for me. I had also moved from 35th to 22nd in that leg!
CP10 to CP11 – 11.78 miles in 3:01:22 (15:24 pace) Leg position – 16th
Overall – 59.28 miles in 15:34:49 (15:49 pace) Overall position – 22nd
Day 2: CP11 Newborough Forest to CP12 Aberffraw (6.82 miles) Overall 66.10 miles
I didn't want to stay too long as I was keen to finish the day so I thanked the excellent team and was on my way. I had just under 7 miles to go and wanted to finish as well as I could but I was also conscious that I had another 33 miles to do tomorrow.
The first part of this section is on a smooth path across the marshy ground. I adopted my run for 100, walk for 20 strategy and it didn't take too long to reach the bridge that led across to the village.
There was a group of girls cheering on the runners and saying that they have put some glow sticks to show the path at the end of the village. Sure enough there was a home-made sign and some glow sticks. I loved the way many on the island get involved with the race.
It is a narrow path alongside some houses. At the end of the garden of one of them a boy and his Mum were sitting under an umbrella offering water and sweets. Again another example of families on the island getting involved with the race. I took a jelly baby and more importantly shared high fives!
The route comes out onto a road and for the next few minutes there is a climb up. At the crossroads at the top I was expecting to go left and follow the road for a while as I went that way on my recce but Mark Leggett had said to me that the race takes you straight on and left over fields.
Sure enough my trace had me going straight on and the organisers had put signs out to direct the way. I made my way over the fields. I was glad I had the trace on my watch as even with the signs and glow sticks it was tricky in places.
I came to a road and for a few minutes I was confused as to which road to take. I tried both ways but I was still off my trace. Once I got out my phone with the OS maps app I realised I didn't to head diagonally across the fields. Katrina rang me at this point as she had been following my tracker and thought I was off line. I sent a text to say the route had been changed and I was fine!
Eventually I came out on the road and crossed over to head over the sand dunes to the beach where the final flag and honesty book was to be found.
It seemed to take a while for the beach to come but once it did I ran as much as I could along the dry sand and found the flag and book. It wasn't far now to the village hall at Aberffraw. Just before I came to the road two of the race organisers were out for a walk and we had a quick chat.
I followed the  signs and glow sticks and arrived at the village hall around 11.40pm.
CP11 to CP12 – 6.82 miles in 2:00:26 (17:40 pace) Leg position – 21st
Overall – 66.10 miles in 17:41:42 (16:04 pace) Overall position – 22nd
Overnight
Our accommodation for the second night was a village hall so no showers and a lot smaller hall. By the time I arrived a number of folk were already settled down for the night including Mark & Helen. I found a space next to them and sorted myself out.
I washed myself down as much as I could with wet wipes and sorted out my feet adding a few plasters were needed. I had a recovery drink but I didn't feel like eating too much so I ate a few jaffa cakes.
There were a couple of ladies offering massage so I went over and asked how much. It was £20 but when I explained I only had £10 she said she do a shorter session. She worked on my calves and quads and it felt good. I would probably have fallen asleep if it wasn't for the pain!
I settled into bed around 1.30pm and there were still runners coming in. The final two runners made it with just over 20mins before the 2am cut-off.
I must have dozed off as I woke around 4.30am ready for the final day. I was up, dressed and eating some breakfast while most runners were still in their beds. I was really pleased that my legs were feeling okay. I felt a little stiff and the blisters on my toes were sensitive to the touch but by the time I'd walked around a bit and put my shoes on I was go to go.
The most exciting news though during the overnight stop was that I became a granddad for the 6th time! Our daughter Emma had her second boy, Jacob Luke (brother to Noah). Emma and her husband Yonas live and work in Bali, Indonesia. I knew Emma was having a planned C-Section on Sunday morning and as they are 7 hrs ahead I was hoping that I would hear the news before I set off.  So it gave me a spring to my step. We are going to visit them at Christmas.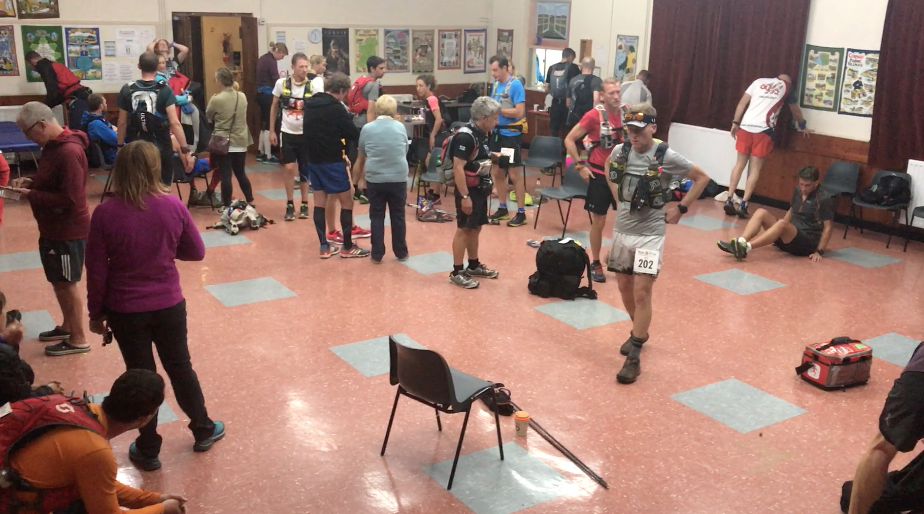 I packed up my gear and made my way outside for the final briefing. We walked up the road a bit so we didn't disturb people in the houses around the hall.
Day 3: CP12 Aberffraw to CP13 Rhosneigr (6.79 miles)
I set off with Helen fairly near the front but after a few minutes she was moving away and a few runners went past me. I was feeling good but I wanted to start comfortably with the aim of being able to finish well so I was happy to let them go. I was really encouraged with how good I was feeling and I was confident it was going to be a good day.
It didn't take too long for Chris, Melissa and Ieuan to catch up and we were running together again. I apologised for leaving them yesterday but they were fine and said that when they saw me running some of the hills they knew they weren't going to catch me!
We kept a decent pace going running when we could and walking the rest. It was a fair bit colder than Saturday but I was happy with a short sleeved shirt.
Soon enough we were on the beach and approaching the first checkpoint of the day. We had been told there would be bacon rolls and sure enough there was! Two lovely pieces of bacon in a nasty soft roll with tomato sauce. What a great start to the day! Thanks so much to Sandy's Bistro!
CP12 to CP13 – 6.79 miles in 1:44:02 (15:19 pace) Leg position – 28th
Day 3: CP13 Rhosneigr to CP14 Four Mile Bridge (7.20 miles) Overall 13.99 miles
I set off with Chris, Melissa and Ieuan again. It was drizzling a little now but I didn't feel I'd need a jacket on. We made our way over the sand dunes and down onto the beach. Thankfully the tide was out so the sand was firm and easy to run on.
I decided to adopt my run/walk strategy. This time it was run for 50 walk for 20. Each of us had our own plan but we ended up pretty much together by the end of the beach. We caught up with Josh and there was another group of 4-5 runners not far ahead now.
The group ahead wandered too far left after the beach so I ended up ahead of them. I was now at the front of a group of about 12 runners. Whereas yesterday I was happy to stay at the back of the group today I felt confident in how I was running to set the pace.
I made a couple of small navigation mistakes around the airport and the group came back together but I stayed at the front. Once we were on the obvious path I ran most of the way and found that there was a gap between me and the next runners.
I arrived at the checkpoint at Four Mile Bridge feeling really good. I stopped for just over 3 mins. Some of the runners who had been in the group of 12 came in but others including Chris, Melissa and Ieuan were still coming. I didn't see them until the end.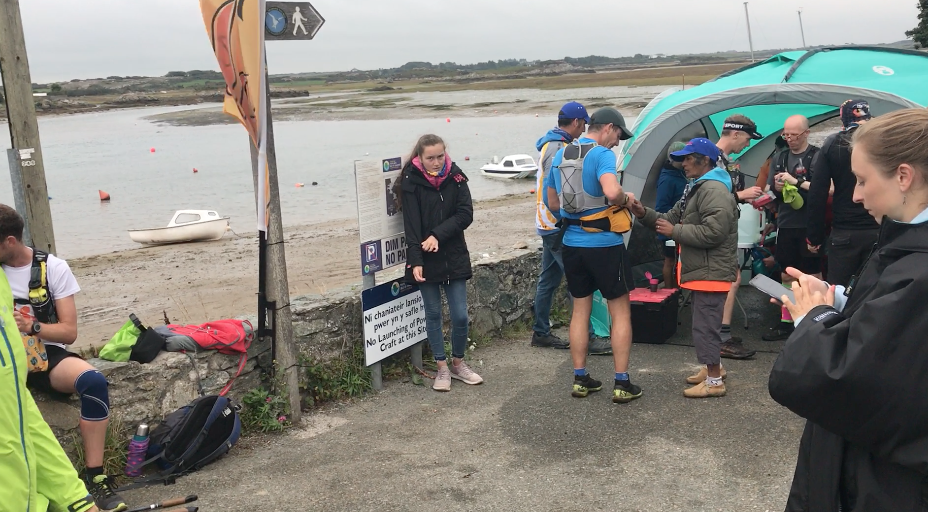 CP13 to CP14 – 7.20 miles in 1:46:19 (14:46 pace) Leg position – 19th
Overall – 13.99 miles in 3:36:17 (15:28 pace) Overall position – 23rd
Day 3: CP14 Four Mile Bridge to CP15 Trearddur Bay (9.26 miles) Overall 23.25 miles
I set off on my own but Gordon was just behind me. The first section is on lots of wooden boards over the marsh and I ran all the way feeling good. The next few miles are on road with the first half being a long uphill. I could see a runner in the distance.
There is another flag and honesty book at the start of the beach at Traeth Llydan which I remember passing on my recce run. I seemed to remember it was fairly straight forward to find the way.
I continued to run with some walking breaks and was very happy being on my own. The last section is through the woods which I really enjoyed. I went down the steps and there was the flag and book waiting for me.
I was really surprised to see 3 runners not far ahead on the beach. I'd not seen them at all on the long straight path on the way to the flag so I assumed they might have had a rest at the flag.
I walked along the beach as it was quite soft and then started running once I was on the grassy path. I soon caught two of the guys and could see the third not too far ahead.
When I caught up with her I realised it was Helen Leggett. I have often run with Helen in races in Scotland and the Hardmoors 55. Helen had been ahead on days 1 and 2 so I was quite surprised to catch her but she explained that a group of them had taken a wrong turn to the flag and ended up having to go up and down the beach to find it.
Helen also asked me whether I'd seen Mark. When I said I hadn't she realised that he was still trying to find the flag. Mark had decided to go a different way. For the rest of the day I was expecting Mark to catch me but he never did.
Helen and I ran the rest of the way to Trearddur Bay together. It was good to have some company for a while and we caught up with various bit of news. We were both moving well and the miles ticked by fairly quickly.
The checkpoint was in the car park half way along the beach promenade. I stopped for just over 4 mins. The marshals had some lovely tomato soup which was just what I needed on a chilly day. I refilled my Tailwind and was soon ready for the final leg of the day and the race.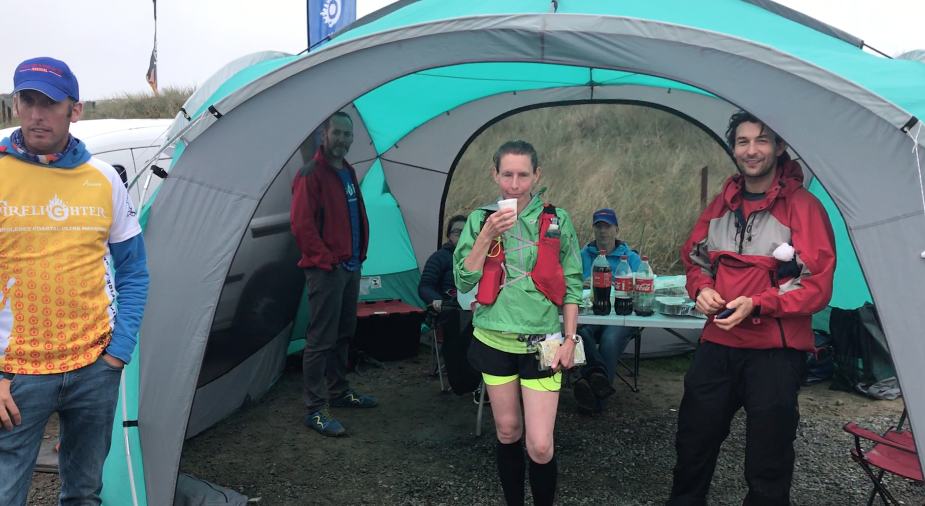 CP14 to CP15 – 9.25 miles in 2:24:56 (15:39 pace) Leg position – 18th
Overall – 23.25 miles in 6:04:47 (15:41 pace) Overall position – 20th
Day 3: CP15 Trearddur Bay to CP16 Breakwater Country Park (9.18 miles) Overall 32.43 miles
Helen still had some soup to finish so she encouraged me to go. I must admit I was quite keen to run this last section on my own so I could run and walk when I wanted to. I sensed that Helen probably felt the same.
The first few miles are mainly on the main road with a couple of loops to the left closer to the sea. At a car park there was a group of spectators who I think were waiting for Josh as they had written encouragements to him on the pavement in chalk.
It was good to get past the road bits and back onto the coastal path. The next main thing to look out for is the penultimate flag and honesty book. I probably started looking for it too early as it seemed to take a while to come.
I passed a couple of walkers who were coming towards me and I asked them had they seen a flag? They said it wasn't too much further so at least I knew I hadn't missed it!
I could see it from a good distance away and step by step I arrived at it. Page taken and off again. As I was leaving I saw Helen making her way to the flag so I was expecting her to catch me at some point before the end.
When I did the recce in May 2018 Andy Cole joined me from just outside Trearddur Bay. I remember him pointing out various things to watch out for. He also said it's worth trying to run as much of this next section as possible as once you start climbing towards the South Snack lighthouse it is all uphill for a good while.
Once I hit the road it was a case of head down and count my steps to keep going. It seemed to take a while but I got to the car park where the path takes you to the lighthouse. That is only a slight incline so I ran most of it.
Once I was past the lighthouse and heading over to the final flag and honesty book Helen caught me. She was moving really well. Within minutes she was away and out of sight. I really hoped that no-one else would catch me between now and the finish but if they did they did … I was going as fast as I could!
It is a real sting in the tail. Without doubt it is the toughest climb of the whole race and comes when mentally you think it is pretty much over. I did have to dig in a bit to keep moving. Every now and then I could Helen in the distance so I knew I was on the right track.
I kept hoping that I had gone over the last climb but there always seemed to be another one. But eventually the path headed down and I could see I wasn't too far from the flag. I saw Melissa's dad walking up. He said to me I was in 19th place as long as I finished! I assumed this was his NZ humour. I hadn't come this far not to finish!!
I dropped down to the flag and took my final page. We were told it was about half a mile from here but I remembered from my recce it was nearer a mile so I thought it was probably somewhere in between! I recorded it as 0.88 mile in the end.
The path is undulating with a few more tricky climbs and just as tricky rocky descents. Holyhead harbour is clearly visible and I knew the finish was this side of that so I knew it wasn't too far away.
It is a lovely view when you turn round a corner and you can see the tents of the finish line. It disappears again for a couple of minutes and then it is the final run in to collect your medal.
There was a good crowd cheering and the Johnny Cash Ring o' Fire music is playing. I felt quite emotional reaching the finish and felt a real sense of pride that I had made it round. Helen had finished 9 mins ahead and was there taking a photo of me coming in.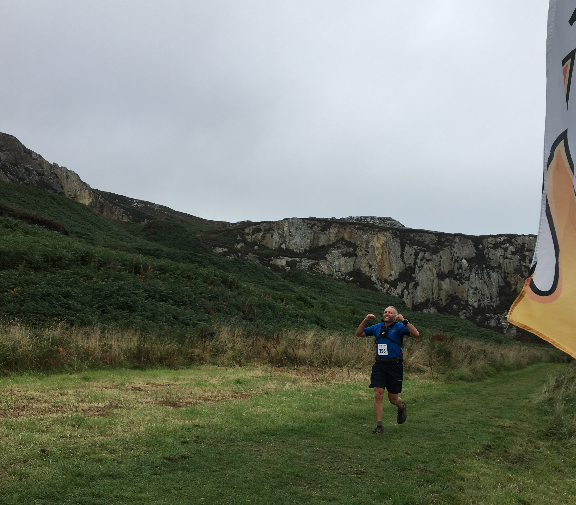 CP15 to CP16 – 9.18 miles in 2:24:05 (15:42 pace) Leg position – 16th
Overall – 32.43 miles in 8:33:22 (15:50 pace) Overall position – 19th
My stats for the 3 days were:
Day 1: 8:18:00 (36th place)
Day 2: 17:41:42 (22nd place)
Day 3: 8:33:22 (19th place)
Overall: 34:33:04 (21st place)
I waited around until 4pm to watch everyone finish. There was lots of cheers, tears and congratulations. Everyone who finished had their own story to tell.
Thanks to the organisers and all the volunteers. There is a lovely family, friendly feel about the race. The route is challenging and varied. I would full recommend it to anyone wanting to try a staged race.