I decided to have an easy week after this week as this was my 6th week of, for me, harder weeks.  If I took my week from Sunday to Saturday then I've run 95 miles in 7 days!
Monday 11th Feb - Dragon's Back Day 5 Recce Part 2
21.7 miles in 7:03:53
Ascent – 4,121ft
As it was our half term this week I was able to complete Day 5. Katrina dropped me off near her Dad's house and I headed back up Fan Bycheiniog to re-join the course.
The snow had melted on the lower slopes but was still very thick on the summit. I put on my Khatoolas which helped. It was also very windy so I didn't hang around much.
The navigation was pretty straight forward though there were a few times I did wander off line in the mist but I was able to get back on track pretty quickly.
It was really good to have a look at a couple of route choices especially between CP5 and CP6. I had Marcus' gps line on my watch which I followed rather than the 'recommended route which stayed on the ridge.
Some of the underfoot conditions were tough as the course made its way over clumpy boggy ground.
I put together a video of the two days but here a few photos to give you a sense of my day.
It was a really good day out and another day covered. I have now reccied 4 out of the 5 days. I plan to recce Day 4 in April with Andy Cole so I will have covered the whole course. I know there will be others who will cover the ground more than once but others who won't step on the course at all.
Wednesday 13th Feb - Lunchtime Run around Pollok Park
6.47 miles in 58:42
Ascent - 535ft
I decided not to do a Conic Hill run this week as I've just had a bigger weekend and I have a 35 mile run planned for Saturday.
So I ran my off road run around Pollok Park. I have bought a new pair of Altra Lone Peak 4 so this was a perfect chance to try them out. They are very similar to the Lone Peak 3 so that's good news. I plan to continue to run in the Lone Peak 3 and keep the Lone Peak 4 for my final Day 4 recce run and then the race itself.
Thursday 14th Feb – Run with Katrina after work
5.31 miles in 47:12
Ascent – 207ft
What better way to spend some of Valentine's Day with your wife than going for a run together! We haven't had a run for a few weeks so it was good to get out together. Katrina always makes me laugh as she will often (every time?) say 'I will be slow' and then proceeds to set the pace and is not slow!
Friday 15th Feb – Weigh-in
11st 11lbs (put on 1lbs 5/8)
A fellow Dragon's Back runner, Oliver, left a comment on my Strava run saying 'I notice you lose weight easily! What's your secret?'
I'm not sure I find it easy but here is what helps me if it's any use.
I don't snack at all and don't drink alcohol
Breakfast - Porridge with banana, blueberries, seed mix and honey
Lunch – ham, cheese, beetroot wrap plus youghat and apple
Evening meal – Katrina is a great cook so we have lots of healthy food with plenty of vegetables
I try and keep to sensible portions for my evening meal. I find it easy to have a second plateful if I'm not careful
Supper – Hot Chocolate before bed is my treat!
Mon to Fri – no puddings
Weekends - I will be a bit more relaxed but try not to go overboard!
I find there is a balance of eating enough to fuel the amount of running I'm doing but not eating too much that I put on weight. I have found that since I turned 50 almost 10 years ago that I do have to be more careful with what I eat.
I try and drink water throughout the day but I know I should be drinking more.
So in conclusion I don't diet as such but I try and eat a variety of all food types in moderation. I do think I need to be disciplined to make it work.
Saturday 16th Feb – Long Run on the whw
36.07 miles in 9:14:06
Ascent – 5774
I wanted to do a longer run in preparation for the Hardmoors 50 in 4 weeks' time on similar terrain. I drove up to Bridge of Orchy and caught the 8.36am bus to Fort William. I then ran the 36 miles back to the car on the West Highland Way.
I set off from Fort William bus stop at 9.50am and went on the Devil's route from the Leisure Centre. As I climbed up the fire road there were signs to say the path was closed due to logging but I decided to push on hoping that they wouldn't be working on a Saturday which they weren't so I was okay! It does look a lot different though with all the trees felled.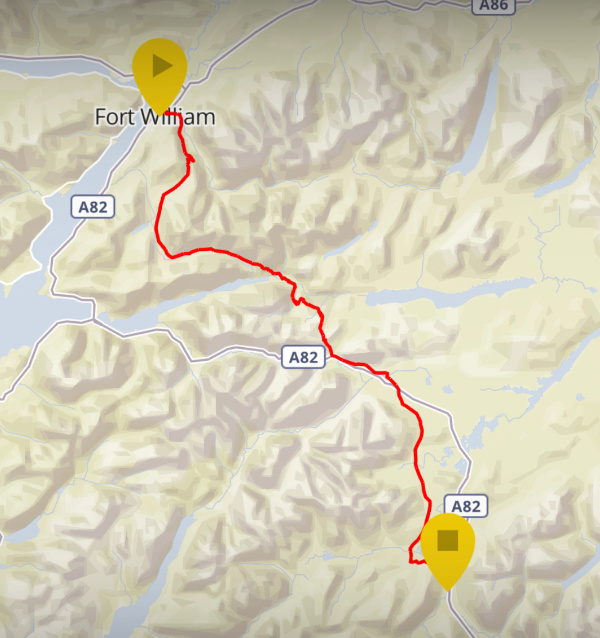 I was looking forward to seeing Ian & Julia Minty who were running the opposite way and sure enough we crossed after an hour or so. They had left Kinlochleven at 8am and were moving well.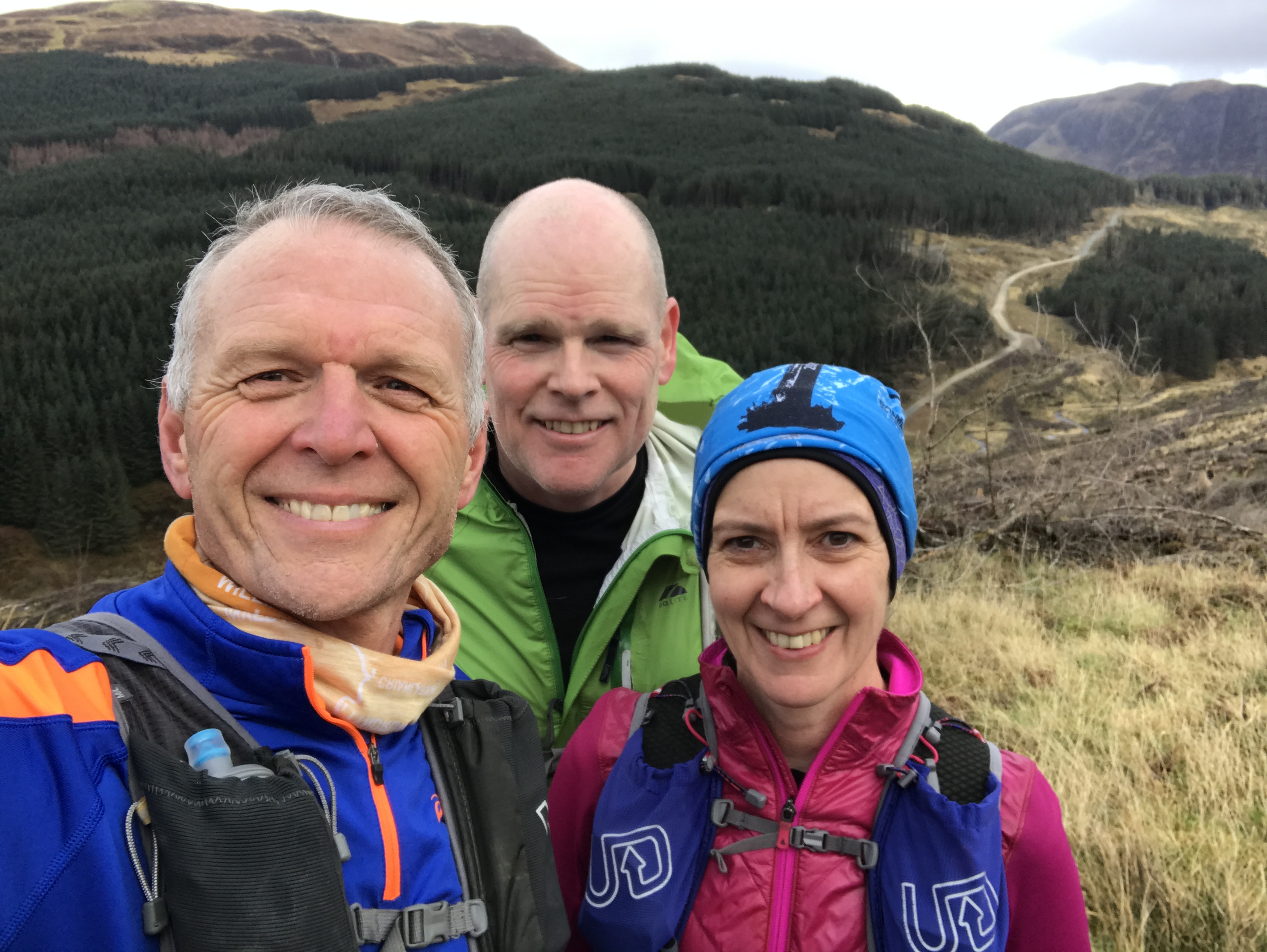 I was running as much as I could and happy with my progress but I did think back to my best whw in 2009 when it took me 3hrs 20mins from Kinlochleven to Fort William. Today it took me 3hrs 35mins and I hadn't run 80 mile first!
As I descended to Kinlochleven Rachel Campbell was running up the hill looking very smooth. Not long after I saw Donnie and we stopped to have a chat. Donnie is an excellent ultra runner who wins a lot of big races so it was great to have a chat even if it meant he had to work even harder to catch his wife!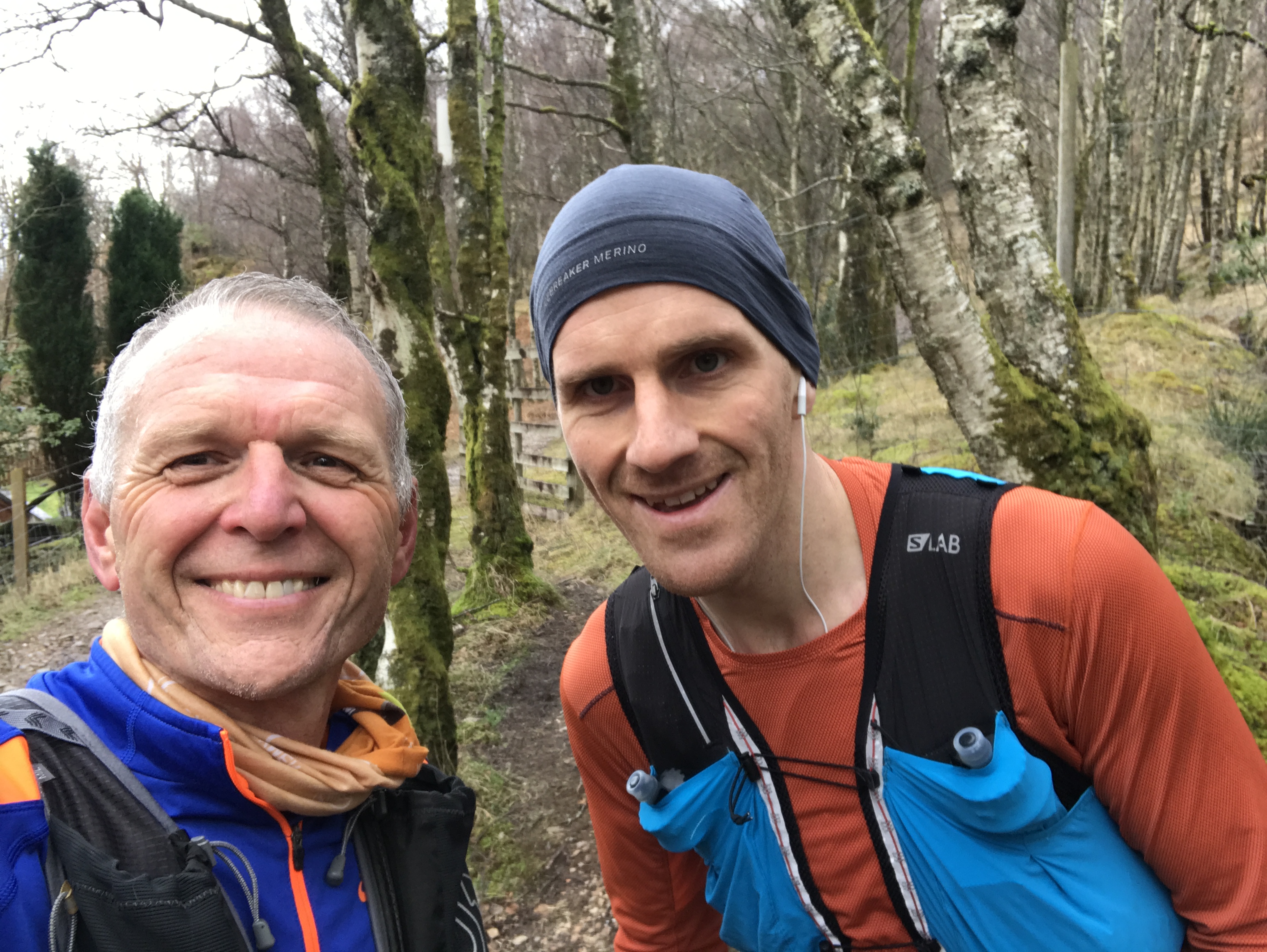 It was long climb out of Kinlochleven so lots more ascent feet to add to my weekly total! As I approached Altnafeadh I switch on my phone as Max & Stacey Holloway had planned to join me at Glencoe and run with me for a bit.
I was interested to see what the new Kingshouse Hotel is looking like now it has been rebuilt.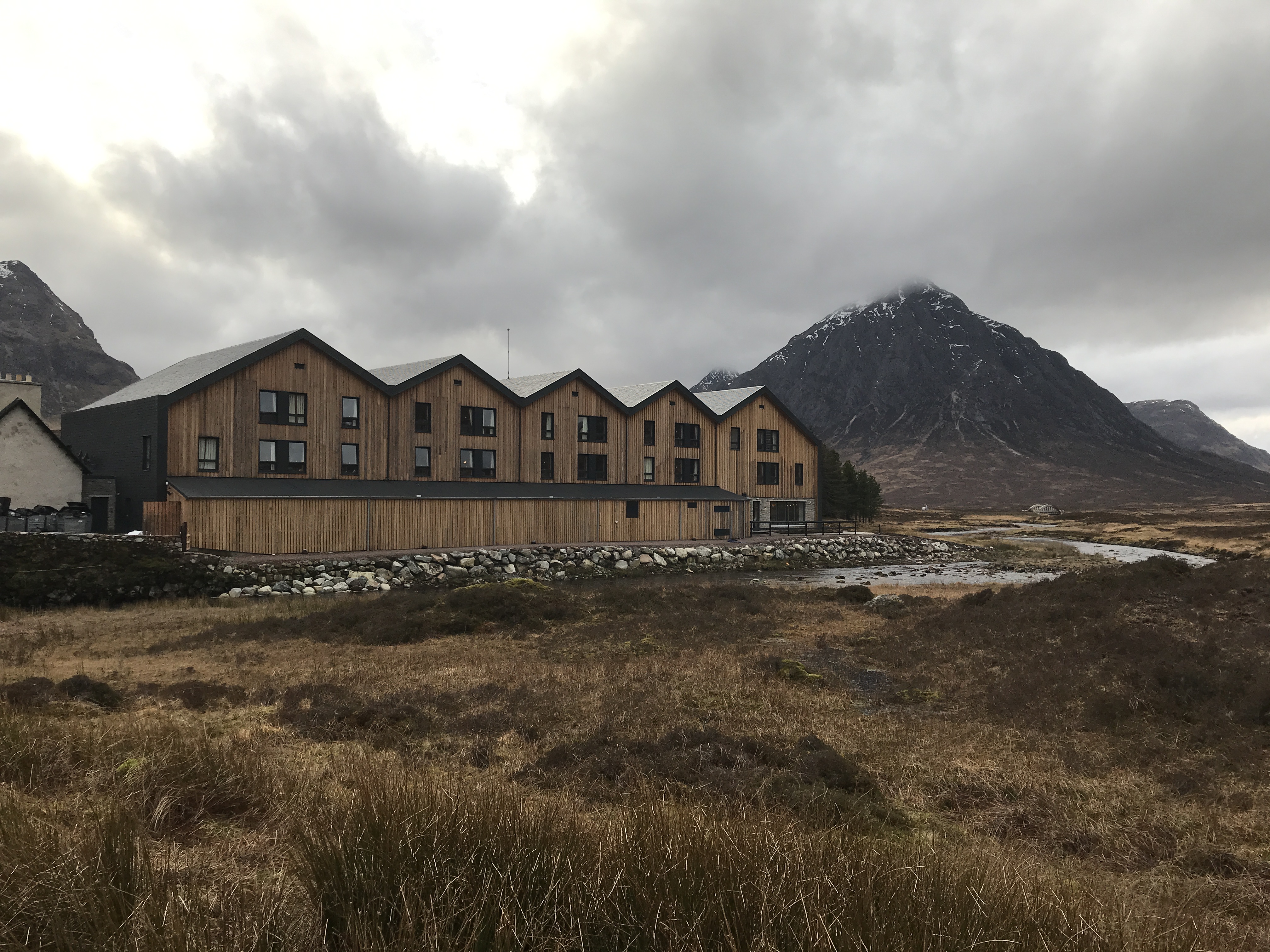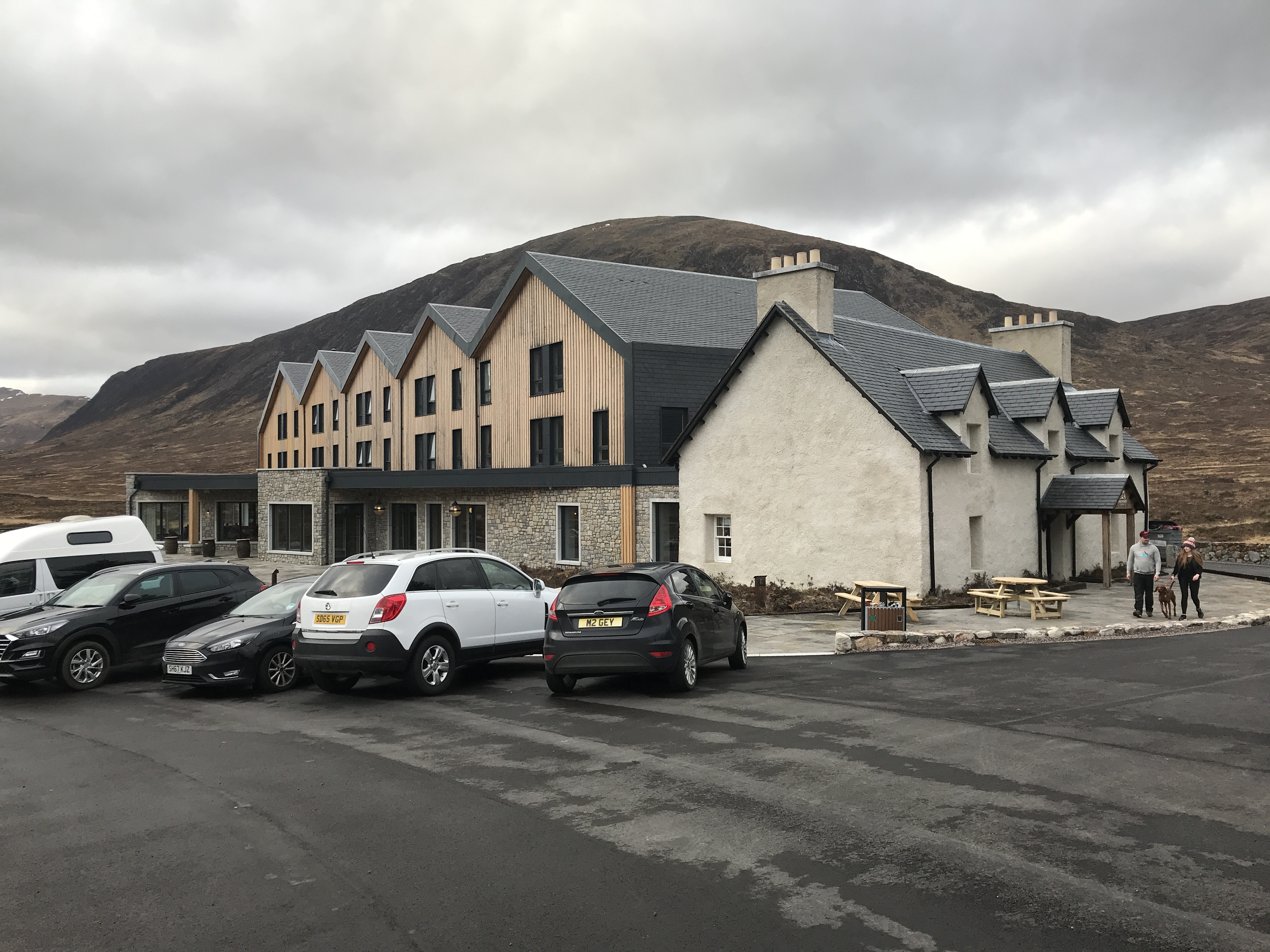 Max & Stacey ran down from the car park and joined me just before the main road. It was great to have company for the next hour or so before they headed back. Thanks so much for making the effort to come and join me.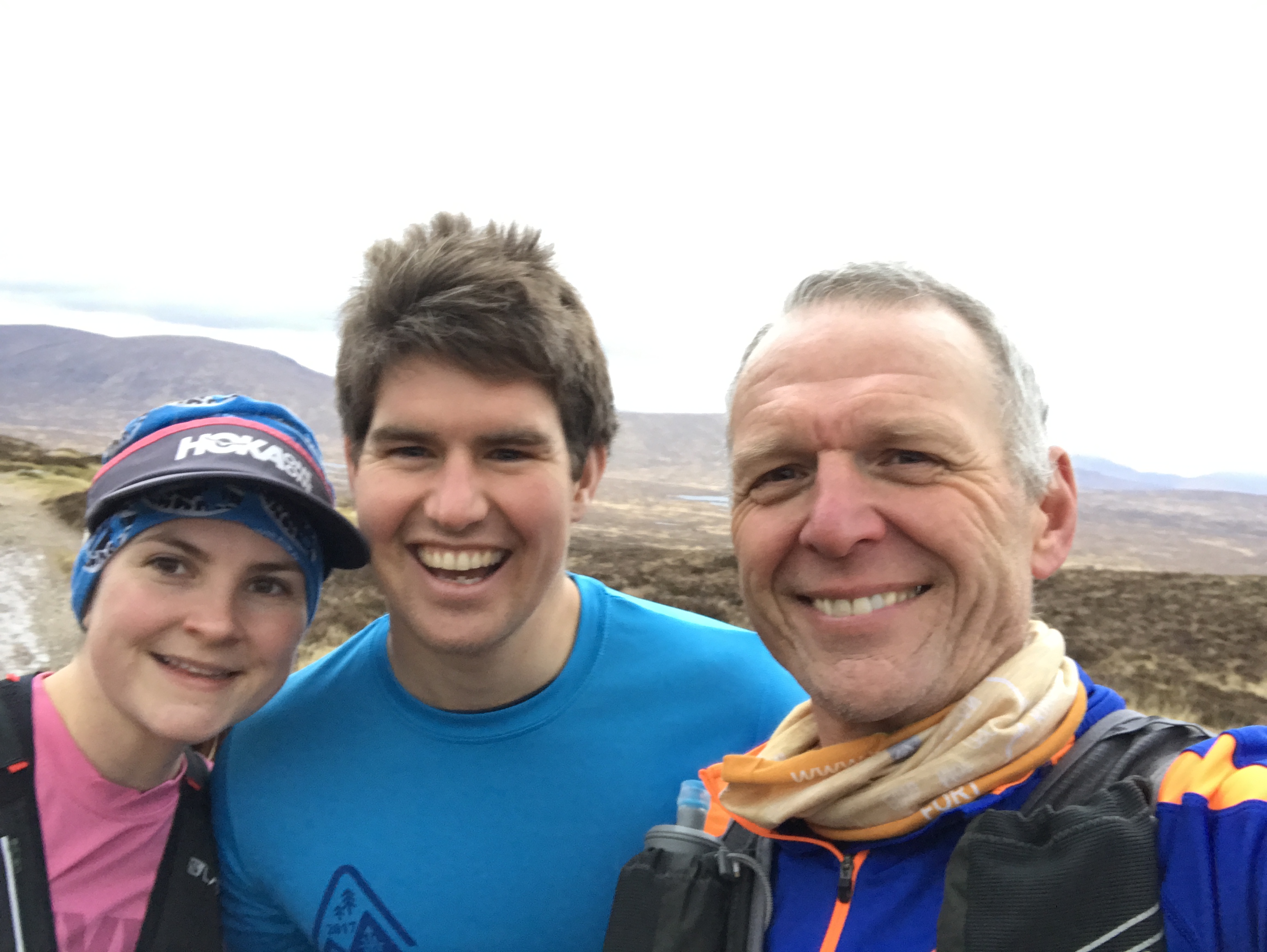 I had a final 7 miles or so and I kept running as much as I could. I put my head torch on as I climbed up 'Jelly Baby Hill'.
I finished just after 7pm. I had a quick change then drove home. Another good day out.
Sunday 17th February - Final Payment sent
I sent off my final payment for the race so there is no going back now!!
Summary of the week
This has been my biggest week of the year so both in terms of distance and ascent.

I normally try and work on a pattern of 3 harder weeks and then an easy week but this time I've had 6 harder weeks before an easy week.
Here is a summary of the first 6 weeks of my training plan for the 2019 Berghaus Dragon's Back.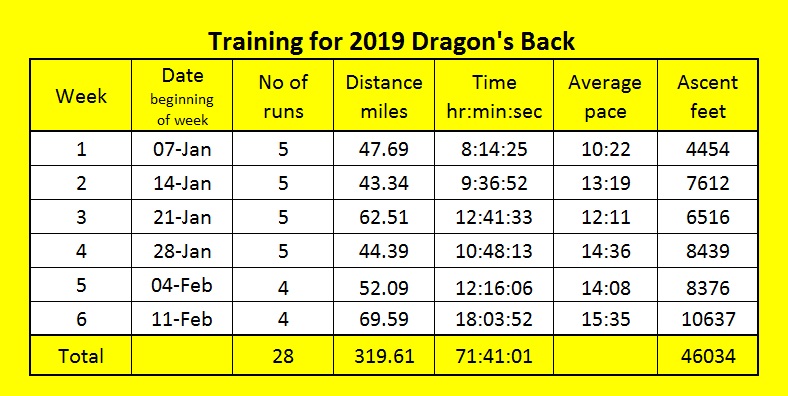 Photo of the week
I could have chosen any one of a number but have gone for this one from yesterday on the Lairgmor