This was my recovery week after the Hardmoors 55 race last Saturday. I was really pleased with how quickly I recovered. I had a couple of days off (Sunday and Monday) then an easy run on Tuesday.
Tuesday 19th March - Recovery Run #1 with Katrina
5.31 miles in 47:51
Ascent - 305 ft
We ran after work and chatted all the way round. I was really pleased that nothing hurt and I felt pretty good.
Thursday 21st March - Recovery Run #2 Pollok Park
5.87 miles in 55:47
Ascent - 482 ft
I ran my normal run at lunchtime but shortened it slightly. Felt a little heavy so didn't push too hard.
Friday 22nd March - Weigh in
My lowest weigh since 2015. Feeling good. I'd be happy to stay around this weight until the Dragon's Back race.
Saturday 23rd March - Ganavan Sands parkrun
warm up - 2.53 miles in 24:41 (ascent 105 ft)
race - 3.12 miles in 22:35 (ascent 190 ft)
cool down - 2.38 miles in 22:30 (ascent 161 ft)
Katrina and I had a weekend in Oban to celebrate my 60th birthday so we thought we would run in the local parkrun. The run was about 2 1/2 miles from our airbandb so we decided to run there and back.
There were 43 runners taking part and I found myself in 2nd place early on so I decided to try and stay there which I did! I've never finished as high as 2nd before so I enjoyed that.
The route is an out and back along a good tarmac path but to make it up to 5k they have another out and back with the out and back! This means that I saw Katrina 4 times which was good fun.
It was a very hilly course but the views more than made up for the hills! Plus I need hills even in a recovery week.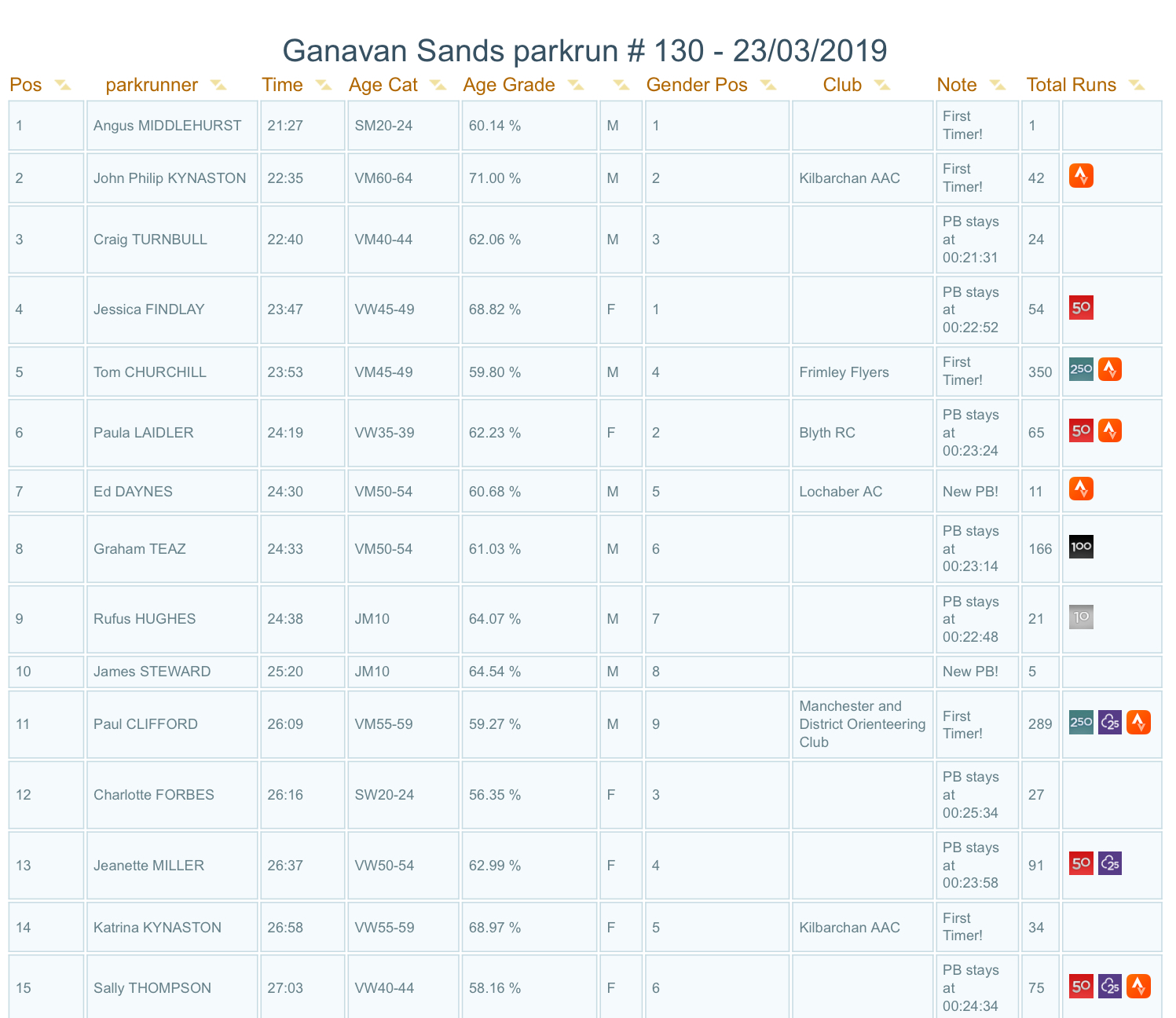 I had a good chat with Tom who was doing his 350th parkrun! Very impressive. Katrina also had a good run despite her sore knee.
Sunday 24th March - Forest Trail Run
3.15 miles in 34:03 (ascent 420 ft) with Max & Stacey
4.65 miles in 1:11;40 (ascent 705 ft) with trail group
I hadn't planned to run on Sunday but I saw this poster on the Ganavan Sands parkrun page …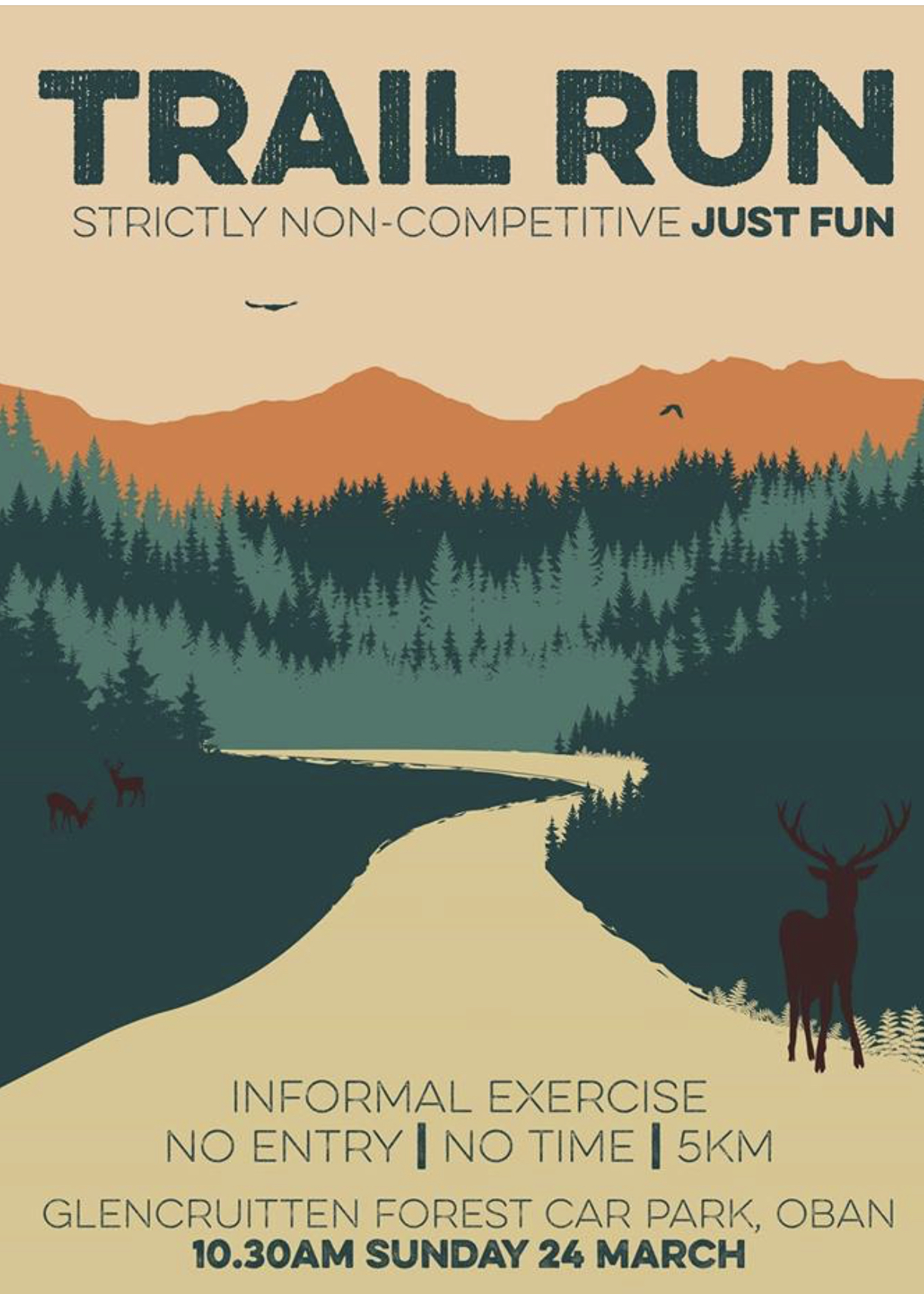 Plus Max & Stacey were planning to come as well. In the end they had to leave early so suggested we had a run before the main group run. So I ran just over 3 miles with them before joining the main group.
It is a lovely forest with lots of trails.
This trail group run once a month in various locations around Oban. Someone sets the trail with sawdust and the group follow but there are some false trails and lots of up and downs to keep the group together.
My gps trace shows the false trails I headed up!
We stopped a great view point for these photos.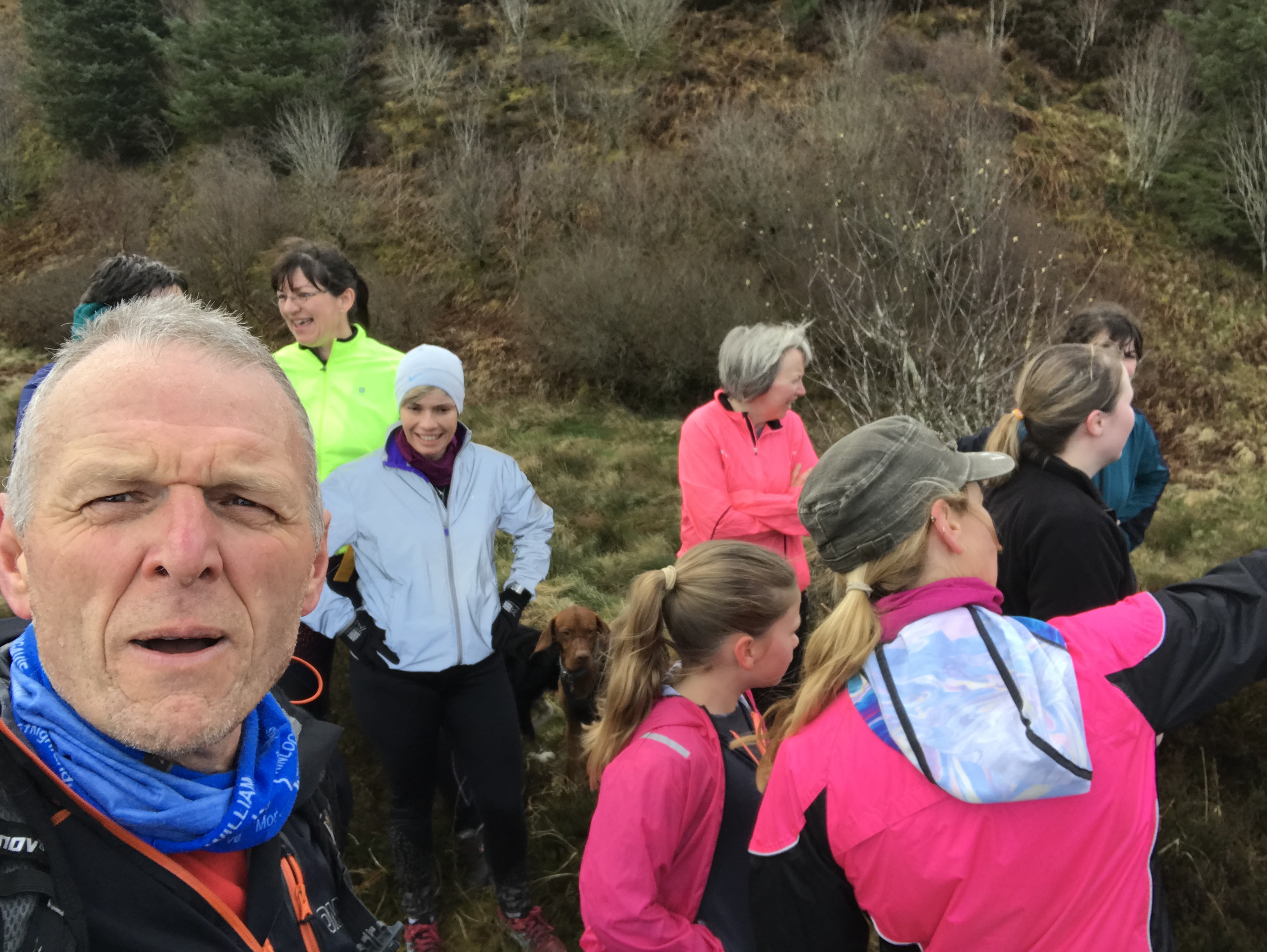 I really enjoyed this extra run before we headed home after a great weekend.
Summary of the week
Photo of the week