My normal pattern of 3 harder weeks followed by an easier week is out of the window at the moment as I'm doing a race every two weeks. So I'm playing with a bit more flexibility than I normally do. If I feel I've recovered from the race then I'll do some harder sessions and if not then I'll do some easier runs.
Wednesday - Tempo Run
After Sunday's Cross Country I'd had an easy run on Monday and Tuesday off so was feeling pretty good when I set off at lunch time for my tempo run. I decided to do a 9mile run with a mile warm up, 7 mile tempo and a recovery mile.
The weather was fine as I set off with no wind. I was holding myself back on the first mile and had a feeling that this was going to be a decent run. I set off on the first tempo mile feeling strong and basically kept it going through the 7 miles.
I was wanting to use the run as a rehearsal for the Inverness Half Marathon so practiced my concentrating on my pace by counting 4 sets of 50 breathes before looking at my watch to see what the average pace for the mile I'm on. Normally I get to 0.75 of a mile or so. Then I count another 50 and it takes me around the mile mark.
Each time I looked I was around 6.30 pace so knew I was going well. I chose a road route which went all the way round Pollok Park but involved crossing a few roads. On one such crossing I thought the lights were red for the truck that was coming but it was on green and the driver wasn't very impressed that I ran out in front of him!
At least I didn't have to slow my pace! With 3 miles to go I felt I was having to work a bit harder but was pleased to see that I was able to keep the pace up.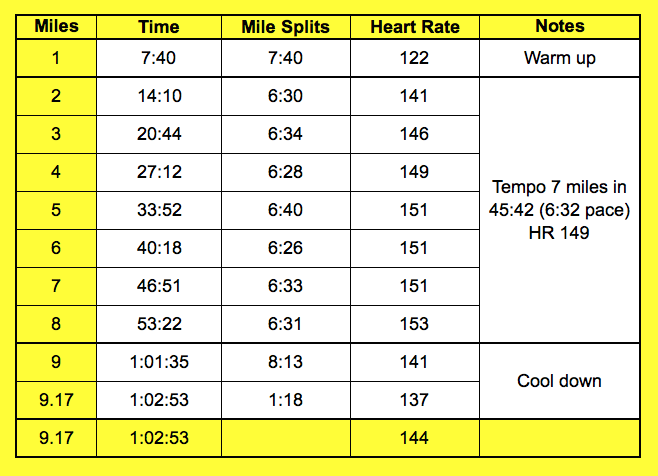 I reckon that was one of my best tempo runs for quite a few years!  My heart rate showed a consistent effort as well.
I've been thinking what should be my Jantastic target for the Inverness Half Marathon. Two years ago I ran 1.27.32 but I do feel I'm going as well if not better than then.
At the moment I'm thing just under 1.27 seems a realistic target. This year it doesn't matter if you go faster you still get the full points.
Thursday - steady run
It was quite windy tonight for my run after work so I decided to take it steady, not look at my watch and keep my breathing easy.  It was a fun run. I spent the time thinking about the questions I was going to ask Rhona, Rick and Lorna for the lastest whw race podcast I had planned for tonight.