My plan for February was to build up to 2 main races with an eye on a third. The two races were the National Cross Country on Sunday 22nd February and the Inverness Half Marathon on Sunday 8th March. The third race in the future is the Hardmoors 55 on Saturday 21st March.
I normally like to have one main focus but I've really enjoyed juggling my training a bit this month to try and prepare for different types of races. I also ran a 5k parkrun in the build up to the National Cross Country which gave me an idea of how my training has been going.
First of all some stats before the analysis.
A list of all my runs in February. I ran a total of 176.57 miles.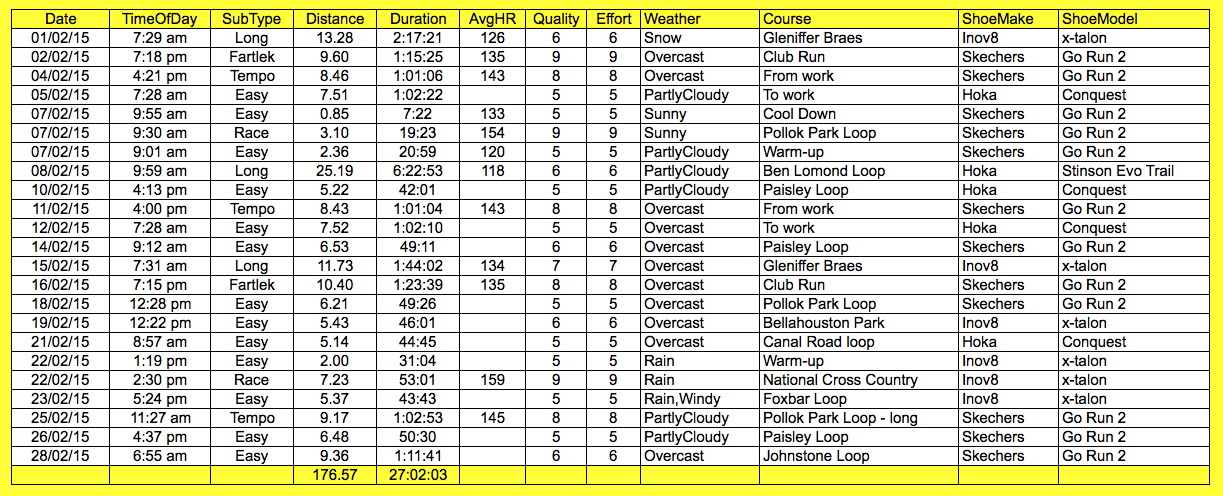 I didn't do as much cycling in February due to work commitments.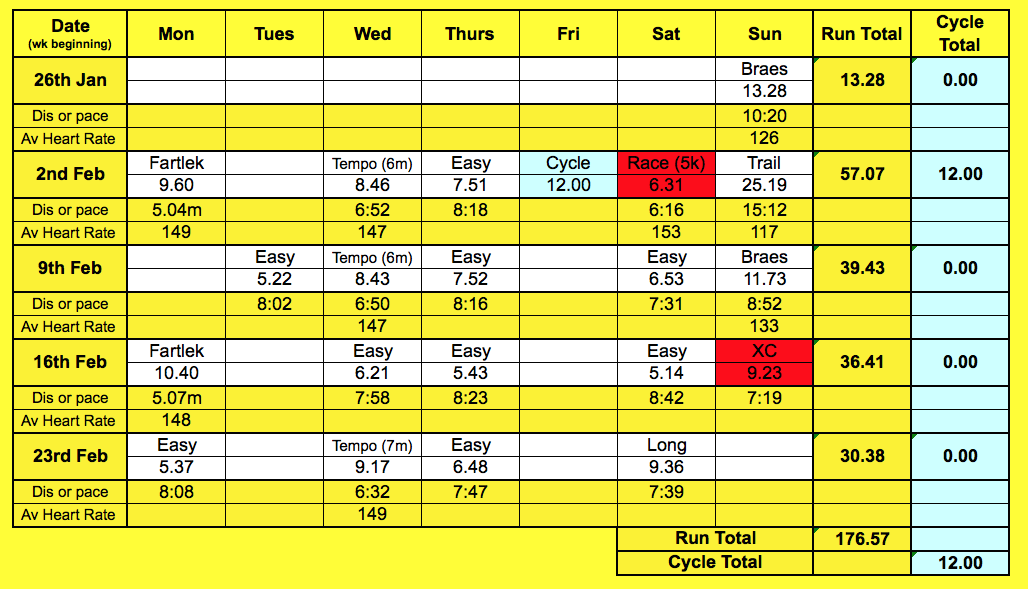 All my runs in a graph form. The one long run I did on 8th Feb stands out.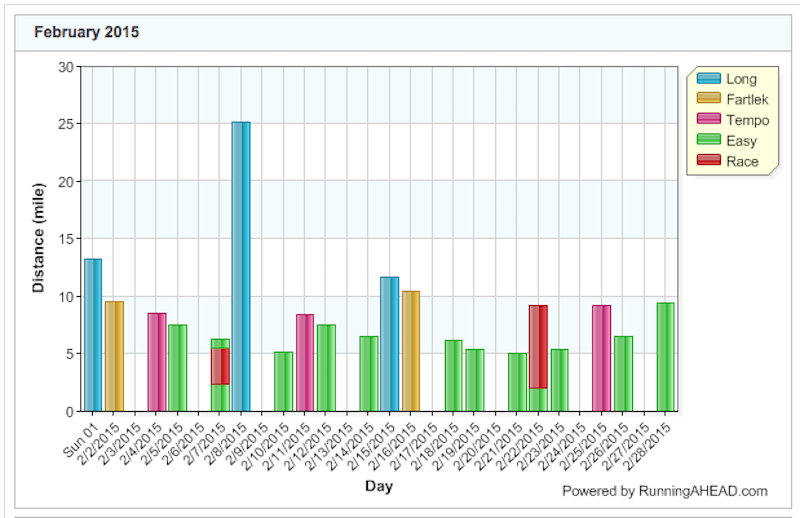 I also like to keep a track of the different types of runs I do throughout the year.
So I had a variety of runs and at various paces as I prepared for various different races. Here are some key thoughts from February …
Races
In February I ran 2 races.
parkrun - I decided almost at the last minute (well a couple of days before) to do a 5k parkrun the day before my long run. I was feeling strong and wanted to see whether the speed work I'd been doing would show itself in a shorter race. I was really pleased to run 19.23 which is my fastest parkrun since 2010 so that was very encouraging.
National Cross Country - I'd not run this since 2008 so again I was interested to see how I compared to then. It is difficult to gauge cross country on time alone as the conditions can vary so much. But basically I was very pleased with my run. I maintained a Heart Rate of 158 for the whole race which is high for me and shows I pushed as hard as I could for the 12k in the mud, rain and wind!
Speed work
I have really enjoyed the Fartlek and Tempo runs I have done in February. I've been over 5 miles for the 30mins 'on' a couple of times which is a good indication of effort for me. Plus my Tempo runs have been getting faster with my best pace of 6.32 for 7 miles the best for quite a few years.
Long Runs
I've not been completely ignoring the long off road runs and I've been up the Gleniffer Braes a few times and I had one longer, 25 miles around and up Ben Lomond, with Jonny just to make sure I gave myself some chance to 'enjoy' the Hardmoors 55 in March. I know this is not really enough but that was part of the plan and the experiment!
Weight
Another key factor to being able to faster is that I have lost 22lbs since the beginning of the year!  I started the year at 12st 13lbs and I'm now at 11st 4lbs. I can't tell you the difference it makes in my running. It feels so much easier running and my times and hr reflect that.
Finally I'm glad to report I'm ahead of the schedule for 2015 miles in 2015 and I'm still on 100% for Jantastic with a month to go.