I had a nice gentle run after work today. I spent most of it thinking about Saturday's race and visualising finishing in under 10hrs!! Isn't believing it half the battle?
I've sorted out my food plan for the race. It's very similar to last year's race which seemed to work pretty well.
There will be some food at the check points so if anything takes my fancy I might swap something or add to my plan.
The race numbers were published the other day. I'm #185 so I've prepared my bags ready to put my food in.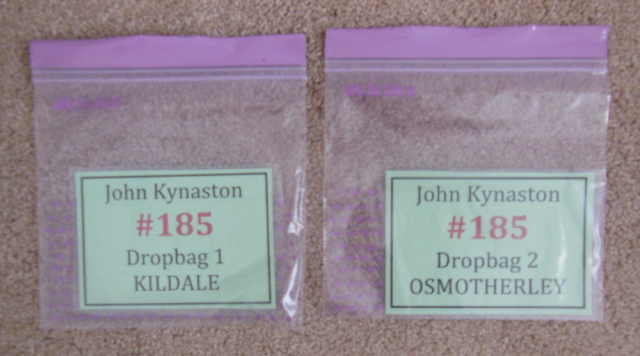 According to my spread sheet of entries there are 18 people who have ran the race faster than me. Plus who knows how many who haven't done it before who will go faster so I wonder what position I'll finish.
My finishing time is far more important to me than position as you can't control who turns up on the day but you can control how well you run. I would rather finish 100th in under 10hrs than 10th in 10hrs 30mins.
If you want to enter my 'Guess My Time' Competition you have until 6pm tomorrow (Thursday) night. It is a strict cut-off! I have 123 guesses so far. I'll post the full list after 6pm tomorrow.