Saturday 19th September 2015
I was keen to do this race when I first heard about it. I really liked the look of the course and the company No Fuss seemed to have a good philosophy.
Katrina & I left home after work stopping off at The Real Food Cafe for fish & chips on the way. As we left we saw a family coming in. Lynn had a Fling sweatshirt on so we said hello. Lachlan was also running and they were also staying at the Glen Nevis camp-site with their two children so it was great getting to know them.
We went straight to the camp-site to set up our awning then headed to the Cotswold shop to register. We met Neil & Carolyn Ambrose and Neil's brother Graeme on the way. Neil and Graeme were planning to run together.
It was very straight forward and well organised. Katrina had offered to help Marshall so was given her instructions. She was going to help Fraser with the mountain bikes at Kinlochleven.
The camp-site was very quite so we settled down just after 10pm to get some sleep with the alarm set for 5am. I woke before that ready to get going. Time for a bowl of porridge and cup of tea before walking the mile or so to the Braveheart car park where the race was starting.
It was still quite dark at 6.10am when we arrived for the planned 6.30am start. It was great to catch up with various whw friends. I had a quick chat with Richie who had me laughing with his tales of looking after his three small children. I think running 40 miles was a far better option for him!!
The race got going about 6.40am and it was light enough not to need a head torch. 49 runners clocked in.  I was really looking forward to the route as after Kinlochleven it would all be new to me.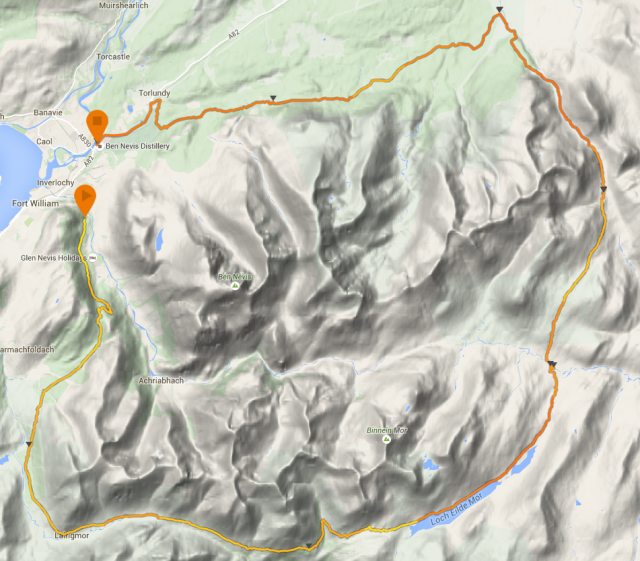 I had some rough splits working on a time of 7:30. I thought it was about 42miles but it was actually 39.04miles according to my Suunto.
Leg 1 Braveheart Car Park to Blarmafoldach (Lundavra) 5.85 miles
I set off with Donald and it was good to chat about his recent UTMB experience and plans for the rest of the year. Katrina and Carolyn had walked up the track so it was good to get a high five from them as we ran past.
The views down the valley were amazing. A low cloud hung over the campsite which made it look amazing. This photo doesn't really do it justice but hopefully will give you an idea of the view.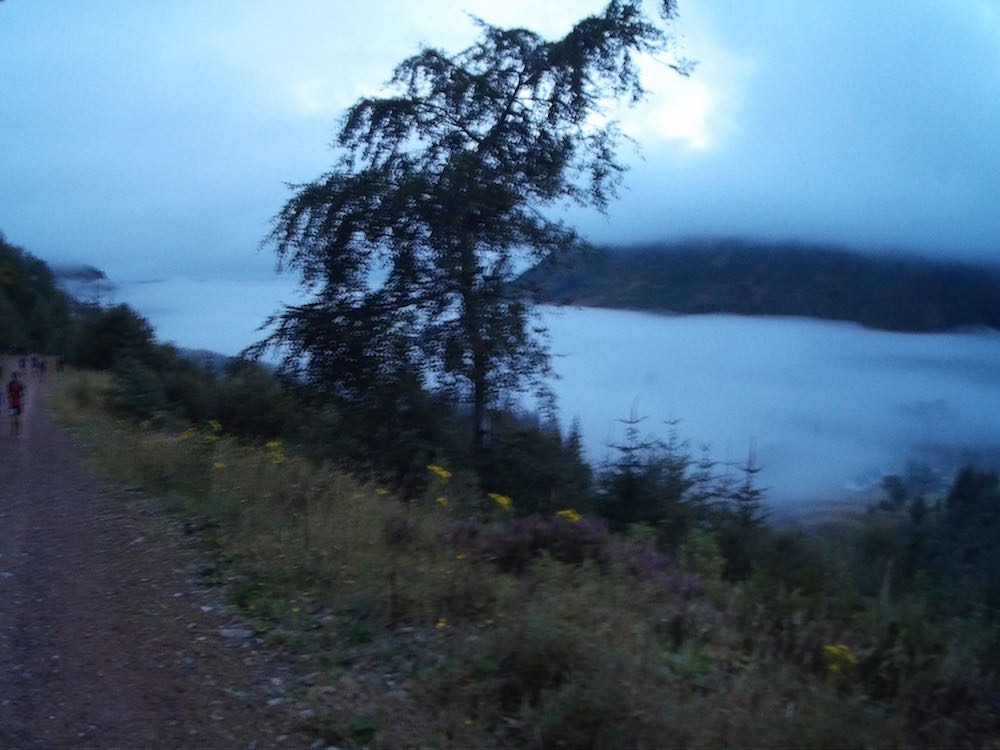 Half way up the hill Donald stopped to take off his jacket and I pushed on. I caught up with Steve Dodge-Harrison who ran the whw a few years ago. He's had some injuries and this was his come back race. We stayed together for a mile or so and then he pushed on. I see from the results he finished 3rd so a great comeback!
I was aiming to keep my heart rate around 140 for the race and I was feeling good over this first leg. I was chatting with various folk and the miles flew by. We soon reached the first checkpoint where we dibbed in. I didn't need anything so went straight through.
Leg 1: 5.85 miles in 1:03:20 (10:50 pace) 22nd position (HR 130)
Leg 2 Blarmafoldach to Mamore Lodge 7.12 miles (overall 12.97 miles)
At some point along the Lairig Mor I caught up with Lachlan and we ran the rest of the way to the next check point together. It was fun running in the opposite direction to the whw and with fresh legs. It seemed so easy!
The cloud base was really low so we couldn't see a great deal but the temperature was just right for running. I wore a long sleeved top and need my sleeves down for most of this section.
I kept an eye on my HR and it was around 135 which I felt was fine. I knew there were some good hills to climb later on and I was keen to finish well. The Lakeland 100 was 8 weeks ago and I was happy with how I felt. There was no soreness at all from the tendinitis I had from that race so that was good.
I really enjoyed chatting with Lachlan and before I really thought about it we reached the point where the whw path comes up. The runners carried on the top path to Mamore Lodge where as the mountain bikers took the whw path down to Kinlochleven.
This was the point where Katrina was going to be marshalling. The bikers had a time trial down the hill and Katrina said it was fascinating watching them set off. Some were super confident and sprinted down, others were a lot more cautious and some she had to persuade to go!!
The midges were really bad for the next 30mins or so. I'm glad I was running and not standing around. Lachlan and I came into the checkpoint together. Lynne, Freya and Hamish were there to cheer on Lachlan but they kindly encouraged me as well!
We didn't stop long as the midges were out in force. I had a drop bag so I quickly took my Tailwind sachel and youghat bar and was away. I was alternating between Tailwind and my Matrix Energy Boost and it worked well all day.
Leg 2: 7.12 miles in 1:13:05 (10:16 pace) leg position 9th (HR 133)
Overall: 12.97 miles in 2:16:40 (10:32 pace) overall position 20th
Leg 3 Mamore Lodge to Luibeilt 7.57 miles (overall 20.54 miles)
A couple of guys went past us at the checkpoint who I don't think I saw again. Thankfully as we climbed out from Mamore Lodge the midges disappeared. It was a fair climb out but on a good solid path.
It was still very misty so we didn't get many good views. Once we dropped down to run along the lochs it was better. We descended to Loch Eilde Mor together but once we were on the flatter ground I decided to push the pace a little.
My HR was still around 135 so I thought I would get it up to 140-145 for awhile. My legs were feeling really good and I enjoyed running a little faster. I wasn't sure how far behind Lachlan was but I could see a line of about 6-7 runners ahead so aimed for them.
The whole route was very well marked with orange flags on canes. I was very impressed as you never had to worry about which was to go.
I slowly caught up with the runners and had a quick chat as I went past. My HR was nearer 148 a few times so I eased off as I knew that was a little high and I would pay for it later.
With about 1 mile to go before the next checkpoint I had  one more runner ahead but I never quite caught him. Just before I reached the checkpoint where the river crossing was Lachlan caught up with me.
He said I never got further than about 100 yards ahead so he worked his way past the line of runners as well. We came into the checkpoint together. Again I had my Tailwind powder ready in my bottle and the marshal very quickly and efficiently filled it up and I was on my way.
Leg 3: 7.57 miles in 1:23:59 (11:06 pace) leg position 11th (HR 138)
Overall: 20.54 miles in 3:41:34 (10:47 pace) overall position 12th
Leg 4 Luibeilt to Lairig Bothy 3.95 miles (overall 24.49 miles)
They had put the dibber at the river crossing but I was a little confused as the runner (Derek Jones) ahead was way ahead on the same side of the river. I was about to follow up when the marshal shouted that we had to cross the river. He tooted his car horn to get the attention of the runner ahead who turned back.
Lachlan and I waded across the river. It was about ankle deep so I thought it would be a good test of my Drymax socks.I can say they passed with flying colours as within a few minutes my feet felt dry.
The next half mile along the river was pretty boggy and we both agreed the bikes would have a tough time on this section. We were at the biggest climb of the route after the fist ascent from the start.
Lachlan and I worked together and made good progress up the hill. It was a good climb again into the mist. Once over the top we made out way down to the next checkpoint.
We were caught by Sarah Sheridan and then Derek Jones. I ran with Sarah into the checkpoint. She had run the CCC in Chamonix only 3 weeks ago so could feel that run still in her legs. I had gone past Sarah as we ran past the Lochs so she was going well as she was the only one who caught back up.
We crossed the river and came into CP4.
There was a BBQ getting going. It seems the Mountain Bikers love a beef burger but I couldn't think of anything worse at this stage of a race. I had my second drop bag so quickly sorted it out and was on my way again.
Leg 4: 3.95 miles in 1:00:32 (15:19 pace) leg position 14th (HR 134)
Overall: 24.49 miles in 4:42:41 (11:33 pace) overall position 11th
Leg 5 Lairig Bothy to Corriechoille Junction 4.51 miles (overall 29.00 miles)
Sarah and Derek had gone straight through and Lachlan was sorting out his drop bag so I set off on my own up the hill out of the CP. I knew there weren't any big climbs left in the final 14-15 miles. I was feeling good so hoped I could bring down my average pace under 11 min mile pace.
I caught up with Sarah and Derek and we ran together for a bit.
I could feel I was moving quicker than Sarah and Derek so pushed on and was on my own. I try and not look back in a race. I figure that if I look back and see someone catching me I might be discouraged and if I don't see anyone I might get cocky!
Once I was over the top of the hill I could see that there was a long winding path all the way down. It was fairly smooth so easy to run on plus it was a gradual descent so nice  on the quads.
I could see my pace for the leg was around 9 min miles so I thought that will bring down my average pace! I could see one runner in white way ahead but wasn't sure whether I would catch him or not.
I really enjoyed the run down and was happy that I was moving so well with just over 10 miles to go. I started to think about a finishing time. The problem was I didn't really know the full distance so I decided to work on my overall average pace. I thought that if I can get that before 11 mins per mile I would be very happy.
I thought that I should be well under the 7:30 gold medal time I had set myself but that was based on the race being 42 miles!!
As I ran into the CP the runner in white was leaving so I was definitely catching him. The marshals filled my bottle while I took a sliced of orange. They had written down the numbers of the runners who had gone through so far and I think there were about 10 or so ahead of me.
Leg 5: 4.51 miles in 40:51 (9:03 pace) leg position 8th (HR 142)
Overall: 29.00 miles in 5:25:21 (11:13 pace) overall position 11th
Leg 6 Corriechoille Junction to Nevis Range 5.30 miles (overall 34.30 miles)
I now had 2 legs to go and on my rough plan I had 11 miles to go and 1:54 to do it.If that was accurate I would be under my 7:30 but I wasn't at all sure whether it was 11miles! So to keep me going I kept my watch on splits and worked as hard as I could to keep my average pace as close to 10 min miles as I could.
The other thing that helped me was I was catching the guy in white who turned out to be Ben Swainson. He kept looking back which gave me a little boost each time! I caught him as we came to a small hill so we walked up together.
The first thing he asked me was, 'Is there anyone else behind you?' I wasn't too sure how far they were behind but encouraged him to keep going. Ben was aiming for 7:30 and this was his first ultra.
Once it flattened out I was away again aiming to get my average pace back down after the short walk when it had gone up nearer 11 min miles!
I could feel I was getting a bit tired but really encouraged that I was running smoothly and able to run all the flats and down hills at a decent pace. I was counting 6 x 40 breathes and then checking my pace and it was staying around 10:20 pace.
I thought the leg was around 6 miles so was surprised to see the marshal with my watch showing 5.30 miles. I wasn't complaining and she quickly  filled my bottle and sent me off in no time.
Leg 6: 5.30 miles in 54:20 (10:15 pace) leg position 8th (HR 139)
Overall: 34.30 miles in 6:20:05 (11:05 pace) overall position 10th
Leg 7 Nevis Range to Finish 4.74 miles (overall 39.04 miles)
As I was leaving the final CP the marshal said only 5k to go. I knew it was probably 5 miles so said it may be best to tell runners 5 miles rather than 5k. She thanked me and she did tell the rest of the runners.
If it was 5 miles I had 1:10 to make it under my 7:30 goal. I knew it mainly downhill and I was still running strongly so felt it was in the bag! Sometimes I've found it hard to keep the intensity when I know my goal is almost done so decided to forget about the overall time as I didn't really know how far it was to go and work on getting my overall average pace under 11 mins per mile.
It was now 11:05 so I'd have to run as hard as I could. The other thing I'd been thinking about is whether the leading mountain bikers who catch me.  They were due to set off 3 and a half hours after our start and the top riders would take about 4 hours so they may well catch me near the end.
Soon after the last CP the route took a right off the main track and onto a little track through the woods. It was a lovely soft twisty path through the trees and one of my favourite sections of the whole race.
After a mile or so we came onto a wider path and a motor bike came past telling me the leading biker was on his way and soon enough he went flying past. Not long after that I came to a junction where the bikers went left and we runners went straight on so I didn't have to worry about any more bikers going past for a while.
There were a few walkers and mountain bikers coming up the path who were all really encouraging. Suddenly I saw another runner with poles. He was Tim Price. I asked him how was he and he said 'I've been better!' Looking at the splits he was 8 mins ahead of me at the final CP so I think he was finding the last section hard.
There were a number of photographers out on the course and one took a photo of me just after I went past Tim. There is about 2 miles to go after this photo.
I still wasn't sure just how far to go so tried to concentrate on my pace and keep working as hard as I could. I ran through a car park and then dropped down to a road, over the railway bridge and then down to the main road into Fort William. Two more bikers went past me.
My watch showed 38 miles so I assumed it was at least a mile down the cycle track so I counted 6 lots of 40 breaths. I was happy to see that my average pace for the whole race was now 10:53 so that goal was accomplished!
I saw a 30 mile an hour sign so assumed that Fort William was soon and I knew the distillery was on the edge of the town. I came round a corner and saw the orange No Fuss flag and people gathered around.
I ran in high fiveing any children and adults who were waiting for their runners including Lynne, Freya & Hamish. Carolyn was also there cheering me on. I almost ran past the finish line as I assumed it was in the distillery!
The finish marshal did my final dibber. I finished 9th in 7:04:44. I was very happy with my run. I asked Lynne to take a photo of me at the finish.
Plus a posed one of me finishing!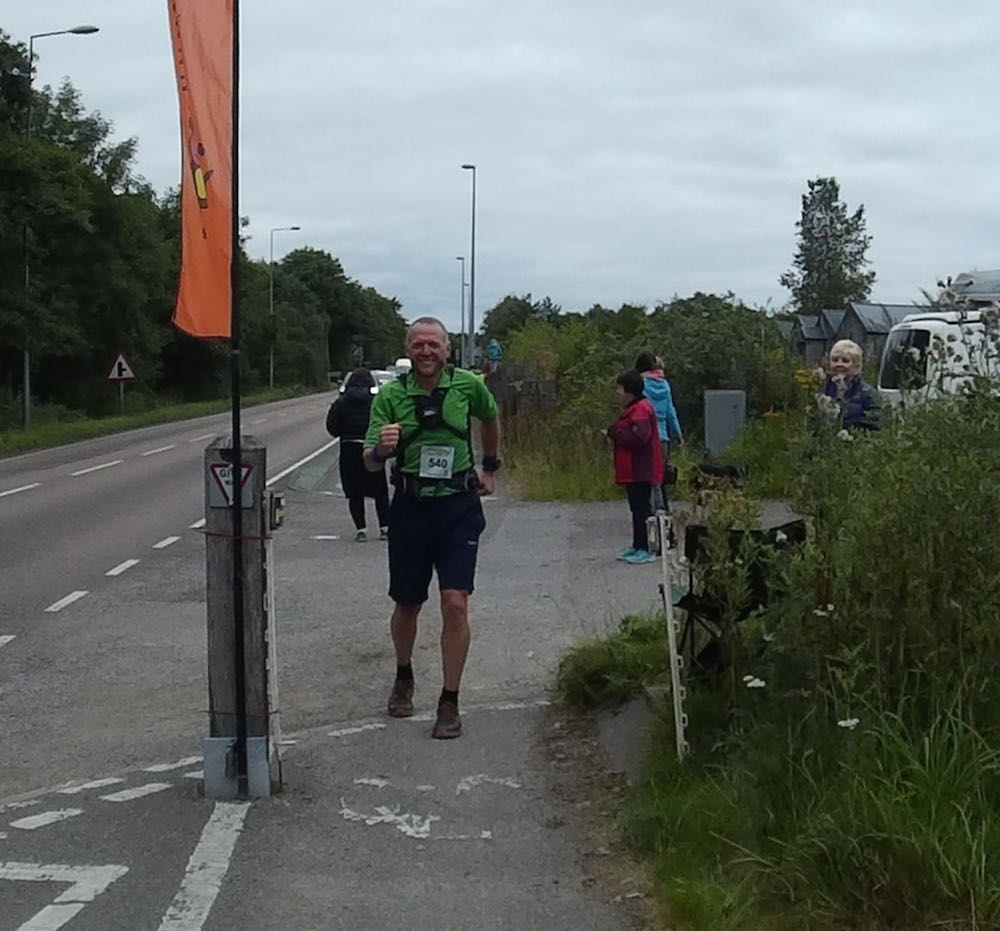 I walked into the finish area and gave in my timing chip. Katrina arrived a few minutes later and we had some lovely soup before heading back to the camp site for a shower.
We had a meal in Fort William and then attended the prize giving where I was given a prize for finishing 2nd Male Super Vet!
I really enjoyed the race and would definitely recommend it to others. Thanks to Fraser and all the No Fuss marshals for all your hard work to make it a great experience for the runners and bikers.
I was pleased I was able to finish strong and maintain an even effort right through the race. My HR graph shows I was able to work hard right to the end.