A good week with 5 runs.
Monday 21st January - Club Fartlek Session
The weather was truly awful as we set off at 7.15pm for our club session. Unsurprisingly the numbers were down on such wet and windy night but I take a sense of pleasure in getting out in bad weather as it could be like this on race day and you can't back out then!
After 20mins or so of heavy rain is eased off and for the majority of the session it was dry but the windy stayed pretty strong throughout. As we run round a loop at least the wind was behind us for some of the time!
The session was a pyramid of 1,2,3,4,5,5,4,3,2,1 min with half recoveries. Here are my stats …
I kept it fairly steady throughout the session. The hot shower at home was very welcome!!
Tuesday 22nd January - Planning
Rest day today but I did spend some time at lunchtime working out some good routes for my Saturday long hill runs. I'm really looking forward to doing them!
Wednesday 23rd January - Conic Hill Run with Cammie
11.22 miles in 2:02:01
Ascent - 1,572ft
I met Cammie at Drymen just on 4.30pm after work and we were running soon after. It was a lovely evening - cold, crisp with little wind.
We ran chatting together over the compacted snow until we reached the bridge at the bottom of the hill. I tend to be stronger on the up hills so I pushed on running as much as I could and walking the top section.
I made a cross in the snow to show Cammie where I had turned and headed down. When I saw Cammie heading up I challenged him to catch me! He took up the challenge and caught me about half way down!!
Cammie is so comfortable on the descents and while I feel I'm getting a bit better he is so much more confident and quicker!
We regrouped just after the bridge on the way back and ran together back to Drymen. It was a lovely evening and we both really enjoyed it.
Thursday 24th January - Lunchtime Run around Pollok Park
6.46 miles in 1:00:48
Ascent - 561ft
I had time to get out at lunchtime and run round my off road loop of Pollok Park. The weather was excellent and the sun even shone for most of the way round.
The snow had melted a bit so it was a bit muddy but it was good to get a run in daylight.
Friday 25th January 
Weight 12st 00 3/8lbs (lost a couple of lbs)
My initial target was 12st so I'm also there. I would like to get down to around 11st 10lbs by the race or even a little lower but we'll see how I feel.
Saturday 26th January - whw Training Run
31.10 miles in 7:33:42
Ascent - 3,799ft
Katrina and I joined 50 or so runners as part of our annual West Highland Way Race training weekend. A good number stay at the Oak Tree in Balmaha for the weekend and we have in the past but this time we drove over in the morning in time for the 10am start.
The plan for the run is very simple run as far as you like, turn round and run back! The full distance is out to Inversnaid (15 miles) and back but lots turn round at Rowardennan (7 miles) or a little further.
As we are building up to the Hardmoors 50 in March we opted for the full 30 miles. It would be Katrina's longest run since the Dunoon ultra in October and she was a little apprehensive.
The weather forecast wasn't great and it was pretty wet for the first few hours but once we turned at Inversnaid it got better and better and it was fine.
I started at the back and chatted to Julia and Ian Minty for the few couple of miles then caught up with Katrina who showed my her hand … lots of blood from an encounter with a thorn bush!!
One of the good things about an out and back is that you get to see everyone ahead of you as they turn and head back towards you.
We caught up with a few other runners and it was great to catch up with friends. There was a diversion just after Sallochy for some bridge repairs. We missed the diversion signs at Sallochy itself but once we reached the bridge we took the track back up the road which added an extra half mile or so.
The only slight argument I had with Katrina was when she realised that due to the diversion Inversnaid was going to be nearer 16 miles than 15 miles and she said she signed up for 30 was was keen to turn at 15 miles. I explained that it would be less on the way back as we would take the high path! Anyway we ended up going to Inversnaid and the total was just over 31 miles!!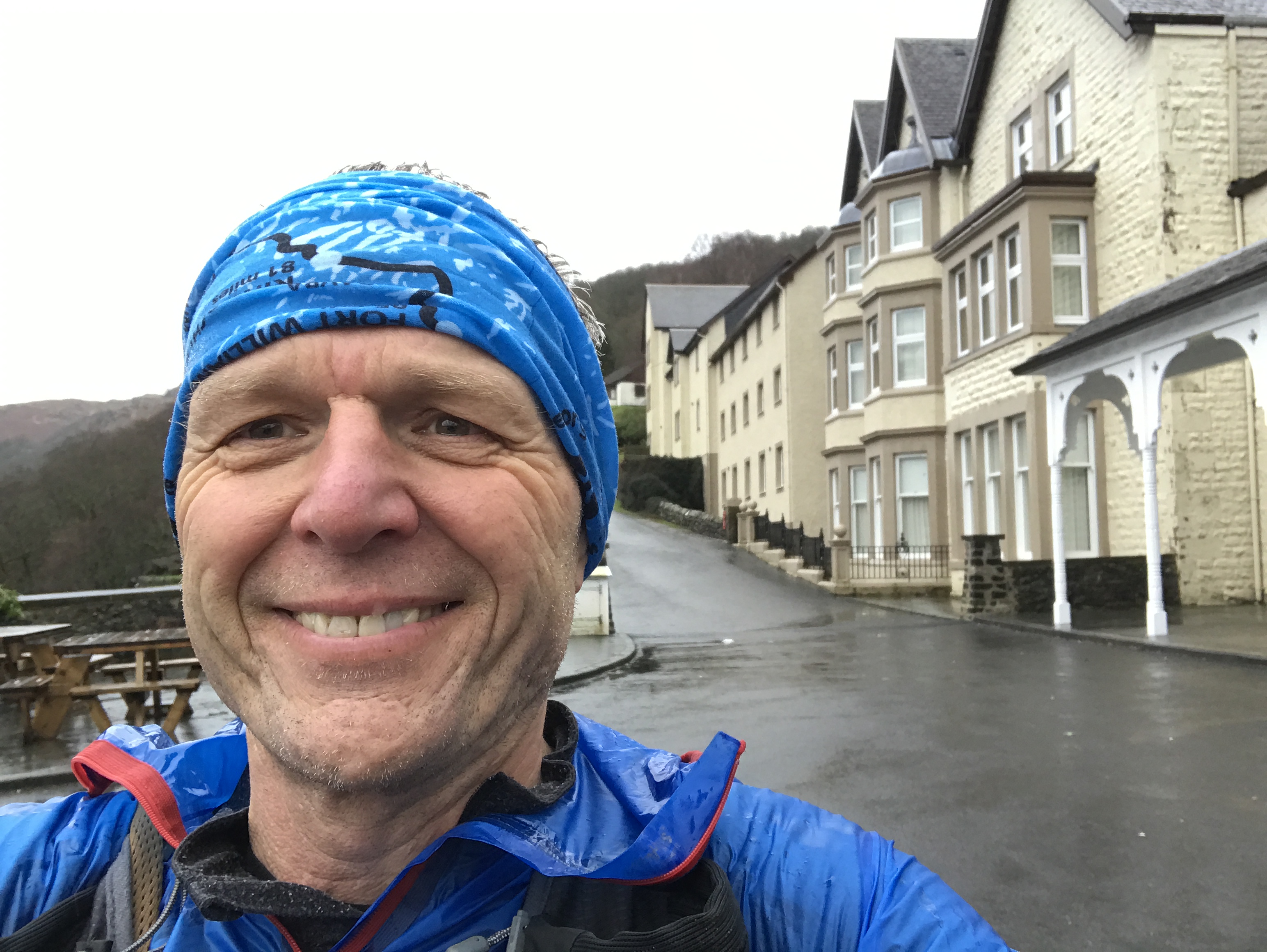 It was a good day out and we both enjoyed it. Katrina's knee was sore for the last hour or two so we are going to have to see how it reacts. I was feeling fairly comfortable throughout the run and it was good to be out on my feet for seven and a half hours. All good preparation for the Dragon's Back!
If you want to see the route via 'Relive' here it is.
Sunday 26th January - Recovery Run
5.29 miles in 50:46
Ascent - 256ft
I was keen to have an easy run today as I want to build up running the day after a long day. I was really pleased that my legs and feet felt pretty good. I ran easy but it was an encouragement that my legs coped okay!
Summary of week 3
My biggest week so far with 62.51 miles over 5 runs with 6,516ft of ascent

With this week I've crept above the red line of my goal of running 2019 miles in 2019 …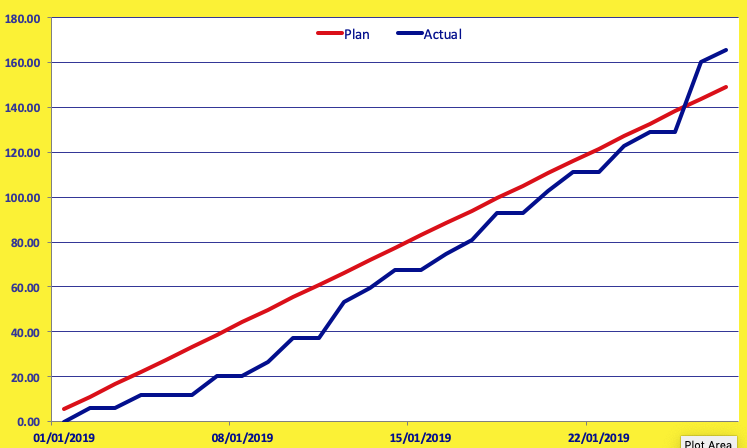 Photo of the week
Starting off from Balmaha with the West Highland Way Training group ..