Another solid week of getting some miles in with some more ascent.
Monday 14th January - Club Fartlek Session
8.12 miles in 1:06:33
Ascent - 226ft
The session this week was 6 x 5mins with a 2min recovery. We started from the same point each time and ran the same loop so it gave everyone a target to aim for.
I was really pleased with my effort over the whole session and my distances for each 5min effort were very consistent ….
0.75 miles
0.75 miles
0.75 miles
0.75 miles
0.74 miles
0.76 miles
So my total distance for the 30mins was 4.50 miles. I was very happy with that and I'm encouraged by how I'm running at this stage of my training.
Tuesday 15th January - HillFit exercises
I did one set of each of the four exercises.
Wednesday 16th January - Hill Reps
6.81 miles in 1:06:33
Ascent - 820ft
I had a busy day at work with the second of our Super 7 Athletics events at the Emirates Arena which went well.
So I ran after work and I decided I'd like to try the hill reps on the Gleniffer Braes that I did at the end of my run on Saturday with Cammie.
I ran the 1.80 miles to the start of the hill and then ran up and down 3 times. It was getting dark as I ran but I just about got away with it without a head torch.
Here is the map and a profile of the run …
I would like to do this fairly regularly  over the next few months so I thought I would keep a record of my splits so I can compare as the weeks go by.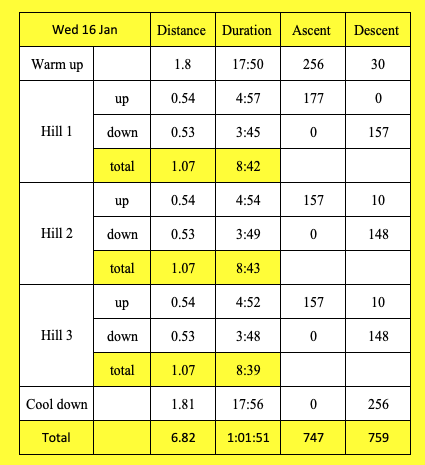 It is always interesting to see that the ascent and descent is different for each hill rep even though it is the same route!
I was happy to see that the final rep was the fastest.
Thursday 17th January - Lunchtime Off Road Run
6.56 miles in 59:35
Ascent - 443ft
This is probably the most frequent run that I've done over the past year or two. My office is based at St Paul's HS which is only half a mile from Pollok Park. This route is my off road route as the vast majority of the route is off road on paths and grass.
Any time under 60mins is a good effort for me so I was happy with how I felt on this run.
Friday 18th January - Run over 3 mountains
Weight - 12st 2 1/8lbs (lost 2 7/8lbs since last Friday)
11.76 miles in 4:18:38
Ascent - 5130ft
I don't normally run on a Friday but I had one Annual Leave left from last year so decided to go for a run. Fortunately my friend Cammie also had a day left so he joined me.
I picked Cammie up at 7am and we started from Arrochar just after 8am.
Cammie chose the route and he took us up the Cobbler, Ben Ime and Ben Narnain. The conditions were excellent with blue skies. It was very icy underfoot (we wore spikes) and it was very windy on the tops but we both had a great time.
I also took a short video of our run ….
Sunday 20th January - Gleniffer Braes with Katrina
10.09 miles in 2:10:15
Ascent - 993ft
I normally like to run early on a Sunday before heading to church but we had family staying for the weekend and we were in charge of four of our grandchildren from 7am!
So we decided to run after they had all left. Katrina was keen to come with me so we packed the head torches and set off for the Braes at 4.15pm. We had a great run and finished in the dark.
Summary for the week
I ran 43.34 miles this week which included 7612ft of ascent so pleased with that!
I'm only 10 miles behind my 2019 miles plan which. We have a 30 mile run with the whw group next Saturday so hopefully I'll catch up over this next week!