Another good solid week. I do very encouraged at the moment as the weeks tick by. I feel I'm getting stronger and a little faster but more importantly I feel I'm running more easily.
Monday 28th January - Club Fartlek Session
8.65 miles in 1:16:04
Ascent - 311 ft
The weather was a lot better than last week so we had a bigger group running. I've been a member of Kilbarchan since 2001 and I don't think I've ever done this particular session before.
We ran a 10min tempo run, then 10 x 1min with 1min recovery and then another 10min tempo run. We started each of the tempo runs from the same place so the aim was to reach the same end point as the first one.
Here are my stats …
I was really pleased that my second 10min tempo was quicker than my first. It was a great session and one that suited my training.
Wednesday 30th January - Conic Hill Run
11.21 miles in 2:01:18
Ascent - 1570
I had a meeting at work and so couldn't get away until 4.15pm. I'd arranged to meet Cammie at Drymen at 5pm and thought I had enough time to make it but I hadn't planned on there being an accident on the Erskine Bridge which delayed me by an hour!
I sent a text to Cammie as I didn't want him to wait for me. I set off at 6.05pm and ran up and down Conic Hill in the dark. I met Cammie as he was making his way back.
It was a lovely evening with no wind, crisp snow to run on and loads of stars for company. I felt strong throughout the run which was encouraging.
Thursday 31st January - Lunchtime Run around Pollok Park
6.48 miles in 59:54
Ascent - 479
I was able to get out at lunchtime from work and run round my off road route. The group was frosty so I ran it a little quicker than last week.
I don't look at my watch at all during these runs so it is always interesting interesting to see how long it has taken me each time.
Friday 1st February - Weigh in
I think this is the first time I've been under 12st for almost 2 years so that was encouraging. I can definitely feel the difference particularly running up hill!
Saturday 2nd February - 4 Munros with Cammie
12.74 miles in 5:41:32
Ascent - 5833ft
This has to go down as one of my favourite days out. Cammie picked me up at 6.45am and we arrived at the lay-by just before Crianlarich at 8am.
The sun was just coming up and there were hardly any clouds in the sky. Our route was to take in 4 Munros - An Caisteal, Beinn a' Chroin, Beinn Tulaichean & Cruach Ardrain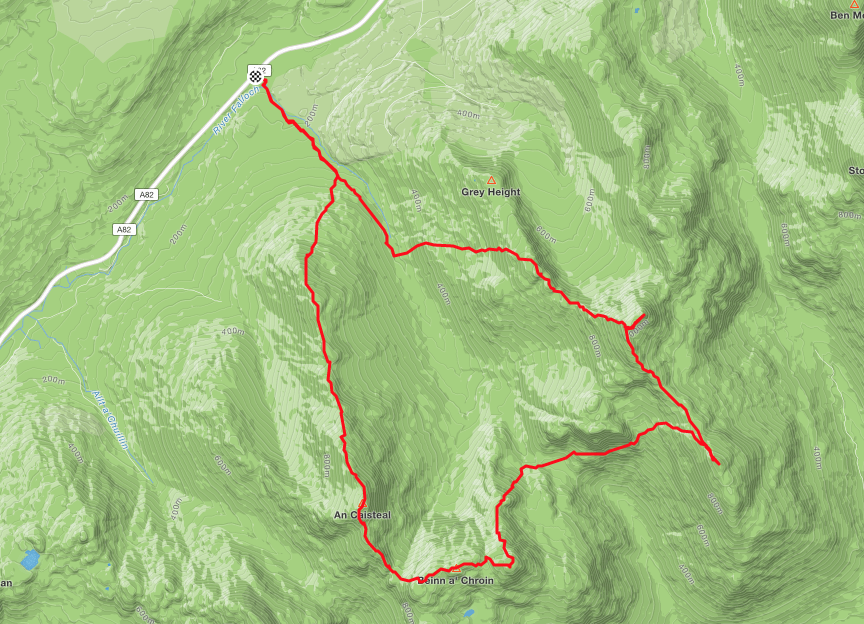 The snow was in excellent condition so we could keep moving as fast as possible. I wore my Khatoola spikes over my Altra Lone Peak trail shoes and the combination worked well.
I also wore shorts and two tops and felt fine all day. We kept a good pace going on the ascents and ran as much of the descents and flats as we could. As normal I was stronger on the ascents and Cammie caught me up on the descents.
I took some photos so hopefully they will give you a sense of how amazing the views were ..
Summary of the week

Another solid week with plenty of climb. Normally if I run for almost 11hrs I will have covered more miles but the key figure in my training for the Dragon's Back is the amount of ascent each week.
I had a look on the Strava Dragon's Back group to get an idea of what others are doing.
My milage is not as much as others but my elevation gain is up there so I'm happy with that!!
Photo of the week