I like to have a plan! This will be the fourth time I have run this race. My first was in 2010 which was also the first year that the race was held. The weather was awful and lots had to drop out due to the extreme conditions.
I managed to finish in 11hrs 45mins but it wasn't particularly pretty! Four weeks before the race I had fallen, tripping on a discarded wheel rim and cracked a few ribs which severely limited my training to say the least.
Oh yes and I went off line a couple of times so all in all not my best run.
In 2014 I ran again. This time it was the opposite direction Guisborough to Helmsley and was the second race in the Hardmoors Grand Slam. I had run the Hardmoors 30 on New Year's Day and by the time the Hardmoors 55 came round I was in good shape and was very pleased to finish in 10hrs 10mins.
Last year I tried a different training programme as my main ultra wasn't until July (Lakeland 100). I did a lot more speed work and included the National Cross Country and Inverness Half Marathon in my build up.
I was also experimenting with running to Heart Rate and was very disciplined in keeping to my 137 target throughout the race. The good weather really helped but I surprised myself by finishing in 9hrs 35mins.
This year my preparation has been a bit different after my 'collapse' on New Year's Eve and losing a few weeks due to cracked ribs (again!). But I do feel the last week or two my fitness is coming back and I go into the race in decent shape.
I have also entered the Hardmoors 160 which will be my longest race yet. It is only 6 weeks after the Hardmoors 55 so I have decided to use the race on Saturday as a build up to that one.
I don't normally like to do this but I have also planned a back to back weekend (75miles) over the Hardmoors route in two weeks times (which will be 4 weeks before the Hardmoors 160) so I need to be running again pretty soon after the race.
I am going to be very sensible over the first half of the race and I'm aiming for a HR of around 130 which should mean I'm comfortable.
I do like to have a guide to time though so I've worked out a plan to get me round in sub 10hrs 30mins ….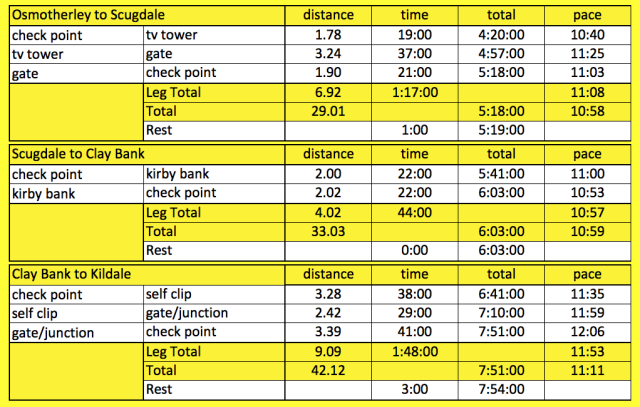 The priority is my HR rather than chasing these times but I find it interesting and helpful to have a guide to time to keep things interesting!
I had a easy run after work yesterday and plan a final run tomorrow morning before work. I'm driving down to Guisborough on Friday afternoon and sleeping in our camper car.