This was the fourth time I have run this race but this year I was going into with a slightly different approach. Normally I love to run every race as a race pushing myself as hard as I can with a challenging target time but my main focus this year is the Hardmoors 160 which is just 6 weeks later.
I also have planned a big back to back weekend two weeks later when I'm aiming to cover 75 miles over two days on the Hardmoors route especially covering the 50 miles from Helmsley to Scarborough that I've not done.
So, much against my natural instinct, I decided to be sensible and run a little more conservatively that normal! To do that I thought if I could keep my heart rate around 130 rather than the 137 I aimed for last year when I ran 9:35 then that hopefully would mean I was running within myself.
I had worked out rough splits for a sub 10:30 which I thought would be a reasonable target but my main priority would be my heart rate and the time would take care of itself. The short version is my plan worked pretty well (except for about an hour when the lure of a sub 10:30 finish got the better of me) and I finished in 10:44:33 with an average HR of 129.
Here is the longer version ….
I left work at 1.30pm and had a very easy drive down to Guisborough listening to Marathon Talk & Talk ultra podcasts. Katrina was not coming with me this weekend as she had her own 22 mile training run to do on Saturday in preparation for her Manchester Marathon.
I arrived at the Sea cadets at 6pm to find I was the first to arrive. I sorted out my car so it was ready for sleeping in and walked the short distance to the Fox pub to get something to eat. As I stood at the bar to order my spaghetti bolognese a guy said, "Are you John? I've been watching your videos!'
It was Mike from Holland who was running with the race with his partner Karin. I joined them and we spent the whole chatting about running and life in general.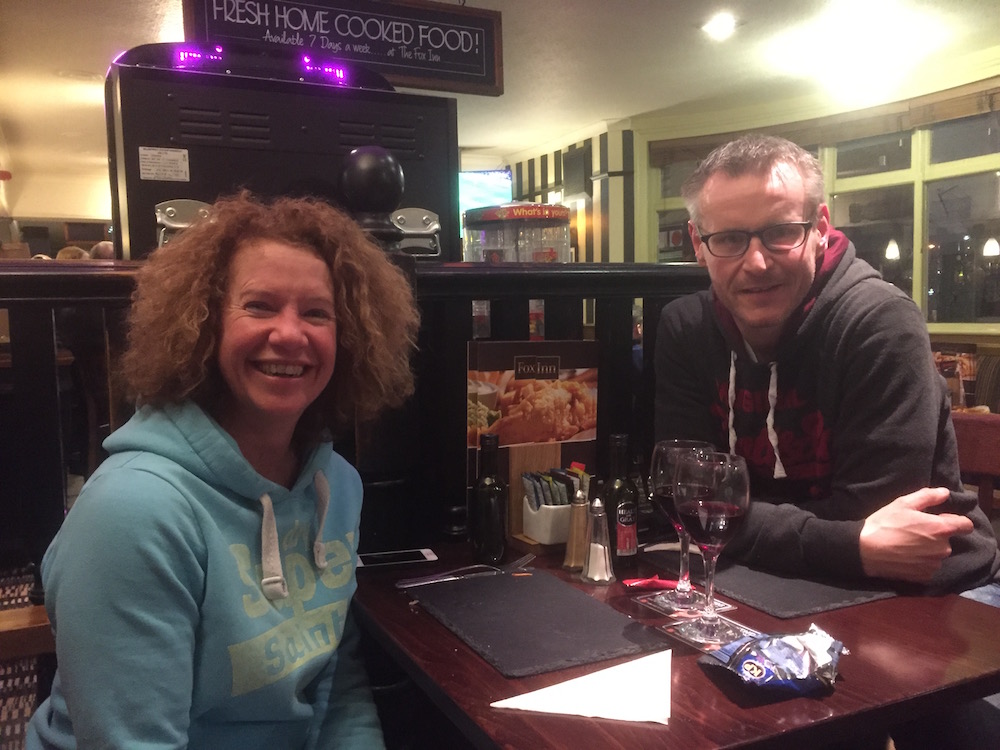 By the time I headed back to the Scout Hut the car park was full with lots of tents set up. I sorted out my gear and drop bags so I was ready for the early start.
I had set my alarm for 5.30am but I was awake and ready to get going by 5.15am. It didn't take long to get ready and walk to the car park where the buses were going to take us to Helmsley and the start of the race.
I sat with Carol M, David H and Jenni C on the bus journey and it was great to chat about the race and our plans for the year.
We arrived at Helmsley at 7am and even thought there were almost 200 runners getting off the bus and having to check in it was all very efficient and it didn't take too long go through kit check and registration.
I found a room upstairs to repack my bag and have a cup of tea. I had a chat with David who follows my blog and soon enough it was time to head outside and get ready for the race.
I met up with various friends and there was a general buzz of anticipation as the 350 plus runners were ready to go. John S gave his usual informative and funny briefing. The highlight of which was reuniting a head torch with a runner who had left it on the kit check table!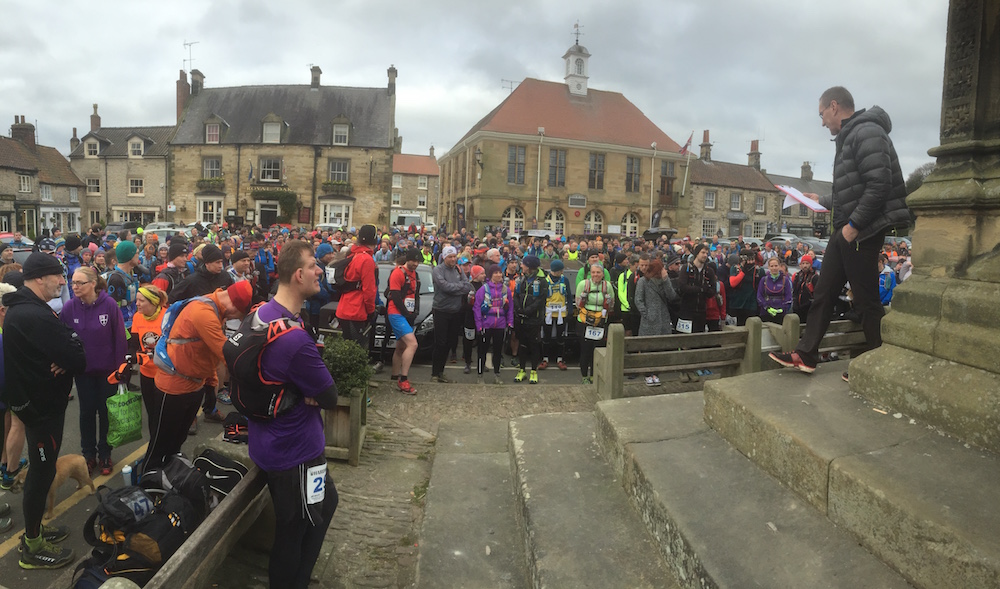 It was pretty chilly at the start so I kept my jacket on but I knew that within a few minutes I would take it off.  We started just after just after 9am.
Helmsley to Osmotherley (21.87 miles)
I started right near the back of the race which was fine as I wanted to be able to settle into my own pace and work hard on keeping my HR around 130.
Jayson was out supporting his finance Kim and the photo he took after quarter of a mile shows how far back I was.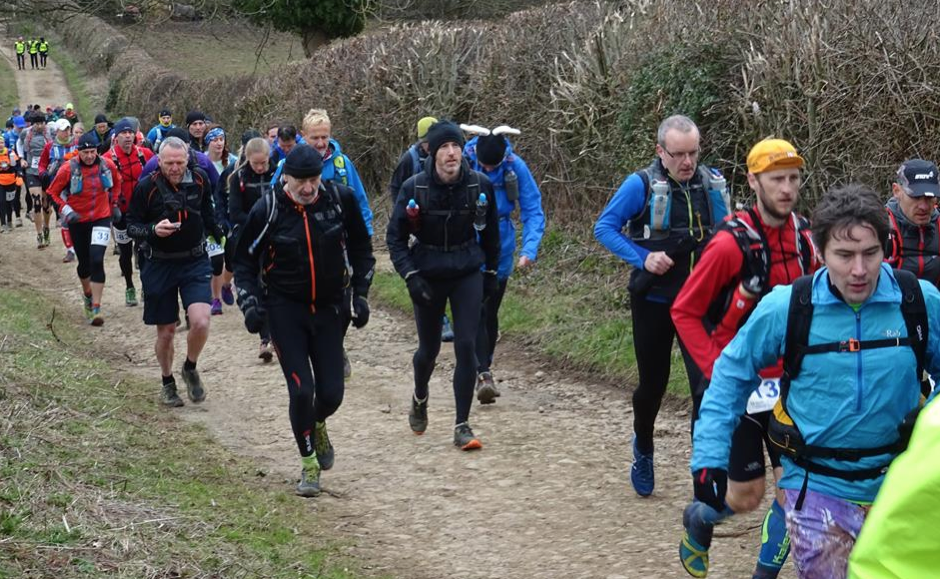 I spent most of the way to Cold Kirby and then White Horse slowly catching folk. I caught up with Malcolm G who I would see again later. I was being very disciplined with my heart rate keeping it around 130. As soon as it got nearer 135 I walked and once it dropped below 128 I ran.
Pretty simple really but you do have to concentrate! I feel a bit selfish at times but if you get carried away chatting to folk then before you know it your heart rate has increased too high.
I find the hardest part in keeping it down is when I catch someone and then want to overtake! It's a bit like driving at 70mph and overtaking someone going 68mph!
I had some splits with me based on a sub 10:30 pace but it was only a guide as I really wanted to keep to the HR and whatever time it was would be fine.
There was a small crowd of folk at the road crossing towards White Horse so I enjoyed a few high fives!
As I ran out to White Horse some of the quicker runners were coming back. I saw Neil R, who finished 19th, going very strongly at the point where I dropped down. I noted my time and worked out I was 20 mins behind him.
I was straight through the checkpoint as I didn't need any water and climbed up the stairs. I had to slow down a bit to keep my HR down!
The views along the top are really good so I paused for a video/photo …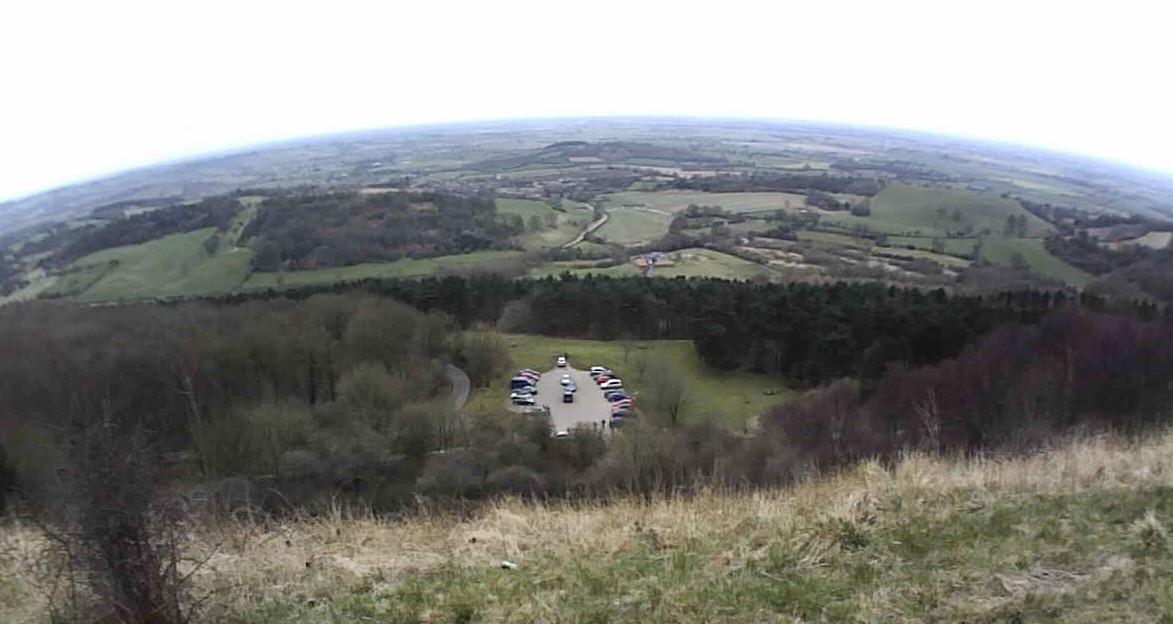 I greeted the runners coming towards me as I headed towards the next check point at Sneck Yate Bank.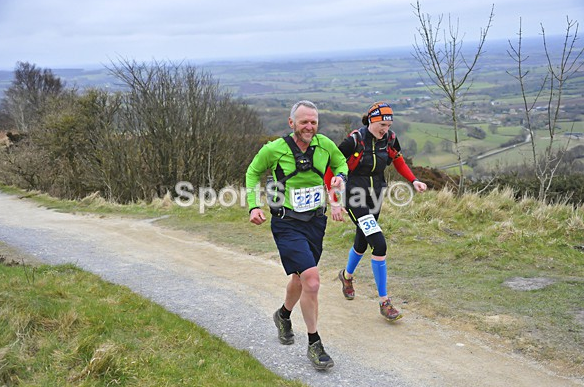 Once over the road there were a boy and girl with their Mum handing out haribo so I took one from each of them. Plus Jack and his Dad. Jack loves supporting these races and I would see them a few times over the next few hours. Thanks!
There was a large group of runners ahead who I slowly caught up with. It was getting quite windy and cold over this section so once I got past them I walked a bit to get on my jacket.
I arrived at the checkpoint to be greeted by Sarah B who is supporting me on the HM 160 in a few weeks. I had my Tailwind ready so just needed water to top up. I also took a couple of jaffa cakes and I was off to Osmotherley.
There is a bit of climb past High Paradise Farm and then there is a section which is very runnable so I ran making sure my HR was okay! I followed a guy who set a good sensible pace so I was happy to follow.
I love the open section especially when the weather is good. I ran and chatted to various folk over the next few miles. I remember running with Sharon in 2010 when I did the first Hardmoors 55. Then we couldn't see more than a hundred yards and the mist and rain were freezing. This felt so much better.
We dropped down to Osmotherley and I did a quick MOT … everything felt really good and I was feeling very comfortable at this pace. I had eaten 3 slices of fruit bread and some youghat covered peanuts as well as a couple of bottles of Tailwind so all good.
I glanced at my sub 10:30 plan which had 3:58 for the 22.09 miles. I arrived in 3:50:08 for 21.87 miles which was encouraging.
As I entered the checkpoint I could see a good number of runners sitting down. I know if I sit down it's a lot harder getting up again and I end spending longer so I stood, eat my sweet mashed potato and sorted out what I wanted to take and was off again. Total stop time 4:17.
Osmotherley to Kildale (20.28 miles - Overall 42.15 miles)
I climbed up the hill out of Osmotherley feeling strong and happy that I was well into the race now and my plan was working well. After a few minutes Malcolm joined me and we basically ran together until just after Bloworth Crossing.
I met Malcolm on this race a few years ago and we have kept in touch. We both come from the same area of Liverpool and in fact our schools were opposite each other. Malcolm ran the whw in 21:30 last year and his big target is sub 20hrs for this year. My pb is 19:51:59 so I know he is after that!!
Any way we had a great time running together and the miles flew by. We weren't together the whole time as one would push ahead and then other would catch up again.
Malcolm was even more cautious on the downhills than I am so I pushed ahead as as we reached Lord's Cafe. I always smile as I run past as that is where I led the service for Jon and Shirley when they got married a couple of years ago.
We reached the 3 sisters by now and I'm more familiar with the route. Basically there are 3 climbs and 3 descents. Not too complicated really but it's taken me a few attempts to get the order and climbs into my head!
I caught up with Bridget on the way up the first one. She was labouring a bit but I had a feeling I would see her again on the way down and that was what happened …. three times! I was stronger on the uphill and she was really nimble and speedy on the downhill. Bridget said she lives locally so knows the hills really well.
I was still concentrating on keeping my HR around 130 which was harder on the uphills than the downhills! I had ran out of water just after Lord's Cafe so I was happy to see the checkpoint at the road crossing at Clay Bank to refill my Tailwind. I drank a couple of cups of coke and took a chia bar to eat on the way up to Bloworth Crossing.
Malcolm and another couple of runners caught up with me and we ran to the self clip at the crossing together. I was feeling really good so pushed on ahead a bit.
I thought there was 4.5 miles to the gate where you turn right but when I checked my splits I realised it was only 2.4 miles. I decided to try and run as much of it as I could. I could see a few runners ahead in the distance and wondered whether I might caught them before Kildale.
I did! I was on my own now. I didn't look back but I assumed that Malcolm wouldn't be too far away. I started for the first time to think about a finishing target. I had 3.5 miles to Kildale and then 12 miles to Guisborough. It was now 7:45 and I had given myself 40mins to Kildale from the junction, 1:05 to Roseberry Topping and 1:30 to Guisborough.
So 7:45 + 40 + 1:05 + 1:30 would be 11:00. Suddenly I was not happy with that so I decided to up the pace a bit and see how close to 10:30 I could do.
I really pushed it on the downhill to Kildale, catching up with another few runners, completing the 3.51 miles in 32:36 (9:17 pace!). It is mainly downhill but probably the quickest few miles of the race.
I was in and out of Kildale checkpoint in 2:24 having eaten my Greek style youghat. Sarah refilled my bottle (good practice for the HM 160) and I was off again.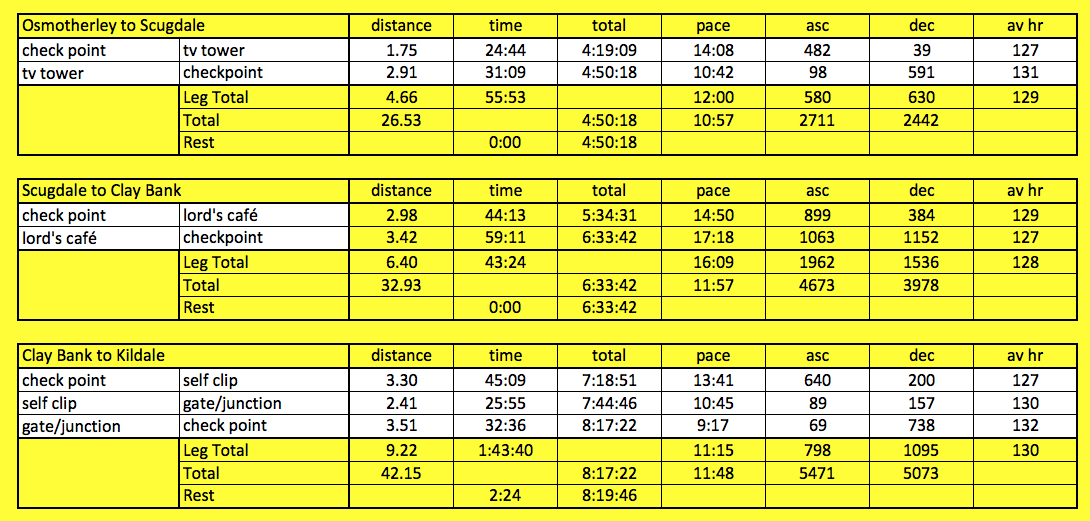 Kildale to Guisborough (11.31 miles - overall 53.46)
I was surprised to Mark D was in the checkpoint as I assumed he would be further up the field but it turns out he was running with a friend.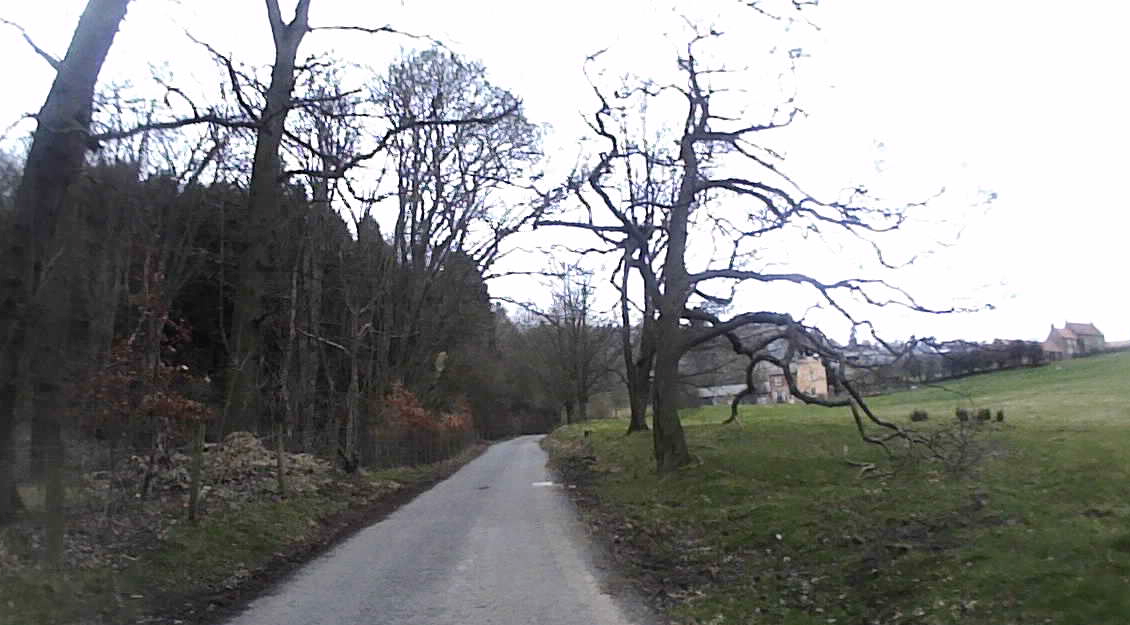 I set off thinking that I had 2:10 to complete the final 12 miles. I caught up with a female runner as I climbed to Cook's Monument and we ran down to the road. She stopped as I carried on to Roseberry Topping.
As I started climbing Roseberry Topping I realised that sub 10:30 was never on so I decided to concentrate on finishing as well as I could and not worry about the time but I must admit I think I lost a bit of motivation to keep pushing.
As I climbed Roseberry Topping I greeted the runners on the way down. I climbed steadily and it was good to greet the guys marshalling on the top. All the marshalls were superb all day but these guys had a tough shift as they would be up there for a good 8 hours.
I made my way down using the path to the left so I didn't see all the runners behind me as they climbed. I couldn't really see any runners ahead so I assumed I might be on my own for the rest of the run.
For the next 45 mins or so I had a bit of a battle in my head. I knew the sub 10:30 was away and all day I had been content to finish whenever I finished as the HR was the priority but I also needed a target to keep pushing to the end. So I decided I wanted to finish closer to 10:30 than 11:00 !!
It was now getting dark so I took out my head torch. I had taken my small one as I thought I'd only have an hour or so in the dark and didn't want to carry a heavy one all day!
I also looked at my Suunto watch and it said only 3% battery left. It switched off the gps so save the battery so I used the Strava app on my iPhone for the final 4.70 miles but I reckon I lost just under a mile.
I now didn't really have an overall time so I didn't bother trying to work it out. I wasn't sure whether we started bang on 9am anyway.
As we entered Guisborough woods I caught up with a runner but a guy behind caught me. A bit further on another group of 4 runners went past me including Mark. I was annoyed at myself for not trying to stick with them but I reasoned they were going better than me so that's fine.
I carried on for another mile or so and could feel and see the head torch of another runner catching me. That's enough I thought so decided to pick up the pace to keep ahead.
With the end in sight I suddenly felt a lot stronger and before I knew it I had back up with the guys ahead. When we hit the road and the steep downhill I went past the four of them. I heard one complaining about sore knees and I realised that my quads felt great so I pushed on.
I had my number punched by the marshals at the start of the cycle track. 1 mile to go they said. I decided I wasn't stopping running until I reached the end. I could see a couple of head torches ahead and could see the light of someone behind me so I pushed on as hard as I could.
According to my starva app I ran the last mile in 8:30 …. my fastest mile of the race.
I reached the scout hut and made my way inside to be told I had finished in 10:44:33 so I did achieve my mini-goal of finishing nearer to 10:30 than 11:00.

It was great to have a shower and a lovely plate of meat balls and rice chatting to various friends who had completed the race or had to drop out.
Thanks again to Jon & Shirley and all the marshals for a superbly organised and friendly race. I look forward to being back with Hardmoors family in less than 6 weeks for the Hardmoors 160!