The longest race of my life (so far!) is now 1 day 9hrs 21mins 50secs away and counting. My plan today is to leave Glasgow after lunch and drive to Pudsey near Bradford where I'm staying with Andy and Sarah who are my support team for the weekend.
We will be able to sort out our plans for the weekend tonight and tomorrow before driving to Sutton Bank in time for registration and the 5pm start.
If you would like to follow my progress and the other runners in the Hardmoors 160 then we will all be carrying a tracker. I'm number 31. Here is the link …
http://live.opentracking.co.uk/hardmoors16/
I have amended my plan on advice from Andy with the distances. So if you want to follow how I'm doing compared to my plan then here it is. This is a guide for me as I will running to my heart rate of 120 so I'm not quite how this will relate but I like to have a rough idea of where I need to be.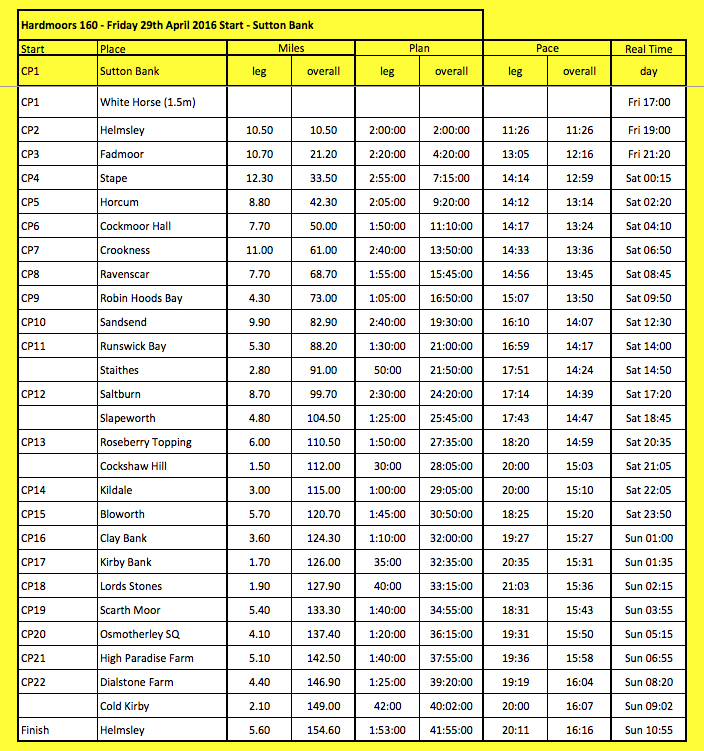 I'also hoping to do some video updates via Twitter (they will also appear on my Facebook page and on the right hand side of this blog) but it will depend on how good a 4G signal I can get!
Thanks in advance for your encouragement. If you would like to text during the weekend to spur me on etc then please do. My mobile is 07905 218162.
Thanks