Friday 29th April 2016
Picture the scene … It is 3am on Sunday morning and I'm walking very slowly with Katrina towards the 115mile checkpoint at Kildale. I have been on the go for almost 34hrs since 5pm on Friday 29th April. I am so tired that my vision is blurred and I have to close one eye so I can at least see the ground without falling over.
We had made it very slowly up and down Roseberry Topping but I had fallen 3-4 times and it was feeling dangerous. I know Katrina is very concerned about me as she tries her best to keep my spirits up and keep going.
For the first time for many years I consider the possibility of not finishing an ultra. I am proud of the fact that I have never had a dnf in an ultra and the closest I've been to a dnf was the 2009 Hardmoors 110. I had entered the 2016 Hardmoors 160 as I wanted to test myself over a longer distance. I know I can manage 100mile races but was I able to go further?  I knew one of the many challenges was going to be whether I could handle going through a second night without sleep.
I voiced my concerns to Katrina who was so supportive. We discussed various things and decided that I needed to have a sleep of at least 20mins as there was no way I could continue at this pace and feeling as tired as I was. But in my heart of hearts I felt that this was the end of the road. I wasn't going to be able to continue.
Katrina said that she would support me with whatever I decided and added that she wouldn't think any less of me as she knows I'm not a quitter which I really appreciated.  She wasn't happy that our good friend Neal would win my 'Guess My Time' competition with his dnf guess though!!
As we came to the checkpoint I said to Katrina don't tell anyone I'm stopping. I'll have a sleep and see how I feel but I just felt I was delaying the inevitable. I've seen a number of runners entering a checkpoint and immediately saying they are stopping yet feeling better after a rest and regroup but it's too late. I also felt it was only fair on Andy and Sarah who had been supporting me through the weekend to have a say on it.
Kildale is a checkpoint where your support team can't come to because of the noise through the night. Katrina had phoned Andy & Sarah to tell them our plans for a longer stop with a sleep. They had parked away from the village so Andy walked back to the hall with a sleeping bag. I arrived at the hall to see a couple of runners sitting. I climbed onto the stage with difficulty, took off my shoes and lay down.
I remember as I drifted off to sleep hearing Mark Dalton's voice as he came in with a few 160 runners who I knew I had been ahead of.
The next thing I know is Katrina is waking me saying it's time to get going. I slowly came round and the only thought in my head is I want to go back to sleep. It felt so nice and warm.
I knew there was 42 miles to go which would take me a long, long time at the pace I was going. Plus I reasoned with my blurred vision it wasn't really safe to continue. The alternative of stopping and going back to sleep felt a far better and safer option.
So why didn't I stop and dnf?
There were a few things but two in particular. Andy just never accepted that I was stopping. He got my shoes and pack ready, explained that it would be light soon which would give me a boost and then the clincher was that he and Sarah would drive 2miles up the hill and wait for us there.
Andy said don't stop here in the checkpoint. Give yourself a chance. That made sense and I felt I owed it to Andy & Sarah who had given up their weekend to support me to at least give it a go but it would probably only delay the dnf.
Then Andy read out a few texts and comments from my phone. One in particular caught my attention from my friend Jonny who had had a similar battle in Ambleside last year on his way to finishing the Lakeland 100.
I thought he wouldn't be impressed with me now as I desperately want to stop. So I reluctantly put my shoes and rucksack on and headed out the door for the climb up to Bloworth Crossing.
Andy: I must admit that John did look 'a little weary' when he arrived at the Kildale checkpoint. I knew he and Katrina would have had a tough time on the technical section over Roseberry Topping, which can be testing in daylight with fresh legs never mind after 100+ miles and in the middle of the night.
I also knew that the next section, although uphill, was on tarmac and that the sun would be coming up soon. We didn't have a master plan to get him going again but let him rest for a short while and then woke him and just carried on as if stopping here wasn't even being considered. Reading the messages of support definitely gave him a lift and the giving him the option of reviewing things a couple of miles further along the trail was enough to get him on his feet again.
The biggest thing for me was that John never actually said he wanted to stop, even though he was clearly thinking it. If he wasn't going say it I definitely wasn't going to suggest it.
But before I report on how the next 15hrs went as I made my way to the finish at Helmsley I'll go back to the start of this epic adventure!
Pre-race
As Friday was a school day Katrina wasn't able to come down with me. I left Glasgow on Thursday afternoon and drove down to Pudsey, Leeds where Andy and Sarah had very kindly offered me a bed for the night. This meant that we could go over our support plans and rest during Friday before the start of the race.
The weather forecast was generally good for the weekend but as I drove down the M6 it was snowing! After a quick stop at Tebay service station it stopped and the rest of the journey was fine.
As I drove I thought about the race ahead and my reasons for entering. In 2014 I did the Hardmoors Grand Slam (30 in January, 55 in March, 110 in May and 60 in September). The 160 made its debut that year and I very briefly thought about doing it then but I really wanted to do myself justice on the 110 so that's what I did.
From then on though it was on my radar and I knew I would like to have a go.  My three favourite races are the West Highland Way, Lakeland 100 and Hardmoors 110. I'm happy with my times on all three now and so I felt my next challenge was to see whether I could go further hence the 160!
I had a lovely meal with Andy and Sarah and we went over our plans. I have fairly detailed plans for my nutrition and what I'm aiming for. Basically I said that I'm easy to look after when things are going well but I will need help if things don't go to plan! That turned out to be very accurate!
We left just before 2pm as the Tour de Yorkshire was on and we weren't sure whether it would affect our journey to Sutton Bank.  We arrived at 3.15pm so had plenty of time for kit check, attach the tracker and chat to other runners and support teams.
I felt relaxed and was ready for the start. Cara who helps me with my nutrition had spoken to her dad Peter about the race. Peter is a weather man with BBC Scotland and sent me a very detailed forecast for the whole weekend. It proved to be very accurate.
I was hoping to start without a jacket on but there was a shower just before the start at 5pm so I decided I didn't fancy being wet right from the start.
Sutton Bank to Helmsley (10.31 miles)
I was keen to start fairly near the back and make sure I took the first several hours as easily as possible. I was aiming to run to a heart rate of 120 which I knew was going to take a lot of discipline. By the time I reached the turn off down to the White Horse car park it was just above 120 so I eased off and runners went past me leaving me with just 1 runner behind me.
I climbed up the steps from the car park back up the path and was concerned that my heart rate was going well over 160 then 170. I was hardly breathing so assumed that the strap was sending wrong information. It did worry me a bit if the readings was wrong but I feel I know myself well enough by now to know what pace I should keep to.
I caught up with Frank Murphy just before the road crossing at Hambleton Farm. We chatted and ran together. Andy had taken my camera to video the start so he passed it back. Ann Brown took a photo of us as we ran past.
The route to Cold Kirby and then Helmsley passed easily enough. I was determined to get as far as I could as easily as possible. I was concerned with how muddy the path was as I knew it only got worse after Helmsley. On my two recce runs four weeks ago it was pretty bad and I was hoping that the mud might have harden but it hadn't!
Helmsley wasn't a compulsory checkpoint so I had left it to Andy & Sarah whether they wanted to meet me there or not. I expected they would as they know lots of people in the race the friends who supported them last year in the HM160 work in Helmsley so they had planned to meet up for a coffee.
I ran through the checkpoint greeting Jon & Shirley while Andy filled my water bottle and Sarah took some photos.
Andy walked me across the road and sent me on my way up the hill to start the Tabular Hills section of the course which will take us all the way to the coast at Scalby Mills.
Real time: Fri 19:10
Race time: 2:02:50
Race distance: 10.31 miles
Helmsley to Fadmoor (10.65 miles) Overall 20.96 miles
I left the checkpoint with Brenda Wilkin who had her map out and working out the way to go. I was grateful that I done a recce very recently and knew the way. Once I was through the fields and turned left on the track I settled into a steady rhythm.
I walked and ran and made my way towards Charlton which was my first mini spilt after Helmsley. I like to break up the whole route into 3-4 mile splits. The main checkpoints are normally around 10 miles so I break that down into more bite size pieces.
It really works for me as it stops me thinking too far ahead. I don't think I could cope with the size of the task if I was thinking about the end still being over 140 miles away!
I caught up with Frank again as we came to the end of the track, through a gate and onto a road. Frank had ear phone on so I asked him what he was listening to. Irish folk was the answer. He must have turned it off as we chatted all the way to Fadmoor.
Frank was raising money for disadvantaged children in Stoke and was absolutely determined to finish. In fact he said to me that when Jon mentioned in his race briefing that only 40% have finished the HM 160 over the last two years he said to himself I will be in the 40%. He said it in such a way that you could tell he really meant it.
We had a good long downhill section on tarmac. I knew there was lots of mud to come so we had the most of being to run easily down the track. When we came into the woods we put on our head torches. We were both carrying a smaller torch with the plan to pick up a stronger one for the bulk of the night at Fadmoor.
As we came into Fadmoor one of his friends from his running club came out to greet him and tell him a group of friends had driven over to encourage him. As I went to see Andy and Sarah I could hear Frank telling his friend that his knees were knackered and his back was in spasms. Not a great sign with only 20 miles gone!
I didn't see Frank again so I'll mention now that he was timed out at some point but decided to carry on and true to his word he did finish at 4.42pm on Monday evening! That is 71hrs 34mins 56secs after he started the race. Incredible!!
Sarah was waiting for me at the checkpoint table and Andy was at the car 50 yards down the road. They had everything laid out ready to go. It took a few seconds to find my new head torch. I was amused to see that Andy was holding the box with it in as he looked for it in the car!
Real time: Fri 21:41
Race time: 4:34:28 (distance 20.96 miles)
Leg time: 2:31:38 (distance 10.96 miles)
Fadmoor to Stape (12.30 miles) Overall 33.26 miles
I didn't want to spend too long in checkpoints so we had planned that Andy & Sarah would walk out with me as I ate my food. This stop was sweet mashed potato. They walked with me as far at Gillimoor. It was good to eat the food slowly rather than shovel it down to get away. We chatted about how the race was going.
Our next plan was for them to miss the Stape checkpoint and meet me at the next compulsory one at Horcum. That way I felt that they could get a decent sleep.
I was in good spirits and settled into the fact that I was going to be in the dark for the next few hours. As I went through Appleton Farm a runner caught me. It was number 21 – Gavin Drummond. Now I must admit I did have a look at the list of M50 runners before the race and looked up their times for the HM110. Gavin was the closest to mine so I wondered whether we might be rivals for the top M50!
I was not going to 'race' him after 22 miles but it was good to know where he was! I had seen him a couple of times already. We chatted for a bit before he pushed on. We had our way through Hutton-le-hole and into the woods. I could see Gavin ahead as I made my way through.
As we came to a gate which I'd identified as my mini-split marker 4miles from Fadmoor I saw a couple of head torches coming across the field towards me. It turns out to be Paul Burgam and a relay runner. They had gone straight on rather than bearing left and added an extra bit on their race which is always annoying!
Paul was very sensible about it and was happy to be back on track and going in the right direction again. Over the next couple of hours to Stape we spent quite a bit of it together. I really enjoyed chatting to Paul and hearing about his ultra running experience over the last year or two. He has written up an excellent race report if you want to find out more about him.
The relay runner who was with him was part of his BCT Aspire team. He seemed to be struggling a bit and Paul was encouraging him to keep going to the checkpoint where he handed over. He said a couple of times in a few minutes you will be lying down in the back of the van all warm and cosy. I tried not to think about that image as we still had another 120 miles to go!!
The checkpoint at Stape seemed to be quite busy but I went straight through pausing to refill my water bottle and take some jaffa cakes. I reckon I must have gone past a few runners who were stopping longer here.
Real time: Sat 00:53
Race time: 7:46:20 (distance 33.26 miles)
Leg time: 3:11:52 (distance 12.30 miles)
Stape to Horcum (8.80 miles) Overall 42.06 miles
I walked away from the checkpoint eating my jaffa cakes and getting myself ready for the next leg which I knew had a final tough muddy section but happy that once I got to Levisham the worse of the mud was over and it was more runnable to the coast.
At the top of the lane the path takes a right through a gate along the field but the runner ahead went straight on. He realised quite quickly but I called him back. It was Paul Walker. He quickly caught me. We had a quick chat and he was away running really strongly.
I had been going for almost 8hrs by now and I had been keeping a check on how I was doing compared to my sub 42hr plan. I always knew that 42hrs was a very tough target and to get anywhere near it everything would have to go perfectly but I like to have a challenging target.
I was now 30mins behind my 42hr target which I was quite happy about as my main focus was keeping my heart rate down and running really comfortable.
On this next section to Horcum I knew there was a run downhill through woods on very boggy ground, then a section on road before crossing the railway line and heading back up the valley to Levisham on really muddy ground.
I was using my new Petzl Epo head torch which was superb but I knew that the battery life wasn't too good. Sure enough as I made my way down through the woods it started to flash saying that the battery was going. It held on until I reached Horcum but I had to supplement it with my smaller Petzl.
I was moving well and got down to the railway line. I decided I was going to embrace the mud and get on with it. It is the same for everybody and once I was through it then it's done. I was reminded of the scene in Forest Gump when the Army Captain who lost his legs was on the fishing boat in a terrible storm shouting at God, 'Is this the best you've got!'
I decided to be like that and as the mud got worse I shouted to the mud, 'Is this the best you've got!' Anyway it helped me through and I was happy to reach the road heading up to Levisham. There is one final twist in the tail though as there is a final climb up a steep path which was so slippy and muddy.
It was good to walk through a deserted village in the early hours of the morning knowing that there was better terrain to come.
Once I reached the open moor I could see a couple of head torches in the distance but didn't think it was likely that I would catch them before the checkpoint.
I had forgotten to take the power pack to recharge my Suunto so I didn't know just how far to go but I did have my splits cards so knew it was 2.6 miles from the start of the moor to the car park where the checkpoint would be. I was looking forward to seeing Andy & Sarah and I had planned to swap my shoes and socks.
I was also looking forward to Katrina's home-made soup which was on my plan. I had given Andy & Sarah a stove to heat it up and a flask to keep it in so it would be all ready for me to eat.
I could see the lights of the cars at the checkpoint and it wasn't too long until I saw Andy waiting for me. We walked in together. In 3mins 35secs they had taken off my shoes, dried my feet and replaced them with dry socks and shoes!
Andy then walked with me out of the checkpoint as I ate my soup and bread. I saw Garry Scott who was supporting Mark Dalton. Garry was full of encouragement and said, 'it will be light soon and that will give you a big boost.'
Real time: Sat 03:28
Race time: 10:21:00 (distance 42.06 miles)
Leg time: 2:34:40 (distance 8.80 miles)
Andy: We spoke with many other runners over the weekend and they all found this dark muddy section energy sapping hard work.
Horcum to Cockmoor Hall (7.70 miles) Overall 49.76 miles
As I left Garry I asked him where Mark was and he replied not too far behind you. I hadn't passed him but assumed I went past him at one of the earlier checkpoints.
Andy walked with me as I ate my soup which was superb. I find having something hot especially through the night is so good. Once I had finished my soup Andy sent me on my way. Initially we had planned that they would meet me at Crookness but that would be over 4 hrs away so I asked could they meet me at the village Suffield-Cum-Everley at the bottom of the steep hill out of the woods. I wasn't expecting to need anything but it would be encouraging to see them before hitting the coast.
It didn't take too long until the light came up. It's amazing the boost it gives you when you switch off your head torch and can look around and see the beautiful countryside you are running through.
I had taken the power pack so I set that up to record the next part of the journey.
I could see a couple of runners ahead and over the next hour or so I slowly caught up with them. One was Jane who celebrated her 50th birthday on the Friday of the race. I caught her support runner Colin first. He looked as though he was finding it quite hard. When I caught Jane she explained that Colin was off for a sleep so he could run with her through the second night!
We caught up with Paul who had ran away from me after Stape. The three of us ran into the checkpoint at Cockmoor Hall with a couple of minutes of each other. As I wasn't meeting Andy & Sarah here I was straight through.
Real time: Sat 5:18
Race time: 12:10:58 (distance 49.76 miles)
Leg time: 1:49:58 (distance 7.70 miles)
Cockmoor Hall to Crookness (11.00 miles) Overall 60.76 miles
I left before the other two who I assumed had support teams waiting for them. I was pleased to note from my splits that I had planned 1:50 for that last leg and it had taken me 1:49:58!! I was hopeful that I might be able to just keep the hour and a bit I was behind my 42 hr plan but I knew there was a long, long way to go.
Before the race I had split the course up into 3 main sections. The first section was the Tabular Hill route to the coast (60 miles) then the coastal path to Saltburn (40 miles) and then the final section along the North York Moors to Helmsley.
I was really looking forward to reaching the coast and being back on the Cleveland Way. I felt I was running fairly smoothly along the forest track and road. I was doing a lot of counting. Sometimes I would count 50 steps two or three times then walk for 50. Other times I would repeat 1,2,3,4 over and over. Plus lots of other variations!
The thing I was trying hard to avoid was thinking too far ahead! I knew there was such a long way to go and once I got to the coast I know the route well enough to know that there is a long way to go! So I made sure I focused on the next mini-split.
I came to the end of the track and the beginning of the steep downhill road to the village. I wondered where Andy & Sarah would have parked. I didn't have to wonder too long as I saw our blue VW Caddy parked at the end of the road just before the village started.
When I looked in they were both having a doze. It felt a little cruel to wake them but I needed to refill my water! Andy sprang to life and sorted me out while Sarah got ready to drive. As I left Andy said, 'Run like the wind' which was an expression he used several times.
Jane went past as I chatted to my team and so once I got going again I caught up with her and we ran together through the village. Once we got onto the main road I continued running a bit more and was just ahead.
On the recce I enjoyed the run along the embankment of the river and knew it was a mile or two of easy running. I soon got quite warm as the sun was coming up now so I walked for a bit to take off my jacket and stow it away with my hat and gloves.
I assumed Jane would catch me but she didn't. Not far from the end of the path along the river a runner did catch me. He was running really well. It was Marco who I would leap frog with for a number of miles before he pulled away to finish in 45:02:34.
When I reached Scalby I wasn't too far behind him. It was fun to think I would finally be at the coast soon. Garry was waiting for Mark again so he took a photo and told me how well I was doing. It never ceases to amaze me how a well-meaning comment can have such a positive effect on you. I ran down the road with a smile on my face!
I ran past the caravan site, up to the road, turned right, then left to follow the field to the coastal path. Once I arrived at the coast I looked at my watch. It was 7.30am. The HM 110 race would start from Filey at 8am. I thought it would take them at least 90mins to get here so I would have about a 2hr start. I wondered when the first runners would catch me.
The first coastal checkpoint was at Crookness which I knew was less than 2miles from the start of the coastal section. My 5 types of baked beans was on the menu there. I passed a few walkers out for an early morning walk. Not for the only time I wondered what they would think if they knew how long we had been running already and how far we still had to go!
Not far from the checkpoint I saw the familiar figure of Andy coming towards me. He said everything was ready and was full of praise of how well I was going.
I didn't sit down but did change my top for a short sleeved one. This time Sarah walked out with me as I ate my beans.
Real time: Sat 7:54
Race time: 14:46:54 (distance 60.76 miles)
Leg time: 2:35:56 (distance 11.00 miles)
Crookness to Ravenscar (7.70 miles) Overall 68.46 miles
Sarah told me I was in 9th place and 1st M50. I was really pleased with that and thought that would be a bonus of I could stay there but not wanting to be a broken record there was still a long, long way to go!
I knew this next section to Ravenscar with the steps and mostly uphill was going to be hard but it was harder than I expected. I found myself for the first time starting to struggle a bit. I had to regroup and try and focus even more on the next corner, the next landmark and just to keep going.
It was good to reach Hayburn but I'd forgotten just how many steps there are to climb out when heading north. There are 122 …. I counted them! This section going south is tough enough but it felt even harder going north. There were lots of people out enjoying the Saturday sun who were oblivious to my struggle!!
I kept going as best I could and ran when the track was even or downhill and walked as hard as I could on the uphill. In previous races Jon has taken us off before Ravenscar to the village hall checkpoint but this time we were to stay on the coastal path all the way to Ravenscar and then do an out and back to the checkpoint.
I'm not as familiar with that last mile or so and I kept hoping the village was coming soon but it didn't seem to be. I saw some buildings in the distance and assumed they were on the main road but when I came to them they weren't and more buildings could be seen further away.
Marco caught me again not far from Ravenscar. He must have stopped longer at Crookness and then spent the last 2 hrs slowly catching me! So is it better to stop longer and run faster or stop less and run slower? Debate!
Once again Andy appeared and walked up the hill with me to the checkpoint. He read out some messages that had been posted on my Facebook account and some texts from friends. I had given Andy my iPhone and I ran with a cheap pay as you go. This meant that he could update my progress and encourage me with any messages coming through.
Ravenscar was another portion of sweet mashed potato. I also had some coke and a sit down for a few minutes.
Real time: Sat 10:16
Race time: 17:08:52 (distance 68.46 miles)
Leg time: 2:21:58 (distance 7.70 miles)
Ravenscar to Robin Hoods Bay (4.30 miles) Overall 72.76 miles
Andy walked down the hill with me as I ate my sweet mashed potato. We chatted about the route ahead and whether I would want some support. In our planning I was hoping to get to Saltburn before needing a support runner but I knew it would depend on how things were going.
My good friend Dave Troman had phoned in the week before the race and said he would love to have a run with me but fully understood if I wanted to be on my own. We left it that he would come and see me anyway but he was available if needed.
I said to Andy to pass on to Dave that I would love some company. I was definitely on my own in the race and there was still a long, long way to go!
It was a short leg to Robin Hoods Bay and a fair bit of is downhill so it didn't seem to be too long before I was descending the steps to the village. The only thing is once you arrive at the bottom of the village you have a very steep uphill climb to the checkpoint at the top of the village!
It was late morning now as I made my way through crowds of families who were on their way down to the beach with their towels and picnic baskets. I felt so out of place with my running kit and pained expression as I climbed the hill hands on knees!
It was good to get to the checkpoint and have one of favourites … Greek style yogurt!
Sarah: You also had coke here which you said you normally don't have this 'early' in a race
Real time: Sat 11:26
Race time: 18:18:50 (distance 72.76 miles)
Leg time: 1:09:58 (distance 4.30 miles)
Robin Hoods Bay to Sandsend (9.90 miles) Overall 82.66 miles
I asked Andy & Sarah could they meet me at Whitby as I felt it was going to be a long section without seeing them. I suggested the caravan site before Whitby and they said they would see whether they could park.
Andy: On leaving RHB you said that you were enjoying the few moments of chat when coming in & out of checkpoints and combining that with the request for an extra meet point made us think that you'd like one of us to run with you.
I looked at my splits and knew it was 6.2 miles to Whitby and then 3.7 to Sandsend. I remembered when I did the 2 day recce four weeks earlier when I was stopping at Whitby that it seemed to take for ages so once again I tried not to think too far ahead and concentrate on moving forward.
After a mile or so after leaving Robin Hoods Bay I could see a runner coming towards me and then realised it was Andy. It was so good to see him. They had decided that I looked like I needed some support and so Sarah had dropped him off and he ran back to me.
Basically from this point to the finish I had someone running with me which made such a difference. We chatted about various things and the miles passed by a lot quicker than they would have.
You can see the white light house which is a mile or so before Whitby from a long way out and on my recce run it took ages to appear so I was really pleased when there it was in front of us. Andy was telling various folk who we passed how far I had come and how far I had to go! It was fun to hear their reactions.
It was good to see Sarah who was waiting for us before the caravan park. Andy & Sarah are getting married in July so I enjoyed finding out a bit more about their wedding. They have invited us so we are really looking forward to it!
Andy asked me whether I fancied an ice cream and when I said yes he ran on ahead to get one. Just before the Abbey Garry was there again waiting for Mark. Same pattern encouragement and taking a great photo!
The ice cream seller at the top didn't have the whippy ice cream I really fancied so we descended the steps together. Once again it was really busy but I followed Andy down letting him forge a way through!
Andy found the perfect ice cream seller and I walked through Whitby enjoying my ice cream just like any other tourist on the Saturday afternoon except I had ran almost 80 miles to get there! I had figured that Whitby was about half way so it was counting down from here on in!
We had been passed by the first relay runner of the HM 110 race a mile or so before Whitby but once we crossed the river and turned right the top 3 individual runners went past us. They were looking very strong and relaxed. They took an earlier turn left but we carried on following the way we knew.
We climbed up the steps and ran/walked along the prom heading towards Sandsend. Dave had arranged to meet us at Sandsend but he decided to run out and he met us just as we reached the main road along the golf course. I have run a lot with Dave over the last 4 years and I really appreciated the fact that he wanted to come and encourage me on this epic journey!  He is keen to do the race next year so wanted to see how not to do it!!
The three of us ran into Sandsend where Sarah had everything ready for us. I felt I needed a little longer here but we kept it to under 15mins. I ate my soup and bread in the checkpoint.
Real time: Sat 14:09
Race time: 21:02:16 (distance 82.66 miles)
Leg time: 2:43:26 (distance 9.90 miles)
Andy: John's original plan was to run as much of the route as he could without support runners (we all know he likes to challenge himself) but with only 33 starters in the HM160 the runners were very strung out and on their own most of the first night and day. We also know that John likes to chat with other runners and learn their stories so I imagine that he was finding the periods of isolation as tough as the mud.
Sandsend to Runswick Bay (5.30 miles) Overall 87.96 miles
Dave was going to run with me for the next leg and then run back to his car. It was a lovely Saturday afternoon. The sun was out. I was running with a good friend and my spirits were up. But I could feel the effects of over 80 miles in my legs. I was still running but it was definitely starting to feel a bit harder!
We chatted about lots of things though I did more of the asking and Dave did most of the talking! He was telling me all about his trip to Chamonix in the summer to run the TDS. They are going for 3 weeks and he and Tracey can't wait.
Dave also told me about the core work he has done this year to prepare his body for the types of running we do. It will be interesting to see what difference he feels it makes to these long races.
It is a lovely section to Runswick Bay and I love the fact that you see the beach below and slowly make your way down to it. There is quite a steep descent to the beach and the steeps were very muddy. I was taking my time as I didn't want to slip.  Half way down Dave said, 'I've just realised that I have to come back up these!'
We arrived onto the beach and I asked Dave to take a video of me running along the beach as I thought it would make a good back drop. The tide was a long way out so there was plenty of room to run along.
The checkpoint was right at the top of the village so there was another tough climb out but by putting one foot in front of the other we got there.
We arrived at the checkpoint where I had planned some beans but took the fruit pot instead. It went down like a treat.
I thanked Dave who said he would be following my tracker and that they planned to see me sometime tomorrow.
Real time: Sat 15:51
Race time: 22:45:15 (distance 87.96 miles)
Leg time: 1:42:59 (distance 5.30 miles)
Runswick Bay to Saltburn (11.50 miles) Overall 99.46 miles
Andy very kindly offered to run with me and I was very grateful. I knew this was the final section of the coastal path to Saltburn and it was going to take me well over 3hrs.
The section breaks up into three sections quite nicely so I knew I had 2.80 miles to Staithes, another 4.95 miles to Skinningrove and then the final 3.75 miles to Saltburn. Katrina was going to meet us at Saltburn having caught 4 trains from Paisley to get there.
Katrina was due in at 4.30pm so the plan was for Sarah to drive straight to Saltburn, collect Katrina and wait for our arrival. I waved good bye to Dave & Sarah and Andy & I settled back into a rhythm of running together. Andy was superb always positive and setting a sensible pace.
I was feeling tired but still running when I should be and we made our way to Staithes in good spirits. I was looking forward to getting to Saltburn so I could tick off another major landmark on this race. I would 'just' have 55 miles to go which I tried not to think about too much.
We descended into Staithes and then started the long climb out of the quaint village. I had forgotten just how long and tough it was. Andy was brilliant leading the way and keeping a steady chat going. I apologised that I wasn't contributing much but I needed all my energy to keep moving.
The climb out was over 2 miles and took me the best part of 45 mins. It felt long and slow and I barely had the energy to keep moving. I had to concentrate on making sure I was putting one foot in front of the other. I had really hit my first low point in the race. It was good that I was almost 24hrs into the race but not so good in that I possibly had another 24hrs to go!
Eventually we reached the top and there were some sections that I could start running again. I'm sure if you saw me you would describe more as shuffling but it was quicker than walking! There were plenty of ups and downs to go but we made it to Skinningrove.
I now had just one more mini-split to make to Saltburn. Andy promised me that there were some downhill sections and this proved a source of amusement as we waited for them to come. But come they did. When we reached the railway line I said to Andy that he was the engine and I would be the carriage being pulled along behind him.
Over the past few hours we had seen a trickle of HM110 runners go past us but we weren't aware of any HM160 runners. I felt I had really slowed down since Staithes but no-one was catching me. Maybe they are all slowing down as well!
It was a real joy to see Saltburn and then the car park and once there Sarah & Katrina. I wanted to change my shoes and socks again and deal with a couple of hot spots on my feet that were starting to be sore. We ended up stopping for almost 20mins but I really felt I needed it.
Katrina had bought me a hot chocolate from the café and I enjoyed every mouthful.
Real time: Sat 19:35
Race time: 26:28:08 (distance 99.46 miles)
Leg time: 3:42:53 (distance 11.50 miles)
Saltburn to Roseberry Topping (11.50 miles) Overall 110.26 miles
Katrina had a choice of either driving through the night or running with me. It just shows how much he hates driving that running with me was seen as the better option!
I put on some over trousers and a warmer jacket and we set off for the next checkpoint at Roseberry Topping. Katrina was brilliant right from the start. She wanted to know what I wanted from her. Chat or no chat? Lead or follow? I said I'm aiming to run the flats and downhills but anything resembling a hill I'm walking. Happy for her to chat but don't expect lots in return and I prefer to follow.
So we settled into a pattern of Katrina leading with me directing as her sense of direction is not her strong point. In fact it makes me chuckle every time I say right or left that she looks down at her wedding ring and if it's left goes that way and if it's right the opposite way!
We made our way through Saltburn and Skelton and came out on to the farm track. It was getting dark and so once we descended a muddy field we stopped to get out our head torches. We stopped right next to the Cleveland Way sign but for some reason we didn't see it and went straight into the woods following a path to the left.
It was a muddy stoney path and I should have realised straight away it was wrong but it's amazing what silly mistakes you make when you are tired. I knew we had to get down to a road at Slapeworth where Andy & Sarah were waiting for us. I could hear a road so decided to head down.
I checked the gps line on my watch and realised we were going in the wrong way so started to hack our way back up. Just then Sarah rang. They had been watching our tracker in the pub and saw we were off line. They were able to explain where we had gone wrong.
We got back to the point where we put on our head torches. I'm not sure how long we wasted but to be honest my overall time wasn't as important as actually finishing this thing.
We made it down to the pub where Andy & Sarah were waiting for us concerned that it (i.e. the wrong turn) would have a negative effect on us. I took Andy's poles. I've never used poles in a race before but we had discussed this and decided that it would be good to have as many options as possible if I needed some extra help.
As soon as we crossed the road and headed up the muddy path I knew it had been the right decision. The poles gave me an extra stability which meant I wasn't slipping in the mud as much which meant my feet were protected from bashing against the sides of my shoes.
A few more 110 runners went past we are entered the Guisborough woods. Sarah had been concerned that we might get lost in the woods (and with good reason as I ran an extra mile in 2014) but I was confident I'd be okay. I was concentrating on keeping to the right track and we did really well until right near the end.
I thought we were almost at the final gate and so when we saw a path to the left with an acorn I thought that was the last path. A runner ahead had gone this way so that confirmed it. Once we reached the edge of the wood I knew it was wrong.
In the cold light of day I can't work out my thinking of why don't I retrace my steps and get back on track. Instead time and time again I think I can rectify the situation by cutting across. This time it was a bad decision and we wondered over broken tree ground.
In the end we switched off our head torches and Katrina spotted a line of lights not too far away. We had our way down and found the track. Another silly mistake and more time lost. Plus the ground we hacked over wasn't very easy.
Even back on track I was a bit unsure of the way. Fortunately a couple of 110 runners came along with a hand held gps and showed us the way past High Nab and the edge of the forest. We followed the 110 runners across the stone slabs, up the lane and over to the gate leading to Roseberry Topping.
I explained to Katrina that the route goes up to the top and then we come all the back to here. Her reaction was, 'that's cruel!'. Jon Steele would like that.
As soon as I started down the steep steps I knew I was in trouble. My feet were starting to hurt now so each uneven foot step was starting to hurt. Plus I was having double vision so finding it really hard to really focus on the ground.
The only way I could see properly was to close my right eye and just look through my left. So with blurred vision and sore feet I made slow progress down and then up to the top of Roseberry Topping. I lost my balance a few times and fell to the side of the path.
On one occasion a support runner stopped to make sure I was okay. He wanted to make sure I had enough to eat etc. I really appreciated his concern but just wanted to keep going and get to the top. Lots of 110 runners were going past us up and down but we made it to the top.
I gave in my number to be told I was 10th. I hadn't really thought about my position assuming that I was slipping down the field so my position did surprise me.
Real time: Sun 00:33
Race time: 31:25:58 (distance 110.26 miles)
Leg time: 4:57:50 (distance 10.80 miles)
Roseberry Topping to Kildale (4.50 miles) Overall 114.76 miles
On the way down Katrina was really concerned that I might topple down the steep side so she made sure she was on the steep side so if I did lose my balance, which I did, then I would fall on the hill side.
We made slow progress down and up to the gate. Once through I said to Katrina it doesn't take too long to get to Cockshaw Hill where Andy & Sarah were waiting for us with soup but I realised that was based on moving a bit faster than I was at this point.
It seemed to take for ages until we saw the car park. I had another 10min stop here and then we set off for Cooks Monument and Kildale. I'm not sure whether Andy & Sarah were worried that it had taken us so long but they sent us on our way planning to meet 2 miles out of Kildale but those plans were changed as I explained at the start of the report.
Real time: Sun 03:08
Race time: 34:00:56 (distance 114.76 miles)
Leg time: 2:34:58 (distance 4.50 miles)
Kildale to Bloworth Crossing (5.70 miles) Overall 120.46 miles
Katrina & I set off from Kildale in the dark and headed up the road. I was still not fully convinced that I was going to make the final 42 miles but at least I was giving myself a chance. Katrina asked me, 'Are you going to do this?' I replied that if I did it will be one of my best ultra achievements.
I knew it was a long 3.10 mile climb out to the gate and then another 2.42 miles to the self-clip. I was still moving pretty slowly and my vision was still blurred so that I had to close one eye to see things clearly.  As the climb went on I was encouraged that I was able to settle into a steady walking pace and I started to feel a bit more positive.
While I was in Kildale I was aware that a number of the 160 runners had gone past me but to be honest the only thing that mattered now was whether I was going to be able to finish and complete this race.
The car park took ages to arrive and I started thinking that Andy had tricked me! One way of getting me to the next checkpoint would be to say he'd meet me at the top and then drive to Clay Bank so when I got to the car park I would not choice but to carry on!! Thankfully Andy is far too nice a guy to even consider that so he & Sarah were waiting for us where they said.
Andy: Thanks for the idea, I may use that next time!
We didn't stop too long as we wanted to keep moving. Over the next hour or so that it took to reach the self clip at Bloworth Crossing a good number of 110 runners went past us. Each time I thought they were moving quite slowly but each time it didn't take long for them to pull away in the distance.
Our friend Ian King caught us at the gate where the path turns left. I hadn't remembered he was doing the 110. He was finding it hard going and said he hoped he had enough time to beat the cut off by walking from here on in.
It was starting to get light now so we switched off our head torches but the moors are a very bleak place in the early morning light. The area is all the same and very imposing. We could see the path twisting away in the distance with runners way ahead of us.
I was starting to struggle big time again. Every few minutes I stopped and rested my head on my poles. Katrina would come back and hold me asking if there was anything she could do. I started to wonder again whether I would be able to complete this. I had to keep moving and get to the next checkpoint.
As the path went on I kept hoping that from the next horizon we would see the signpost where the self-clip was but time after time it didn't. Eventually it did appear and we had made it. I asked Katrina to clip my number that was on the back of my pack but the number wasn't there! So we took a photo in case anyone questioned whether we had made it.
Real time: Sun 06.19
Race time: 37:12:49 (distance 120.46 miles)
Leg time: 3:11:53 (distance 5.70 miles)
Bloworth Crossing to Clay Bank (3.60 miles) Overall 124.06 miles
We managed a run on the downhill from the crossing which was encouraging. I'm sure it wasn't much quicker than a walk but it felt good that I did have some running in my legs.
There is another climb up the wide path and then a fair bit of running down to the checkpoint. Andy came out to check on us and said how impressed he was we were here so soon. They were expecting us to be longer. I think this was one of Andy's best acting performances!
About half a mile out we saw Phil Owen who was out and about as a roving marshal. I wasn't sure if Phil saw us as he walked down chatting to Sue and Andy while Katrina and I made our way down the stones steps. I was still having to close one eye otherwise I saw two of everything and was in danger of stepping on a stone that didn't exist and go flying.
I did think over in my mind whether this was the end of the road but to be honest I knew Andy & Sarah wouldn't entertain the thought so I might as well just keep going and hope that I could make it.
The checkpoint marshals gave us a massive cheer and applauded. They must have been there for hours and hours and yet I really felt they appreciated what we were going through.
Andy explained that Sarah was going to take over from here to Osmotherley which meant Katrina had to drive to the next couple of checkpoints but the roads were quiet and Andy could guide her. Katrina had run with me for the last 12hrs. Amazing! In the context of the length of my run it might not seem a lot but Katrina ran for 12hrs right through the night to support and encourage me. Thank you! True love!!
Real time: Sun 07:35
Race time: 38:28:46 (distance 124.06 miles)
Leg time: 1:15:57 (distance 3.60 miles)
Clay Bank to Lords Stones (3.60 miles) Overall 127.06 miles
I could see right from the start that Sarah was determined to help and support me through this next tricky section over the three sisters (large hills). On a normal run feeling good I could cover this 3.60 miles in less than an hour but this wasn't a normal run.
Sarah led the way and set a sensible pace that I could keep up with. She let me know if there were any awkward stones to climb or things to look out for. As we made our way up the first hill I asked her about her travels and she told me about some of work trips which certainly helped pass the time.
Sarah was very chatty with all the walkers out on the hill. There was one guy that she had quite a conversation with as we passed. I assumed that she knew him but no. Sarah had a way of greeting people that encouraged them to chat.
We made it to to the top of the first one then along the stone slabs and then we reached the Wainstones. We both knew this was going to be tricky and it was but we carefully made it down with mishap.
We descended on the grass as much as possible then along the flatter bit before climbing up the second one. At some point along here I decided that it might be easier to put my hat over my right eye. That way I wouldn't have to physically close it but I wouldn't be able to see through it.
It worked well. So now I was looking out of my left eye and able to see just one of everything without the discomfort of having to close my right eye. I must have looked a right idiot but who cares when you are 40 hrs into a run and all that matters is getting to the finish!
The second sister came and went. We passed the Kirby Bank checkpoint but obviously no-one there this time and up and over the third sister. At some point I started to feel a bit better. Sarah had given me some paracetamol with caffeine when we left Clay Bank. Maybe that kicked in as my feet weren't hurting. Maybe the 20min sleep I had started to help.
Whatever it was I was happy to be moving better and my spirits rose. So much so that when we were arrived at Lords Stones chatting away Andy and Katrina were surprised to see us in such good spirits.
Real time: Sun 09:43
Race time: 40:36:43 (distance 127.06 miles)
Leg time: 2:07:57 (distance 3.60 miles)
Andy: I was convinced that the 'three sisters' would have drained John of his last reserves of energy and that he would be ending his adventure at Lord Stones. Either Sarah's cheerful chatting, the last downhill, the hat o'er the eye or a combination of these had definitely rejuvenated him. From here on I never doubted he had determination to finish, if he could make the cut off times …
Lords Stones to Scarth Moor (5.40 miles) Overall 132.46 miles
There had been some discussion about cut-off times but I had assumed that I was still okay. So it came as a bit of a surprise that actually I wasn't okay and I was in real danger of not making the cut-off at Osmotherley Square Corner.
In my preparation I had naively never even bothered to look at the cut-off times. I have never had to worry about them in previous races and wasn't planning that they would be an issue now. But l realised that unless I could move significantly quicker I would have no chance on getting to the next one.
I was told that initially the cut-off for Osmotherley was 12noon. It was now almost 10am and there was over 9 miles to go so that was impossible. Thankfully Jon had extended it to 1pm. He explained later that it was always meant to be 1pm but I'm not sure if he was just being kind to me!!
Anyway I now had a new focus. Having come this far I really didn't want to be timed out. Sarah, on the way in to Lords Stones, had asked whether I wanted to borrow her eye patch/sleeping mask. I had thought of asking her earlier whether she might have one but it seemed such a random thing to have!
It was far better than my hat slanted over my eye and again made another significant difference. I gather photos of me running with an eye patch caused lots of comments. The funniest I heard was that I had lost my sight!
Sarah & I settled into a good rhythm. We were walking hard on the uphill sections but aiming to run everything else. I really mean running this time. While I can't say my legs felt brand new they felt significantly better than they did several hours ago.
It felt like I was flying along and the landmarks were passing so much quicker. I did get a bit confused as to what was coming next a few times but one by one all the familiar places came and went.
I was getting quite warm so took off my big blue jacket that I had worn through the night. I was actually sweating again which was a good sign.
I wondered whether I might actually catch up with anyone and decided to make that a mini goal! I didn't have to wait too long. As we came out of the woods we caught up with Sue just as she slipped on the mud. She had plenty of support with her so with a quick chat we carried on.
When we reached the road to head up to Scarth Woods we saw Phil waiting for the last few runners. He offered me a chocolate macaroon which tasted really good. I had been drinking my energy drinks regularly over the last few hours but hadn't had too much to eat so that went down well.
We continued our climb to the TV tower. Sarah was in touch with Andy who was waiting for us at Osmotherley village. They were working out the time I had to make it to the checkpoint and it was definitely going to be very close.
I was still moving well and we reached the checkpoint at Scarth Moor in good time.
Real time: Sun 11:57
Race time: 42:50:42 (distance 132.46 miles)
Leg time: 2:13:59 (distance 5.40 miles)
Scarth Moor to Osmotherley SQ (4.10 miles) Overall 136.56 miles
I had almost 2 miles to the village and then another 2 miles to the checkpoint point and I had just over an hour to do it. This was going to be very tight. I wasn't sure how strict Jon would be. Part of me wanted him to be lenient but I also didn't want any special treatment. I really wanted to get there for 1pm.
We ran all we could and made good progress. Andy had timed Mark Dalton from the village to the checkpoint and it had taken him 44 mins. We came into the village at 12.27pm so we had 33mins to get there. I did think that the race started 7 mins after 5pm so technically we had until 1.07pm!!
I couldn't see much on the right side of my body due to the eye patch so I asked Sarah could she stay on my left side. I was very much head down following Sarah working as hard as I could. A couple of times she took a right fork and I carried on because I didn't see her!
With about 30mins to go Sarah received a text from Andy saying Jon had extended the cut-off to 1.15pm. There were at least two runners behind me so that would help them as well. I said to Sarah we can relax now but her response was no we can't we are still aiming for 1pm!!
I kept my head down and continued to work hard up the hill and the car park came into view. Jon & Shirley were at the checkpoint and gave me a hug and congratulations for making it.
For the record I arrived at 1.03pm which was inside the cut-off!
Real time: Sun 13:03:49
Race time: 43:56:39 (distance 136.56 miles)
Leg time: 1:05:57 (distance 4.10 miles)
Osmotherley SQ to High Paradise Farm (5.10 miles) Overall 141.66 miles
I had a 10mins stop at Osmotherley but I knew I didn't have too much time to waste as I needed to get to Helmsley and the finish before 50hrs. I had just over 6hrs to get this done.
Jayson Cavill was at the checkpoint and he was full of encouragement for me to get it done. Jayson had run the Highland Fling the day before but things hadn't gone to plan. Jayson said he pushed too hard and bonked badly! I'm sure he will learn from that one. He's getting married to Kim soon so I'm sure he has other things on his mind.
Andy was taking over from Sarah for the final 20 miles and I could tell straight away that Andy was a man on a mission and his mission was to catch as many runners ahead as we could. His bonus was going to be if at least one of them had a red 160 number on!
I was keen to finish as strong as I could so the two of us made a good pair. We chatted as we climbed and not for the first time I really thanked Andy for getting me going at Kildale. I know without a doubt that if he had given up on me and said, 'yes time to stop' then I didn't have it in me to get going.
The fact that he did have faith in me believing I could do gave me the strength to try and now here I was 9 hrs later feeling really strong and running again just shows how right he was and how wrong I was! So remember to pick your support crew wisely … they can make the difference of whether you finish or not!
Once we reached the signpost at the t-junction and turn right we started running. Whenever Andy asked if I was ready I would respond yes straight away and we would run to a certain point or for a certain number of strides. We were back to our train with Andy once again the engine.
It wasn't long before we started catching and going past the 110 runners. It was so encouraging that I was going faster than them even though I had run an extra 50 miles. Everyone was so supportive as are all in this together and I hope each and every one of them made it to the end in time.
One of the 110 runners we caught was our friend Ian King. Ian had left us for dust on the track to Bloworth Crossing many hours ago but we must have been slowly catching him since Lords Stones when I feel I really got going again. Ian was finding it tough but kept on going and finished the 110. After the race he said to me that he found that harder than the UTMB!
We reached the end of the track on the open ground and into the woods heading to High Paradise Farm. I'm always reminded of Cara who came out to see me on the Hardmoors 55 one year on the run down to the Farm. Andy continued to set a good pace and thankfully I was able to keep up.
Sarah and Katrina had parked the car somewhere and walked into the Farm. Sarah had nipped off to the loo and missed us but Andy took a photo of Katrina & I before we carried on. Andy stopped to take off his over trousers so got to see Sarah which was good!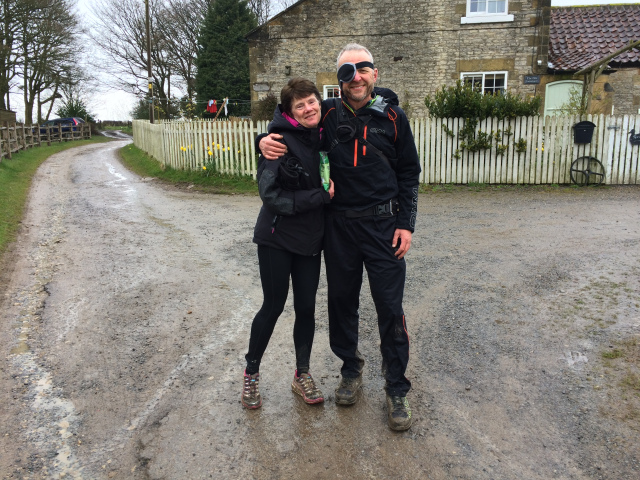 Real time: Sun 14:43:46
Race time: 45:36:36 (distance 141.66 miles)
Leg time: 1:39:57 (distance 5.10 miles)
High Paradise Farm to Dialstone Farm (4.40 miles) Overall 146.09 miles
We could see one or two more runners ahead so I sense that Andy was aiming to catch them. We still hadn't caught a red number so maybe one of them would be our prize!
We ran down the hill, across the road and up the grassy bank. I hadn't been bothering with my mini-split cards since Kildale when the only goal was to finish so I had no idea how far we had to run along the Cleveland Way path until we reached the turn off for Dialstone Farm.
Due to the Tour de Yorkshire bike ride Jon had changed the route to avoid Sutton Bank. We were going to run past Dialstone Farm and then down to Hambleton Farm where we would rejoin the Cleveland Way and run the final 7 miles to Helmlsey on the same section that we had started almost 2 days ago!
I just responded to Andy's call to run and was quite happy when it was time to walk again. A family on bikes went past us and then we caught up with a girl who was running the 110. When she saw Andy's 110 t-shirt she asked if she could take it and just stop now!
She was on her own and doing a great job. Based on other ultras she had done she was aiming for around 24hrs but it had been a lot harder than she thought and would be nearer 34hrs but she was keeping going and was determined to finish.
The turn off did come and we turned left heading up to the Farm. Andy was checking the tracker on his phone and realised that the runner just ahead was a 160 runner. It was no 36 Simon Ridley. He had a few supporters with him but seemed to be mainly walking.
It was good to finally catch a 160 runner but Simon had the last laugh as he caught me on the final road up to the finish!! Well done Simon. You must have picked up the pace and had a strong last few miles.
There was a great buzz at the checkpoint with the marshals wanting to give all the runners the final push to the finish. Lots of people were taking photos and that final encouragement. Sarah and Katrina were there as well cheering us on.
Real time: Sun 15:57
Race time: 46:50:34 (distance 146.09 miles)
Leg time: 1:13:58 (distance 4.40 miles)
Dialstone Farm to Helmsley (7.70 miles) Overall 153.76 miles
I was well aware that even though we were on the last leg there was still a fair way to go. The first few miles until we reached Cold Kirby were once again really muddy. I decided I'd had enough of mud and so it was a bit of a slog to get through it but as with so much of this race if you just keep going you will get there!
I was really keen for everyone to run the last few miles together as I was so conscious that this was truly a team effort. So the plan was for Sarah to drop Katrina off at Cold Kirby where she would join us for the final 6 miles. Sarah would then drive to Helmsley and run back until she met us.
Andy & Sarah had been in touch with Dave who was also going to park in Helmsley and run back. If I had finished a lot earlier then Dave might have had to decide between watching some of the Tour de Yorkshire or see me finish. Now I was going to be nearer 7pm he could do both! I had wanted to ask Dave which was more important but Andy suggested I didn't as I might not like the answer.
It was good to get to Cold Kirby and onto more solid ground. Katrina joined us as we made our way out of the village. It didn't seem too long until Sarah and Dave joined us and the five of us ran together for the final few miles of this epic journey.
Dave said that on his run out all the competitors he'd were walking until he saw me! I'm sure others were running but once again a little encouragement helps.
We passed the bridge which is my final mini-split. I now only had 2.8 miles to go to Helmsley plus another half mile to the Football ground. We left the road and made our way through the woods. The last bit always seems to take a little longer than you wish.
I could feel myself easing off. The job was almost done and I wanted to have a run at the end but it wasn't quite done. There were a few steeper downhills that were hard on my feet.
Eventually the final turn left up by the field appeared.
Dave's wife Tracey was waiting for us and ran down with us to the road. We passed the stone signifying the start of the Cleveland Way and made our way through the village to the finish.
Just as we turned the corner and we were working out where Tracey was going to film the five of us coming up the hill Simon and his team ran past. I couldn't be bothered responding as I was happy to get to the finish.
We held hand in hand for the video then with my support support team we ran into the hall to be greeted by Jon & Shirley and their team.
It was a lovely welcome as everyone there clapped and cheered. No 31 was done!
I finished in 49:52:53 in 18th place out of 33 starters. 19 finished and Frank finished but out of the cut-off.
Real time: Sun 19:00
Race time: 49:52:53 (distance 153.76 miles)
Leg time: 3:02:19 (distance 7.70 miles)
What an epic race and an epic challenge. I was so glad that I completed it and once again I would like to thank Andy & Sarah for your commitment and support over the whole weekend. I know I wouldn't have made it without you.
Andy & Sarah: John, it was a pleasure to play our part in your epic ultra. The fact that you were so positive even during the toughest moments meant that it was easy for us to support you. The many words of encouragement being sent your way via text, Facebook, WhatsApp and by the runners, supporters and marshals that know and respect you also meant that we were determined to get you to the finish. You weren't going to dnf or time-out, not on our watch.
To Katrina for a life time of support but specifically being willing to stand by me through 12 long hours from 7.30pm to 7.30am. Even though I now realise your knee was throbbing never once did you complain. Thanks for being there and getting me through those tough hours.
Katrina: It was so special to be involved with event. The finish seeing the grit and determination on John's face made it very emotional. I knew he would finish despite all the pain and exhaustion he was suffering with. I was both a very proud wife but also realised it was all over. Next came the dreaded drive all the way home! 
Thanks too to Dave & Tracey for supporting me along the way. It was great to see your smiling and encouraging faces at just the right time.
Thanks to Jon, Shirely and all the marshals around the course. To a person you couldn't have done more to help us runners achieve our goals.
Congratulations to all the 110 and 160 runners who took part whether you made it to Helmsley or not. I feel so proud to be part of this great race and recommend it to anyone looking for a tough challenge!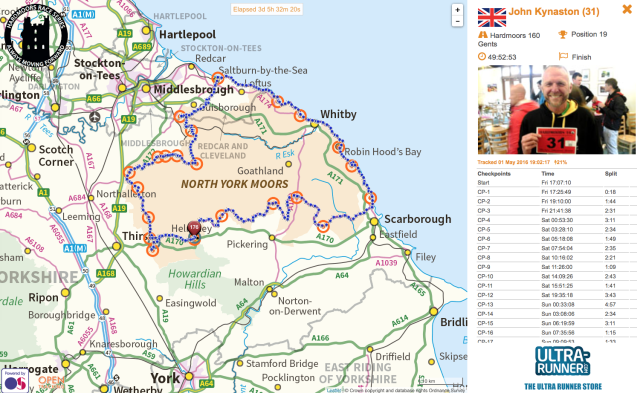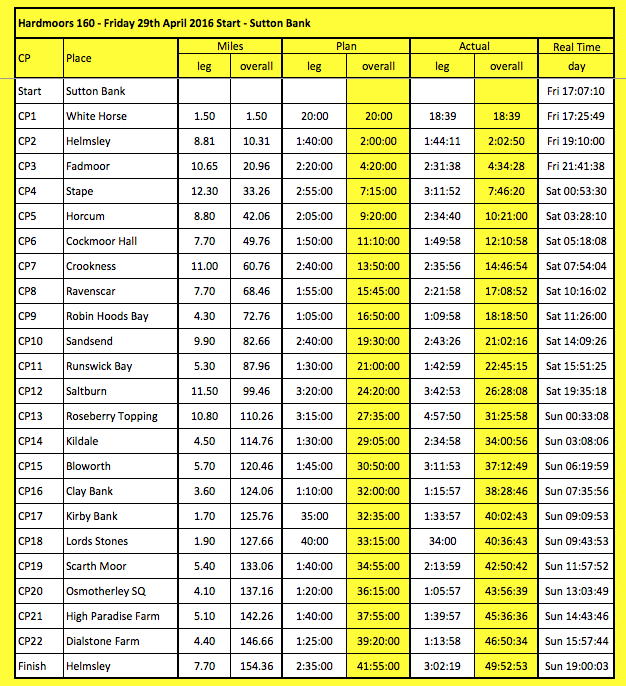 Congratulations to James Hemmingsley who won my 'Guess My Time' competition with his guess of 49:49:49