Saturday 2nd July 2016
After the Hardmoors 160 at the end of April I have entered 3 more ultra-races for 2016 and all of them will be new races to me.  The first was the 71 mile Great Glen Ultra. When Mike and Bill started this race a few years ago it was definitely on my radar and it fitted in really well with my plans for this year.
There were 9 weeks between the Hardmoors 160 and the Great Glen which I thought would be plenty of time to recover and build up again. In reality it took me longer to recover from the 160 that I hoped. No surprise really but it meant I went into the race knowing that I wasn't fully recovered.
My longest run since the 160 had been a 31 mile recce run on the Great Glen route with good friend Ryan Mackenzie. We ran from Invermoriston to Inverness so I knew what was to come and I'm glad I had. Since that run which went very well I basically had a 3 week taper running every other day.
On the week of the race we left Paisley on Tuesday morning as we were having a few days with Hollie in Thurso with Emma, Yonas & Noah plus stopping off to see Jo, Jono & Seth in Inverness on the way! This meant I had to have all my race gear sorted out before we left.
We had a great time in Thurso. The highlight was a day trip to Orkney which was so interesting. Our guide was excellent and we came away with lots of interesting facts and stories of the islands.  It was also good to be able to help Hollie pack up her classroom as she is moving to teach at Tain from August.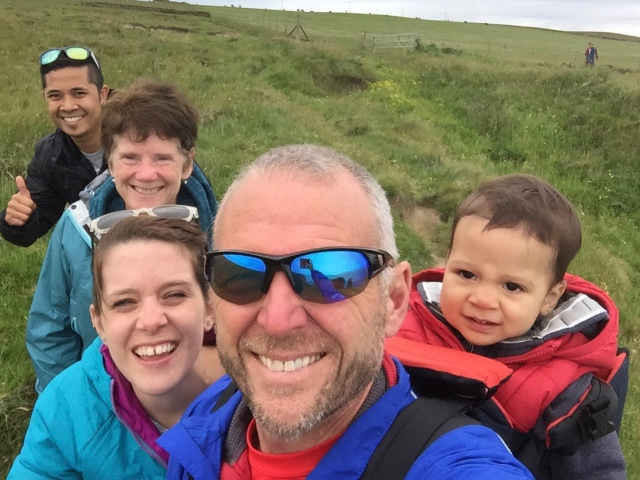 The rest of the family were staying longer so I had booked a train from Thurso to Inverness. I left just after 1pm and spent the 4 hour journey reading Bear Grylls autobiography (which is excellent) listening to a podcast about the recent Western States 100 (no mention of Paul Giblin though!) and dozing a bit.
Jo picked me up from the station and I spent the next few hours eating, reading to Seth, sorting out my drop bags and watching the first half of the Wales v Belgium game.  At 9pm Jo took me to the leisure centre to catch the race bus back to Fort William and the start.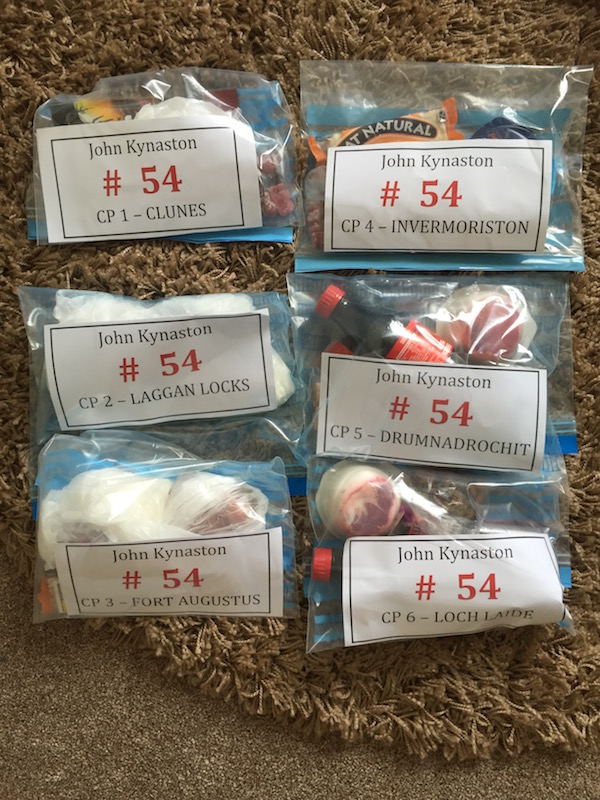 I was very pleased with myself as I had all my drop bags sorted and kit ready in plenty of time. As we crossed over the river I suddenly realised I had forgotten my water bottle! I had left it in the kitchen to fill as late as possible as the energy powder only has a 3-4 hr life.
It was 9.11pm and I worked out we had enough time to go back and get it! Thanks to Jo's expert driving we made it back to the leisure centre right on 9.30pm! Bill Heirs was on the coach doing a final check so I must have been the final runner to arrive!
Ryan had saved me a seat (or no-one wanted to sit next to him!) so we spent the next couple of hours chatting about the race and our plans. Ryan was focused on the win and had a clear plan of what he needed to do. He was working on 6hrs to Invermoriston and 5hrs to Inverness.
My plan was 7hrs 30mins to Invermoriston and 6hrs 30mins to Inverness which would be my gold goal of 14hrs. More importantly though was I was going to work on a heart rate of 134 especially over the first 30miles before the hills started. My plan was to be able to finish strong and do that I've learnt I need to start very comfortably.
We arrived at the Neptune Hotel at 11.20pm, placed our drop bags in the right places and headed to registration. Even with 60 plus runners arriving together the process was very slick and it didn't take long at all to check in and receive my number.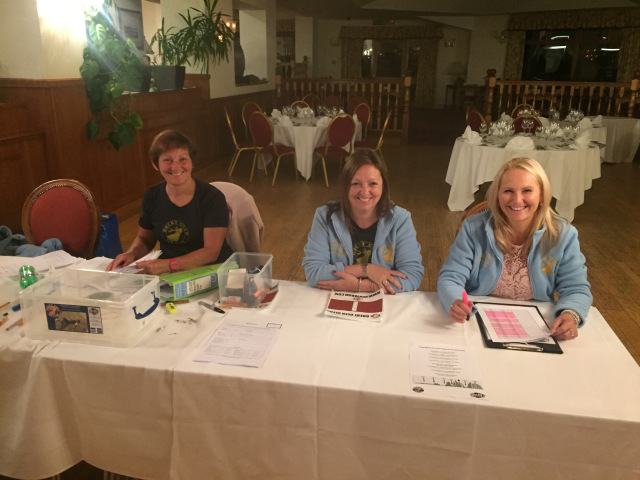 Ada did tell Ryan off for not reading the briefing email as he hadn't printed off his medical form!! You probably won't be surprised to read I did read the email and had mine ready! Though I had forgotten to bring a photo ID to prove I was over 18 but my days of having to prove that are long gone!!
Ryan & I found a comfy couch to sit and relax before the start of the race. The Great Glen starts at 1am just like the whw race. I assume it is done to help people prepare for the whw and I would certainly encourage people who want to run the whw to consider running the Great Glen as well as something like the Fling or Devils as it is that extra 20/30 miles and has the early morning start time which is hard to prepare for.
Before the 12.45am race briefing I dropped off my bag with kit for the finish and did a quick video clip. I had decided I wanted to do a video diary of the race which will be out in the next few days.
Bill gave a very quick and concise briefing which included tips on what to do if you fall in the canal. There were no last minute changes to the route so that was good. Having run from Invermoriston I knew the route was well marked but like all routes you do have to concentrate as if you miss one then it could be a while before you realise. I also had the route downloaded to my Suunto as a backup.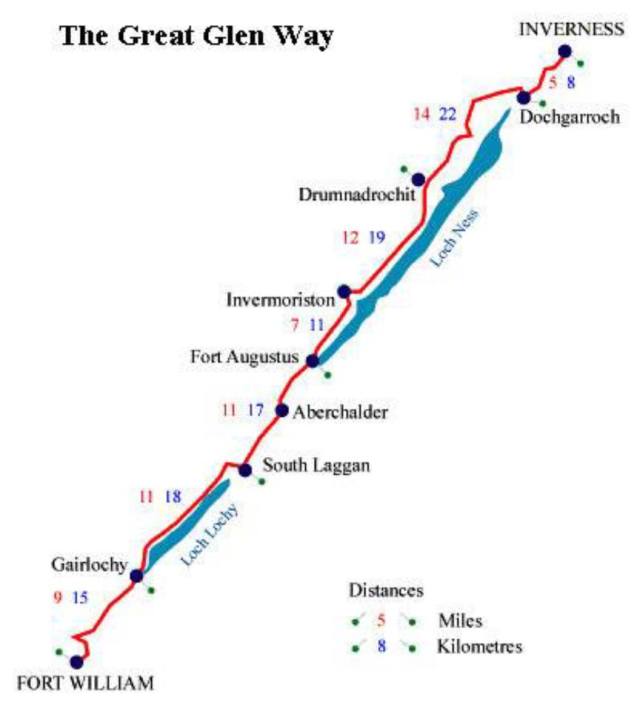 Leg 1: Fort William to Clunes - 10.53 miles
I set off about half way down the 97 starters as I was keen to start nice and steady. I knew the first 6 miles or so along the canal was very flat and so if I wasn't careful and disciplined I could easily go off too quickly and pay for it later. I set my watch to heart rate so I could keep checking regularly.
There were quite a few people cheering us on which was great. Very quickly everyone settled into their own pace and the field spread out. After a mile or so I could the head torches of the leading group, then a gap to another big bunch of runners and then groups of 2-3 before me.
There was not much talking going on as it is hard to chat when you can't really see who you are running with. After about 3 miles or so I was on my own with a few not too far ahead. In some ways I found it quite strange to be running the 4 miles without walking at all!
In most ultras I've done there has been a hill within the first few miles which I've needed to walk to keep my heart rate down! I glanced at my heart rate a few times and each time it was around 132 so I kept running! My first mini-split at 4.01 when we came on the road showed I averaged 9mins per mile so the nice and steady start I wanted.
I was wearing my green long sleeved top and it felt just right. In fact I didn't change all day. Even though it did rain I didn't put on my rain jacket as I didn't feel cold.
I continued to run at my own pace. A few runners went past me and I caught up with a few others including Colin Knox. I had a quick chat or at least a greeting with each person as they passed me or I passed them. I was looking forward to the light becoming good enough to switch off the head torch but that was another hour or so away.
As I hadn't reccied the first 40 miles I decided to work them out as I went along. For this section leg I was working on 4, 3 & 3.5 miles. I think for my second mini-split I saw a bridge at 2.92 miles so used that one. My pace was still under 10mins per mile which felt about right for this section. My heart rate was still around 132 so I wasn't pushing too hard.
There was a lovely mile or so through a twisty path in the woods along Loch Lochy. I was running on my own at about 2am and it felt great! Most people in the UK would be tucked up in bed but somehow running through the night has become fairly normal!
The route goes back onto the road for a bit before arriving at the first checkpoint at Clunes. I had drunk my bottle of Prolong energy drink so I put the powder into the empty bottle to have it filled up when I arrived. I had also eaten a yoghurt covered energy bar.  I was keen to eat small amounts regularly throughout the race.
I arrived at the first checkpoint in 1:42:49 which was 10mins quicker than my plan. According to the splits I was 40th but I didn't know that at the time.  The very efficient marshals refilled my water bottle and I took my mashed sweet potato to eat as I walked up the hill from the checkpoint.
Leg 1: 10.53 miles – 1:42:49 (9:46 pace) HR 131
Leg 2: Clunes to Laggan - 9.15 miles (overall 19.68 miles)
I was in and out in under 2 mins but took a few minutes to enjoy my sweet potato before getting running again. I felt I was well into the race by now but still keeping an eye on my heart rate to make sure I didn't push too hard. I did a quick check and was happy that nothing was sore. I knew there was a long way to go so I needed to keep things ticking over for as long and easily as possible.
The route now followed Loch Lochy for the next 6-7 miles with some undulations but mainly runnable. I settled into a good rhythm running all the downs and flats and walking any hill. I took the walking breaks to drink and eat.
My average pace for the first mini-split of 3.67 miles was 11:35 and then the next one of 3.08 at 11:16. It was getting lighter by the minute so I took off my head torch at some point along this section. I could see people ahead with their head torches on but even though it was not quite fully light it was nice not having the head torch on.
In fact from the start it never really felt pitch dark. There was always some natural light though you definitely needed a head torch. I had decided to take my smallest Petzl head torch rather than the larger one as I thought it would be fine and meant that it would be lighter to carry for the rest of the race.
At the top of a small hill I caught up with Kirsty Burnett and her friend. Kirsty remarked that she thought I was way ahead but I explained I was happy to start slowly! Kirsty also said her calves were really sore and she was thinking of packing it in. As I ran on I said to hang in there and I was pleased to see that she did keep going and finished.
It was raining fairly hard for the next hour or so but it didn't bother me too much. I didn't even consider getting my jacket out partly because I knew it was at the bottom of my pack and didn't fancy having to get things out to find it!
I was exchanging places with a few people over the next mile or so. The guy in a red football kit went past just as I was doing a short video clip. He was running with another guy who asked if I was John Kynaston. It was Adam Jackson who is a good friend of Dave Troman and teaches in the same school in Keswick.
We ran together for a while before Adam pushed on. We were to pass and repass each other a number of times over the next 10 hrs.  Adam had mentioned that he ran the Lakeland 100 in under 28hrs so I didn't feel the need to stick with him.
I came into the checkpoint at Laggan in 3:28:23. I had taken 1:43:44 for that section which was a few minutes slower than my plan but overall I was about 5mins up. Once again the marshals refilled my water bottle in super quick time and I was off again after 2mins 32secs!
Leg 2: 9.15 miles – 1:43:44 (11:20 pace) HR 130
Overall: 19.68 miles – 3:28:23 (10:35 pace)
Leg 3: Laggan to Fort Augustus - 11.25 miles (overall 30.93 miles)
I walked up the hill eating my cold baked beans. I decided to take my time eating them as I walked rather than stuff them down in the checkpoint. The only disadvantage was I would have to carry the small plastic tub until I found a bin or reached the next checkpoint but that was worth it.
As I climbed up the hill I passed Sean McMimm who had stopped to put on his gloves as he said he was feeling really cold. I assumed he would catch up at some point but he never did. At the prizegiving he was given a spot prize for eating a fish supper and deep fried mars bar at Drumnadrochit so maybe that had something to do with it!!
Once I over the top I started running again and was really pleased that I felt strong on the downhills. Normally I lose a few places and time compared to the field but I was catching people! Suddenly I saw Adam ahead and before we reached Invergarry I had caught him.
There was another climb out of Invergarry and I caught a female runner but Adam caught me again before the top. But once again on the way down I caught him again. We had a bit of a chat each time but it was clear that we had different strengths so we needed to maximise those.
I was really enjoying the route. It is varied but all of it is on good solid paths. The marker posts are very clear and the additional signs that Bill & Mike had put up helped with navigation. There was never a time when I wondered which way to go. Having said that there were a number of people who did go wrong which just goes to show that you do have keep concentrating even on well-marked paths.
I remember Ryan had said there was a 5 mile section before Fort Augustus along the canal that is very runnable so I was trying to make sure I didn't hammer too hard on the way down.
When I reached the road then the start of the canal I took a split so I could see how well I did down the canal. I was feeling good but decided that if I tried to run 5 miles without walking I would manage maybe 2-3 miles but then have to walk.
So instead I decided on a run/walk strategy. I ran for a 100 breathes then walked for 10 breathes taking a drink. I managed this for 3 miles then dropped down to 50 breathes running with 10 breathes walking.  I could see lots of runners ahead and I was pleased to see that this strategy meant I went past at least 10 runners.
The penultimate one I caught before Fort Augustus was Roger Greenaway. I know Roger fairly well from other races and we often finish near to each other. Roger was struggling a bit and mentioned that he wasn't sure if he was going to be able to finish. Again like Kirsty I was so pleased to see him at the finish.
I mentioned to Roger that I was running to heart rate and had started comfortably. He said whatever you are doing keep going as it's obviously working for you! Thanks Roger.
Fiona Rennie was out early taking photos …..
I caught up with one more runner who was Brian Davis so I came into the checkpoint in 30th position. The leg had taken me 2:06:53 which was 53 secs slower than my plan!!  I was in and out again in just under 2mins with my water bottle refilled and my beans ready to be eaten on the way.
I received a message after the race from Wilson Dornan who I had met on the bus. Sadly Wilson had to drop out at Laggan. He wrote, 'Saw you at Fort Augustus from the car and mist say that's how to get in and out a checkpoint!'
Leg 3: 11.25 miles – 2:06:53 (11:17 pace) HR 134
Overall: 30.93 miles – 5:37:48 (10:55 pace)
Leg 4: Fort Augustus to Invermoriston – 7.66 miles (overall 38.59 miles)
After this checkpoint the route takes the high path rather than the low path that was used for the first few years of this race. Ryan had warned me that this hill was tougher than the one out of Invermoriston so I knew what to expect.
I tried to settle into a steady rhythm counting to 4 over and over to help me keep an even pace.  I took a mini-split at the top after 3.10miles. The climb had taken me 51mins and I was pleased to reach the top and tick off the first big climb.
I knew my Suunto watch wouldn't last the whole race so I put a power pack in my drop bag to recharge on the go. It was down to 30% so I set up the power pack to recharge. For some reason it took a bit of fiddling to get it right but eventually I did and I kept it on to the next checkpoint. It was over 70% by then which I hoped would be enough to get me to the finish.
Adam once again caught me just as we reached the top and looked comfortable as he set off down the hill. I was doing a video clip as he went past so I filmed him heading off down the hill. The views were amazing from this point so the climb was definitely worth it!
A small stone had got into my shoe an hour or so earlier and I could feel it working its way under my foot. I decided that it had got to the point that I really needed to stop and take off my show to get rid of it. I don't like to stop between checkpoints but I knew that with a long downhill section to come this could cause problems. It didn't take long to sort it out and once I got running again I was so glad I did as the irritation was gone.
Once again I had a great downhill run. My quads felt really good and I was able to run without braking and soon enough I could Adam ahead so I reeled him in! We both knew that we would be seeing each other again …. On the next uphill.
I caught up with a couple of other runners as well who I hadn't seen at all so that encouraged me that I was moving well. Ryan had also warned me that the descent to Invermoriston was very steep and once again he wasn't wrong! But I was able to run fairly smoothly and as we reached the road I caught up with Lorna Maclean.
We ran into the checkpoint together. Lorna had also done a big race fairly recently so we were both in the same situation of not being fully recovered but happy with how we were running. As we came into the checkpoint we could see the marshals had midgie nets on.
It took me a moment to recognise Helen Munro behind her net. Helen refilled my water bottle with my Prolong powder. I ate a Greek style yoghurt and took some nuts to eat on the way. I noted that I had reached Invermoriston in 7:25:38 so bang on my 7:30 target. I suspected though that being able to run from her to the finish in 6:30 would be a bigger challenge but at least I'd given myself a chance.
Leg 4: 7.66 miles – 1:45:55 (13:50 pace) HR 135
Overall: 38.59 miles – 7:25:38 (11:33 pace)
Leg 5: Invermoriston to Drumnadrochit – 13.81 miles (overall 52.40 miles)
Lorna set off just before me as we headed out of the checkpoint, over the road and up the hill. There was a runner outside the shop on the corner sorting out his feet. I asked him if he was okay and he said he was dealing with a blister so I left him to it.
I could see Lorna not too far ahead but she looked like she was moving faster than I was but wondered whether I might caught her again on the long downhill but that was a good hour or more away.
On my recce with Ryan we had started at Invermoriston so the climb hadn't felt too tough but now with almost 40miles in my legs it was going to be a different challenge. I tried to concentrate on ticking off some landmarks I could remember and I knew I would get there!
The first decision to make was when I reached the path which cuts through to the point where the high and low route divide. I decided that if there was a sign to use the cut through I would obviously use it but if not I'd stay on the wide road.
I could see that Lorna had gone straight on. There wasn't a sign so I carried on the path which heads up then turns right. Even though you could see for a couple of hundred yards Lorna was away so I was on my own for the rest of the climb.
I was at that point in the race where it is easy to start thinking about the end and it seems a long way off. So I tried to keep focused on my mini-splits and not think too far ahead. I knew that this next leg to Drumnadrochit was the longest and toughest of the whole race but once past it the end was in sight and I would have broken the back of the race.
I had given myself an hour to climb the 4 miles or so to the top but I knew that this was a bit unrealistic. Instead I tried to get into a rhythm again and just keep moving. I remembered two landmarks from our recce. The first one was the round circle viewpoint. After that there was a downhill section. Then there was the troll bridge which marked the start of the final climb.
Just before I reached the circle viewpoint Stephen Magee caught me moving really well. I had caught Stephen on the way down to Invermoriston. He had said his hip was troubling him especially on the downhills. As he passed me I asked him how it was. A lot better he said and he looked very comfortable as he ran up the hill away from me!
I power walked as hard as I could after him and once on the downhill I ran as much as I could but my legs felt a bit wobbly. It seemed to take an age for the troll bridge to appear. In fact at one point I wondered whether I had got it wrong and the bridge was after the top.
Eventually the bridge appeared and I set off up the final climb. I wasn't surprised when Adam caught me again but I was surprised that I caught Stephen. I paused to enjoy the view and take a video clip before setting off after Stephen and Adam down the hill.
I knew it was 4 miles to the road and the water stop at Gortaig. I also that it was almost 1,000ft of descent and once I started running I was pleased to feel my legs were still strong on the downhill and I would be able to run the majority of it.
I soon caught Adam and Stephen and pushed on. Parts of the path reminded me of a section of the Gleniffer Braes where I run regularly so I imagined I was running there. I reached the point where the low route re-joins the high route. On our recce we met a couple who were walking the Great Glen. Ryan also pointed out how a few runners last year carried on up the high route rather than heading down.
There were a few slight uphill sections so I used those to drink. I also had a couple of cubes of fudge which I was able to eat okay. I had a bottle of coke at Drumnadrochit and Loch Laide which I was looking forward to. The taste of the Prolong was getting a bit monotonous so I was looking forward to the different taste of the coke.
As I headed down I wondered whether I might see Lorna again. I suspected she was too far ahead so was pleasantly surprised when I caught a glimpse of her ahead. I tried to resist the temptation to push harder to catch her knowing that I must be going faster than her as I'd not seen her since the start of the climb out of the checkpoint.
It my mind I thought there was a downhill bit before hitting the road and the checkpoint but I was completely wrong as there is a climb to the gate and the water checkpoint. As I arrived Lorna was just leaving. The marshal had some coke which she very kindly gave me. There wasn't much left in her large bottle so I took some and topped it up with water. I was very grateful for it as I had run out of my energy drink.
I only stopped for a minute but by the time I set off Lorna seemed a long way away and I knew she was gone as she was moving well on the climbs.
As I walked up the road I realised I needed to have a regroup. I had worked hard, maybe too hard, on the descent and I might well be paying for it now. According to my splits I had just over 5miles to Drumnadrochit and I had given myself 58mins to do it.
On the recce with Ryan we had been chatting the whole way and even though I remembered it was a long section on the road and on the path to the side of the road it seemed to go fairly quickly. Now on my own with 47miles in my legs it was a different story.
It felt a long slog up the hill and there was no way I was able to run any of the uphills. Instead I used lots of my mantras to keep going. I also did a lot of counting steps and marching to left, left, left, right, left! Anything to keep me going.
Once more Adam caught me which really helped as it got me running again. I thought if Adam is running some of these sections then so should I. I remembered that there was a steep downhill section on the road before we turned left leaving the road and running through the woods.
Adam was not too far ahead and once we were on the softer ground I soon made up the distance and by the time we reached the main A82 road into Drumnadrochit I was ahead again! I knew the checkpoint was about a half a mile along the road so I worked on my 100 breathes running 10 breathes walking so soon enough it appeared.
I could see Bill sitting in his chair watching runners coming in so I made sure I ran all the way from when he could see me!! Julie was at this checkpoint and she very efficiently filled my water bottle with my coke while I ate my Yoghurt. I decided to sit on the wall but was pleased that I only stopped for 2:35.
The 13.81mile section had taken me 3:07:31 which was almost 20mins slower than planned but not unexpected! One runner who had arrived before me said he was surprised to see me as he thought I would be 'beasting' the course and be a lot further up! I told him I was doing my best and this was me beasting the course!!
Leg 5: 13.81 miles – 3:07:31 (13:35 pace) HR 131
Overall: 52.40 miles – 10:35:48 (12:08 pace)
Leg 6: Drumnadrochit to Loch Laide – 6.75 miles (overall 59.15 miles)
As I set off I could see a runner not too far ahead walking. With my run/walk strategy I soon caught him and we chatted for a bit before I pushed on. I knew I needed to make the most of this road bit as once the route left the road it was a long climb.
I consoled myself that this long climb out of Drumnadrochit would be the final big climb. I knew there were lots of smaller climbs but this was the last big one. I had a mini-split at 3.26miles and then according to my plan I had another 5.16miles to Loch Laide but that made 8.42miles. I thought it was only 6miles.
As the leg went on I remembered that I had forgotten to take a split at Loch Laide on my recce so I had guessed. I hoped that I had guessed wrong and it was in fact nearer to 6 than 8! But I still had to get up the hill.
Just before we reached the gate that was locked during our recce run a couple of runners came back towards me. They weren't sure of the route. Thankfully I was able to explain about this short bit being locked during the lambing season and we were on the correct route.
There were four of us climbing up and to my surprise they didn't go past me even though I knew I was moving pretty slowly. The one thing I had in my favour is that I never stopped no matter how slow it felt at times. Just before my mini-split the familiar figure of Adam caught me. Once more he said I expect I'll see you again on the downhill.
As he ran off I suspected that this might be the last time I saw him until the end and I was right. Adam finished 8mins ahead of me. On our recce Bekki had run out from the checkpoint with Orrin in his buggy so I was trying to remember where we met them. I knew it was about a mile or so from there so when I recognised it I knew that my split of 5miles was wrong. It turned out to be 3.53miles so the 1:08 I had planned became 51:05 so I gained some time!!
I was looking forward to seeing Fiona Rennie at this checkpoint and I also remembered reading that she was looking forward to seeing everyone running down the hill with her binoculars so I made sure I ran all the way down to the checkpoint!
Michelle was also there and another marshal. As I was only one I had their undivided attention. I asked whether they could put 3 quarters of my coke into my water bottle and top up with water and then top up the other quarter with water. It took a couple of attempts but got there in the end. I hope it wasn't a diva moment!!
There was a reason behind the request …. The coke from the previous checkpoint was leaking out of the straw in my bottle because it was so fizzy. My shorts were wet from the drip! So I thought if I dilute with water then it wouldn't leak out.
As I ate my yoghurt I asked Fiona what place I was. When she said 23rd I thought I'm more than happy with that so I was keen to see if I could hold on to that. I looked at my watch and realised I had 2hrs to cover the final 10 and a bit miles to get under 14:30 which was my silver goal.
As I left I thought that was definitely possible.
Leg 6: 6.75 miles – 1:47:53 (15:59 pace) HR 123
Overall: 59.15 miles – 12:26:16 (12:37 pace)
Leg 7: Loch Laide to Inverness – 10.87 miles (overall 70.02 miles)
As I set off from the checkpoint I looked at my mini-splits for this final leg. I had written down 3.49miles to Blackford, then 2.86miles and 2.90miles which gave me a total of 9.25miles but I thought it was over 10miles. At some point in the next hour I remembered that I had miscalculated where the final checkpoint was.
That meant that the previous split was shorter than I thought which was good news but this one was longer than I thought which was not good news! I had given myself 44 mins to cover the 3.49miles whereas it was actually 5.11miles to Blackford which meant I was going to be a lot longer than my plan.
I tried to stay positive though as I knew the final 6miles is mainly downhill and runnable so if I could get to Blackford with say an hour to go I could still make it under 14:30. I ran/walked through the narrow path past the open air café but once I reached the road I lost a bit of momentum.
I was still trying to run/walk but I remembered how far it was along this road until you took the path off to the left and headed to Blackford. The further I went along the road the further I realised I had to go to my mini-split and the more unlikely it was I was going to get under 14:30.
I know in the big scheme of things that it doesn't really matter but I do find it helps me to have a goal to aim for especially over the final miles. I couldn't see anyone ahead and I didn't want to look behind so I was very much on my own trying to keep going.
I was counting my steps and marching as best I could. I was able to run all of the downhills and most of the flats but anything looking like a hill I was walking. Eventually I reached the junction and followed the path.
There were a couple of walkers stopped at the junction and the girl offered me a fruit pastel which I gladly accepted. Just as important was their encouragement as some positive words can make all the difference. The time was ticking away and I realised I was going to be over an hour to Blackford so I started to accept the fact that I wasn't going to make 14:30.
Not long before I reached the trees a runner caught me. He was moving well running up the hill and soon put a fair distance between us. I was very impressed that he was going so well especially as he seemed to be carrying quite a big rucksack.
Thankfully the mini-split checkpoint arrived. It had taken me 1:04:08 to cover the 5.11 miles from the final checkpoint. This meant I now had 57mins to run the final 5.76miles. It should be possible but to be honest I never really thought I would do it so didn't push as hard as I could.
Ryan had said that when he finished 3rd he ran the whole way without walking once. I knew I wasn't going to be able to do that but I did run all the downhills and most of the flats. I glanced at my watch to get an idea of how far to my next mini-split and realised that it had gone to real time only as there was only 3% battery left.
I had looked at it at an hour or so before and it had read 23% so I thought that would be enough but I was wrong. This didn't help me either but to be honest I don't think I wanted the sub 14:30 enough to really push through the fatigue. I was content to get there as best I could and it wouldn't bother me if I was over my silver goal.
I reached the gate which was my last mini-split and it was 3.03pm which meant I was 14:03 into the race. I had 27mins to cover the final 2.90miles. Again I knew that this should be well within my ability but I was struggling in my mind to really go for it.
So I ran/walked and made my way down to Inverness. I got caught by Stephen again who was running well. He went past and I didn't even try and stay with him. I glanced at my watch and realised that I didn't have that far to go and I still had time to make 14:30 but again I didn't have the desire to push yet. I decided I would get to a point where I knew how far to go and then to give it my final effort.
Suddenly I saw Stephen again. I'm not quite sure whether he went off line or whether I did but we worked out the way down between us. I ran behind him for a while but then he pushed on again. We went through the field by the swings and I knew we weren't far away now.
Under the road and then onto the path past the golf course. I knew we were very close now as this is where Ryan told me he almost caught the guy in 2nd place two years ago. Through the trees and then up the steps onto the final canal path.
I could see Stephen going past another runner so I wondered whether I might catch him as well because he was walking. He must have looked behind him because he started running again. Far enough I thought. I would do the same!
I was hoping that the road over the canal was open. I heard a signal and hoped it was to open rather than close the road. Thankfully I saw cars driving over the bridge so realised I was okay. When I reached the bridge I immediately crossed over the road as the cars were just starting to get going and weren't moving too fast.
It was a good decision as the runner ahead, who I see from the results was Stewart Ward, was stuck on the near side at the far end of the bridge trying to cross but the constant stream of cars meant he was stuck. I did feel a bit bad as I ran down to the stadium but when I glanced at my watch it read 3.29pm which meant I might still sneak under 14:30.
I ran as hard as I could around the bend of the track and put my arms in the air as I crossed the finish line as I saw there was a photographer waiting to take our photo!
I received my goody bag and greeted Lorna, Adam and Stephen who were all at the finish. I wandered over to Mike to ask him my time. He said I'd finished 24th in 14:30:33!!  I was actually 23rd but I only found that out the following day.
Leg 7: 10.87 miles – 2:01:55 (11:13 pace) HR 125
Overall: 70.02 miles – 14:30:33 (12:26 pace)
Total ascent: 6,762ft
Total descent: 6,726
I smiled at my time as I really could have made it if I wanted it enough but I knew deep down that I didn't really deserve to make it as I hadn't worked hard enough over the final 10miles! Overall though I was very happy indeed. I felt that was as good as I could have done only 9 weeks after finishing a race that took me almost 50hrs!
I sat down on the grass for a few minutes and send a message to my family and posted on Twitter my time! I then needed help to stand up and go and get a shower. It never ceases to amaze me how one minute you can be running at 8/9min miles then a few minutes later you can't stand up and walk without hobbling!
It was good to chat to various folks after the race, then Jo came and picked me up. I enjoyed the evening back at their house as they fed and looked after me! I slept pretty well and enjoyed the prizegiving before being driven home by Hollie in the afternoon.
Photo thanks to BAM racing
Photo thanks to BAM racing
I would like to thank Bill, Mike and all the marshals and volunteers for all their work to make this race happen. Nothing was too much trouble for each and every one of them and it is a very special race. If you haven't done it then I would thoroughly recommend it as even though it is a tough route the rewards far outweigh the pain!