Saturday 8th October 2016
The 'Lakes in a Day' ultra was my fifth and final ultra of 2016 and I was really looking forward to it. When I was looking for another race to do at the end of my season it ticked all the boxes. My good friend Andy Cole had run it for the last two years and really enjoyed it. Also I'd heard lots of good things about the race organisers Open Adventure.
The main decision though was the route. I love the Lake District and wanted to do another race there. The two other races I've done in the Lakes, Lakeland 100 and Lakeland 110k are circular routes, whereas this one was an A to B down the whole length of the Lakes so I would see lots of different views and terrain.
I left Paisley at 5.15pm and drive down to the finish at Cartmel arriving just after 9pm. I was on my own for this one as Katrina decided looking after Micah while Laura was busy at a church event was more fun than waiting for me all day!!
The registration was very easy and relaxed. It was good to chat to race organiser James Thurlow. James had entered my 'Guess My Time' competition with a guess which would be the course record! He wondered whether anyone appreciated his joke!!
I had a good chat with a couple of guys who are doing the White Rose ultra in four weeks and had seen my video. They are doing the 100 mile version so I tried my best to give them an idea of what it will be like. It is 3 laps of 30 miles plus a 10 mile loop at the end. I reckon one of the hardest things will be the mental side of things. I hope they do well!
I was sleeping in my car so went to bed about 10.30pm, read for a bit before drifting off to sleep. I woke about 4am and dozed until my 5am when I got up. In the next half an hour I dressed, visited the toilet and boiled some water for my porridge. On the way down I realised I'd forgotten to pack my skins that I've been wearing for every ultra since 2008. I hoped I would cope without their protection!
In was still very dark but the guy next to me, Jim, recognised me from the Lakeland 100 and some Hardmoors events. He had also slept in his car but was feeling a bit cold. Once we were ready we wandered over to the coaches that were taking us to the start at Caldbeck. I did have a quick look for Andy who was running again but most people were on the coaches. I sat with Jim and we chatted most of the 90min journey to Caldbeck.
It was light by the time we arrived so I had plenty of time to get myself ready, take some photos and look through the route on the map for the last time.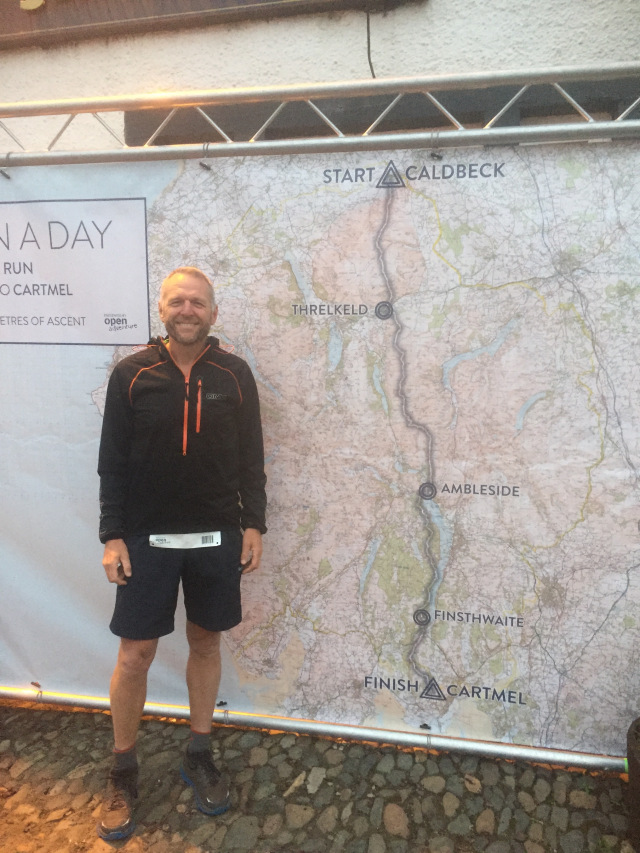 I was just doing a video clip before the start when Andy walks up so I interviewed him asking him for two top tips. Firstly he said make sure you take enough water for the stretch between Threlkeld and Ambleside as the only place to replenish is Grisdale Tarn and secondly watch the navigation between Ambleside and Cartmel.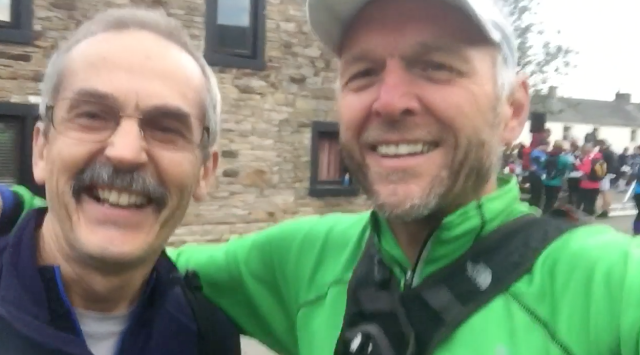 With a brief race briefing from James we were off right on the stroke of 8am. It seems all Open Adventure races start promptly. Maybe James should have a word with Jon Steele as all the Hardmoors events I've done start late!!!
Leg 1 Caldbeck to Threlkeld (10.29 miles)
Even though I've not done the race before I was able to work out some mini-splits from previous years. In particular I had the gps trace was Kim Collison who won the race last year on my watch. The only part of the route I had done was the first climb up to High Pike as the Tour of Skiddaw goes the same way.
I was keen to start very easy making sure my heart rate was comfortable and I wasn't breathing too hard. I had a slight problem with the first …. my heart rate strap wouldn't talk to my Suunto but I was relaxed about it as I've done enough now to know what my breathing should be like if I'm trying to go steady.
I'm always fascinated by the size of people's packs. There are the odd ones where I really wonder how they have got all the compulsory kit in but there are far more that look as though they have two of everything and some extra. It doesn't make sense to me to carry any more than you need to especially on a day like this one.
The weather was superb with no wind, blue skies and a very pleasant temperature. Plus the forecast was more of the same all day and it wasn't wrong. I wore my favourite long sleeved green top, shorts, Drymax socks and Sketchers.  Plus a visor to shield my eyes from the sun!
Once we got onto the open fell and started climbing up High Pike I tried to count how many people I could see winding their way up the hill ahead of me. I reckon there were between 70-80 runners in front of me. I settled in behind two guys who were chatting about various races they had done and were planning to do which was really interesting. One of the guys said after only a year or two of running ultras he got a place in the Western States!
Everyone that I could see was following the same path up the hill except for one guy in yellow who took off to the left and climbed higher sooner. I lost sight of him but caught him later on so it looks like he took a better line than the rest of us!!
I reached High Pike in 53mins 01secs which was a couple of minutes under my target. I had splits for 13hrs 30mins. My plan was to keep just ahead of those and if things went really well to achieve my gold time of sub 13hrs. I certainly wouldn't be able to blame the weather.
A few people went past me on the downhill before the stone hut but I caught them again by the time we crossed over the first smaller river. It was quite boggy ground so my feet were wet but with the super qualities of my Drymax socks they were soon dry again.
There was another climb followed by a longer descent to the larger river called Graigiegill Beck. The route from High Pike to Blencathra was marked on the map as open route choice. I was following Kim's line which took me off to the left with a few others whereas the majority were going right.
We all came back together to cross the river. In previous year's they had built a temporary bridge but the river wasn't too bad so we had to wade through. It was deep enough to come up to my thighs but my feet were soon dry again. Did I mention how good Drymax socks are??
According to my plan I had 45mins to cover the 2.60miles to the top. There was a line of runners ahead so I settled into my pace and headed up. Over the climb to the top I must have gone past at least 30 runners. I didn't feel I was pushing particularly hard but maybe others had gone off a little too hard on the first climb.
As I passed one group of runners a guy, who saw my poles strapped to my rucksack, said 'I see you are using poles now.' I didn't recognise him but he said that I had run with him at the Lakeland 100 last year and when he dropped his poles I said, 'Best place for them!!' I apologised and moved on!!
It was misty on the top so the views were hidden a little bit but you could still see the ground below. As the race uses a tracker you don't have to dip in anywhere but there a number of marshals to cheer us on and make sure we took the Hall's ridge down.
This was the only bit I did my aborted recce so I knew it was fairly technical and tricky for the first 5-10 mins before getting easier.  A few people commented that they had watched my video when I fell and cut my hand!
I was extra careful on my way down but still managed to overtake a few people. One guy said 'I'm not very happy on this terrain as I'm a townie' as I passed him.
Photo thanks to James Kirby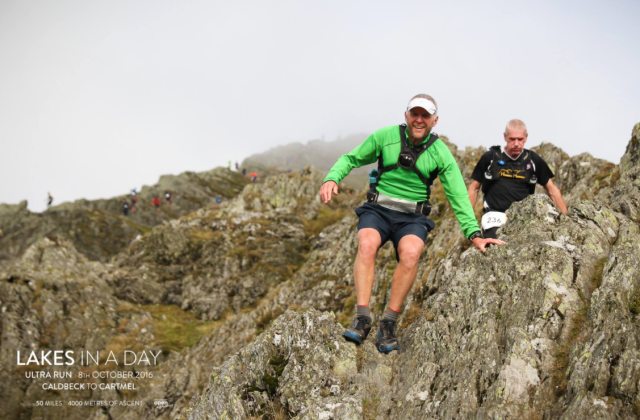 It was getting quite warm now as I had finished off my first bottle of Tailwind I was looking forward to being able to resupply at the first feed station at Threlkeld.
My good friend Dave Troman had said he was planning to come out to see me pass through the checkpoint. I had said my plan was to be at Threlkeld for 10.50am and I was pleased to see I was going to be spot on. As I went past a farm there he was coming towards me with him camera out for a photo.
We ran the quarter of a mile or so into the checkpoint chatting about various things. Dave told me he had done the Keswick parkrun and then jumped in the car with Tracey to come to see me. We have done so much running in the Lakes together so it was great to see him.
We arrived at the checkpoint in 2:47:07 which was very pleasing especially as I was feeling really good with no issues at all. Dave very kindly filled my water bottle with Tailwind and my soft flask with water while I had a couple of cups of orange juice, three pieces of melon and took with me half a banana and a bag of jelly babies. There was a whole variety of food available including massive cobs with ham and cheese but I didn't fancy any of that!

Leg 2: Threlkeld to Helvellyn (9.02 miles Overall 19.31 miles)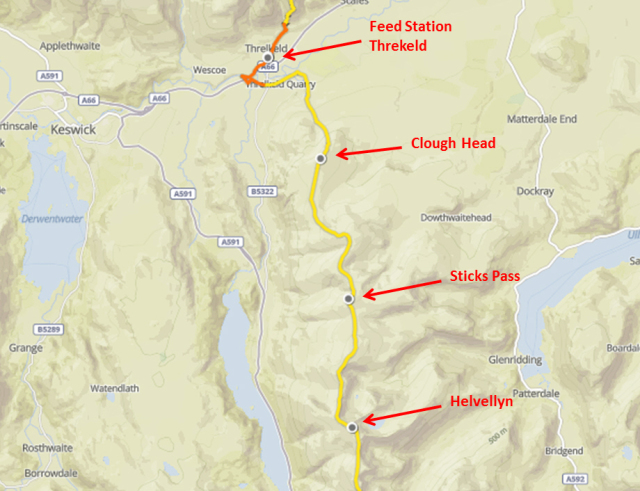 As I left the checkpoint Tracey was there cheering on the runners. I paused for a quick high five and sweaty kiss on the cheek (sorry Tracey!!) and headed off for the next climb up Clough Head. Dave ran out with me for half a mile or so and we chatted about doing some recce runs for the Ring of Fire race around Anglesey that I want to do next year.
Once Dave headed back I continued to run along the cycle track catching a few runners. I was really pleased with how I was feeling. Three hours into the race and I felt as though I was just getting going which was just as well as there was a big climb coming up next!
Just as we left the cycle track to cross the road and back onto the cycle track I caught up with Gus Bowman. I'd seen Gus before the race and he was telling me he had his 60th birthday recently so this was his first race as a M60 runner! His wife was there taking photos and cheering him on.
I passed another runner just before leaving the cycle path. I tried to leave it open for him but it closed before he got there. I did apologise but he said, 'Don't worry. It is a race we are in!'
As I walked up the road before going into the open fell I got my poles from my rucksack and got them ready for the climb. I'd not used them until this point as I wanted to leave them until this climb. It was a good decision as the field was spread out by now and I won't have to worry about stabbing anyone.
Not long after going through the gate a guy went past me running up the hill. My strategy is to walk all the hills and run everything else. I feel I could run some of the hills especially early on but I think it takes more out of you than you gain.
Sure enough by the time we reached the top I had caught him and at least 8-10 other runners. I was slowly but surely working my way through the field. I've done a spread sheet of the results and I reckon I was 75th at Threlkeld and 51st by the time I reached Helvellyn so I had gone past a few runners.
It was a long slog up Clough Head but I kept moving steadily. I do a lot of counting on the climbs. My favourite for this climb was to count 50 clicks of the poles then look up to see how far to go then head down for another 50. Sure enough you reach the top!
It had taken me 1:02:57 from the checkpoint to the top which was a few 5mins slower than my plan but it was 3.49 miles against the 3.20 miles I thought it was. My Suunto showed that I had climbed 1926ft.
The views were absolutely stunning. Blue skies, no wind and lots of hills and lakes to enjoy. I didn't stop to ponder as Dave had said that the next section to Helvellyn gave lots of opportunity to run. The race route basically follows the Bob Graham route along this ridge but don't need to go over all the Dodd peaks on the way.
I packed away my poles and stored them in my waist band as I knew I'd need them again pretty soon. There were a few runners around me as I passed a few and then got passed by a couple. This was repeated a few times with the same and different runners.
There was one climb where runners were taking a different line. There were some runners ahead going higher before bearing right while others were heading right sooner and staying lower. My line had the higher line so I stayed with it but I could see the runners who had gone right sooner seemed to be ahead of me so I maybe lost a few minutes on that one.
I stopped at one cairn to refill my tailwind in my water bottle with the water from my soft flask. It took a couple of minutes but well worth it as it was pretty warm and I really needed to keep drinking. My main fuel supply was my Tailwind so I needed to make sure I was drinking enough. I did eat the jelly babies on this section to Helvellyn.
The view towards Helvellyn was superb. Striding Edge looked very formidable. I thought back to the first time I met Katrina. We had walked from Glenridding to Helvellyn over Striding Edge with a mutual friend. Katrina had never climbed a mountain at that point and she absolutely loved it even though her boots were two sizes too big! I remember thinking she's the girl for me! I wasn't wrong.
The final climb to the summit was very busy with walkers and I caught up with a Dad and his young son and daughter. He asked what race we were doing and seemed impressed with how far we had gone and how far still to go. His son was keen to run with me!
It had taken me 2:30:42 for the 9.02 miles from Threlkeld to the summit. I had now been going for 5:20:42. My sub 13:30 plan was 5:33:00 so I was encouraged that I was ahead of schedule and maybe my gold of sub 13hrs might be possible. There was still a long way to go so I felt encouraged with how things were going so far.
Leg 3: Helvellyn to Ambleside (9.15 miles Overall 28.45 miles)
I didn't hang around at the top though the views were amazing and I could have stayed there for a while to enjoy them.
One of the reasons I like doing a recce run is to really take time to enjoy the views. I find in the race I'm a lot more focused and wanting to get on with the race.
There was a good downhill section, then another short climb before a long descent to Grisdale Tarn. There were a few mountain bikers going up and down. I don't think I'd fancy either way on a bike! I didn't have too much water left so I rationed it knowing that I could refill at the tarn.
I was on my own but I could see a couple of runners ahead. I wondered whether I could catch them by the time I reached the tarn. The descent was quite steep but zigzagged down on large stones that had been laid out. In the race instructions we were told to stay on the path as they are trying to reduce the amount of corrosion.
I slowly caught and passed two runners on the way down. I remarked how quiet and still it was. I think it was in contrast to how busy it was on Helvellyn. It suddenly felt we were miles from civilisation on a glorious autumn day.
I mentioned to a guy in yellow that he had been a speck in the distance. He replied, 'Don't rub it in!!' After the race he sent me this tweet ….
It was good to reach the tarn and the stream. I stopped to drink some water then fill up my water bottle so I could add my Tailwind as I started up the hill.
I knew the climb up Fairfield was going to be steep but I also knew that it was going to be the final big climb of the day. There would be lots of smaller ascents to come but this was the last longer effort.
I had my poles out again and returned to my counting, looking up, counting again. I must admit I found the final few minutes hard going. One of the runners I caught on the way down was now right behind me. I asked whether he wanted to go by but he was happy to follow.
After a few more minutes I paused to drink and let him go past as I felt I was trying to go at his pace rather than mine. I followed him up and it was good to reach the summit of Fairfield. The 1.07 mile from the tarn had taken me 32:15 which was by far my slowest mile of the race!
I decided to stop for a couple of minutes to pack away my poles and reattach them to the outside of my bag as I knew I wouldn't need them again for the rest of the race. As I did so I chatted to a group of walkers who were resting in the stone shelter.
They encouraged me that I was almost half way. I replied that the hardest half was now over, I was feeling good and ready to keep going to the finish and that's how I felt.
I thought it was 4.10 miles to the next Feed Station at Ambleside but it turned out to be 5.69 miles. It did feel a long descent with plenty of ascent as well. There were some rocky sections that I was starting to struggle on and a couple of runners caught me. I find after 6-7 hrs of running my legs are tiring and I find it hard to skip down as others do.
But there were also sections of gradual descent on grassy paths and I was running really strongly on those sections and caught up with the runners who had passed me. So we all have strengths and weaknesses.
Not too far from Ambleside I went right into a bog so both feet were covered in mud over my ankles. Initially I had thought I wouldn't change shoes at Ambleside. I had put a spare pair of Drymax socks and Sketchers just in case as the race offered that opportunity.
As I ran down into the town I decided I would take a few more minutes to change my socks and shoes as I thought it would be good to have clean socks for the final 20 miles to Cartmel.
It felt strange running through the busy town of Ambleside after the quietness of the hills. I few people knew a race was going on so clapped and cheered as I ran past. Others had no idea that we had run almost 30 miles!
I reached the checkpoint in 7:47:50 which was just outside my 7:45:00 plan. The leg from Helvellyn had taken 2:27:08 against the 2:12:00 on my plan but I was still pretty close to my 13:30 plan.
The checkpoint volunteers were superb. Before I asked they brought over my shoe bag. I spent 10 mins and in that time I changed my socks and shoes, ate some pasta, drank some coke, refilled my water bottle with Mountain fuel and took some water in my soft flask for later.
There were other runners sitting and some seemed to be a lot more relaxed that me! They were sitting back chatting whereas I was all action as I wanted to get going as soon as I could.
Leg 4: Ambleside to Finsthwaite (14.18 miles Overall 42.64 miles)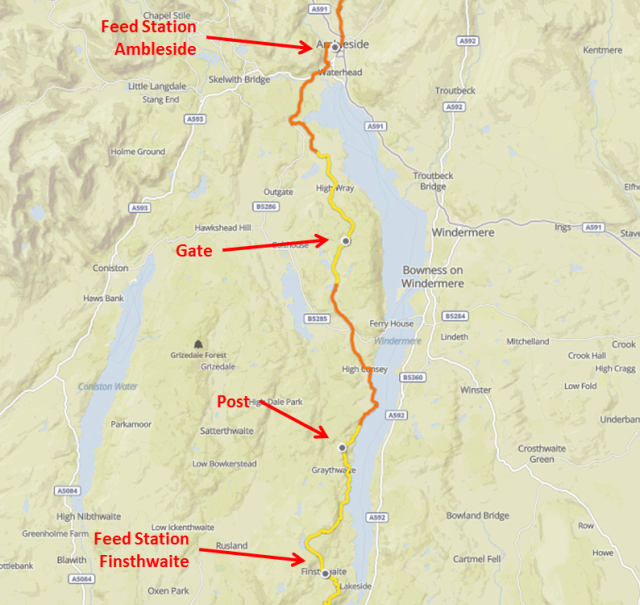 I ran out of the checkpoint on my own but was joined by a lady who had been out for a run and was returning to her car. She said that people had mistaken her for a runner in the race and she been clapped through the town!
My feet felt superb and even though I took a bit longer in the checkpoint that I planned I knew that it was going to be worth it as it felt so good having clean socks and shoes.
I ran all the way to the road, crossed over and onto the cycle path. When it started climbing I walked as my plan was to walk all the hills from now on and run everything else. Not long after a runner in blue went past me running up the hill. I was impressed that he was running strongly but wondered whether I would see him again.
For the next couple of miles the route followed the road then went onto a lovely man made trail to side of the path. I was running strongly and slowly caught up with a runner in black and then I could see the runner in blue not too far ahead.
Once I caught up with him we ran together off and on for the next couple of hours. He was Alex Reilly. I'd had various quick chats with runners as I passed them but this was the longest chat I'd had all day and it certainly helped pass the time and miles.
Alex works for Rat Race as their marketing manager so it was interesting finding out about how that works. He had also done the Cape Wrath ultra this year which is the 8 day race in the north of Scotland. Alex is 27 so I did smile to myself that I was 30 years older than him!!
We caught up with another couple of guys and the four of us ran together, separated and came back together a few times over the next few miles. It was a lovely section for running through the woods to the side of Lake Windermere. There were a couple of times when we were very close to the lake but most of the time it was out of sight.
As we reached the YHA HQ Alex was just ahead and the two guys were behind. We reached the road and I thought I saw Alex running down the road to just followed him. It turns out the route crosses the road and heads up the woods.
Once I turned the next corner I couldn't Alex ahead and the line on my Suunto was off to the right of where I was going. I looked into the woods but couldn't see anything but trees. Certainly no path so I carried on. I heard someone shout but couldn't make out what they were saying but I suspected they were trying to help me.
Just when I thought I might have to turn round and retrace my steps I saw a gate and a path heading up into the woods. I decided to head up there and hope that it would rejoin the race route. I got out my iphone and checked on my app UK map and sure enough I could see that the path I was on would get me back on line.
It was a very steep climb and I thought that I had added some distance to the route but hopefully not too much. I also assumed that Alex and the other two guys would be ahead now.
My arrow and the line on my watch came together and I was relieved that I had not lost too much time. I went up the path a bit too far. I turned round and saw that the signs were there pointing right. As I had come up the path I had missed them.
It was getting pretty dark by now but I was happy to be back on track and decided to try and get to the last Feed Station at Finsthwaite before getting my head torch out.  I assumed that Alex was ahead still but I couldn't see anyone ahead.  I went past Ian Corless who set up his camera and large light to capture some night photos.
I ran into the final Feed Station in the dark at 11:06:42 against my 13:30 plan of 11:08! Pretty close. I was surprised that Alex wasn't in the checkpoint and thought maybe I had lost even more time than I thought. I had a quick drink of coke, ate some watermelon and refilled my water bottle with flat coke.
I was keen to get going as soon as I could so after just under 3mins I was out the door.

Leg 5: Finsthwaite to Cartmel (8.04 miles Overall 50.68 miles)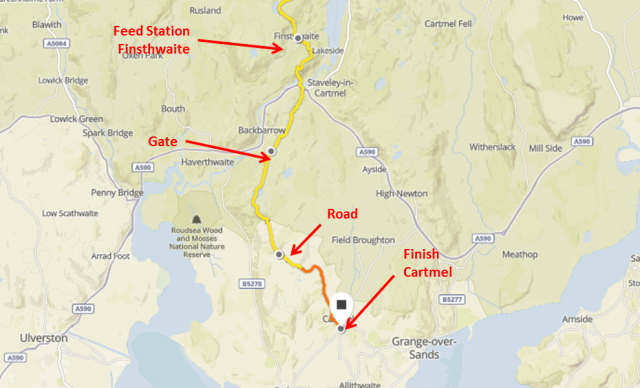 Just as I left the hall Alex walked in! He told me later than when the guy shouted me he thought they were shouting him so he went back down and wasted some time. So that was why he was behind me rather than in front. I apologised and was on my way.
It was pitch dark as I made my way across the field and headed to the finish. I wasn't sure of the distance but thought it was at least 7.50 miles. According to my watch it was 8.04 miles. I was still feeling good so was able to run all the downs and flats and walked hard on the ascents.
I was a slower on the more technical parts but happy that I was moving okay. I couldn't see any light ahead and I don't like to look behind so I was very much on my own.
After about 30mins a couple of guys caught me. They were moving better over the tricky stuff than I was but I was able to stay with them on the path and road. We chatted about our finishing time. They were keen to get under 13hrs.
I realised I wasn't going to make that so had decided I wanted to be closer to 13hrs than 13:30 which kept me working as hard as I could. There have been times when I know I'm comfortably inside my goal that it's hard to keep the intensity going.
Once we reached a trickier bit again they were away and I didn't see them again until the finish. They told me they missed 13hrs by a few seconds!
I hoped that no-one else would catch me but if someone does there's not much you can do! I was running as hard as I could and if someone was going better than me then well done to them! A runner in black did catch me and pushed on to finish 7mins or so ahead.
One of the two guys who went past had done a recce run recently of this section and said there is one final hill up a field before dropping down to the road for the final couple of miles into the village and the finish at the school.
Once the field arrived I knew I didn't have too far to go. I took a split at the road to see what pace I could finish in. It was a small country road with no cars and downhill all the way to the village. I ran all the way and was looking forward to getting to the finish.
There were a few people out in the village and three ladies in particular gave me a big cheer as I ran past their house. The school was at the far end of the village so it seemed to take for ages to arrive.
I crossed the road and ran into the school grounds, under the finishing banner to be greeted by James. He gave me a medal and gave me my time 13:09:06.
I was really happy with that!  I explained to James by navigational mistake but as it didn't cut any of the course it was fine.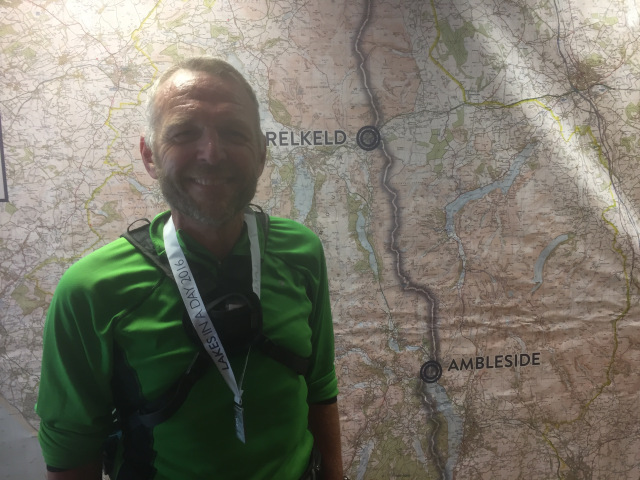 Over the next couple of hours I rang Katrina, had a lovely hot shower, a superb massage from two students from Cumbria University and enjoyed a lovely baked potato with cheese and beans.
It was good to chat to various runners who had finished and cheer others in as they reached the school.  Andy Cole came in on 11pm for a time of 15:00:41 Andy had enjoyed his day out as well.
I really enjoyed the race and have nothing but praise for James and all his team of volunteers.  I would definitely recommend the race!