Sunday 20th November 2016
I entered this race after finishing the Lakes in a Day ultra after my good friend Andy Cole encouraged me to run and I'm so glad he did! As there was also a half marathon and Katrina has been wanting to get back into trail running after a few years of road running it meant we both could take part.
We had booked beds in the Race HQ Wooler YHA and were given one of the Shepherd's huts which was very cosy and warm. We left Paisley at 2.30pm and had an easy journey arriving just after 5pm. Garry and Tim, race directors, were setting up the registration so we headed into Wooler and went for something to eat at the Black Bull. As we waited for our food we watched Andy Murray finish off his epic semi-final win against Raonic.
It was good to be able to register in the evening. It was a very straight forward process with kit check. The weather forecast all week had been for heavy rain but as the day progressed the rain forecast was replaced with clear but cold weather which would be ideal.
We sat around as various folk arrived to register. It was great to see Lucy Colquhoun who was running. Ross Moreland was due to be running as well but work commitments meant he couldn't make it. Ross had booked beds at the YHA but when Lucy went to find out which bed she was in she discovered Ross had booked beds in the Berwick YHA!!
Fortunately Richard and Keziah had a spare bed in their room so Lucy went off to see she could stay with them!!
After registration closed around 9pm Garry set up a big TV and put on the film of 2010 Western States race. I watched some of it but ended up having a great chat with Garry.
I like to have some sort of time goal for races I do but I literally had no idea for this one. I thought if I could average 9min miles then I would finish around 4:15. When I asked Tim and Garry what would they think would be reasonable they said that if they do under 7hrs on a training run they are happy! So anything under 6hrs would be a really good run so that became my new goal!
I'm glad they told me as it gave me a more realistic idea of how long I was going to be out for. The half marathon route doesn't go as high and obviously as far but still is a challenging route so for Katrina anything under 3hrs would be a good run.
We had a good night's sleep and got up at 6.30am to have some breakfast. As I ate my porridge lots of runners were arriving to register. The organisation was excellent and runners were quickly registered and ready to go.
Andy Cole arrived and it was good to chat before the race. Andy had left Keswick at 4.15am to drive over! He said the roads were quite icy in the last few miles.
Tim and Garry gathered everyone together outside the YHA for the race briefing. Thankfully they didn't chat too long as it was pretty cold. I had decided to wear my shorts as even though I knew it was going to be really cold my legs don't really suffer and I hate having sweaty legs! Out of the 140 or so starters I only saw a couple of other runners with shorts on!
I wore two tops (a merino wool base layer and my green top), skins, shorts, drymax socks, buff and gloves. For the whole race I didn't have to put my jacket on and the only change I made was to take off my buff and gloves at various times. In fact I never took my rucksack off at all for the whole race.
The race started about half a mile away so we all walked along a path to the start. I walked with Andy and we chatted about our plans for next year. We are always planning the next race and adventure! Andy's big one for next year is the Dragon's Back and I really hope he makes in this time after being timed out in 2015.
The race started at 8.15am. Everyone seemed very positive and looking forward to the challenge ahead.
Start to CP1 Cheviot Base – 5.89miles
I set off about half way down the field as I was keen to do my normal race plan of starting steady and didn't want to get caught up with others and running too quick. I had not been on the route at all but looking at the race profile I knew that the first 8 miles or so is mainly uphill leading up to the highest point the Cheviot at 2,600ft.
So I was keen to try and keep my heart rate around 135 which I felt would keep the pace sensible and mean I could run right to the end. It does take a lot of discipline but I'm getting better at it with each race. As soon as it reached 145 I eased off even if it meant letting people pass or move away.
Once things settle down I tend to hold my position with a few going past me and me going past one or two. It took a few miles to warm up but once I had I felt really comfortable the gear I was wearing. The ground was pretty icy and frozen when meant that it was actually quite dry underfoot.
After a few miles I was working my way through past a few runners. I caught up with a group of runners and for the next 5-6 miles we yo-yoed as we seemed to have different strengths. I seemed to be stronger on the ascents and flats and they went past me on the descents.
I had a few brief chats with runners as I passed or was passed. Everyone seemed to be really enjoying the start of the race and we were all grateful that it was dry with hardly any wind.
I had a chat with one guy who thanked me for our Lakeland videos. He said he did the race for the first time in 2012 and watched the videos that dave and I made that year.
I was keeping to my heart rate zone and quite happy with my pace and how I was feeling. I had my splits based on a 4:15 finish and while I knew that was going to be way off it was helpful to get an idea. I had 53mins for the 5.9 miles to CP1 and as I arrived I was quite happy to see that I arrived.
I had a quick stop to give in my number and a drink of coke. The marshals were making sure that runners had enough water as the next CP with water was over 10 miles away. I hadn't drunk much so I was fine.
5.89 miles in 1:02:36 (pace 10:38) HR - 139
CP1 Cheviot Base to CP 2 Rescue Hut – 5.72 miles (Overall 11.61 miles)
I was in and out pretty quickly and set off for the climb up the Cheviot. When I was chatting to Andy before the race he reckoned it would take an hour or so to climb the 2 miles from the CP to the top so I settled into a steady rhythm.
There were a few runners around me as we made out way up the hill. We had been in good visibility so far but as we climbed we reached the cloud line and quite soon we couldn't see too far at all.
I was feeling good on the climb but still had to reign myself in a few times when my heart rate went up to 145.  I was still feeling very comfortable in my shorts but I was glad I was wearing my gloves and buff. There wasn't too much wind so as long as I was moving I was warm enough.
It was a steady climb with a couple of opportunities to run a bit. We reached a point where it levelled out a little and their was a marshal checking everyone was okay. He said climb over the large style and follow the path of slabs to the top.
As you can see from the photo the course was well marked with these black arrows and also small yellow flags. Garry had worked hard over the past couple of days marking the course.
I was just behind another runner and we made our way to the top. I was assuming there would be at least one more climb to reach the top and as we ran along for a while I was wondering when it would be.
Some of the slabs were icy but the majority were fine so it was easy to pick up the pace a bit and run a bit faster. Suddenly the cairn at the top appeared. I was really surprised but grateful that I had reached the top.
I did stop for a photo hence why I've borrowed Luke and Jo's photos (with permission!). The stone slabs carried on for another mile or so. The guy in front was a bit quicker initially but I did catch him before the next checkpoint.
A few of the runners who I had overtaken on the way up now caught me on the way down.
There were sections of boggier ground in-between the slabs but as the ground was icy it was still quite dry underfoot.
Garry and another couple of marshals were waiting for the runners to come down off the top so I gave Garry a high five and told him who much I was enjoying the route so far.
I knew there was another couple of miles to CP2. My friend Phil Owen said that he was marshalling at that point so I was looking forward to seeing him.
I ran as hard as I could on the way down but I was passed by a couple of people. I also slipped a couple of times on the icy grass but nothing serious. I know I wasn't the only one as I could hear comments behind me as others slipped as well!
The ground was a lot boggier here and I could see where runners ahead had gone though the ice into the wet bog so I made sure I avoided those bits. I was expecting a lot worse and was quite happy to get through that section with relatively dry feet.
I was with a group of 4-5 runners as we approached CP2. I could see Phil had his camera out so gave him a smile.
There was also an official photographer who captured me just as I was about to give Phil a high five …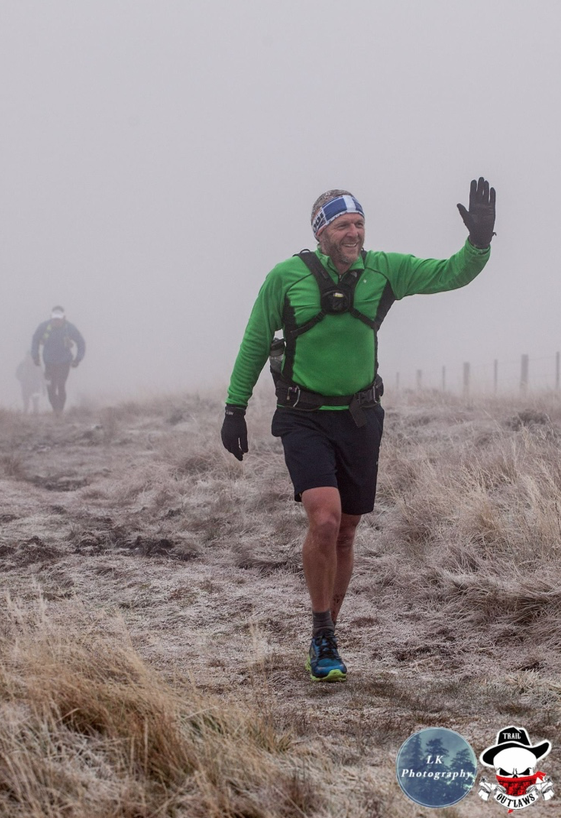 As you can see from the photo we were still in the mist but there wasn't much wind and so ideal running conditions for this time of year.
CP1 to CP2
leg 5.72 miles in 1:21:34 (pace 14:16) HR - 138
Overall 11.61 miles in 2:24:10 (pace 12:25)
CP 2 Rescue Hut to CP 3 Self Clip – 5.42 miles (Overall 17.03 miles)
Again I didn't hang around and followed the path heading down. I knew that the biggest climb of the day was behind us but there would be plenty of smaller climbs to come.
I was now on my own. The runners who were with me at the Rescue Hut weren't with me. I don't like to look around so I'm not sure how far they were behind but I certainly couldn't hear them.
I could see some runners ahead so I wondered whether I could catch them. After a few minutes I decided to look at my time for 14 miles which would be half way. I hoped that I might be able to run the second half faster as there is a bigger net descent.
There was a stile just after my watch clicked over to 14 miles so I took that as my half way point. My watch read 2:58 so I revised my goals to bronze sub 6hrs, silver sub 5:45 and gold sub 5:30. It gave me something to aim for!!
Once we descended and got out of the cloud the views were great. Plus it was starting to warm up and I was thankful I had decided to wear shorts as I was feeling quite warm.
The two runners I had seen in the distance were still ahead but I didn't seem to be making any time on them but at least they weren't getting further away.
We were now running on the border of England and Scotland along the Pennine Way towards Kirk Yethom which is the finish of the Pennine Way.
I reached the self clip which is in Scotland just over the border. I assumed I would have to take off my rucksack to clip my number but there was a lady there cheering on the runners and she very kindly add it for me.
The sun was shining quite brightly now and it was definitely the warmest it had been all day.
CP2 to CP3
leg 5.42 miles in 1:08:29 (pace 12:38) HR - 140
Overall 17.03 miles in 3:32:39 (pace 12:29)
CP 3 Self Clip to CP 4 Hethpool – 1.82 miles (Overall 18.85 miles)
I knew it was less than 2 miles to the next check point so I pushed on thinking about timings for the last two legs. I reckoned that once I reached CP4 I would have around 10miles to go.
I should reach it around 4hrs which would give me 2 hrs to go under 6hrs so my bronze looked safe! It would depend on how strongly I could run over the final 10 miles to see how close I could get to my gold of sub 5:30.
The thing I found interesting was if this was an ultra I would have a long way to go and wouldn't even be thinking about the end but as I only had less than 10 miles to go I was starting to think about the end and so my mind started to wind down somehow.
I had to consciously stay in the moment and just concentrate on running as hard as I could. It did help that I could see the two runners ahead and I tried to work on catching them!
I had been thinking about Katrina and wondering how she was getting on in the half marathon. I really hoped that she was enjoying the run.
I think it was along this section that the route went through a forest and it was a little tricky finding the way. Garry had marked it well but I missed one of the flags and was slightly off line through the woods but soon saw the yellow flags again and I was back on track.
I finished off my tailwind as I approached the checkpoint and emptied the Tailwind powder into my water bottle so I could quickly fill it up.  I had only drank 700ml in the first 4hrs of the race but when it is cold I don't tend to drink as much. I had also eaten one tube of Shot blok and hoped that was enough.
CP3 to CP4
leg 1.82 miles in 23:58 (pace 13:10) HR - 133
Overall 18.85 miles in 3:56:37 (pace 12:33)
CP 4 Hethpool to CP 5 Yeavering Bell – 3.31 miles (Overall 22.16 miles)
At the checkpoint the marshal very efficiently filled my water bottle while I had a drink of coke and took a couple of small fudge bars and some jelly babies. One of the marshals told me I was in 31st place which was encouraging and again gave me an added incentive to catch the two guys ahead to get into the top 30!!
The first mile or so from the checkpoint was along the road and I was happy that I was running quite strongly. I thought if I could average around 10min miles I had a chance to get under 5:30.
I could see a runner ahead and I caught up with him after turning right and heading up the road. He said he was struggling a bit with cramp. I assumed that he wasn't one of the two runners ahead but it did mean I was in 30th place!
Once over the bridge the track turned left and headed up the hill. Once onto the open fell I could see the two runners still ahead but they didn't seem to be any closer!
I felt I kept up a good pace and before too long I was on the road and running down to the final checkpoint.
CP4 to CP5
leg 3.31 miles in 35:29 (pace 10:43) HR - 140
Overall 18.85 miles in 4:32:06 (pace 12:17)
CP 5 Weavering Bell to Wooler YHA – 5.85 miles (Overall 28.01 miles)
The checkpoint was manned by a couple of ladies and a girl. I gave a high five to the girl as she was cheering me on! I stopped very briefly taking some jelly babies but keen to keep going for the final push to the finish.
There was a runner just ahead so he became my next target. I knew there was a hill out of the checkpoint as when I was showing the half marathon route to Katrina we could see that there was a steep descent for her and then back up the same way.
The marathon runners were now on the same route as the half marathon. Again I wondered how Katrina found this hill. It was pretty steep and I thought it would have been tough for the half marathon runners having to go all the way down to the checkpoint and then all the way back up again!
I knew I had less than an hour to run the final 6 miles. I thought it might be possible if it was mainly downhill. But the first mile took me 17 mins getting up the hill so I would then have the run the final 5 miles in 43 mins which is just over 8 mins per mile which would be a tall order.
I wanted to get under 5:45 though so once over the top I pushed as hard as I could. I passed another runner at some point so I was in 28th place. The two guys were still ahead and I didn't think I would be able to catch them now but you never know!
At one turn I glanced back as I shut a gate and saw that I was being chased and sure enough a few minutes later a runner caught me. He was the first runner who had gone past me since the rescue hut at CP2.
I congratulated him on pacing it really well. He explained that he had had a saw ankle early on but was feeling stronger now. I tried to hang on to him for as long as I could but he was just that bit faster.
When I went past the final marshal on the course he thanked me for helping him on a previous race. I think it was either the Lakeland 100 when I ran through part of the night cheering runners on or at the recent Lakes in a Day. Whichever it was I thanked him!
Once we reached the top of the stem and then onto the road I knew I had less than 1.5 miles to go. I could see that the runner who had gone past me had now caught the 2 guys who had been ahead for ages.
They were getting closer and I wondered whether I might still catch them. There were  a few people out walking who cheered me on as I ran past their houses.
I came to the start and knew we would turn right to run along the path to the finish at the YHA. I pushed as hard as I could but the two runners were just too far away!
I was more than happy with my run and I was going to be a few minutes over my sub 5:30 target but closer to 5:30 than 5:45!!
I glanced to my left and saw the YHA and heard people clapping in the runner ahead of me. I ran down the slope, turned sharply left and ran over the car park into the finish at the YHA.
Garry greeted me and my number was scanned to give me my finishing time - 5:35:26 for 29th place. I discovered later I was 2nd MV50 15mins behind the MV50 winner!
Garry told me that Katrina had finished 1st FV50 in 2:30:45. Katrina was sitting with Lucy, Richard and Keziah. Lucy finished 1st female in just under 5hrs and Richard was 2nd male in 4:28:55 so they both had good days.
I picked up my t-shirt and medal before heading off for a shower.
It was great to be able to have a hot shower before enjoying a lovely cup of soup and some tea. While I was eating Katrina received her prize from Tim …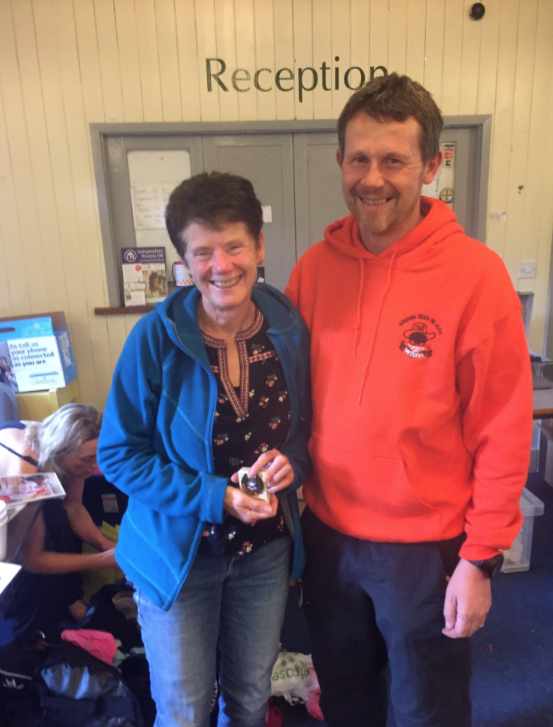 We both really enjoyed our races and would thoroughly recommend the race to everyone. It's a very challenging route with lots of climb and a variety of terrain to enjoy.
Tim and Garry have created a great race with a team of excellent marshals and volunteers. Our thanks go to them for all their hard work over the weekend.
Marathon & Half Marathon Results

I didn't do a video diary of the run this time but Craig Kilday did. He has produced an excellent video which gives you a real feel of the route. It lasts just under 5mins …