Another easy run at lunch time today.  Feeling good a week after the Hardmoors 30 race.
I like to do a post on lessons learnt from each ultra race I do.  For this one I'm going to do something a bit different and this is very much for me so feel free to ignore or have a quick glance.
Over the past year or so I've been using Strava to record my runs. One of the great things about Strava is that you can join a group (I'm in several!!) and also you can set your segments.
A number of runners at the HM 30 including winner Jayson uploaded their run on strava so I was able to set 6 segments for the 6 legs and compare how I got on compared to others.
So here are the 6 legs …
Note … I lost count on the legs and missed out leg 4!  So Leg 5 is actually leg 4 and leg 6 is leg 5 etc!
Leg 1 Ravenscar to Hayburn 
Leg 3 Ravenscar to Robin Hood's Bay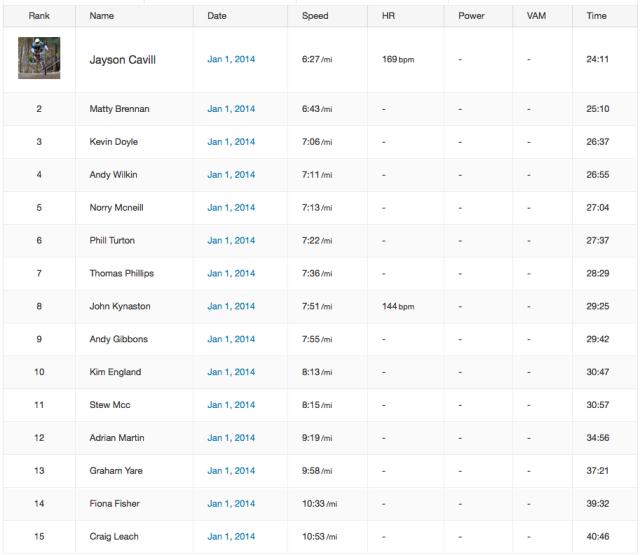 Leg 4 Robin Hood's Bay to Whitby
Leg 5 Whitby to Robin Hood's Bay
Leg 6 Robin Hood's Bay to Ravenscar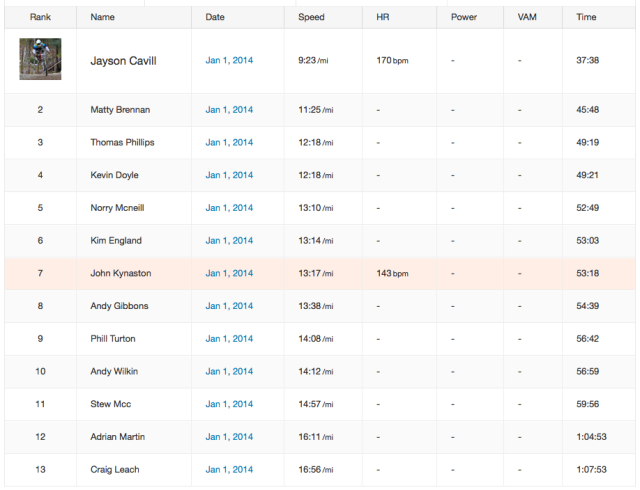 I'm not sure if any times were taken at the checkpoints but these times from strava are the next best thing.
I decided to just take 4 times including myself to make some comparisons.  I thought it would be good to compare myself with Jayson Cavill who won the race in a record time …. not that I think I can run that fast but it is helpful to can get an idea of where he is quicker.
The other two Norman and Phill are runners I know and who finished not too far ahead of me so I thought it would be helpful to compare myself with them.
So a few observations ….
Legs 1-4 were mainly on the cinder track (except for the first 4.3miles which was on the muddy coastal path).  I think I held my own with the other runners and we all lost a few minutes per leg on Jayson.
I'm not quite sure why Normal and Phill's data didn't register on strava.  Did they go a slightly different path?
Leg 5 and 6 were along the muddy coastal path into the wind and rain! Here is the largest difference between Norman, Phill and myself compared to Jayson.  On the final two legs totalling 10.8 miles Jayson ran 43mins 31secs faster than I did which is about 4mins 39secs faster per mile whereas he was only 1min 20secs a mile faster for the first 20 miles.
It shows how strong and fit Jayson is to be able to maintain that pace.  I'm sure it was a case of us slowing down whereas Jayson was able to maintain his pace.
Jason ran the first 19.6 miles in 2hrs 18mins 36secs at an average of 7min 04secs per mile and the final 10.8 miles in 1hr 34mins 04secs at 8min 42secs so just 1min 38secs per mile slower.
Whereas I took 2hrs 44mins 43secs at an average pace of 8mins 24secs for the first 19.6miles.  But my final 10.8 miles took 2hrs 17mins 35secs at an average pace of 13min 21secs.  So I was 4mins 57secs per miles slower!
I would like to think I could have run at a faster pace if the conditions were better but it didn't seem to slow Jayson down!  I wonder though whether Jayson was further down the coast before the bad weather came.
So what can I learn?  Did I run too fast to Whitby and so struggled over the last 10miles?  Bonnie and Kirsty who finished just ahead of me paced themselves better.  It would be interesting to see their splits.
I think for this race with the different underfoot conditions it was a good idea for me to run as hard as I could when I could and hang in for the rest.  I have a feeling if I'd have been 10mins slower to Whitby I wouldn't have been able to make that up on the coastal path.
So I'm quite happy with the way I ran the race.  The one thing I would change is to think about wearing different shoes. The Hokas were great on the Cinder track but useless on the mud.  Others wore Salomon Speedcross or Inov-8 Mudclaws and managed better on the coastal path so maybe they would have been better.
I was happy with my gear and I'm about to do a review of the Energy Drink I used on the race.