A good indicator of how well an ultra-race has gone for me is how quickly I can recover.  I didn't run Sunday or Monday but I did cycle to work yesterday and today. My legs are feeling better by the day so I went out for an easy run after work.
Katrina continues to build up to the London Marathon so we went out for an easy run together. We had a good chat as we ran round one of our regular loops.
Thank you to everyone who has left a comment about the Hardmoors 55 race. The thing that most people have commented on or asked about is my running to a certain heart rate.
So I thought it might be helpful to answer some of the questions here so others can contribute as well. Firstly let me say that I'm not an expert. I did some physiology at College when I trained as a PE teacher but that was 35 years ago! I'm coming more from a 'what seems to be working for me' position.  I don't expect anyone to think this is the only way to run.
In fact Dave and I had a good chat after the Hardmoors race about this and Dave made the point that we both improved from last year but had very different tactics. Dave was very much racing especially when he was in 3rd place with the 4th placed runner only a couple of minutes behind him with 10miles to go. He was only focused on keeping that podium position. Time wasn't a factor though obviously by running faster to stay ahead he ended up running a pb!
So here are my thoughts on a few questions that people have asked on Facebook or email. If this is not your thing then click away now. I know that this is only one way of running ultras.
There are many successful ways to approach to running long distances.  If you have read my friend Stuart Mill's blog you will know that this is polar opposite to his 'run as fast as you can for as long as you can' strategy!
Question 1: How do you work out the best hr to run a race at? What % of max HR are the thresholds?
I suppose the key to getting the best performance is knowing what HR to aim for.  I'm 56 so my maximum HR is roughly 220-56 = 164 (+or-10). I did a max VO2 test 6 years ago and my maximum was 172. They reckon it drops by 1 beat per year but I'm working on 170 for now. So 137 is 80% of my maximum which seems high so maybe my maximum is higher than 170??
So here are my zones from the Hardmoors 55 (thanks to Strava!) …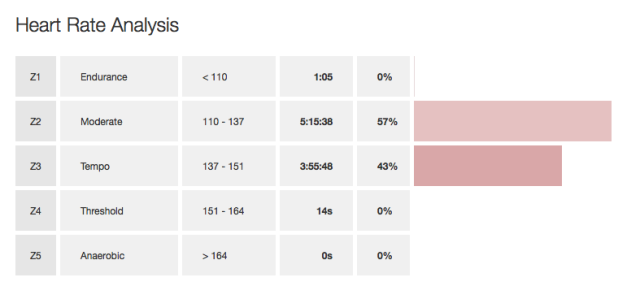 I didn't just come up with 137. In fact it was nothing to do with me! My friend Robert Osfield sent me a spread sheet with target heart rates for races ranging from 3hrs to 48hrs. He based these on a variety of races I had already done that I had the HR for.
Maybe I should ask Robert to do a guest post and he can explain how he came up with these figures? Here is a copy of the list for me and for Robert  up to 23hrs ….
Robert is younger than I am so his maximum HR will be higher.
Last year for the Hardmoors 110 Robert suggested a HR of 124 for a race lasting 28hrs which was my target so I trusted him and went with it. I wasn't quite so disciplined at this last race but I did keep an eye on my HR especially over the first 5-6 hrs of the race. Sadly my Suunto didn't save the data so I couldn't review how I got on.
I finished strongly in that race which gave me the confidence to try it again for the Hardmoors 60 aiming for 135. In that race in September I was good for the first 10 miles to Salturn but then let my enthusiasm run away with me and for the next 12miles my average was 142 which I paid for during the final 10miles. Robert pointed out that by going over my target by a few beats  per minute meant that I was going into debt which I would pay for.
For this race I kept that in mind and made sure I didn't let my HR go over 142.  It was quite hard at times especially when you are running with others and know you could easily keep running up the hill and stay with them.
I had to continually remind myself that this is a bigger picture strategy and if it works I'll catch those who are ahead! But in the end it was all about my race and trying a different strategy than the one I normally use.
So if anyone is wanting to try this they will need to work out the HR to aim for based on the race length, their age and fitness.  I would be interested to hear how others work out their target HR?
Question 2: One thing I'm interested to find out is whether by running as you did by heart rate you think you 'raced' the Hardmoors?
You may say that by running by heart rate you didn't have your 'race hat' on which meant there were times when you didn't push it - perhaps to catch someone up or overtake someone - but that you still achieved your objective which was to finish in a good time and run strong.
I definitely did not feel I was racing the Hardmoors 55. In fact there were times when I was deliberately holding myself back even after 30 or 40 miles. I felt in good shape and could easily have been 10-15mins faster to the half-way point.
But I definitely did achieve my objective of having a great day, running a time which far exceeded my expectations finishing strongly with a smile on my face.  Shirley is going to send me the splits which I'm looking forward to sorting out as I'm interested to see how I compared to the rest of the field especially in my split from Osmotherley to Helmsley. A couple of runners went past me but I caught a good number.
I suppose the question is could I have gone faster by 'racing' like Dave did?  I do think there is a difference between those at the sharp end of the race where tactics come into it and the rest of us who are really competing against the clock and the course. I don't know where I finished and it doesn't really bother me because it all depends on who turns up on the day and how many are running. For me I would rather run 9:35:40 and come 100th than 10:35:40 and come 10th but that must be different at the top of the race.
Again I would be interested to hear from those who are at the sharp end. What motivates you: time or position?
Question 3: Should we all be running our races by heart rate?!?
Definitely not!  That would be so boring if we were all the same!! I love the fact that there are ultra-runners who run without a watch, have no idea of splits or times, listen to their body and run accordingly.  I accept that I'm at one extreme with my splits and planning but that suits who I am and for me is part of the fun.  I love all the build-up and working out my splits and strategy. I find it really funny when people enter a race a few days before as I see the race as the cherry on the cake with the cake the training and build up!
I would never say to others that they should run like I do.  But from the comments I've had over the past few days there are other runners who are thinking about it and I look forward to hearing how it works out for them. If anyone feels  I can help them please ask!