I've had my week of easy recovery runs and was ready to get going again with a serious block of training as I build up to the Lakeland 100 which is my big A race for the year.
I was happy with my Cateran race but I have been reflecting a bit on how it compared to the Hardmoors 55.  I feel that the Hardmoors 55 was a better overall performance. One of the main differences in my build up to that one was the amount of speed work I had been doing as I prepared for the Inverness Half Marathon.
So I've decided to change my training a bit and add in some Fartlek sessions on a Monday night with Kilbarchan AAC. Normally once I start my ultra races I don't do much speed work but I'm interested to see if it will help.
The session last night was 4mins (2mins Recovery) x 6 then 2mins (1min) recovery x 3.  The first three were out on the cycle track and against the wind which meant for the second three we had the wind behind us.  It certainly made a difference to the distances run.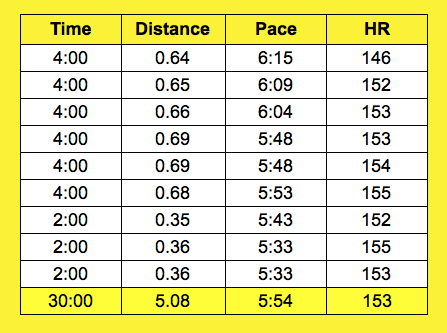 Once home and downloaded the stats I was pleased to see that I had run over 5 miles for the 30mins which is always my benchmark for a good run.
Here is my training plan for the next 3 weeks …
The race is the Milngavie Trail race being organised by Graeme Reid and his scout group.  It looks a cracking route and fitted in well with my training.
In the L100 recce back to back we will finish off the course so we will have covered the whole route before the race. The plan is to run from Coniston to Keswick on the Saturday and then on Sunday to run from Keswick to Dockray on the Sunday. Dave T has promised a lovely run back to Keswick from Dockray to complete our 35 miles for the second day.
Jonny, Marco and I will be joining Dave T for these runs.  I have a suspicion that we might split into two groups with Dave and Marco leading the way!