This weekend the whw race organised a training weekend based at the Oak Tree at Balmaha. Quite a few folks stayed for the weekend and lots of others including me came over for the day.
The plan was to run from Balmaha to Inversnaid and back which is 30miles but there was the option of turning back before Inversnaid depending on how far runners wanted to go.
Robert S from Kilbarchan AAC, who is doing the whw race this year, gave me a lift. Katrina was then going to drive over in the afternoon after her 16 mile run and we would have a meal before heading home.
We had a good turnout of over 60 runners especially given the weather forecast! We had a group photo before setting off at 10am.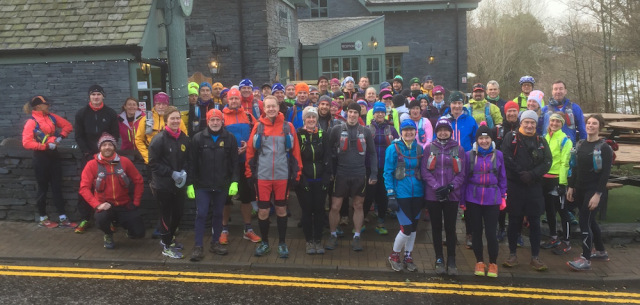 I decided I was going to do the full 30 miles as I have the Hardmoors 55 coming up in two months so I needed to get the time on my feet. I do feel that I'm a month behind where I would like to be but it is what it is!
I was a little apprehensive about how I would go. I found the 15 miles last Saturday on the Braes hard work but I was hoping that running with others who help!
I took a video clip of everyone starting as I had decided to start right at the back which would help me start nice and easy. It also meant I was guaranteed to have people to run with.
Fiona R was out with her camera and took a photo of Ian M and I after a few minutes of running.
Most people were wearing several layers, jackets, hats and gloves. I decided I would start with a base layer and long sleeved top. I didn't put a jacket on all day! The weather was not as bad as I was expecting. The wind was strong at times and we had some hail/snow showers but for most of the day it felt fine.
I had a quick chat with several friends as I made my way. Marco caught up having started a little later. We ran together for a mile or so before he pushed on. Marco was showing me the new Inov-8 gear he was trying out. It looked impressive.
I ran with Malcolm G for a while and various others including David R, who I'm following on the podcasts, arriving at Rowardennan in 1hr 28mins which I was very happy with. David R stopped to refill his water but I pushed on running with Malcolm and Colin who had run UTMB last year. Malcolm pushed on and at some point I caught Paul B or he caught me! We ran together the rest of the way to Inversnaid.
We both agreed that the miles flew by as we chatted. One of the great things about running as a large group is that hopefully everyone finds someone to run with. I normally find in a race I spent most of the time on my own which is fine but on a training run I'd much rather run with friends.
One of the benefits of running with people is you don't spent much time looking at your watch or thinking about what is sore! I was happy though that I was moving well and felt okay.
With about a mile or so to go before Inversnaid the quicker runners were on their way back. I stopped for a quick chat with Grant M and Jamie A amongst others. Robert S looked as though he was going well. A number of them seemed to be on their own but hopefully they joined up.
Paul stopped to eat a cheese sandwich about half a mile before Inversnaid so I ran to the half way point on my own. The river was in full flow. I arrived in 2hr 58mins. Ian B arrived a few seconds later. I assumed he was ahead as I hadn't seen him but he explained that he went on the lower new path to check it out.
Paul came in and was straight off again. Ian wasn't quite ready so I set off on my own. I ran for a few minutes and realised I had a choice of trying to push on and see if I could catch Paul ahead or ease off and wait for Ian. I decided on the later!
After a mile or so Ian caught up and we ran most of the return journey together. Ian is building up to the Cateran 110 mile race which will be his longest race. He has had a few bigger weekends so was feeling a little tired. I think it helped both of us having the company.
We chatted about all sorts of things and again the miles were ticked off without having to think about it too much. About a mile before Rowardennan we caught up with Clara H. Clara explained she was doing the race this year for the first time. Once we explained who we were and our role in the race Clara had a number of questions about training and the race which we enjoyed answering.
The three of us kept a decent pace going and it really helped me as I was starting to feel it a bit. After a while Clara pushed on and Ian and I stayed together. But we could see Clara not too far ahead and with about 3 miles to go we caught her again.
Ian pushed on this time and I ran the last few miles with Clara. We finished the 30 miles in 6hrs 10mins. I was more than happy with that especially given how I felt last weekend.
Ian & Sandra kindly let me use the shower in their room and by the time I came down Katrina had arrived. We spent the next few hours chatting to various friends and enjoying a lovely meal.
So it was a great day out and encouraged me that I'm back on track with my training for the Hardmoors 55 and 160.