I wanted to do one more quality week of training cumulating in a double Ben Lomond run on Saturday. Then I have a two week taper building up to the Brecon Beacons 10 peaks on Saturday 10th September.
Monday - Club Fartlek Session
There was only 3 of us for the session as a good number of club runners had ran the Paisley 10k the day before. After the warm up Donald decided his legs hadn't recovered from his orienteering races from the weekend so it left just me and Robert S to do the session.
Robert is still  recovering from his ultra races this year so we were at a similar pace which was good. We pushed each hard and I was more than happy with my evenings run.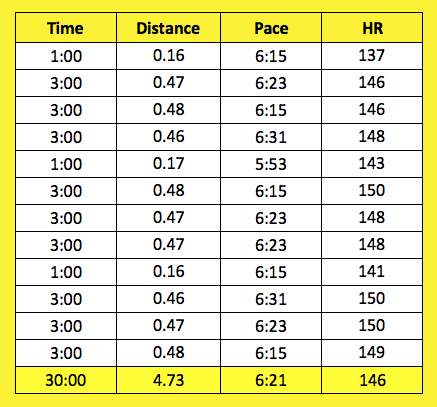 Wednesday - Steady Run after work
I had a busy day at work so couldn't run at lunchtime or early evening so I went out after tea. A good steady run at 8:08 pace.
Thursday - Lunchtime off Road Run
I had time for a lunchtime runoff Thursday and decided to wear my off road shoes and do my loop around Pollok Park which means I can do the vast majority of it off road. Another good solid run.
Saturday - Double Ben Lomond Run
I left home just after 7am and started my first loop at 8.10am from Rowardennan. I was feeling good so wanted to push pretty hard on the first ascent but also be aware I was going to do it again!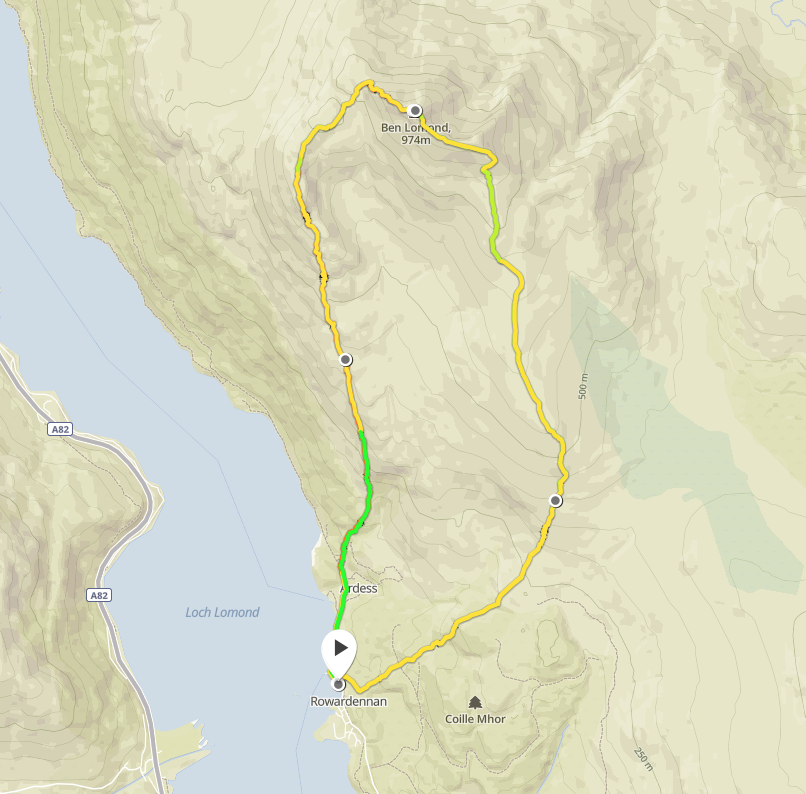 I have a mini-split about a third of the way up and I was encouraged to see I was making good progress. The Ben was covered in cloud so no views on the first ascent but there was no wind or rain so really good conditions for the run.
With about 20mins to the top a runner pass me heading down so he must have set off quite early.
I thought anywhere under 1:20 for the ascent would be good so when I arrived in 1:17:42 I was happy with that. I was on my own at the top. Quick photo and then I set off for the descent.
I have not done this run on a Saturday as I normally do it after work midweek so it was great to see how many people were climbing the Munro. I didn't count but I must have gone past at least 50 people. I wondered how many of them I would see again on my 2nd loop.
I was feeling strong on the way down and starting to loop forward to the 2nd climb. I had decided to use Jonny's poles and see what difference they would make. If I could climb in a similar time or even quicker then I could measure the difference they make.
I finished the 1st loop in 2:08:05 which is one of my quickest over the last few weeks. I spent a few minutes at my car eating a youghat and refilling my Tailwind. I took the poles and set off for my 2nd loop. I also changed my top to a short sleeved one and put on  my visor as the sun was breaking through the cloud.
After a few minutes I got the poles out and started to use them. Straight away I could feel the difference. I was looking forward to getting to my mini-split gate to see if I was going as well as the 1st loop.
The 1st loop took me 32:02 so I was really pleased to see that the 2nd loop took me 31:51 so 11 secs faster!! It me a boost for the rest of the climb. I overtook a few people who were going up the same path and saw a couple of guys heading down.
I kept using the poles all the way up and reached the top in 1:17:58 so I was just 16secs slower.  I was really happy with that as I didn't slow down.
There were a lot more people on the top for my 2nd visit and thankfully for everyone the cloud had mostly lifted and the views were so much better.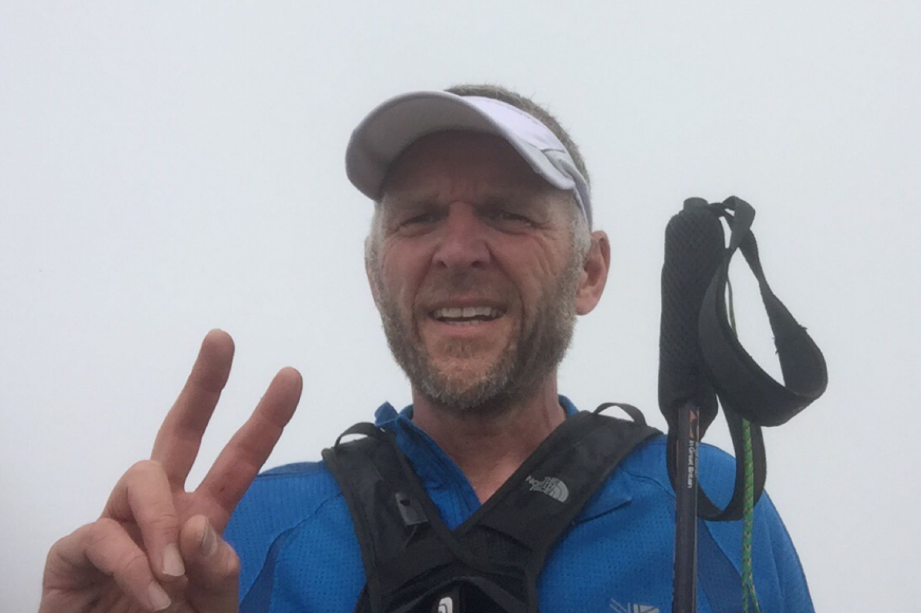 I put the poles away and set off for my 2nd descent. When I have done the double before I often struggle on the 2nd descent but my legs felt good and I was hopeful to be able to keep it going.
I passed loads more people climbing up. I think some of them recognised me from my 1st descent and I could imagine a few conversations as they tried to work out what I was doing!
I was able to tell them that the cloud was lifting and the views should make the climb worthwhile.
When I reached my mini-split gate on the way down I was really surprised and happy to see I was 93 secs faster on the 2nd descent. I pushed on and got back to the car in 48:49 which was 2min faster than the 1st descent.
I reckon one of the reasons was using the poles saved my legs so I didn't thrash them as much on the ascent.
Whatever the reason I was really happy with my mornings effort.
Here is a summary of my two loops ….
My plan for this week is to run on Monday night with the club, an easy run on Wednesday and then do the parkrun at Linwood on Saturday. Then the following week easy runs on Monday and Wednesday before the ultra on Saturday.
I feel I have prepared as well as I could of.  Ultramarathonrunningstore.com have offered a great prize for the latest 'Guess My Time' Competition so I'll launch that in the next day or so.