Saturday 10th September 2016
Ever since I came across this race last year I've been looking forward to taking part and it didn't disappoint!
Katrina and I were able to leave work early for the long drive to South Wales. We left at 1.10pm had a couple of stops for a drink and then some food and arrived at the Danywenalt YHA at 9.45pm.
The driving conditions on the way down went from very wet to sunny and back to very wet when we arrived at the race HQ. We missed the 9.30pm briefing but had time to register, get my number (174), be issued with my sportident dibber and leave my drop bag for checkpoint 3.
We headed back to the car and settled in for a comfortable sleep. I woke before my 4am alarm and quite quickly had changed, ate some cereal for breakfast and headed over to the HQ marquee for the race briefing at 4.30am.
Katrina wished me a good race as she continued to sleep. The last thing she said was I hope I can drive the car off the fields as it had rained quite heavily all night. One of the reasons I decided to do this race was that it would give Katrina a chance to visit her family who live very close to the western end of the course.
The race briefing was short but thorough. We were told that as the weather forecast was good we didn't need to carry waterproof trousers but I couldn't be bothered to dig them out from the bottom of my rucksack so left them there.
Just before the 5am start it started raining again and I did consider getting my jacket out but I knew there was a climb right from the start and I prefer to start cold as I will soon warm up.
The race has a start which I've never done before. Instead of a mass start on a shout or a whistle everyone lines up in single line and your time starts when you dib in the first control.
Those who wanted to run faster were encouraged to go to the front and those who knew they were slower to wait at the back! Someone shouted 'there will be a lot in the middle then!' and that's how it turned out.
I prefer to start about half way down which means I'm not tempted to go off too hard but it was a little trickier to judge. I thought if I wait too long it may take a while to get going. As I was deciding I saw the only person I knew who was running, Karen Nash.
I had a quick chat with Karen and before I realised it I was lined up behind her for the start. I was off at 5.02am in the pitch dark. It was raining very lightly but felt warm enough so I was glad I didn't put my jacket on. In fact I didn't wear it at all for the whole race.
CP 1 to CP 2 - 11.35miles
I had a rough plan to try and get round in sub 17hrs which was my silver goal. Because I didn't know the course I was guessing a bit but felt that it was a realistic goal. If I had a great day then maybe my gold goal of sub 16hrs might be possible.
Due to the staggered start it was very relaxed early on. Over the first half mile or so I caught a couple of people and a couple of people went past me. Once we came out of the woods things settled a bit as we made our way up to the first dibber at Carna Pica.
There are two races the long course and the short course. The short course follows the same route until CP2 when they cut up and join the route after peak 6. So that they also go over 10 peaks there are a couple of extra ones for us which we have to dib as well.
I didn't work with my heart rate as usual for this run as there is so much climbing I knew it would be hard to control it but I was keen to try and take it as easily as I could so tried to control my breathing.
Half way up I could see a group moving ahead and there seemed to be a bit of a gap behind me but it didn't take long for a number of them to catch and go past me. I was quite happy as I knew there was a long way to go!
One of those who went past me was a lady who was breathing very hard. I did think that she was maybe pushing it a little too much as there is a long, long way to go and a lot of climbing to do.
My rough plan had 58mins to cover the 3.10 miles so I was quite happy to see that I had reached the marshall at the dibber in 1:01:48. I also noted that it was 3.26 miles so my distances estimates were going to be a little off. I see from the splits I was 35th out of the 113 starters.
Once we were over the top and onto the open ground runners in front were taking various lines. In this race you are allowed to choose your own route as long as you visit all the checkpoints and peaks in the right order.
I had downloaded the gps trace from Evan Davies from Strava. Evan finished 4th in 13:24:41 so I assumed he got most things right! Evans was running again this year and finished in 9th place in 15:13:28 which was almost two hours slower this year. He commented on his strava 'Not my day.'
Evan's trace was more to the left so I followed that line whereas most of those in front of me were further to the right. There was a guy in an army type jacket on who was also on my line and he looked as though he was confident in his route choice!
Soon enough though we all came back together and headed towards the second extra dibber called trig 642. The group ahead were moving a lot faster than I was so they were away.
I caught up with the army jacket guy and we chatted for a bit. He told me that he lived locally and ran last year but at about the point we were at he went over on his ankle badly. He carried on even though it swelled up and finished the race but when he visited hospital the next day discovered he had broken his ankle!
He too headed down the hill. Another guy in a yellow jacket went past and I did start to wonder when I would settle into my position. I was happy with my pace and hoped that I would be seeing some of these runners again!
I switched off my head torch about 75mins into the race and it's always nice to be able to do that so you can see a bit more of what's around rather than just following a small patch of light in front.
We reached a road and I could see the guy in yellow went right. I checked my watch and it said left so I trusted the trace and followed it left. I could see a couple of guys behind me so I wasn't the only one going that way.
We ran around the head of the dam and then headed up the hill. As I arrived at the gate another runner came towards me who had presumably also got right. I'd not seen him before so figured I'd gained a few places!
I moved up the hill quite comfortably passing a few people on the way. At the top of the hill I could see runners heading off in the distance right but my trace said to go left then right and I soon realised it was to visit the second dibber.
It had taken me 1:08:50 to cover the 4.27 miles against the 1.02:00 I had planned so I was a 10mins down on my plan but as I wasn't sure of the distances on my plan it didn't bother me.
The next mile for so was along the ridge with a steep drop to the right. The mist was lifting now and the visibility was getting better all the time. I caught up with a guy and after a quick greeting pushed on as I could see a group of three not too far ahead.
I was caught by two runners wearing just vests and moving very fast. I had been running for two and half hours by now and was surprised they were running so quickly. As I thought about it I realised they must be the short course runners as they start an hour behind. Either that or they started our race late and were catching up!
The path joined a wide main path to Pen y Fan which we would visit a later. We were heading down to the first checkpoint. I was overtaken by guy wearing the same North Face rucksack as I use. He was moving a lot faster so I watched him disappear down the hill.
I could see the cars at the CP and soon enough it appeared. I had drank my bottle of Tailwind and had eaten a Chia bar and a yoghurt covered muesli bar. As I approached the CP I emptied the Tailwind powder into my bottle to be refilled.
I had covered the 11.35 miles in 3:02:12. My plan had been 2:50 so I was a bit behind but I felt good and happy with how things were going so far. From the sportident timing I can see now that I was 37th.

CP 2 to CP 2 - 5.84 miles (overall 17.19 miles)
I was in and out the CP in under a minute. The route crosses the road and heads steeply up peak 1 - Fan Fawr. I could see a line of runners ahead to the left but my trace was further to the right so I duly followed that.
It seemed to be a better line as I moved ahead of a few people as I gained 8 places from the checkpoint! From peak 1 to peak 2 there was a boggy section downhill and then another climb up the hill.
There were several sections over wet boggy ground but I didn't find them too bad. To be honest I was expecting a lot worse and there was a lot more good paths to run on that I expected.
I felt strong on the way up and I certainly felt that my Arrochar Alps run three weeks ago and my double Ben Lomond prepared me for the race.
Fairly near the top I went past two runners who asked me whether I was a short course ninja! When I said no I was doing the long course they looked a little surprised.
As I reached the top of peak 2 Fan Fila I was catching a female runner but then suddenly there was four other runners coming from a slightly different angle.
As I headed down to CP2 I realised that one of the runners was Karen Nash. She explained that she had made a couple of errors which had cost her a few minutes. Again I was thankful for my gps trace that was keeping me right on line!
We headed down to the CP on slightly different lines but arrived together. When Karen gave in her number they said, 'HQ are trying to get in touch with you as your van is blocking the road!!'
My plan to arrive at CP 2 was 4:32 and I arrived in 4:31:38!! Not bad eh??

CP 2 to CP3 - 5.50 miles (overall 23.09 miles)
I refilled my water bottle, took some jaffa cakes and jelly babies and was off to CP 3. Karen and I left together and chatted as we climbed away from the CP.
I've met Karen a few times on the Hardmoors races but I don't think we've run that much together so it was great to chat as we moved along. There are no peaks to dib between CP 2 and CP 3 but there is some climbing to do but it didn't feel too tough.
Chris Davies soon caught up with us. Chris is over 60 but obviously a very good runner as he was moving very well! Karen and Chris know each other well so I listened on as they caught up with various races they have done recently.
Chris pushed on while Karen and I ran together. After a while Karen, who only got back from a month in the Alps on Tuesday was was till recovering from her biggest race of the year just 3 weeks ago, said not to wait for her as her legs are a bit trashed. I'm sure I've heard that before but pushed on.
I wasn't too far behind Chris and when I arrived at the CP I realised that Karen was just behind me!
This CP had hot food so I decided to have a few minutes here to enjoy some soup as well as my chocolate milkshake which I'd put in my drop bag. I had a space pair of Drymax socks but my feet were feeling fine despite the several soakings so I decided to push on with the pair I was wearing.
CP 3 to CP 4 - 10.69 miles (overall 33.78 miles)
I left the CP just ahead of Karen and Chris. I tried to ring Katrina as in a few minutes the route would cross the road just 400 yards from her Dad's house. The plan was for Katrina to cheer me on as I went past.
The call went straight through to voice mail and I did wonder whether Katrina had been able to get out of the field. I really hoped so but there was nothing I could do.
Chris and Karen caught up with me and I asked them which way where they going up to peak 3 Fan Brycheiniog? I don't think they realised there was a choice!
The route on the map we were given was to go straight up onto the ridge to the top but I had seen on strava from  previous years that lots of runners had gone right after crossing the river and following the lower ridge before heading to the top. That is the way I had gone last year when I met the race so I had decided to go that way.
When we reached the road there was no sign of Katrina so I did fear the worse. It turns out that yes she couldn't get the car off the field until 1pm. By then she had rung her dad and he went over to see her but couldn't find the YHA!
So Katrina spent the whole day at the race HQ which was a shame but at least there was food and somewhere comfy to sit and read! When one of the mountain rescue teams came back to the race HQ they helped Katrina get our car off the field so thanks so much to them for their help.
When we reached the point of decision the guy with the North Face rucksack went straight on. I turned right and I thought Chris followed me but after a while I realised that he wasn't following me.
I thought it would be interesting to see who reached the top first. Obviously I was expecting it to be me and I was feeling quite smug as I climbed up!
For the first time in a race I had brought poles to use on the climbs so I took them off my pack and set them up to use. I had borrowed Jonny's poles and after my Ben Lomond run I had ordered a pair but they hadn't arrived so Jonny very kindly let me borrow his again.
I really did feel they made a big difference on all the climbs from this one onwards.
As I reached the tarn there was a big group of walkers heading up but they very kindly let me power past!
When I reached the ridge I couldn't see Chris or Karen and hoped they we're still making their way up but I did suspect that they might be ahead!
There were two marshals at the top waiting for all the runners. The climb from the CP 3 had taken me 1:36:08.
From this peak there was an out and back to peak 4 Bannau Sir Gael. It was only 0.89 miles so I knew that either I would see Karen and Chris coming back down towards me or I would see them as I climbed.
Sadly for me it was the latter!! Firstly I saw the guy with the North Face rucksack who must be William Sweeney. He arrived at the peak 16mins ahead of me. David Morris, Chris and Karen were 8-9 mins ahead so they all took some time of me.
It is hard to know whether they would have been quicker anyway even if I went the same way. Maybe they were just stronger up the hill! As Chris went past he said 'I'm not impressed with your route choice!!' Thanks Chris!!
I tried to make sure it didn't affect me as I was moving well and ahead of my sub 17hr schedule. As I descended I passed a couple of guys heading up and then passed another 5-6 as I made my way back to the marshals on peak 3.
It was pretty warm by now and I had ran out of water so found a stream with fast flowing water to refill. When I reached the marshals I stopped for a couple of minutes to add my Tailwind to the water and put away my poles for the long descent to CP 4.
I also got out my power pack as my Suunto watch only had 10% battery left. I was relying on my watch for navigation so knew I needed to take time to recharge the battery.
As I left the marshal told me the Man Utd v City game. City were leading 2-1 at half time. The marshal was a United fan so was hoping for a better 2nd half!
As I made my way down one of the runners (in a red top) I saw a few minutes earlier went past me.  I felt I needed to regroup a bit as I set off on the descent to CP 4.
From the profile and Andy Cole's race report I knew that this was another potentially boggy section with a grassy hill to climb half way along.
I was following my gps trace which kept me close to the river. I could ahead that the guy in red had gone further left.  I made my way down to the first road, crossed over and headed up the grassy hill.
I could see another runner in black not too far behind me who seemed to be on the same line as me. I couldn't see the guy in red at all.
The climb up the grassy hill was hard going and I was grateful for the poles as they definitely helped me up the climb. It wasn't too long until I could see the CP on the road.
I arrived ahead of the guy in black. The descent from peak 4 had taken me 1:31:34 against the planned 1:40. Overall I was now almost 30mins up on my sub 17hr plan and feeling good!
I had a quick stop to refill my water bottle and a chat with the marshals. One of them gave me a helpful tips on the line up Fan Gyhirych. After the first couple of rises aim for the black line in the gully which will lead you directly to the summit. Thanks!
CP 4 to CP 5 - 10.87 miles (overall 44.65 miles)
I left the CP with the guy in black. Once more I got out my poles to help me up this steep climb. The guy commented I wish I had brought some poles!
As I climbed I remembered a chat I'd had with Andy Cole the day before the race. Amongst other helpful tips Andy said that once you had climbed up this peak you had broken the back of the race so that kept me going.
Once again I was grateful for the Munros I had done recently as even though this was a steep slog up it was nothing as hard as Ben Lomond or any of the other mountains I'd climbed in Scotland recently.
The line on my watch was bang on the same tip the marshal had given me so I knew I was spot on. My watch battery was now up over 70% but I decided to keep charing until it reached over 80% as I reckoned that would do me to the end.
Sure enough following the black line which was actually a path I came out right at the cairn at the top. It was always reassuring to see the dibber box waiting for me!
From here to peak 6 Fan Nedd I knew it was about 3 miles and with the visibility so good I could see the route quite clearly. I couldn't see anyone ahead or behind which was fine.
I made good progress on the descent and then across a grassy path to the start of the climb to the top of peak 6.  I was heading up a path to the left when I realised my gps trace was a bit further over to the right so I headed that way.
It didn't seem to take too long until I reached the cairn on Fan Nedd. According to my watch it was 2.61 miles and it had taken me 43:59. I had planned 48 mins so again I was a few minutes up!
A few minutes away from the summit I passed the guy in red and the guy black heading up to the top. I see from the splits that they were Dean and Philip and I was about 7 mins ahead of them.
I knew that the next section to peak 7 Fan Frynych could be tricky as I had seen on strava from last year that one guy continued north and added on another few miles so I was making sure I kept a keen eye on my gps trace and stuck to the line!
I had ran out of water again and as I descended I hoped that I would find a stream to refill. Otherwise the trek up to peak 7 was going to be even tougher!
As I made my way down I could see a car which looked like the mountain rescue waiting at the road. Sure enough it was the mountain rescue with water, coke and some food. I was very grateful to be able to refill my water and have a drink of coke.
I took a few pieces of Soreen and headed off over the grassy moor. This was the point that the short course rejoined the long course.
The next mile or so was on a wide track and I ran as much as I could. I was very pleased with how well I was moving. I had been moving for almost 12hrs so obviously starting to fatigue but really encouraged that nothing was really hurting and I felt I had plenty of energy.
When I had studied the course I saw from the various routes I'd seen on strava that there were a couple of options to the top of Fan Frynych. The route on the map followed the road around like the shape of a goose's head. But the trace I had cut off the head and so shortened the route.
I was a little uncertain whether to follow the trace I had or just stay on the road further. When I arrived at the point of decision I decided to stay with the gps trace I had as it had served me well so far!
It was a tough little climb over grassy mounds but soon enough I was on the main path and heading up to the peak so I think it was a good move!
As I approached the top I could see 3 people ahead. For a moment I thought that maybe I was catching Karen and Chris but as I got closer I realised that they were on the short course.
I hadn't really thought about whether I would see any of them but I realised that it did make sense. If they started an hour after us but were going to take over 18hrs I would be catch them.
It was good to dib in to peak 7. The 4.71 miles from peak 6 had taken me 1:31:42. My plan called for 1:15 but I had thought it was 3.80 miles so pace wise I was probably about right! Time wise though I had now been going 12:09:33 against the plan of 12:30 so I was still had 20 mins in the bank!
I thought it was 1.90 miles to CP 5 but it was actually 2.84 miles and I must admit that this section did drag a bit. Once I was over the first rise I could see the Storey Arms building in the distance but the path was taking me a lot further right to avoid dropping down and having to climb back up but it seemed to take for ages to arrive!
The thing that kept me going was another part of Andy's race report. He wrote that at this checkpoint there is a burger van and as part of your race fee you get to choose any burger and drink.
Now I don't normally eat a burger during a run but if it's part of the fee it would rude not to! Anyway it spurred me on to reach the checkpoint!
The 10.87 miles from CP4 had taken me 3:33:07 against the planned 3:13 but I had thought it was 9.30 miles so I felt I was just about right. Overall I was still 11 mins up on my sub 17hrs.
Sure enough I was given a ticket for any meal and drink from the burger van. I did ask whether they had any soup but sadly not! So I asked for an egg, bacon and sausage bap. As I waited for it to arrive I refilled my bottle with pepsi and water and chatted to the marshal.
She explained that some people were going down the road to where CP 1 had been and then going up the path we had come down earlier to the top of Pen y Fan. The way the map showed was straight up from the CP and after the first climb had a short descent before the climb to the top.
I decided to go stick with my trace and race route and go straight up.

CP 5 to finish - 10.02 miles (overall 54.67 miles)
When my bap arrived I couldn't believe how big it was! It almost took two hands to hold it! I decided to eat it on the way up. I realised that there was no way I could eat it all so decided to eat the egg, bacon and sausage and let the birds enjoy the bread!
It was really tasty and I did it justice except for the bread! Once that was eaten I got out my poles and set off up the hill on the very wide and manufactured path. I could see a number of short course runners ahead and I slowly but surely reeled them in.
Some of then looked as though they were struggling a bit and I thought they were going to be out for a good while yet. I started to think about my finishing time. I had 10 miles to go and 4hrs to do it in if I wanted to get under the 17hrs. I thought that was doable as long as I kept going.
It was just after 6pm and I thought it would be dark by 8.30pm or so. I decided it would be good to try and reach peak 10 or even the extra spot height before it got dark.
I reached the first climb okay then the short descent  before tackling the climb up to the ridge.  It was all on good paths so I could get a good grip with the poles. It was a case of head down and get this done.
I decided to count up to a hundred clicks of the poles before I was allowed to look up and see where I was! It took me quite a few of them to reach the top but reach it I did!
As I came over the ridge a group of short course runners were coming up the other path. One guy had music blasting out as he walked! He said I'd done well to come up the steps path.
There was a pile of stones at what I thought was the top with a dibber so I checked in and set off for peak 9 Cribyn. I thought it was about a mile away so was quite surprised when I saw another cairn quite soon with another dibber on.
I was just about to congratulate myself on gaining quite a bit of time when I read the plaque Pen y Fan! The earlier one was Corn Du which was one of the short course peaks!
I had climbed the 2.22 miles in 59:12 which was 10mins faster than my plan so things were looking good for my sub 17hr finish.
It was such a lovely evening now with the sun starting to set and clear views all round. The route down then up to peak 9 Cribyn was straight forward and again I could see a few short course runners ahead.
It didn't take too long to reach the top of Cribyn. A quick stop to dib in and off for the final peak number 10 Fan y Big. Again a clear view of the route around to the peak.
I hadn't done a video clip for a while so I paused to do that and when I looked back the sun set was amazing.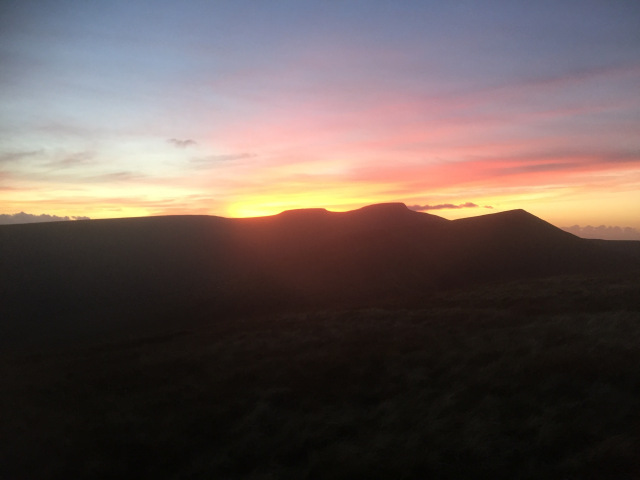 There was another steep descent before the next climb up to Fan y Big. I was still moving well and the top arrived quite quickly. I dibbed the final peak but there was still one more to go before the final descent to the finish.
There wasn't much descent and ascent so I could run the majority of the way. It was getting dark by now and I really should have stopped to put on my head torch but decided I should just be able to make the spot height dibber. I passed a few more short course runners who did have their head torches on.
I came to 90 degree turn and I assumed the dibber would be there but it wasn't. It was a bit further down the track. I stumbled a couple of times in the dark as I ran but I was feeling stubborn by now and wanted to get to the dibber before getting out the head torch.
Thankfully it arrived and I was able to fish out my head torch and set off for the final leg with confidence I could see the ground! It did make a difference.
According to my plan I had 4.60 miles to go and I thought it would take me 1:20. It was now 15:27:52 so I had 1:32 to cover the final section and most of it was downhill so I felt confident of making it.  I had thought earlier that I might be able to get nearer 16hrs than 17hrs but sub 16:30 looked a little ambitious.
The race organisers had put out some glow sticks to guide us across the open ground and it helped though my faithful gps line was guiding me home as it had been all day.
I caught another group of short course runners who looked as though they just wanted to get it done now. I was ready to finish but still feel I was going well. Normally in an ultra I'll have a section where I'm struggling and I have to battle through it but I can honestly say that I never once had that in this race.
Yes I was tiring but nothing was really hurting. I was running strongly downhill which is always a good sign that I have paced it right.
I could see a head torch ahead that kept looking towards me. I thought either he is not sure of the way or expecting someone to come. Once I caught up with him I discovered it was neither! We started chatting and he said do you mind if I try and keep up with you as your torch is so much better than mine. He said he could see me coming for ages!
His name was Arun and is a doctor from Southampton though his family is from India. We had a great chat as we headed down the hill. Arun explained that he had been part of a two man team but his partner was finding it hard and they had been near the end of the field to the first two peaks for the short course. He dropped out after 6hrs so since then he had been working his way through the field.
It was quite slippy coming down the hill and I was glad I kept the poles out on this descent as they did help me stop falling. We reached the woods and I kept a good look out for the gate on the right so I could take the right path to the finish.
Once I reached it I knew I was going to be well inside 17hrs so we pushed on down the hill and over the dam. I was running as hard as I could and wanted to keep going right to the end. Arun suddenly stopped to walk and wished me all the best.
I arrived at the entrance to the YHA and walked the slight rise before running to the finish. Just before I got there I saw our car in parked before the YHA and Katrina looking out for me. I arrived at the marquee finish to dib in for the final time.
I finished 15th in 16:36:14. I was also the first M50 finisher but Chris was ahead who is M60!
Katrina came down and I found out all about her day! Not quite what we had planned. I was able to get a shower and have a cup of tea before heading to bed. We were able to visit her Dad and 93 yr old grandmother the next day before heading home.
I really enjoyed the event and would like to thank the race organisers and all the marshals for all their hard work throughout the preparation and the weekend itself. Also a special mention again to the mountain rescue team who helped Katrina get our car out of the field!!
I would definitely recommend the race but be warned there is a lot of climbing on rough terrain so prepare well!