This past weekend we stayed with our good friends Richie & Helen Cunningham and their three children. It was their 5th Wedding Anniversary so we volunteered to baby sit while they went out for a meal.
We made a weekend of it by arriving in time for the Perth parkrun at 9.30am on Saturday and staying until Sunday afternoon so Richie & I could have a run together in the morning and record at interview for the next whwrace podcast!
Saturday – Perth parkrun
It's always good to be able to try out different parkruns and I was looking forward to this one as its at the venue of the various 50/100k and 24hr races that I have watched and supported friends running.
I assumed the course would be two laps of the 1.5mile loop that is used for those races but when I checked the route on the website I realised it was a different route.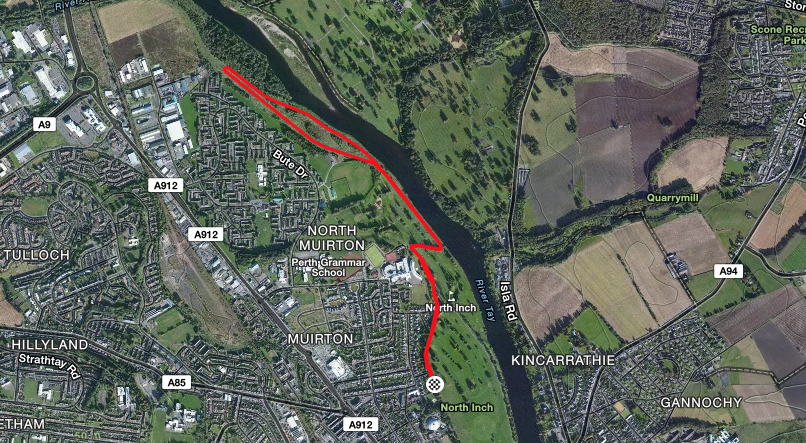 We arrived before 9am so we were able to do a warm up around the loop. The weather was just right for a good run. I was feeling pretty good so decided to go for it and see what I had in my legs!
It was good to chat to Robin Wombill who was out cheering on the runners. Robin was able to give us a good idea of the route and warn us about the section on the way back that is on compacted grass.
I started near the front but still had a few people to get past in the first few minutes before I felt I had space to run at the pace I wanted. I could see a runner with a push chair ahead so he became my first target to get past!
I also went past a guy in a blue t-shirt with Personal Trainer on the back so he was another runner I targeted. I could see 6-7 runners ahead as I settled into my race pace. I don't look at the watch at all in these parkruns as I'm keen to try to run by feel and push as hard as I can for the 5k.
Sometimes if I look at my watch and I'm running faster than I feel I should be I ease off and if I feel I'm going too slow I try and go faster and can't maintain it so my strategy is to run as hard as a I feel I can maintain for the 5k.
I really enjoyed the course as we ran along a path with the river to our right on the way out. Most parkruns I've done are 2 or 3 laps but this one was one large loop with an out and back stem.
I could feel a runner right on my shoulder and we ran together for a few minutes before he eased past me and pushed on. It was the Personal Trainer blue t-shirt guy. I tried to stay with him but he gradually pulled away but the gap didn't get too much bigger.
When we reached the top of the loop there was a 90 degree turn left and then after 20 yards another one and onto the grass.
As there hadn't been much rain recently it was fairly solid but I did feel I was slipping a bit and couldn't quite get as good a push off as running on the tarmac.
I continued to push hard counting my breathes and aiming to maintain my form to the end. I couldn't hear anyone behind me so I was hoping I wouldn't be overtaken in a sprint finish at the end.
Once we were back onto the loop path I knew there wasn't too much further to go so pushed as hard as I could to the finish funnel.
I finished 8th in 19:28 which I was very happy with. I was chatting to the Personal Trainer guy (whose name is Steven Bonthrone) as Katrina came striding in for 56th place in 23:06.  We were both first in our respective age groups!!!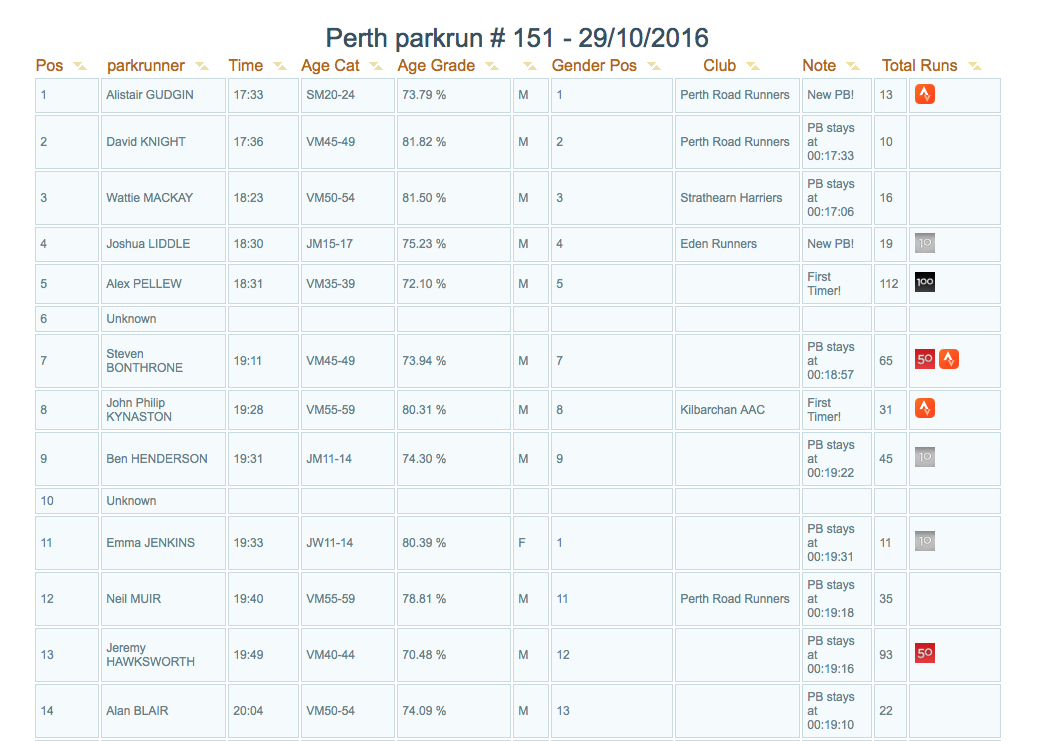 We both did really well on the age graded result ….
We both really enjoyed the course and hope to be back again.
Sunday – Long run with Richie
When we visited last year Richie took me on an hour run from their house but this time he suggested we went for a longer two and a half hour run. That suited me really well as I wanted to get some longer off road runs in my build up to the Wooler Marathon which is 3 weeks away.
Richie is building up his mileage again after operations on both his Achilles.  I love running with Richie as he has great experience having won the whw race twice.
We spent the whole run chatting about all sorts of topics but running probably dominated the conversation! The route is a series of loops but I wasn't really sure where I was and it only made sense once I had downloaded it and looked at it on a map.
The profile shows how much climbing we did …

It was a glorious morning and we both felt we could have worn a short sleeved top! As it was we rolled up our long sleeved tops and felt pretty warm especially on the climbs!
I felt I was running well for the first 90mins or so but felt I was struggling a bit on the last couple of hills.  Richie on the other hand looked really strong. He did have the local knowledge and had run this route last Sunday. That's my excuse anyway!!
Once we were home and showered I was able to interview Richie for the next whwrace podcast. We did it in two parts as Katrina, Helen and the children arrived back as we were half way through it. Richie shared some great ideas about training for the race so I recommend a listen. Hopefully it will be available in the next few days.