Katrina and I decided to join the parkrun Christmas fun by running on Christmas Eve at Linwood and on Christmas Day at Pollok Park.
Christmas Eve - Linwood
I've had a bit of a sore throat and blocked nose for a couple of days so wasn't sure how quick I'd be able to go but decided to try my best and see what I could do.
Hollie was keen to join us but as we drove to Linwood in the wind and rain I'm not sure if she was quite so keen!  By the time we arrived the rain had eased but it was still very windy.
We took Hollie on a warm up lap to show her the route. It was very wet underfoot so it we were going to get wet feet!
Graham Kelly arrived just before the start so it was good to have a quick chat before the start. I was quite happy to start a little way down so I didn't go off too fast.
I felt okay so just tried to settle into a steady pace. I went past a few people before settling into a position. After about half a mile Graham went past me so I decided to try and stay with him.
I was able to keep him within a 10 yards all the way round the first lap and got past him just before we started on the second lap …. and just win time for the official photographer …
I could feel Graham right on my should all the way round the second lap. I think we maybe caught a couple of runners but it was a race to the finish between the two ultras runners!
With less than half a mile to go I decided that if Graham had saved something for a sprint finish I would let him go but I would try and make it hard for him to catch me!
Thankfully the wind was with us for the final push to the line and I was able to hold him off!! Again photographic evidence to how close he was.
I finished 12th in 20:38 which considering the conditions and how I felt I was happy with. Katrina ran with Hollie and they had a good run as well.
Christmas Day - Pollok Park
I decided I didn't want to push too hard on this one so my original plan was to run with Katrina. We chose Pollok Park as our good friends Neal, Caroline & Harrison were running and its become our Christmas tradition for them to join us for breakfast afterwards.
As we chatting to Neal & Caroline and Chris & Susan with their children Evan and Rebekah who were all going to run together we decided to join them.
It didn't quite work out that way but Katrina & I ran the majority of the way with Neal (with Harrison) & Caroline. It was fun seeing the race from further back in the field.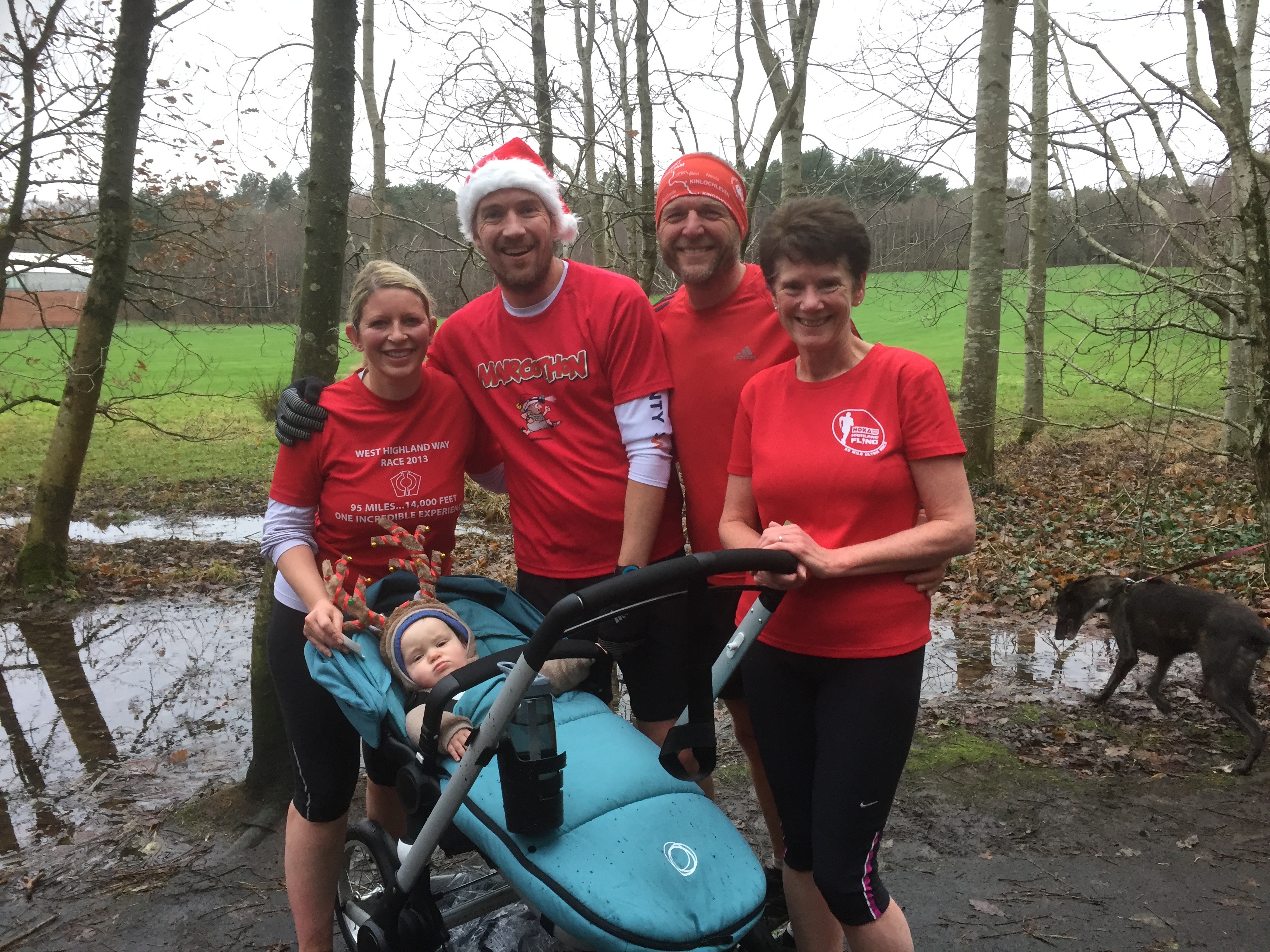 We had a great Christmas Day with lots of lovely food, games and presents!