Even though it was my easy week after the Marathon de Ben Nevis I decided I fancied running a parkrun. The past one I'd done was 7th Feb when I ran 19:23. I decided to run as hard as I could and hoped I could get under 20mins.
I parked at Nether Craigs and ran just over 2miles to the start as a warm up. It was good to see and have a chat with Gordon Gallacher before the race. Gordon was running the George Cummings Relay in the afternoon so was planning to take it easy this morning.
There was a really good turn out. I reckoned about 400 and I wasn't far out when I saw the results (376). I set off about a quarter of the way down. It is always a bit congested for the first few minutes but soon opens out and I like chasing people down and chatting people.
I didn't look at my watch at all during the race but concentrated on running as hard as I could. I was catching and overtaking people for the whole of the first lap and feeling good. I guy in a purple top went past on the downhill and I decided to try and stick with him as long as I could.
He opened a small gap and the pair of us went past more runners on the second lap but I never quite caught him.
I felt I started a to struggle a little bit over the final mile but tried as hard as I could, No-one went past me so I wasn't slowing too much. I pushed as hard as I could on the final descent and stopped my watch bang on 20:00 in 20th place.
When the official results came out I was pleased to see I was 19:56 ….

I find it very interesting to compare my HR for a short race this one compared to a longer ultra. My average HR was 162 and didn't fluctuate much during the race!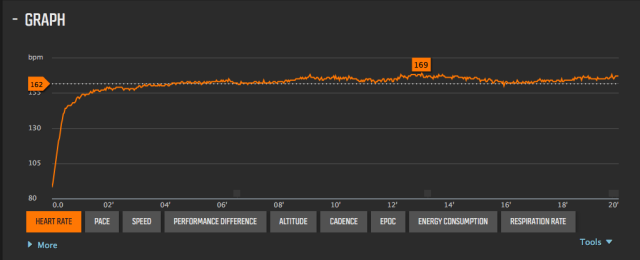 Once home and showered we were off to Stirling where I was conducting a wedding for friends. We had a great day. Just to show we can scrub up well ….