I was keen to do another parkrun a week before my Lakes in a Day ultra next Saturday as I feel it gives me a good indication of where my fitness is at and it's not going to take two much out of me.
I did this four weeks ago on 3rd September which was a week before the Brecon Beacons 10 peaks. I went out as hard as I could and my splits were …
I definitely struggled on the last mile and my pace showed that so for this run I was keen to try and run the first mile a little slower and the last mile faster. I was aiming for an even 6:20 pace so hopefully finishing strongly.
I arrived just after 9am just as David Mac was about to go on a warm up lap so I joined him and we had a good chat as we ran round the course.
At the start we had a 'few words' from a local MP as it was the 12th anniversary of parkrun. I think that was reason he was there. I didn't catch too much of his talk as a plane passed overhead and drowned out his words!
I was standing with our friend Roddy and we set off together.
I was keen to set off hard but steady so was happy when Roddy went ahead. I followed him until we got to the trail section and eased past.
There were 3 guys just ahead but I wasn't quite in touch so I was happy to run my own pace. I was feeling good breathing hard but not too far into the red zone.
Brian G was marshalling at the far end of the course by the road and once past him I knew that little section was going to be a little slippy but it wasn't too bad.
I was keeping the same distance behind the guy in front but I think the two ahead of him were pulling away. I did wonder whether I might catch him but he was still a good 20 yards ahead.
Once back on the tarmac I tried to keep a steady pace and tried not to push too hard as I really wanted to be able to run the 3rd mile at the same pace. I was keeping the same distance behind the guy in front which was encouraging.
Katrina was cheering at the point where the route goes back into the trail. Our daughter Laura was also running so she had a few people to cheer on.
I caught up with the guy ahead and pulled away once past him. I thought I must be in the final mile by now so I was working hard to keep my pace up. Compared to four weeks ago when I could feel myself slowing I was happy that I was pushing hard right to the end.
I finished 6th in 19:16 which I was really happy with.
Looking at my mile splits the first two miles were very similar to four weeks ago but the reason I was 16secs faster was mainly that final mile so that was good. I still didn't run the even splits I was after but I'll take that.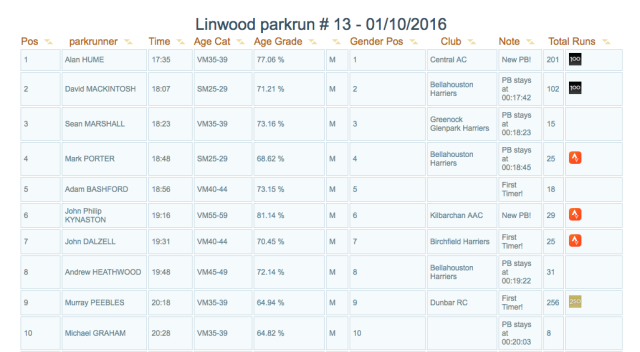 I always like to sort by age graded percentage and I was particularly keen to do it this time as I had the highest percentage!!!